Hope or hype? Costly new Alzheimer's drug creates controversy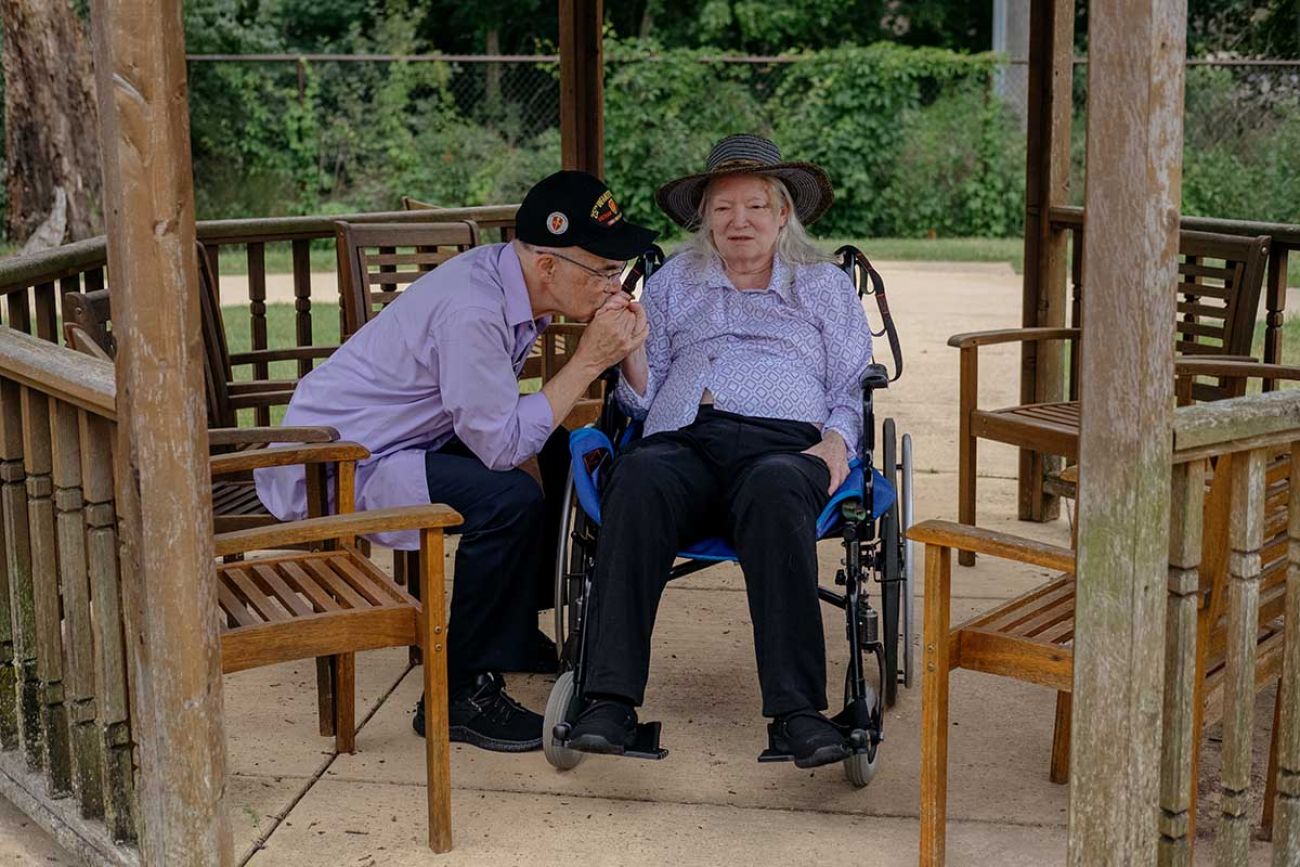 Jim Mangi, 73, kisses the hand of his wife Kathleen Schmidt, 72. Schmidt was diagnosed with younger-onset Alzheimer's in her late 50s. Schmidt no longer recognizes Mangi as her husband, though he visits her every day. (Bridge photo by Erin Kirkland)
Jim Mangi was stunned. His sister-in-law, Joan, had died a year earlier — the victim of a heart attack. How could his wife — a brilliant woman whom he met while they studied chemical runoff in a New York river — forget?
Related:
Sweetheart, he said perplexed, Joan had a heart attack, remember?
He is annoyed with himself each time he remembers it now. Each time he cut fresh her grief.
"It was the truth, but I made her hear the news again and she felt the news all over again, and then the next day she asked again and I told her all over again," said Mangi, a man who knows grief all too well, having begun his career as a U.S. Army man breaking the news of Vietnam casualties to stateside families. "It was the truth, but I didn't know any better at the time."
It was the beginning of the 14-year journey that brought the couple to Brecon Village Memory Support Center in Saline, south of Ann Arbor.
And though he visits her every day, Mangi — the man she met 47 years ago as a grad student in hip waders in New York's Susquehanna River, who stood beside her running lab tests, who called her "my Kathleen" and helped raise their daughter, who lived with her over the years in seven different states, and in 2007 who stood dumbfounded in their bedroom when she couldn't remember her sister's heart attack — is simply another familiarly pleasant face.
Schmidt, 72, is one of 190,000 Michiganders living with Alzheimer's Disease — a slow but relentless neurological assault that likely will kill her.
Until now, the only reprieve for those with Alzheimer's was from drugs that only slowed the symptoms of memory loss, and only temporarily at that.
A new drug, however, may literally reshape the battlefield — removing harmful protein build-ups in the brain — for those with Alzheimer's when it's diagnosed soon enough.
But that's a big and costly "maybe."
Thin evidence, high hopes
The U.S. Food and Drug Administration approved the drug Aduhelm in June on an accelerated basis, based only on preliminary results from three clinical trials.
The evidence was so thin that some doctors groups opposed the drug's approval, including the American Geriatrics Society, which called the trials "inconclusive" and the data "limited."
Even the FDA noted "residual uncertainties regarding clinical benefit."
"People with Alzheimer's disease and their families need hope, not false hope," clinicians in Britain, where the drug has not yet been approved, this week condemned the decision in a letter to the British Journal of Medicine.
If Aduhelm falls short of its promise in follow-up trials, the FDA can withdraw its approval.
There's also still no guarantee that Medicare or other insurers will pay for the drug whose base cost has been set at $56,000 by its manufacturer, Massachusetts-based Biogen.
And Aduhelm's effect is unclear on those like Schmidt, for whom Alzheimers has burrowed deep into her memories, extinguishing them quietly, year after year, like luminaries on a windy lake front. The drug was tested on those in early stages of Alzheimer's disease.
Still, Aduhelm is big news in the world of neuroscience and for some 6.2 million Americans that live with Alzheimer's Disease and their loved ones.
Like so many others with family members diagnosed with Alzheimer's, Treva Daniels-Carlson, 52, had watched the news of Aduhelm as the date approached for its consideration by the FDA. When the drug was approved, "I was elated," she said.
"The other medications only treat symptoms," said the psychology teacher at Michigan's Beecher High School near Flint. Alzheimer's and other dementias killed her mother, a brother and 10 other relatives, she said.
Among the worst moments was when her mother, a former hairdresser and assembly line worker, no longer recognized Daniels-Carlson. It happened in the parking lot, moments after a medical appointment.
"I remember catching my breath for a minute," said Daniels-Carlson. "It felt like somebody punched me in the stomach. I became a nice lady who came to take care of her.
"At some point they're going to forget who you are. And you know it's the disease, but it still hurts," said Daniels-Carlson, who sometimes wears shocking purple wigs for the Alzheimer's Association and its purple-themed fundraisers and awareness campaigns.
Adulem is far from a perfect drug, she said, but "it's the first chance that we have of real hope. We needed this yesterday."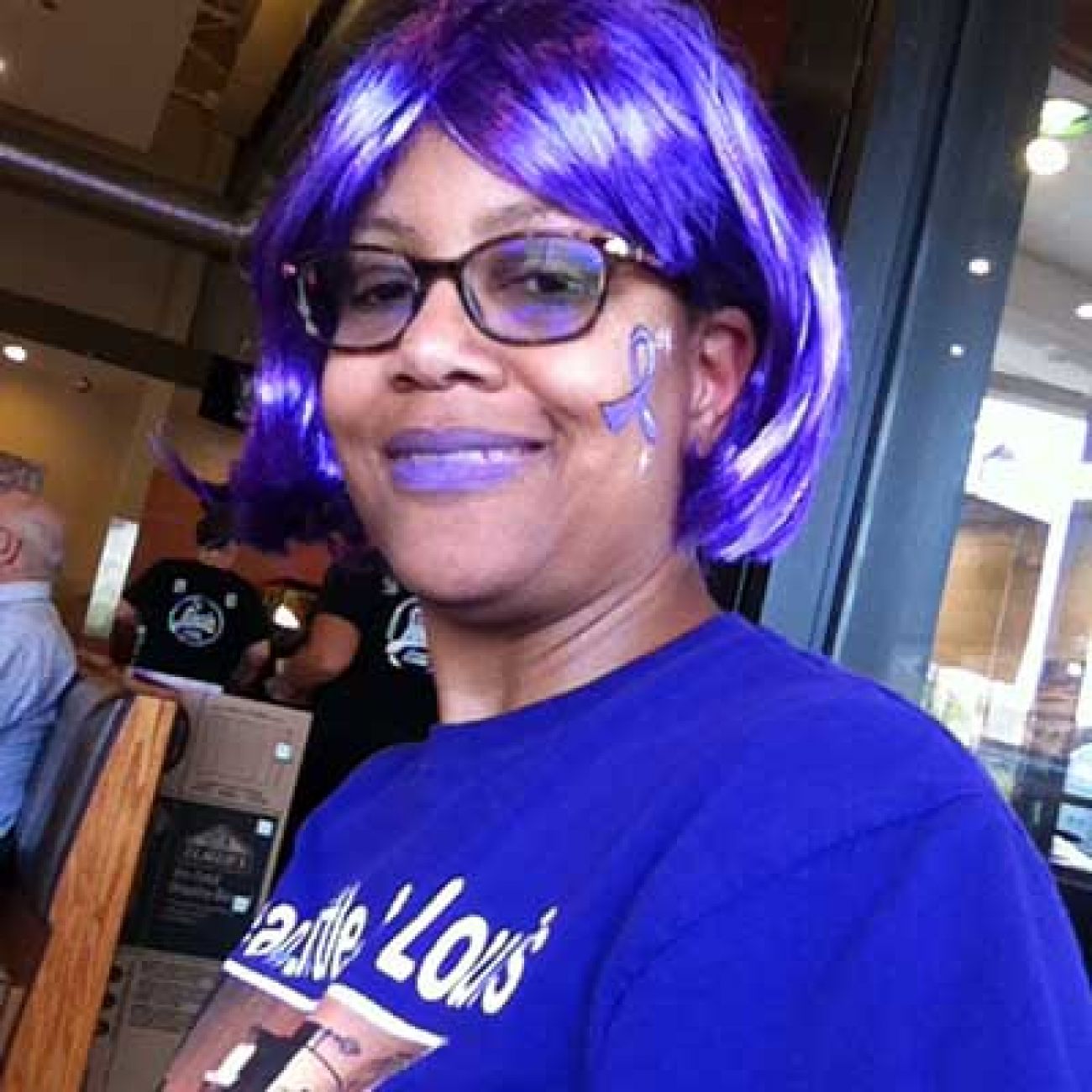 'Even if it's not perfect, the new Alzheimer's drug offers the first chance that we have of real hope,' said Treva Daniels-Carlson, a psychology teacher near Flint whose mother and other loved ones have died with dementia. (Courtesy photo)
In Saline, Mangi mused: If Aduhelm existed in 2007 when Kathleen Schmidt first asked about her dead sister, might things have been different for he and his wife, who once loved museums and concerts and bike rides together?
"A few more months for a better quality of life for my sweetheart would have been worth any price I could have paid," Mangi said.
Some answers to questions about Aduhelm
How does it work?
Researchers believe that sticky protein fragments called beta-amyloids clump together in the brain over time to form plaques — a hallmark of Alzheimer's Disease. Lodged between neurons, these plaques appear to disrupt cell-to-cell communication and ultimately lead to cell death.
The process takes years, shutting off memories and eventually switching off the ability to do everyday tasks or even breathe and eat.
A handful of drugs approved earlier for Alzheimer's are temporary workarounds, treating symptoms by essentially boosting the neural signals to bypass the plaques. Their effectiveness wanes over time.
In contrast, Aduhelm — also known as aducanumab — reduces the plaques, according to positron emission tomography (PET) images in studies involving 3,482 patients. Under current guidance, the drug would be given as monthly infusions.
The problem is this: It's not immediately clear whether breaking down the plaques will halt or reverse the disease. The scans provide only a surrogate endpoint — offering evidence that the drug might work.
The founder of an environmental testing company, Mangi is used to the uncertainty, debate, and weighing of evidence in science.
"The question is this: Does removing the plaques help with cognition? It's fair criticism not to be convinced," he said. "But it's also reasonable to say that plaques have something to do with cognition, and if you address the damage-causing factor, there will be less damage."
Evidence is "not absolutely rock solid" either way, Mangi said.
And there's little other alternative, the FDA noted, as did the Alzheimer's Association, which lobbied for its approval.
Even if it's not the best drug yet, Aduhelm will likely spur investment in the search for better Alzheimer's drugs, said Jennifer Lepard, president and CEO of the Michigan chapter of the Alzheimer's Association.
"The first drug that comes out for any disease isn't always the best, but having it out there can spur other development," she said.
At the Michigan Institute for Neurological Disorders in Farmington Hills, or MIND, Dr. Jonathan Fellows called the drug "groundbreaking," but with similar qualifiers.
"This is not the be-all-end-all, if you will," he said, but "this was a great first step. With this drug being FDA-approved, it really ignites the fire for other areas of research for the treatment of Alzheimer's or dementia."
A woman in her 60s was the first patient to receive Aduhelm at the Farmington Hills-based Michigan Institute for Neurological Disorders, or MIND, and she had no serious side effects, said Dr. Jonathan Fellows. (Courtesy photo)
It also may prompt individuals or families to talk to their doctors earlier about the concerns, said Bertha Bullen of Okemos, who with her husband, Jim Kruse, have become ambassadors for the Alzheimer's Association's Michigan chapter.
Ten of the couple's loved ones have been diagnosed with dementia, they said.
Among retirees in a 2020 survey for Edward Jones financial advisor group, Alzheimer's was the most dreaded disease — more so than cancer, heart attack or stroke.
"When it gets in your generation, your cousin and siblings, you start looking over your shoulder," Bullen said.
Is it available?
Not at your local drug store, no.
The drug is given by infusion once monthly and will require a prescription after a physician determines whether a patient does, in fact, have biomarkers for plaques. That's done through a spinal tap, said Fellows, at MIND.
Within two weeks of the drug's approval — on June 16 — MIND administered its first dose. Fellows wouldn't say how the drug was paid for, noting rather that MIND has done only one dose to a woman in her 60s. There were no major side effects, he said.
Now, MIND and other providers await decisions by the U.S. Centers for Medicare and Medicaid Services about whether CMS will cover it through Medicare, said Fellows, who leads MIND's Alzheimer's Disease and Memory Disorder Center.
Local insurers likely will follow suit, he said.
So will my insurance cover it?
Perhaps, but not yet.
CMS, as well as individual insurers or hospitals, consider new drugs through Pharmacy and Therapeutics committees. CMS likely will consider Aduhelm in the coming months, and it could decide to limit coverage to select patients.
In addition to cost, committees consider several factors: A drug's efficacy and alternative options, for example, representatives from Blue Cross Blue Shield of Michigan and Priority Health, two of Michigan's largest insurances, told Bridge.
Whatever the drug, its effectiveness is one of a "robust" calculation, said Christina Barrington, vice president of pharmacy programs at Priority.
"We'll also need to (consider) how will it impact the total cost of care for our members? Will it impact on the medical side — reduce total cost of care? Hospitalizations? ER visits? Ancillary tests and procedures?"
Whether Medicare or the Blues cover Aduhelm is "not a no-brainer yes or a no-brainer no," said Dr. Jim Grant, chief medical officer for the Blues of Michigan.
Cost is secondary to the clinical benefit, he said.
"If the drug really proves to be good, and there's no other drug comparable, cost is not the issue," he said.
Why are taxpayers on the hook?
Medicare, the federal health insurance for people 65 or older, likely will be the largest insurer of Aduhelm.
If Medicare does cover the drug, taxpayers will pick up the biggest portion of the tab — one that would dwarf any other drug. Even by conservative estimates, the tab would run into billions of dollars.
Beyond the drug, itself, would be thousands of dollars for each person in infusion costs and follow-up care.
Supporters of Aduhelm, though, say the drug will be used only by a fraction of Alzheimer's patients, specifically those with mild to moderate impairments and those whose doctors detect the presence of the beta-amyloid plaques.
Still, even if 1 million Medicare beneficiaries receive Aduhelm, costs would "exceed $57 billion dollars in a single year" and equal "roughly the same that Medicare paid for all hospital outpatient services in 2019," according to an analysis by KFF, a California-based nonprofit focused on health policy.
Only donate if we've informed you about important Michigan issues
See what new members are saying about why they donated to Bridge Michigan:
"In order for this information to be accurate and unbiased it must be underwritten by its readers, not by special interests." - Larry S.
"Not many other media sources report on the topics Bridge does." - Susan B.
"Your journalism is outstanding and rare these days." - Mark S.
If you want to ensure the future of nonpartisan, nonprofit Michigan journalism, please become a member today. You, too, will be asked why you donated and maybe we'll feature your quote next time!