Long COVID remains a debilitating medical mystery for Michigan sufferers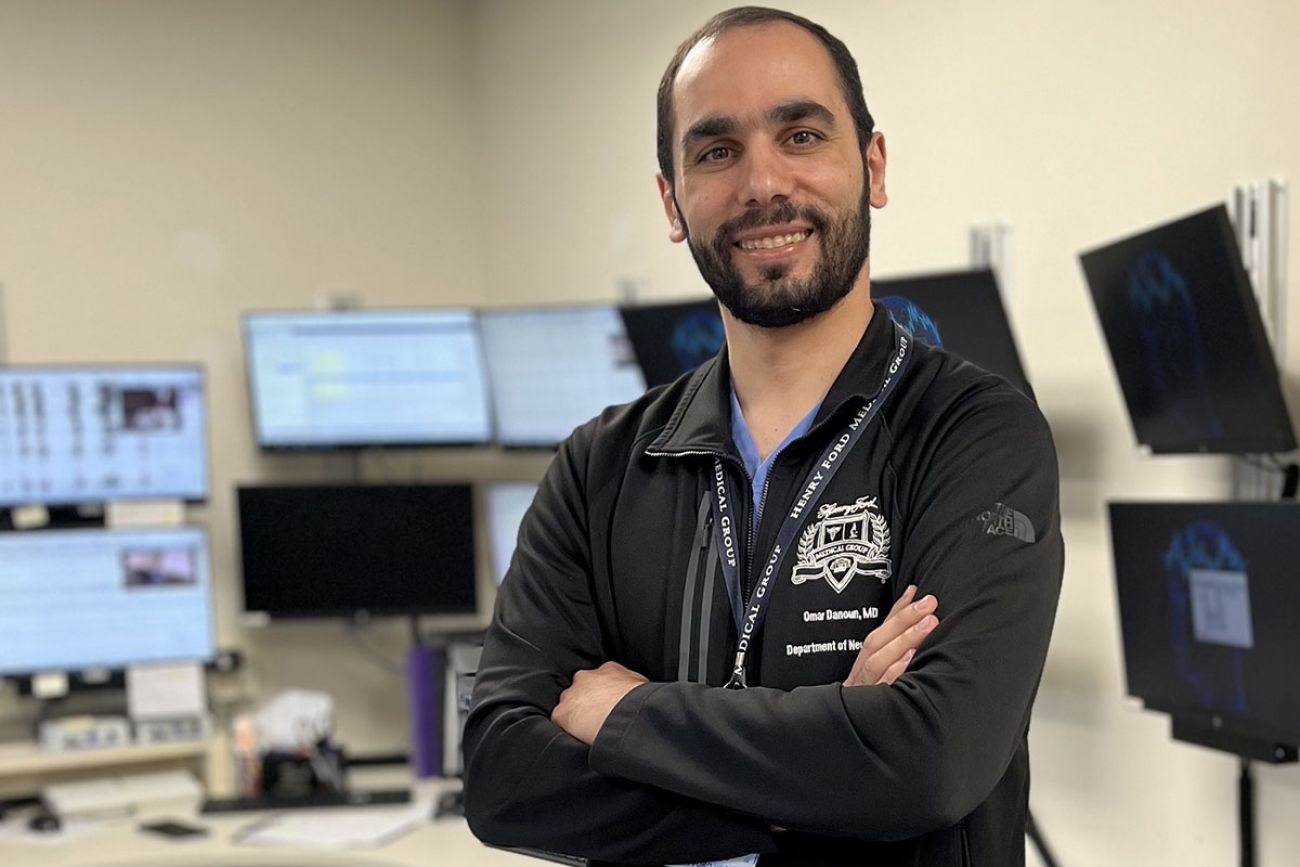 Dr. Omar Danoun leads the neurology portion of Henry Ford Health's long COVID clinic. (Photo courtesy of Henry Ford Health)
Long COVID has upended the lives of thousands of Michiganders and their families
Some have yet to recover years after their initial infection, others struggle to access treatment
Doctors still don't know how to reliably test or treat long COVID
---
Jeff Whitmer used to enjoy his free time running around with his kids and playing softball.
An architect and father of two living in Sylvan Lake, Whitmer now lives a much more sedentary lifestyle. He primarily works from home, and is struggling to get back to his life three years after contracting COVID-19.
After a relatively mild initial infection in November 2020, Whitmer started experiencing intense fatigue, headaches and other symptoms that continue to prevent him from working and living the way he did before.
Related:
Whitmer is one of many Michiganders seeking health care for long COVID, a syndrome that, three years after the onset of the pandemic, has yet to be fully defined.
Long COVID refers to a wide range of long-term health issues that develop during or after the initial COVID-19 infection. In Whitmer's case, these symptoms include intense fatigue, headaches, heart palpitations and forgetfulness, but in other sufferers, include dizziness, tinnitus and insomnia.
Knowledge of adverse effects following COVID-19 "recovery" dates back almost as far as COVID-19 itself. But more than three years after COVID first was detected in Michigan, the ambiguity of long COVID symptoms means there's no well-defined way to test, treat or track the condition. And that leaves patients and doctors searching for treatment and, at times, tangling with insurers for coverage, according to at least one Michigan doctor.
Precisely how many Michiganders have long COVID is unclear. The U.S. Centers for Disease Control and Prevention last year estimated that one in five Americans who had contracted COVID-19 had lingering symptoms from a COVID infection.
Earlier this year, health care research group KFF pulled from Census surveys to report that 11 percent of those who had had a COVID infection were still experiencing COVID symptoms — a percentage that declined from 19 percent in 2022.
And last month, a study published in the Journal of the American Medical Association estimated that 10 percent of those who were infected with the omicron variant suffered from post acute sequelae of SARS-CoV-2 infection (PASC), also known as long COVID.
With over 3 million confirmed and probable COVID-19 cases in Michigan, it's likely that hundreds of thousands of Michiganders have experienced long COVID symptoms.
Dr. Glenn Dregansky practiced family medicine for four decades and currently serves as president of the Michigan Academy of Family Physicians.
Dregansky told Bridge Michigan that a lack of consensus on what causes long COVID — and no reliable way to test for it — makes it uniquely frustrating to patients and doctors alike.
A patient might be experiencing long COVID symptoms without ever having taken a COVID-19 test. And without a positive test, health providers might not believe that the symptoms are due to long COVID, preventing patients from seeking the best possible care.
"If you've ever had a health condition that couldn't be pinned down, and nobody can tell you how long it's going to last, and nobody's going to tell you whether it's going to permanently affect your life, that's pretty frightening," Dregansky said.
And even if symptoms can be definitively linked to long COVID, there's no guaranteed treatment that will make them go away.
A primary care doctor can't do much more than recommend a long COVID patient exercise more, get enough sleep and eat healthy, Dregansky says. But when excessive fatigue, insomnia and loss of appetite are three common long COVID symptoms, that's much easier said than done.
"The things we tell people that they should do to get better, they often can't do," said Dregansky.
Michigan Medicine, at the University of Michigan, and Detroit-based Henry Ford Health operate clinics dedicated to treating and managing long COVID.
Dr. Omar Danoun is the head of neurology at Henry Ford Health's COVID Recovery Care program. Since December 2020, the clinic has employed a multidisciplinary team of specialists to address the different systems impacted by long COVID.
One patient might be treated by a neurologist, cardiologist and physiotherapist all within the program, Danoun says.
But at most Michigan hospitals, such as the Grand Rapids- and Southfield-based Corewell Health, long COVID patients are treated based on their underlying symptoms, which can vary wildly in nature and intensity.
"Long COVID is a very diverse condition," said Dr. Matthew Sims, director of infectious disease research at Corewell Health. "The difficulty is, there's really no proven treatments for it. The only treatment, so to speak, that's been proven to work is time."
One Canadian study found that 75 percent of long COVID patients recover within 12 months.
But that leaves 25 percent of patients like Whitmer stuck with a condition that doctors are still struggling to understand.
"It's a terrible position to be in, because you've had three plus years of symptoms. And people say it just takes time, but time has gone by, and you haven't necessarily gotten better yet," Sims said.
A lack of a precise definition for long COVID also presents issues for insurance providers.
"Blue Cross is not currently able to track long COVID, since treatment is primarily being targeted at the immediate health condition and symptoms," Dr. James Grant, senior vice president and chief medical officer at Blue Cross Blue Shield of Michigan, the state's largest health insurer, told Bridge in an emailed statement.
Insured long COVID patients receive coverage based on billing codes that refer to the individual symptoms being treated. Treatment is based on these symptoms, not long COVID itself.
The diagnosis code 'U09.9' can be assigned to patients experiencing post-COVID conditions, but only as a secondary identifier in conjunction with a primary diagnosis.
Coverage for long COVID symptoms would be no different than if another medical condition such as influenza caused the same adverse effects, says Brian Mills, deputy director of communications at the Michigan Association of Health Plans.
However, treatment access and affordability remains a hurdle for many long COVID patients.
According to the health plan association, 20 percent of Michigan adults do not have regular access to a primary care physician. The Census Bureau estimates that 6 percent of Michigan residents under 65 years of age do not have health insurance — a number that will undoubtedly increase as states, including Michigan, take post-pandemic steps to bump people who are no longer eligible off of Medicaid.
Even those who can access medical care and afford insurance might still be denied reimbursements to cover the treatment they need.
Danoun, the Henry Ford neurologist, says he's seen patients denied coverage for not having an official diagnosis, or in cases where the treatment had not yet been proven to work or approved by the FDA.
"It's a chronic condition, and it needs long-term treatment," Danoun said. "Insurance often does not cover those services that the patient needs, especially for mental health."
Without reimbursement, medical bills for testing and treatment can force long COVID patients into debt.
A debilitating long-term health effect might force a patient out of work and out of a paying job.
"We have a lot of issues with coverage from that; most employers will just let them go," Danoun says. "People can have months of need for therapy and treatment and might not be able to work that time. So they will be pushed to work and get worse, or they will be denied and let go of their jobs."
Dr. Delicia Pruitt, medical director of the Saginaw County Health Department, says she had one patient who has been oxygen-dependent and unable to work for the two years since she was first infected.
The Brookings Institute used Census Bureau data to estimate that long COVID is keeping between 2 million and 4 million Americans out of work, resulting in an estimated $170 billion in annual lost wages.
Not surprisingly, long COVID can take a toll on mental health, too.
This month, the Substance Abuse and Mental Health Services Administration issued guidance for doctors to better identify and manage mental health symptoms linked to long COVID.
Psychiatric issues such as depression, anxiety and post-traumatic stress disorder can emerge or be exacerbated by COVID-19 infection. One study cited in the guidance found that over 40 percent of adults with long COVID reported depression symptoms 6 months after initial infection.
Beyond the patients themselves, one study found that long COVID has had detrimental psychological effects on family members, from financial concerns to fear over the patient's health.
Some long COVID patients qualify for disability benefits, replacing income for those who can no longer work.
However, being approved for disability checks can be a huge challenge in and of itself. One long COVID patient in California even had his benefits reversed after having access for under a year.
Dr. Pruitt, who has worked in both family medicine and public health, told Bridge Michigan that applying for short- and long-term disability benefits requires reporting symptoms.
But, many long COVID patients experience symptoms such as brain fog and lack of stamina, which don't appear on medical scans and can't be reported objectively.
"If you don't have an MRI, X-ray or a CT scan that shows the abnormality, you've got a problem," Pruitt said. "Because then you don't have any objective findings to show there's something seriously wrong with you, and this is why the rejection comes."
And even if access to treatment isn't an issue, some patients like Whitmer are simply unable to fully recover.
"I basically went to a doctor for every major portion of the body when they were trying to figure out what was going on," Whitmer says. "All of my tests always came back perfectly clear, 'no issues,' but there were still issues. So it turns into, 'we can't really fix anything, so let's try to get it to a management point.'"
As scientists continue to study the common symptoms, possible causes and potential treatments, long COVID patients have no choice but to continue waiting it out.
"Every now and then I'll get a call from my nurse coordinator, and they'll have new things that have helped some other patients, so they'll ask if I'm willing to try it," Whitmer said. "Some things help a little bit, some don't."
Whitmer said he hopes others can show compassion to those who are continuing to live with long COVID.
"I know some people that don't fully believe it and they want to put it onto something else," Whitmer says. "When someone tells you 'hey, I'm not feeling right,' just believe them."
Only donate if we've informed you about important Michigan issues
See what new members are saying about why they donated to Bridge Michigan:
"In order for this information to be accurate and unbiased it must be underwritten by its readers, not by special interests." - Larry S.
"Not many other media sources report on the topics Bridge does." - Susan B.
"Your journalism is outstanding and rare these days." - Mark S.
If you want to ensure the future of nonpartisan, nonprofit Michigan journalism, please become a member today. You, too, will be asked why you donated and maybe we'll feature your quote next time!