The pandemic isn't over. What Michigan needs to do if there's a next wave.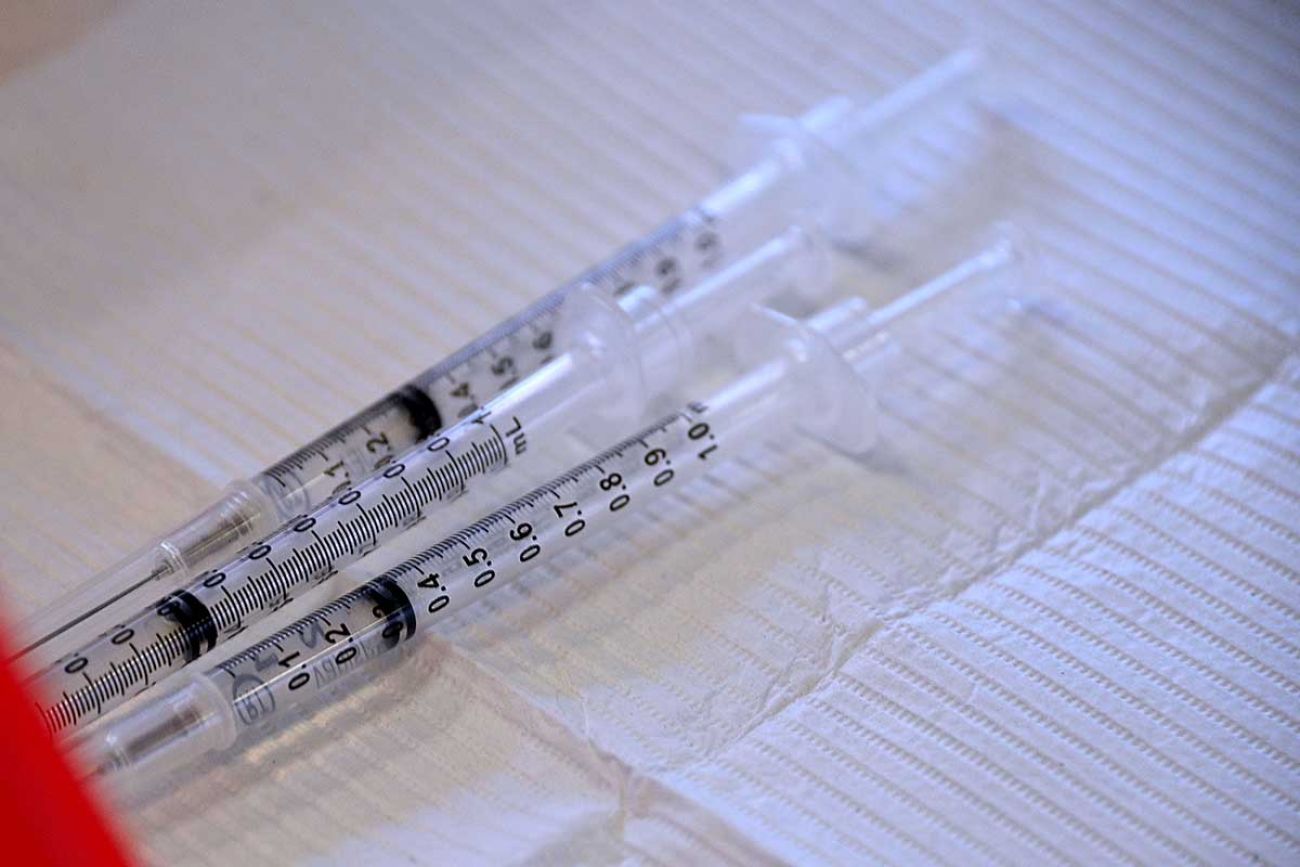 The omicron variant seemingly came out of nowhere and upended some conventional wisdom about the coronavirus. Hospitals, for one, are now getting out of the modeling business. (Bridge photo by Dale Young)
Just weeks after pummeling Michigan, omicron is fading fast, prompting counties to drop school mask mandates and life — once again — to resemble something close to normal.
But while the White House's chief medical officer, Dr. Anthony Fauci, recently said the "full-blown pandemic phase" may be soon over in the United States, the sudden onslaught of omicron shows that predicting the future is impossible.
With little warning, the variant pummeled Michigan, spiking to more than 20,000 cases per day in early January before declining to less than 5,000 in early February.
Related:
That shows, once again, the unpredictability of COVID-19 two years into the pandemic. So while the future is uncertain, planning for it is not.
Hospitals, educators, business leaders and others are already taking precautions for another possible wave. Here's their latest thinking on how omicron has shaped their views of what's coming next.
Lesson learned: Kids, parents need teachers and schools
Omicron blasted a hole in education, its huge case count infecting thousands of students but also thousands of school employees — teachers and administrators and also food service workers and bus drivers.
That caused numerous schools to close, not because too many kids were sick but because there weren't enough adults to run the buildings. The result, though, was the same: kids weren't at their desks, learning.
Katharine Strunk, professor of education policy at Michigan State University, said the wave of closures reaffirmed the necessity for educators across Michigan and the country to make sure they do whatever they can to keep kids in class.
Strunk is part of a team of researchers that found that children who had "remote learning" in 2020-21 suffered academically compared to those who attended in person. The results were even worse for lower-income and minority students, exacerbating already-existing gaps.
"We want to make sure we have provisions to have enough adults in school to have school (in person) safely," Strunk said.
The learning loss alone would be reason enough to push for more in-person education. But Strunk said there's another reason: If kids aren't in school, it often keeps parents at home too, putting employers in a bind.
"Schools are very important institutions to keep our economy running," she said.
But the problem in keeping schools open, omicron showed, was often in staffing: too many school employees were forced to stay home with an infection.
It got so bad that school leaders requested and got legislation passed in December to allow any school employee to temporarily teach.
Although that is a short-term solution, Strunk said the state must look farther ahead and take steps to encourage more people to choose careers in education.
During the second school year of the pandemic, many students have been forced to quarantine because of an infection or close contact with someone who had COVID-19. Since Dec. 1, nearly 60,000 kids under 9 have come down with COVID-19, or 45 percent
But unlike in the 2020-21 school year, there were few remote options. Teachers found it too hard to teach those in a classroom and also those following along at home. And there weren't enough teachers to handle in-person students and create video lessons for those at home.
So many students were sent home to do school work on their own, leaving another gap in their schooling.
Strunk said schools have to figure out how to help those who are required to stay home. Though remote work is not as good as in-person, it is better than having students work independently. "It seems like for the next surge, if it's coming, that we have ways to have them working remotely," Strunk said.
Having a reserve of teachers ready to help those students via a video link would be expensive, Strunk acknowledged, and few districts would be able to afford it. She suggested that districts could possibly work together to staff "reserve" teachers who would be on standby and able to help students by phone or video conference.
"I would hope the state is thinking about how to … efficiently and effectively educate school children when they can't be in classrooms," Strunk said.
Lesson for hospitals: Be ready, nimble
Omicron spread like lightning, infecting more than 725,000 people in Michigan since December. That's equal to half of the 1.3 million that occurred in the previous 21 months.
The surge came as hospitalizations from COVID were declining, but caused them to spike again to 5,000 in early January. That seesaw has changed how some hospital leaders anticipate the next phase, in part because it has become so hard to anticipate anything.
"We need to get out of the predicting business," said Chad Tuttle, chief operating officer for SpectrumHealth, which operates 14 hospitals in west and northern Michigan.
Tuttle said Spectrum Health had long monitored various COVID-19 trends, trying to determine what would happen next. Omicron altered those views in part because of its impact on the system's 31,000-person workforce, infecting hundreds and forcing them to stay home.
During the delta variant surge in 2021, which stretched from July through December, 20 to 40 Spectrum workers tested positive daily, Tuttle said. With omicron, that hit 150 to 200 workers and at one point 840 staff were off at the same time.
Now the system looks forward in two-week increments, keeping an eye on emergency room activity and on coronavirus test positivity. The system has honed its ability to identify potential staff — former nurses now in administration, for instance — and its ability to rapidly add beds and wards.
"We can turn a unit on or off in two hours," Tuttle said.
But another part of planning for the next wave, should it come, is taking care of all those patients whose care was deferred or delayed, Tuttle said.
Hundreds of surgeries were put off as the hospitals were hit with waves of COVID-19 patients and as staff were forced to stay home because they were infected.
That means the hospitals have to "surge" to provide the care to those patients now, before another potential wave could cause another delay, Tuttle said.
But a bigger long-term problem looms for hospitals: the workforce and its shrinking size. Many left the health care profession during the pandemic and there was already a growing nursing shortage. Combined with the stress of the COVID-19 surges, many healthcare staff are exhausted.
"We need to work on retaining the workforce we have and recruiting (more workers)," said Laura Appel, senior vice president, health policy and innovation for the Michigan Health and Hospitals Association.
The MHA is pushing to improve conditions for existing health care workers but also encourage more to pursue careers in nursing, respiratory therapy and pharmacy tech.
They have advocated programs to help those already in health care, like licensed practical nurses, get the additional training to become registered nurses. And they want to see more money poured into programs to encourage high school students to enroll in college-level health care programs.
This month, legislators passed House Bill 5523, which would spend $300 million to assist in medical education. It will soon go to Gov. Gretchen Whitmer for her consideration.
Lesson for business: Workforce predicts success
The omicron variant proved less deadly but more contagious and the infections triggered a cascade of work slowdowns as employees quarantined.
It hit hospitals hard and educators, too. It also forced many businesses to temporarily close or reduce hours. But because so many school kids stayed home, so too did their parents, often pulling them out of the workforce.
Strunk and Brian Calley, president and CEO of the Small Business Association of Michigan, couldn't agree more on the role schools must play going forward.
"Schools are very important institutions to keep our economy running," she said, saying districts must work to keep them open as much as possible.
For businesses, keeping "extra" employees around in case of a worker shortage is not possible.
Calley said what has to happen is taking steps to make sure the workers who are working are able to do so. Part of that is recognizing the child-care component of schools and keeping them open.
Those pressures have been compounded by the number of people who could work but have chosen not to. Michigan's labor force participation is at 60 percent, the 40th lowest in the nation and below the nation's rate of 62 percent.
But employers who have seen their workforce diminish, even temporarily, are considering other steps, Calley said. One is automation — or more of it. Most people think automation only means robots building cars, but it can also mean an app for ordering a good or service electronically, without the assistance of another person.
Without substantial changes, however, Calley said employers should plan for an ever tighter labor market, one that future COVID-19 surges will only exacerbate.
"There's no reason to believe it's going to get any easier in the future than it is now," Calley told Bridge Michigan. "There's a growing awareness that this is how it is now."
And some businesses, which in the past could look to foreign workers to temporarily come to Michigan, have found that avenue diminished, with a huge drop in the visas required, Calley said.
Only donate if we've informed you about important Michigan issues
See what new members are saying about why they donated to Bridge Michigan:
"In order for this information to be accurate and unbiased it must be underwritten by its readers, not by special interests." - Larry S.
"Not many other media sources report on the topics Bridge does." - Susan B.
"Your journalism is outstanding and rare these days." - Mark S.
If you want to ensure the future of nonpartisan, nonprofit Michigan journalism, please become a member today. You, too, will be asked why you donated and maybe we'll feature your quote next time!