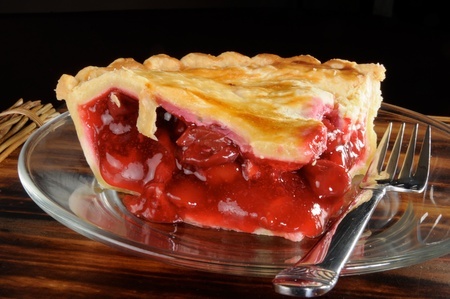 We've survived the Fourth of July, and are now entering into cherry season, one of the great glories of summer in Michigan.
This is especially meaningful for me, because my family has a close connection with Michigan cherries. Family legend has it my great-great grandfather, Eugene Power, was one of the first to plant cherries in northwestern Michigan back in the late 19th Century.
Fifteen or so years ago, my cousin Tom Power, a Grand Traverse County Circuit Judge, and I visited the old family farm near Elk Rapids, a town 15 or so miles north of Traverse City.
We talked briefly with a woman who then lived there, who said that yes, indeed, a family called "Power" had, indeed, once owned a cherry orchard there. And out in the backyard was a very, very old cherry tree we thought might have been from that original orchard.
And I have a family photograph that shows my great-great grandfather in a white shirt and tie, dark suit and Panama hat standing in the middle of his orchard. He's looking proprietary, surveying his newly planted cherry trees, with a farmhand standing behind him with a pruning knife.
But what kind of cherries? Almost certainly, he was planting Montmorency cherries, called "sours" to distinguish them from the dark red eating cherries, "sweets," which also grow in the area.
They took off, relatively quickly, becoming the dominant crop in the region, and thriving on the sandy, well-drained soil. They also benefited from the moderating influence of Lake Michigan, which kept temperatures depressed in the spring, thereby delaying the flowering of the trees until the danger of a killing frost had – mostly – passed.
My father, also named Eugene Power, grew up in Traverse City. He told me that his father, Glenn, who started out as a surveyor, helped his grandfather lay out the cherry trees in long, straight lines. My father remembered his first job was out on the family farm, picking cherries at 10 cents a lug.
A lug was a shallow crate used to transport cherries to market, often weighing 22 pounds. That was a lot of cherries ... but back then a dime was a lot of money! It wasn't easy to be a pioneering farmer back then. You couldn't be sure the trees, once planted, would thrive. And there was always the risk of a late frost freezing the flowers. The markets for your cherries were far away and uncertain. The capital you had invested in the land and the trees was always at risk. But risk taking and originality were the way of my family – and countless similar pioneer families. They did much to make our state and our nation. I think of them often with gratitude and admiration.
Things aren't a bed of blossoms for today's growers either. Despite efforts to maintain the orchards in the area, today's frenzied development has put enormous pressure on cherry farmers, who are always subject to the wild swings of the farm economy.
Get a big crop, the price goes way down. Get a small crop, the price goes up, but you don't have that many cherries to sell. It's a tough decision to stay in the business, especially when you can make so much money by selling out.
I'd hate to see the cherry orchards – the key distinctive aspect of the landscape – fall prey to the developers.
If that happens, all of us will be the poorer for it.
Fortunately, in the meantime we still have left lots of luscious cherries, the beautiful white blossoms, and a sense of historic agricultural continuity. And we can reflect on the glories of a Michigan summer as we eat cherry pie. Here's my family recipe:
Montmorency Cherry Pie
For the crust:
1 ½ cups all-purpose flour, plus additional for rolling out
¼ teaspoon baking powder
½ tablespoon salt
1/3 cup lard (My wife, Kathy, doesn't use lard; instead, she uses two sticks of unsalted butter for all the shortenings.)
3 tablespoons unsalted butter
2 tablespoons vegetable shortening
2 tablespoons ice water
1 teaspoon white vinegar
2 eggs
For the filling:
4 cups pitted Montmorency (sour) cherries
1 cup granulated white sugar
1/3 cup brown sugar
3 tablespoons quick-cooking tapioca
½ teaspoon almond extract
¼ teaspoon mace
3 tablespoons butter, cut into small pieces
1 tablespoon kirsch (optional)
To make the crust: Combine flour, baking powder and salt in a mixing bowl. Add the lard, butter and shortening, and mix with your fingers or a pastry cutter until the mixture forms coarse crumbs. Whisk together the ice water, vinegar and one of the eggs. Add to the flour mixture and mix with a fork just until combined; do not overwork the dough. Roll into a ball and refrigerate for at least 30 minutes.
For the filling: In a large bowl combine the cherries, sugars, tapioca, almond extract, mace and optional kirsch, if desired. Allow to stand for 15 minutes.
Preheat the oven to 425 degrees.
Roll out ½ of the dough on a lightly floured surface. Line a 9-inch pie pan with the dough and trim the edges. Place the filling in the pie shell and dot with butter. Roll out the remaining dough and make a top – try a lattice one if you're ambitious. Whisk the remaining egg with two teaspoons of water and brush the egg wash onto the top. Slash several cuts into the top.
Bake for 10 minutes, then lower the temperature to 350 degrees and continue baking for 30 or 40 minutes, or until the juices are bubbling up. Cool briefly and eat, either warm or cold.
My father preferred vanilla ice cream with his pie. I'm more of a purist. But whatever your taste bud preference, cherry pie is delicious way to celebrate Michigan – and the wonders of summer in our state.