Remembering an icon of the Upper Peninsula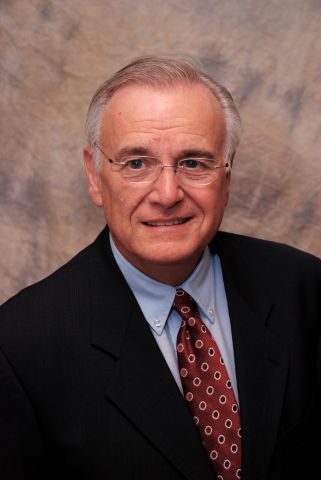 My old friend, Tom Baldini, used to talk about it, especially in recent years late in the evening when we both realized we were getting older.
"I'd crawl across the township on my knees," he'd say, "to die on my feet and not from a stroke." We'd agree and have a snort (Tom called it "a toddy for the body") before he'd drive back home to Marquette from my cabin in the woods.
So when I heard last week that Tom had died of a massive stroke, I couldn't wash away the strange mixture of feelings: Tears of sadness and regret for a friend cut down at 74, still in his prime; gratitude to a God of grace for helping him to a good way out; admiration for a guy who became an icon for the entire U.P. in his own lifetime.
Tom made Michigan great before it became a slogan. And his devotion to his Upper Peninsula and its special culture, hard-bitten and soft at the same time, spread like lake-effect snow wherever he went.
His dad was a miner who worked underground most of his life and died young of black lung disease. Momma Baldini kept house in Negaunee and made sure her son, Tommy the altar boy, knew the difference between right and wrong and never lost his pride in the countless immigrant families like his, who worked hard and made a good life in the North Woods.
What you saw in the arc of Tom's life is the promise of America writ in large type. High school and then college, followed by teaching countless kids in economics and government in the Marquette schools.
"Oh, Mr. Baldini," they'd all say, "he was the best teacher I ever had." He rose high in the Marquette teachers' union and in Democratic politics. Evenings, he'd watch Rep. Dominic Jacobetti, the sachem of the legislature and the boss of the U.P., as he sat under a bare light bulb upstairs in the Italian-American club and listened to the faithful plead for help.
Tom absorbed those lessons learned well, as I learned earlier than most people, when I made an ill-fated run for the U.S. Senate in 1978. I finished far behind Carl Levin, who went on to be the longest-serving senator in Michigan history.
But I did win in the Upper Peninsula that year. And you get only one guess who ran my campaign up there.
Tom Baldini's career started to hit the big time when Jim Blanchard was elected in 1982 and some of us persuaded the new governor he needed somebody who could be trusted and who knew the U.P. like the back of his hand. Tom became Special Assistant for the Upper Peninsula, and nothing significant happened up there without Tom's say-so.
And when Bill Clinton became President in 1993, Tom was appointed U.S Chair of the U.S.-Canada International Joint Commission, the treaty organization that resolves boundary, fish and every other kind of dispute between the two nations. And when Blanchard was later appointed Ambassador to Canada, we had a former governor from southeastern Michigan and a former altar boy from the U.P. running our foreign policy with our largest trading partner.
Nor did it end there. Bart Stupak, a former state trooper who was working as a lawyer in Escanaba, first got elected to Congress in the early 1990s. He needed somebody he could trust to manage things in one of the largest congressional districts in America, and, sure enough, he picked Tom to do it.
And somewhere along the way, Tom got a job as the assistant to the superintendent for finances and personnel for the Marquette Public Schools, where he used to quarrel with the teachers' union. He taught government as an adjunct professor at Northern Michigan University and was appointed by then-Gov. Jennifer Granholm to the board of trustees at Michigan Technological University, the very fine school in Houghton.
But then he decided to come back to his roots and ran successfully for Marquette City Council in 2014 and became mayor. He came out to see me that summer, pleased as punch with his new campaign button. "It's Time for Tom," it said.
When I got news of his passing it occurred to me that it's been time for Tom for much of his life.
In my mind, if there is one thing that stands out about Tom, it's his absolute trustworthiness. Governors knew it. Members of Congress knew it, just as did the international civil servants he worked with. His political allies ‒ and his opponents, too ‒ knew it. His legion of friends knew it ... and relished who he was every single time they saw him.
Teacher. Politician. International civil servant. Adjunct professor. Union leader. Trusted aide to the powerful.
Civic leader. A guy who never forgot his roots and nourished the soil that rooted him. They don't make many like that anymore. And those that knew and loved him gained more by the experience than they ever could have imagined.
I could go on and on, but something just got in my eyes and it's making it hard to see the page….
We're not just a news organization, we're also your neighbors
We've been there for you with daily Michigan COVID-19 news; reporting on the emergence of the virus, daily numbers with our tracker and dashboard, exploding unemployment, and we finally were able to report on mass vaccine distribution. We report because the news impacts all of us. Will you please donate and help us reach our goal of 15,000 members in 2021?