Remember the lousy movie "Mars Needs Women," the 1967 cult classic in which Tommy Kirk leads his fellow Martians to Earth on an interplanetary quest for females? Well, Michigan has the women (though maybe not so many in their child-bearing years).
The state really needs babies – and the women who want to have them.
While there have been periodic upticks over the last 21 years, the general trend has been one of steady decrease. The recently released total for 2011 births in Michigan represents a drop of 25.4 percent since the halcyon days of 1990. Nothing, of course, compares to the baby boom period. In 1960, as the baby boom years were nearing a close, Michigan residents recorded 195,056 births.
For more perspective, the 2011 total represents a level of births last seen in the mid-1940s.
Delving a little deeper into the numbers, we need to understand the trends by age of mother.
A very positive trend has been the decreasing rates of teen mothers. Over the period 2000-2011, the number of births to women age 15-19 years has decreased by 31.5 percent.
While a numerical decrease is important, the fact that the birth rate for teenagers (number of births per 1,000) has also dropped by 31 percent over this period is even better news.
Moving up the age ladder, we know that increasing levels of educational attainment have resulted in delayed childbearing for women. This is reflected in Michigan with percentage decreases ranging from 13 percent to 19 percent for each of the four 5-year age cohorts between 20 and 39 years of age.
When we look at their birth rates, we find that only the 20-24 and 25-29 cohorts experienced a decrease, -21.1 and -3.6 percent, respectively.
Birth rates increased for those 30-34 and 35-3, 4.7 percent and 9.6 percent, respectively.
While women between 40 and 49 years of age account for a relatively small share of overall births, that number has more than doubled since 1990. In addition, their birth rate over this time has more than doubled, as well.
Using this information to predict our future, we can look at population forecasts developed by Don Grimes from the University of Michigan. The number of women between 20 and 34 years of age, the major contributors to births in Michigan, is projected to stay rather steady between now and 2020, at which time they will begin to decrease.
Unless there is a renewed interest in having babies, and this might mean more than one or two at that, their contribution will not change appreciably. In fact, there is a likelihood that their birth rates will continue to decrease. Women 35 to 44 years of age will decrease in number through 2020 when they begin to benefit from the aging of the previous cohorts. Therefore, since they contribute a relatively low number of overall births, a continuation of their increasing birth rate will have little, if any, effect on the bottom line.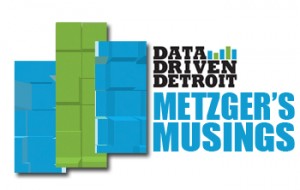 While the discussion to this point has been at the state level, it is interesting to see how these trends play out at county level across the state. Data Driven Detroit (D3) has produced a map that portrays the change in births between the two-year periods of 2000-01 and 2010-11.
Only four of 83 counties experienced an increase in births between these periods – and three of them are in the Upper Peninsula! While this is certainly good news, the older age distribution that is resident throughout the U.P. and mainly northern Lower Peninsula counties, with the exception of those with universities, is still resulting in "negative natural increase," as births outnumber deaths.
The largest percentage decreases tended to be concentrated in the northern Lower Peninsula, while the largest numerical decreases occurred throughout Southeast Michigan.
Wayne County experienced a decrease of 6,839 annual births, primarily as a result of a continued decrease in Detroit. In spite of Detroit's birth rate decline, it was still higher than any county in the state. Its birth rate fell by 10.5 percent over the period. The largest birth rate decrease among the southeast Michigan counties was experienced by Livingston at -25.2 percent. Oakland followed at -17.0 percent, while Genesee and Macomb came in around -15 percent.
While their total births may be dropping, West Michigan counties hold the majority of the top spots for overall birth rates. Among the 83 counties, Kent is no. 1, St. Joseph no. 2, Ottawa no. 5, Oceana no. 6, Muskegon no. 7, Van Buren no. 8 and Berrien no. 9.
It is obvious from the trend in births, and the relatively stable to slightly increasing death and immigration numbers, that domestic migration will continue to be the key – unless Michigan develops policies that foster the desire to reproduce!
Kurt Metzger is director of Data Driven Detroit, a nonprofit in Detroit established by foundations to build greater capacity for people to work together, and improve lives and communities affiliated with the Michigan Nonprofit Association. He was research director for United Way for Southeastern Michigan from 2005 to 2008 and before that, was a director at the Center for Urban Studies at Wayne State University.