As measles outbreak spreads, Michigan anti-vaxxer group hits Lansing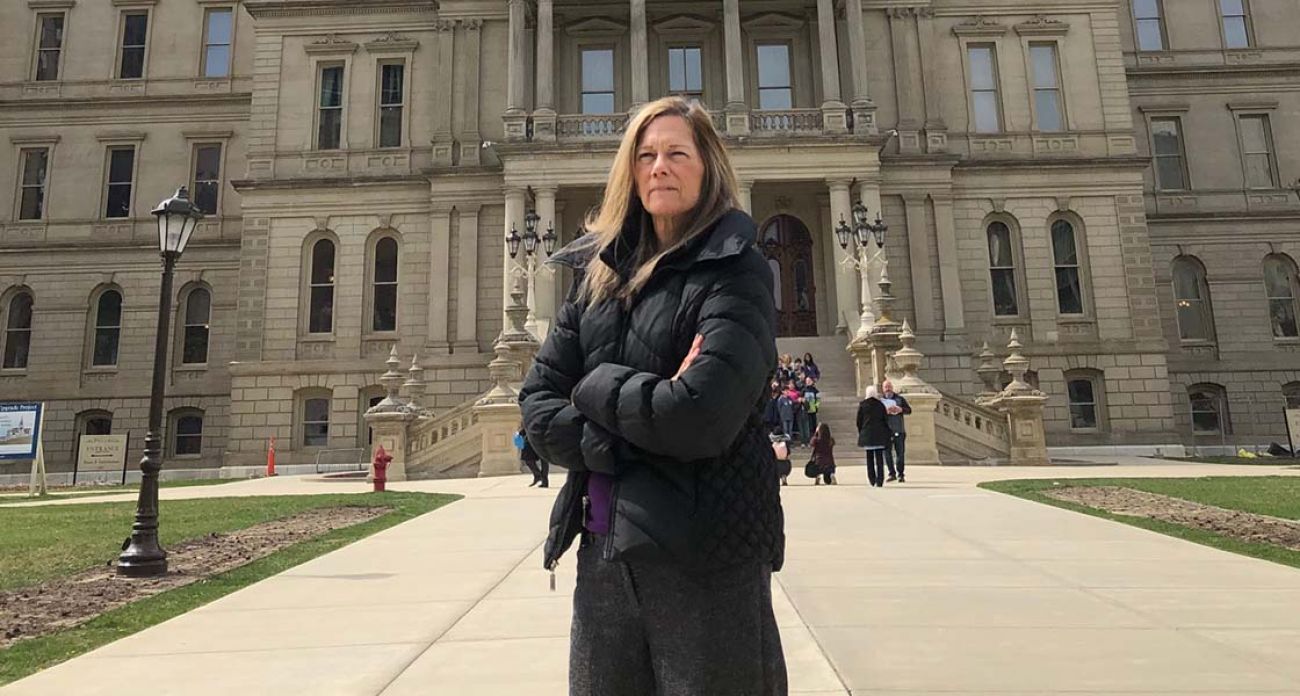 Suzanne Waltman, president of Michigan for Vaccine Choice, stands before Michigan's Capitol on Thursday. "It is a kind of frightening time for parents who choose not to vaccinate," she said. (Courtesy photo)
[CORRECTION and UPDATE: An earlier version of this article mistakenly used the former name of the Troy-based group, Michigan for Vaccine Choice. The article has been updated. Also, on Friday the state reduced the number of confirmed measles cases from 41 to 39 following additional testing. The article now reflects that lower number.]
Even as Michigan health officials urge vaccinations amid a measles outbreak that now counts 39 cases, residents opposed to mandatory vaccines converged on Lansing Thursday to deliver a message of their own to lawmakers.
"Don't take away our choice," said Suzanne Waltman, president of Michigan for Vaccine Choice, a Troy-based nonprofit group that has fought mandatory vaccination since 1994.
"Are we going to be forcing parents to get vaccinations against their will? It is a kind of frightening time for parents who choose not to vaccinate."
May 31, 2019: Unvaccinated student rates rise for third straight year in Michigan schools
Despite experts' warnings that so-called "anti-vaxxers" are opening the door to a surge in preventable diseases like measles, Waltman told Bridge Magazine that risk is overblown.
"Can we just take a breath and look at what we are talking about? Forty-one cases out of 9 million people in Michigan. Is that really a cause for concern? There are probably other things we should get more concerned about," Waltman said.
"Can we just take a breath and look at what we are talking about? Forty-one (measles) cases out of 9 million people in Michigan. Is that really a cause for concern?" — Suzanne Waltman, anti-vaccine advocate
Waltman said her group – about 150 strong, including some with families, from 23 Michigan counties – was meeting throughout the day with legislators and staff representing about half the state House delegation and roughly 10 state Senate offices.
Waltman also is listed as treasurer for the Michigan Vaccine Freedom PAC, which spent more than $10,000 on statewide candidates in 2018. That included $1,000 each for Republican Lt. Gov. Brian Calley and state Sen. Pat Colbeck in their unsuccessful primary bids for governor, as well as smaller amounts for dozens of other candidates.
While hardly outsized in political clout, these organizations are symptomatic of growing suspicion over vaccination that's percolated among parents for years. Fed by the Internet, some of that traces back to a 1998 British study that claimed a link between a preservative used in vaccinations and autism – a study later found to be fraudulent.
The tension between public health and parents' right to make religious or values-based decisions about their children's welfare is also playing out in a legal case just a few blocks from the Capital, where this week the Michigan Supreme Court heard arguments involving a couple charged with negligent homicide after refusing to get treatment for their infant with jaundice, who subsequently died. The parents said they believed God would heal the girl.
Among the targets of Thursday's legislative visits by people opposed to required vaccines was the office of Democratic state Sen. Winnie Brinks of Grand Rapids, where members met with a Brinks staffer.
Brinks was not available for comment to Bridge but said in 2017 the state has a responsibility to protect all children in the state from the threat of communicable illnesses.
"We can talk about best practices, but the underlying issue here is how we, as representatives of all people in the state, balance the rights of the overwhelming majority of people to be free from preventable illnesses with the 4 percent to 5 percent of people who want to be free from the inconvenience of getting the education."
Southeast Michigan has been ground zero for the state's measles outbreak, with 39 cases reported thus far in Oakland County. As Washtenaw County reported its first case, the Washtenaw County Health Department hosted walk-in vaccination clinics Tuesday and Wednesday in Ypsilanti free to those with Medicaid, Blue Cross Blue Shield insurance as well as those who remain uninsured.
Michigan's measles patients range in age from an 8-month-old baby to a 63-year-old, according to the Michigan Department of Health and Human Services. While measles can be serious in all age groups, children under 5 and adults older than 20 years are most likely to suffer from measles complications.
One-in-four cases lead to hospitalization, according to the U.S. Centers for Disease Control. The last recorded U.S. measles fatality was in 2015.
Measles was declared eliminated in the United States in 2000, though small outbreaks have occurred in recent years. According to the CDC, there were 465 cases nationwide as of April 4. That's more in the first three months this year than all last year. The surge in measles stretches well beyond U.S. borders, with more than 100 countries reporting major outbreaks in 2018.
In Kent County, health officials urged vaccination against the disease even though it has no reported cases.
"Measles is a is a very contagious disease that can have lifelong health complications," the Kent County Health Department warned in a statement.
"The best way for a person to protect themselves against measles is by getting the (measles-mumps-rubella) vaccine," said Adam London, the department's administrative health officer for KCHD.
In the past decade, state health officials have taken steps to reduce the number of children who go unvaccinated.
In 2014, Michigan had the sixth-highest rate of unvaccinated kindergartners in the nation. An outbreak of whooping cough at a Traverse City charter school late that year produced more than 150 suspected cases. Grand Traverse County had one of the highest opt-out rates for kindergarten vaccination in the state at the time and was six times the national average.
At the time, state law generally required parents to immunize school-age kids against communicable diseases such as measles, whooping cough, mumps and tetanus – unless they received a waiver that allowed them to opt out for medical, religious or "philosophical" reasons. Michigan remains one of 17 states that allow philosophical waivers.
To reduce the number of waivers, the state Department of Health and Human Services announced in 2015 that parents who want to opt out for non-medical reasons must sit down with a local health worker for an educational session on vaccine-preventable diseases before obtaining a waiver.
"We were not aware of the rule until the day it happened," Waltman said at the time. "We thought it was a stealth move."
In the first year after that rule was enacted, MDHHS reported the number of statewide waivers dropped by 35 percent.
Medical groups including the American Medical Association have long touted the safety and effectiveness of vaccines in protecting vulnerable groups - especially children - from epidemic diseases, while warning that vaccine opt-outs pose a risk to the population at large. In 2015, it recommended that state policies limit vaccine exemptions to those given for medical reasons.
In 2017, several hundred people packed a hearing room of the state House Education Reform Committee, many of them anti-vaccine parents who objected to the new waiver rules. The hearing produced comments on a pair of bills, including one to eliminate the waiver change. Neither passed the Legislature.
One lawmaker said the bills were about protecting a parent's right on how they raise their children.
"This is about parental rights," then-state Rep. Jeffrey Noble, R-Plymouth, said at the time.
"I came to Lansing after 25 years in the ministry to help with individual and parental rights, which have been taking a beating in recent years."
Noble, defeated in the November election, received a $100 contribution from Michigan Vaccine Freedom PAC.
Among those who made the trek to Lansing Thursday was a woman named Sara, from metropolitan Detroit. She declined to give her full name because of fear of harassment. She told Bridge she is the mother of three young children, ages 2, 4 and 6, who have never been vaccinated.
"After doing a lot of research on the entire issue and the vaccines themselves, we decided this would be best for our children," she said.
She said she believed vaccines have not been adequately tested for possible cancer-causing ingredients and expressed concern that cell lines from aborted fetuses are used in the production of vaccines, an issue discussed at length on the website of Right to Life of Michigan, an anti-abortion group. She also cited a 2011 report to the U.S. Department of Health and Human Services that found that adverse reactions to vaccinations are underreported.
As for the assertion that parents who opt out of vaccination for their children endanger others, she said: "My children's health is my main priority. I don't feel that the risk of vaccination is worth taking for my own family."
We're not just a news organization, we're also your neighbors
We've been there for you with daily Michigan COVID-19 news; reporting on the emergence of the virus, daily numbers with our tracker and dashboard, exploding unemployment, and we finally were able to report on mass vaccine distribution. We report because the news impacts all of us. Will you please support our nonprofit newsroom?