In rural Michigan, a doctor shortage promises to get worse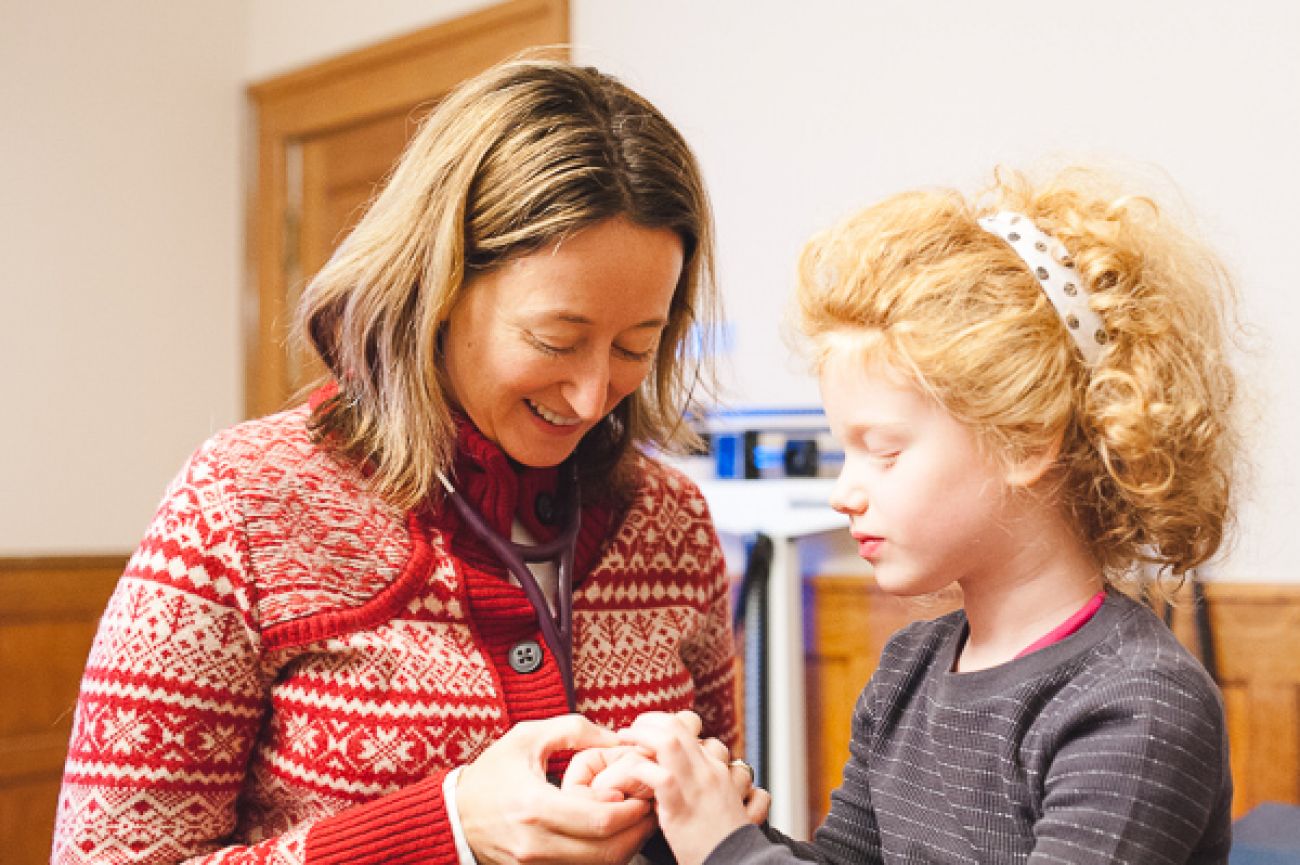 Though her choice of medical school took her to the heart of Detroit, Jill Kalcich always knew she would set up practice somewhere a little less crowded.
That's how the 2002 graduate of the Wayne State University School of Medicine wound up in the Upper Peninsula's remote Keweenaw Peninsula, where she is the only physician at Keweenaw Holistic Family Medicine. Her clinic office is just a few miles on country roads from where she grew up. In the winter, that can be an adventure.
"Growing up here, I think, was the biggest impact in that decision," Kalcich said. "When you are practicing in a rural location, you are actually doing more because you don't have so much access to specialty medicine.
"I have patients all the way from a few weeks old to my oldest, I think, is 98 years old. I see pretty much everything – a vast range of any and all health conditions."
But Michigan needs many more physicians like Kalcich, according to a recent study by the nonprofit Lansing-based Citizens Research Council. It found that four rural counties in Michigan – Cass, Keweenaw, Lake and Oscoda – consistently fall below recommended ratios of primary care physicians to population. Seven other rural counties – most in the northern half of the Lower Peninsula - fall below suggested ratios in every primary care field it examined except family practice.
In a ranking extracted from 2012 data, the bottom 10 counties in Michigan had ratios of population-to-primary care physician ranging from 3,095-to-1 in Arenac County north of Bay City to 7,463-to-1 in Cass County in southwest Michigan. All 10 are rural counties. The state average was 1,246-to-1, slightly better than the U.S. average of 1,342-to-1.
Analysis by the American Academy of Family Physicians found that a "reasonable" ratio of population to primary care physician is 1,200-to-1.
Fewer doctors, greater needs
National research suggests that a shortage of primary care physicians can lower the quality of patient care, even as it drives up costs. A key reason for the rural primary care gap, according to the CRC report's author, is a decline in the percentage of medical school graduates who come from rural areas.
"It used to be that one third of medical school graduates were from rural areas. Now it is about one quarter," said the CRC's Nicole Bradshaw.
Based on analysis of federal data, Bradshaw estimated that rural Michigan needs another 60 primary care physicians to meet acceptable standards for physician-to-population ratio.
Bradshaw said the the rural doctor shortage is compounded by the fact that most physicians set up practice within 100 miles of where they complete their residency – most likely a hospital in an urban area.
"Unless they have some sort of tie to a community and they always intended to go to a rural area, the research shows that they are unlikely to practice in a rural area," she said.
Indeed, a 2007 study by the Washington D.C.-based Robert Graham Center, a nonprofit medical research organization, stated that medical students from rural areas were four times more likely to practice in a rural area than those from urban areas. It noted that 21 percent of the U.S. population lives in rural areas, while only 10 percent of physicians practice there.
RELATED: MSU's mission to train rural doctors
At the same time, the percentage of medical students choosing to specialize in primary care – the backbone of rural health care – has declined significantly. According to the American Academy of Family Physicians, half of U.S. doctors in 1960 were primary care physicians. It is about 25 percent today.
If projections are correct, and unless physician practice trends change, the shortage of rural primary care physicians in Michigan will only worsen as baby boomer doctors continue to retire.
"At the same time that the aging population is demanding more primary care services, an increasing number of physicians are retiring due to age," the CRC report stated, citing a 2012 survey of Michigan physicians in which 46 percent said they plan to leave medicine within a decade. .
The Center for Health Workforce Studies of the Association of American Medical Colleges projects a shortage in Michigan of 4,400 doctors – including both primary care doctors and specialists - by 2020.
And it's more than a matter of inconvenience for residents in rural areas.
Regions with a wide availability of primary care doctors are "positively and consistently associated with improved outcomes, reduced mortality, lower utilization of health care resources, and lower overall costs of care," according to a 2008 survey of medical literature by the American College of Physicians.
That report warned that a shortage of primary care physicians "will result in...more premature and preventable deaths for millions of Americans" as well as higher costs.
Rural counties across the nation have higher mortality rates across a spectrum of ages, from infants to young adults to adults over age 65, a 2014 report by the U.S. Department of Health and Human Services found. It reported an infant mortality rate of 8 deaths per 1,000 births in the most sparsely populated rural counties, compared with 6.2 deaths per 1,000 births in what it categorized as "large fringe metro counties." The death rate for adults over 65 was 14 percent higher in rural counties.
Phillip Bergquist, director of Health Center Operations for the Michigan Primary Care Association, suspects that disparity has as much to do with rural poverty, social and lifestyle factors as with a shortage of primary care physicians. He oversees 38 federally-funded nonprofit Health Care Centers in Michigan, targeted at rural and urban areas that are medically underserved.
This year's rankings of health outcomes by county in Michigan, compiled by the Robert Wood Johnson Foundation, found a mix of urban and rural counties among the state's bottom 10.
Wayne and Genessee counties, with their high concentrations of poverty in Detroit and Flint, ranked at the bottom. But seven of the remaining eight at the bottom are rural counties.
Little incentive for rural practice
Bergquist said many rural areas have long struggled with chronic shortages of primary care physicians.
"When they have openings ( for physicians), they tend to stay open longer. That tends to be because providers are not always attracted to living in rural communities. Those communities may not have amenities that are attractive to providers or their families."
And one rural medical executive says rural communities are up against another big barrier to primary care recruitment: Money.
"I can offer a starting salary for a family practice physician of $175,000 to $185,000," said Christine Baumgartner, CEO for Alcona Health Center, which serves five rural counties in the northern Lower Peninsula. The center employs 23 family practice physicians in 10 sites within its service area.
By contrast, Baumgarnter noted, an orthopedic surgeon might command upwards of $500,000 – and with the ever-escalating cost of medical school, increasing numbers of students are choosing more lucrative specialties.
"The cost of medical school has increased dramatically. If you are going to go into medical school and you end up with those bills, you want to go into a profession where you can actually pay off those debts."
According to a national study of medical schools, the average student medical school debt was about $176,000 in 2014.
Moreover, Baumgartner said, a primary care specialty like family practice is a demanding occupation. "Family practice is a lot of work. You hit every system in the human body. You deal with a lot of family issues. Diagnosis is critical. There can be a lot of pressure."
Solving the rural doctor gap
So what can be done in Michigan to close the rural primary care gap? There are possible solutions in both state and federal aid and medical school recruitment and training, including:
Tuition and loan incentives: Since 1972, the National Health Service Corps has provided scholarships and loan repayments to health care professionals who commit to primary care practice in underserved rural or urban communities. The competitive scholarship program pays full medical school tuition and room and board in exchange for rural service while NHSC pays up to $60,000 every two years in student loan repayment for physicians who are serving in qualified areas.
According to the U.S. Department of Health and Human Services, NHSC's parent agency, it has placed 45,000 primary health doctors in communities with limited access to primary care since 1972. There are more than 9,000 physicians who received NHCS assistance in medical practice today. Despite those numbers, the gap in care for rural areas has continued to grow.
Could Michigan create tuition and loan incentives for doctors to serve the state's neediest rural and urban areas?
Target students afraid of med school costs: The CRC report noted that medical students today are increasingly from wealthy families, and are therefore more likely to choose a career in medicine "based on income expectations and limited exposure to rural or underserved populations."
"If middle class students are the ones more likely to enter primary care, then state policymakers can ...provide financial incentives to help support efforts to better target these students," the report stated.
CRC report author Bradshaw said state medical schools can do a better job advertising the availability of financial aid packages for those students. "But ultimately, the state and universities would need to make more money available for students with less means," she said.
Boost programs to promote primary care: Michigan State University's College of Human Medicine has been at this for more than 40 years, beginning with a rural primary care training program in the Upper Peninsula (LINK to: headline of accompanying story) in 1974. That program has trained more than 230 medical school graduates in rural primary health care.
It launched a similar program in the Lower Peninsula three years ago.
Telemedicine: The U.S. Department of Veterans Affairs uses telemedicine extensively to serve veterans scattered across Michigan, many in rural areas. Telemedicine allows veterans to "virtually" meet with physicians in distant hospitals, be diagnosed via video link and have chronic conditions monitored, some on a daily basis, through technology links. Patients with high blood pressure, for example, take their pressure daily with a machine connected to a VA hospital, where a professional monitors the reading and responds if necessary. This technology is also used for diabetes and to identify other conditions that can lead to expensive complications if ignored too long.
Finding a comfort zone
For U.P. native Kalcich, the decision to apply for a National Health Service Corps scholarship to pay for medical school was a "pretty safe bet." In accepting the competitive scholarship, she had to commit to a rural practice or an underserved urban area for four years.
She grew up in the tiny village of Lake Linden in the Keweenaw Peninsula, her father a mechanic and snowplow operator for the village and her mother a social worker. She was at home with its long winters and "pretty much being outdoors all the time."
After graduating from medical school in Detroit, Kalcich completed her family practice residency in Idaho. She contemplated setting up a rural practice on the west coast, but then an opening popped up in the UP.
"I moved back here in 2005, and I've been here ever since," Kalcich said.
Kalcich, 39, is relieved to have escaped the heavy loan debt many students face when they finish medical school: Her scholarship paid back the entire cost of medical school.
But that's by no means the only reason she ended up in practice here. "I really like the challenge. Every patient is different. It keeps my day interesting, for sure."
Ross Ramsey, 32, a family practice physician in The Thumb, is one of those saddled with $200,000 in medical school debt. Still, he wouldn't change a thing about his decision to go into rural family practice. He is a 2009 graduate of MSU's College of Human Medicine and has been in practice three years.
He grew up in the small town of Harbor Beach about 45 miles away, population 1,700, where the Friday night high school football game was a big event. It had a one-screen movie theater. Now he's in Pigeon, an even smaller town.
"It can be frustrating when you go and look at the different income positions in medicine, if that's where you place your priorities," Ramsey said.
"But I enjoyed...the entirety that medicine has to offer. Now, more and more physicians are getting very specialized and compartmentalized. They know a lot about a little piece of medicine.
"In family medicine, you have to know a little about a lot of medicine. This is where I am comfortable. This is where I started my career and this is where I will retire from my career."
We're not just a news organization, we're also your neighbors
We've been there for you with daily Michigan COVID-19 news; reporting on the emergence of the virus, daily numbers with our tracker and dashboard, exploding unemployment, and we finally were able to report on mass vaccine distribution. We report because the news impacts all of us. Will you please support our nonprofit newsroom?