10 years of strict teacher evaluations haven't boosted learning in Michigan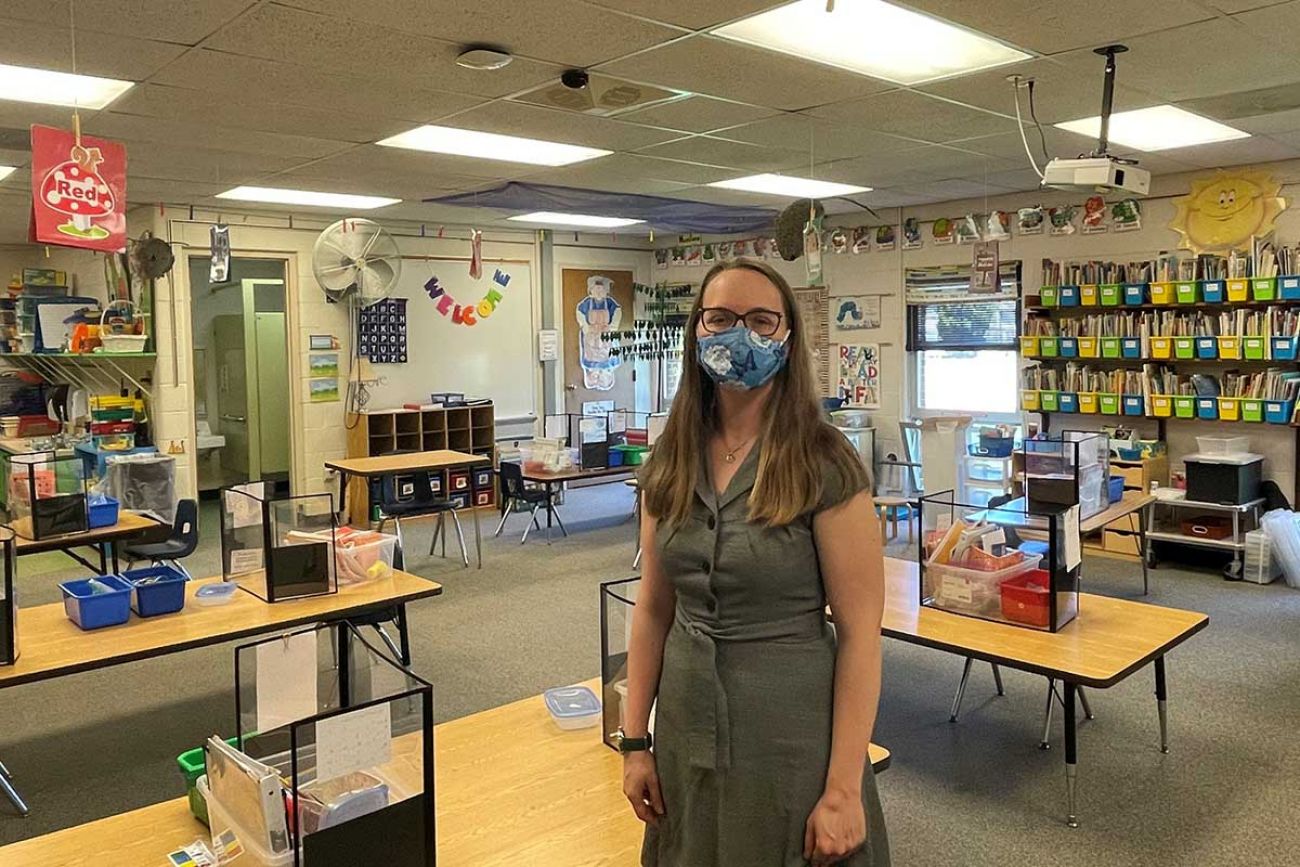 Leah Porter, Michigan's current Teacher of the Year, said the state's teacher evaluation system hurts students more than it helps. (Bridge file photo)
Talent & Education
10 years of strict teacher evaluations haven't boosted learning in Michigan
In 2011, Michigan implemented a tough new teacher evaluation system in which educators' annual job reviews were based partly on the standardized test scores of their students. The plan seemed straight-forward: Reward good teachers, weed out bad ones and Michigan's moribund learning would improve.
A decade later, that experiment is generally considered a failure by educators, policymakers and researchers. Students aren't learning more. Virtually all teachers continue to be rated effective or highly effective. Minority teachers, particularly men, left the classroom at higher rates than others because of low evaluation ratings. And teachers and administrators spend less time with students in order to fill out evaluation paperwork required by the law.
Sarah Lenhoff served on a committee that helped shape that law.
"I admit, I had hopes for teacher eval reform promoting improvement in teacher support and development and served on the advisory committee to inform Michigan's law 10 yrs ago," Lenhoff, associate professor of educational leadership at Wayne State University, wrote on Twitter on Wednesday morning. "We know now that those efforts did not work. Evaluation is not a path toward better teaching & learning."
Related:
Now, there's a nascent effort to change the state's teacher evaluation system, or at least pause it until schools return to normal after the pandemic.
The Michigan Department of Education is advocating to change the law. Research that a decade ago suggested teacher accountability could be a lever to improve learning, has given way to analysis showing the reform was a bust. And the Republican chair of the House Education Committee, Pamela Hornberger, a former teacher, says the evaluation law on the books is "pretty useless."
"Does it improve learning? No," Hornberger told Bridge Michigan, recalling her days as a teacher. "It was basically jumping through hoops. I didn't see it as helpful in helping teachers do their jobs."
Despite what many say is a growing consensus about the law's shortcomings, it's unclear whether there's much appetite in Lansing for change. Democrats have introduced a bill to alter educator job reviews, but their bills rarely get traction in a Legislature controlled by Republicans.
That's a shame, said educators such as Jason Mellema, superintendent of Ingham Intermediate School District and former superintendent in Pewamo-Westphalia, a rural district northwest of Lansing.
"What's frustrating is sometimes lawmakers don't necessarily understand the nuances of the profession and how to pay respect to that expertise," Mellema said.
Since 2011, Michigan's public school teachers and administrators have had annual evaluations that characterize their work as highly effective, effective, minimally effective or ineffective. Educators deemed ineffective are given additional mentoring, and can be dismissed if they are rated ineffective three straight years.
Initially, 50 percent of ratings were to be based on student test scores. In 2015, that share was dropped to 40 percent, with part of that based on the state's standardized test, the M-STEP, and part based on other tests that individual districts choose.
Michigan was part of a wave of states that implemented teacher accountability measures, based on the studies that showed students learned more when they were in classrooms with highly effective teachers. Before the reforms, determining which teachers were superstars was nearly impossible, because virtually all teachers were rated as effective. Having a four-category rating system was seen as a way to allow schools — and families — to distinguish the great teachers from the average ones.
"It was seen as a potential reform that could make a big difference and improve equitable outcomes," said Lenhoff, the Wayne State professor. "It was bipartisan, and had broad support from the education advocacy community."
A December Brown University study, though, found the reform didn't work, either in Michigan or most other states that implemented similar laws. That study found that, while there were exceptions, on average, teacher evaluations tied to student test scores did not increase learning.
"It was not a reform that achieved its objective," said study lead author Joshua Bleiberg, a research associate at Brown.
Some states have begun to pull back from tough teacher evaluation laws. A National Council on Teacher Quality analysis found that there were 43 states with student test score provisions in teacher evaluations in 2015, but only 34 by 2019.
Michigan is one of the states where the reforms haven't had the impact education researchers and policymakers had hoped.
For example, standardized test scores actually declined between the 2014-15 school year, when the M-STEP was first given in state classrooms, and 2018-19, the last pre-pandemic school year.
The M-STEP is given to students in third through eighth grades. The percentage of students deemed proficient or higher in English language arts dropped in all grades between those years; in math, the share of students deemed proficient or higher shrank among third-graders, was flat among fourth-graders, and increased slightly in fifth through eighth grades.
99 percent effective
One possible cause for the reform failure: the expected variation in teacher ratings didn't happen.
In 2011, when the teacher evaluation law took effect, 98 percent of teachers were judged by their school administrators to be effective. In the 2020-21 school year, 99 percent were deemed effective.
Schools have "competing incentives" in the evaluation process, Lenhoff said. Administrators want to determine which teachers are struggling, but there is also a teacher shortage.
"Districts aren't incentivized to give teachers poor ratings when those teachers could leave," Lenhoff said. "They'd rather stick with someone who is a known quantity and who they can work to improve, than have a vacant classroom."
Michigan State University professor of education policy Josh Cowen was equally blunt in his assessment of whether Michigan's teacher evaluation system had improved student learning.
"No," he said.
To Cowen, Michigan's decentralized education system may have doomed teacher evaluation reform. The law allows districts a lot of leeway in determining how to measure whether a teacher is effective, even when test scores are plugged in to the review.
"Michigan is one of the standard prototypes for the dangers and benefits of local control," Cowen said. "You can't establish a teacher evaluation system at the state level and then say, 'Well, it's all up to the districts.'"
One study Cowen co-authored found limited impact of teacher evaluation reform on student achievement, while several others suggest that the evaluation system led to an exodus of Black male teachers. Black teachers were more likely to be rated "ineffective" or "minimally effective" than their white peers in the same Michigan schools, according to data analyzed by MSU researchers.
Leah Porter is a former kindergarten and current third-grade teacher at Wilcox Elementary in Holt Community Schools in Ingham County, and is the current Michigan Teacher of the Year. Porter said teacher evaluation in its current form is a net negative for student learning.
"In my experience, I think that the (evaluation) system pulled focus away from teacher growth … and really created a stressful and insurmountable hurdle when everything was tied to the test," Porter said. "We stripped the very essence of the beauty of teaching, which is the autonomy to build relationships with students. It has caused so much stress (for teachers), when they know their evaluation is tied to a standardized test."
Some advocates, though, say teachers should be held accountable for their students' test scores.
Beth DeShone, executive director of the Great Lakes Education Project, told Bridge in an emailed statement that "including student performance metrics as one part of teacher evaluations both keeps the focus on our kids and helps schools ensure they're doing the absolute best job possible to prepare them for the future."
Appetite for change?
Hornberger, the current state representative and former teacher, said she is open to tweaking Michigan's teacher evaluation law.
"Before the pandemic, I sat down with the Senate Majority Leader (Mike Shirkey, R-Clarklake) and we decided we'd try to figure out some way to overhaul teacher evaluation, to make it more where you're actually coaching teachers and supporting and learning from each other," Hornberger said. "Then the pandemic hit.
"I'd love to get back to that."
Still, Hornberger said she wasn't optimistic about reforming teacher evaluation this session because of other legislative priorities.
That's not stopping the Michigan Department of Education from lobbying legislators. State Superintendent Michael Rice told Bridge Michigan the department has had meetings with legislators to discuss ways to reform teacher evaluation.
Rice would like to gut the current evaluation law and start over, with a system that is less of a "time sink" for teachers and administrators and is less tied to test scores.
"At the barest minimum, there should be a pause in the educator evaluation laws this year," Rice said. "We've got a pandemic, a teacher shortage, a broader staff shortage, supply chain shortages; the jobs of our teachers and principals are more challenging than they were pre-pandemic."
By exempting schools from teacher evaluations this school year, "we could focus on what's important in schools, namely the achievement of young people, not only academic growth, but social-emotional growth as well."
Hornberger said she agrees with research that teacher evaluations don't improve student learning. Still, "we have a lot of parents who are upset," she said. "There's an expectation that they want to know what they're getting (in the kids' classrooms). "I don't know how we get there (when) you can have a third-grade class with students reading at a sixth-grade level, and others at kindergarten (level).
"There has to be accountability, but we have to understand that every kid is different. It's not a cookie-cutter."
Only donate if we've informed you about important Michigan issues
See what new members are saying about why they donated to Bridge Michigan:
"In order for this information to be accurate and unbiased it must be underwritten by its readers, not by special interests." - Larry S.
"Not many other media sources report on the topics Bridge does." - Susan B.
"Your journalism is outstanding and rare these days." - Mark S.
If you want to ensure the future of nonpartisan, nonprofit Michigan journalism, please become a member today. You, too, will be asked why you donated and maybe we'll feature your quote next time!