13 MILES TO MARSHALL: For Albion students, a long day, but 'worth it' (chapter 4)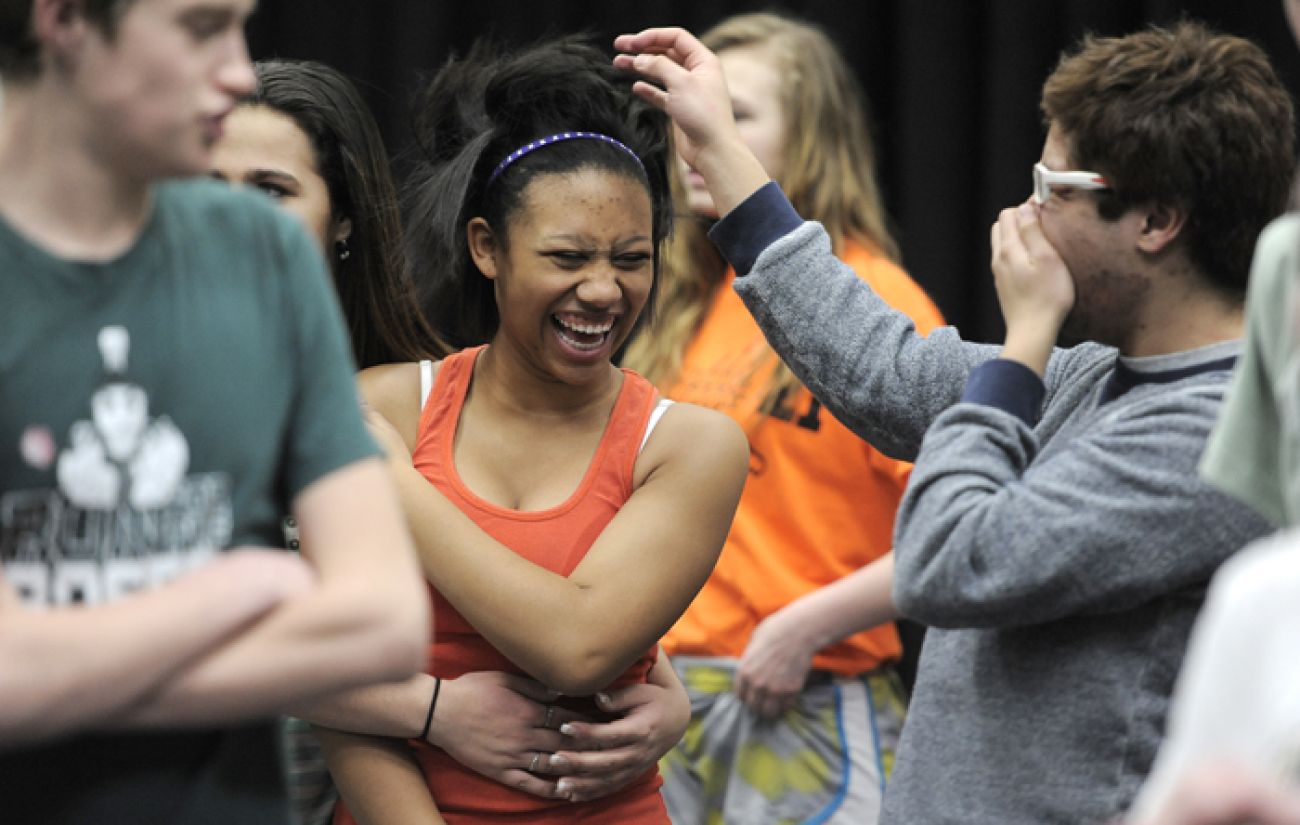 Talent & Education
13 MILES TO MARSHALL: For Albion students, a long day, but 'worth it' (chapter 4)
13 MILES TO MARSHALL
Last spring, before the merger, the staging of "Happily Never After" at Albion High School involved a couple of chairs and a canvas painted like a brick wall. This April, Marshall's production of "Grease" will include a car and a dance number with 40 students hand-jiving across the stage. The show will be performed in a sparkling, new 900-seat performing arts center, part of a $21 million high school renovation and expansion funded by a bond approved by Marshall voters in 2010 (the fourth approved bond in a decade).
Mercedes Pace, the junior cheerleader who had been reluctant to move to Marshall last spring, now is all smiles as she emerges from a two-hour choreography rehearsal for the musical. "This is like stepping into another dimension," she said.
There were three clubs at Mercedes' old school. Marshall has 30 extracurricular activities, ranging from the environment club to clay target shooting. Albion had eight sports teams. At Marshall, boys have 12 sports and girls have 11, plus separate cheerleading squads for football and basketball.
Both boys and girls have equestrian teams.
Sophomore Jontaj Wallace went from a cross country team of six to a team of about 50, and to a band almost as big as the entire Albion student body. "I walked into the (Marshall) band room, and I couldn't believe all the percussion," Jontaj said. "There was marimba, a xylophone, things I'd never had a chance to play in Albion."
Jontaj was won over the day he and his Albion classmates visited Marshall High School for an orientation last May and were greeted at the door by the marching band playing the high school fight song. During the summer, the districts held a weekend-long symposium at Albion College that allowed students to get to know each other. Albion students shared rooms with Marshall students. The kids designed an emblem that included elements of a Wildcat and a Redhawk.
Seven months in, the merger has exceeded the expectations of most students, parents and school officials interviewed. Administrators guessed as few as 120 of Albion's 170 students would come to Marshall High School this fall, with the rest choosing to go to school elsewhere. On the first day of class, 160 showed up.
"It's the older generation that had problems," said Marshall senior Tierra Orban, who is white. "They said we wouldn't get along. They said when we go to school, we're not going to learn because we don't learn in the same way. But it was sweet. I have a big group of new friends."
Yet while many Albion kids say they're glad they made the move, things aren't perfect. Most Albion students can recount an incident or two that made them feel like outsiders.
De'Jhannique recounted a story from Homecoming dance last fall. Albion teens didn't recognize most of the songs. When the DJ played a song they did know, they took to the floor, but the song was cut off because the Albion teens' moves looked a little too much like twerking.
Differences extended from the dance floor to the school parking lot. Many Marshall juniors and seniors have their own cars, parking in the student lot on the east side of school. Most Albion students ride buses that pull up on the school's south side – separate entrances not by color, but by income.
"They came into a new school not knowing anybody, not having the (academic) scaffolding to succeed. But I don't have one Albion kid who's failing. Their willingness to not give up is inspiring." – Julie Smith, 12th-grade English teacher, Marshall High School
"At Albion, we never thought about (poverty)," De'Jhannique said. "We didn't have a student parking lot full of cars. Everybody bought their clothes at the same store. We weren't picking up on the differences."
At Marshall, the differences are on daily display, from clothes, to cars, to the classes students take. (While there is one Albion student in Marshall's advanced placement classes, there are five on the boy's varsity basketball team.)
Some Albion teens say they miss the family feel of their small school. "You knew everybody," said Marshall senior Jerome Washington.
Those taking business classes at Marshall can explain the differences by the economies of scale – there are things Marshall can do that just couldn't be done at tiny Albion. "You're losing a lot," said Albion senior Brenden Rudolph, "but you're gaining more."
Twelve-hour days: 'It's worth it'
On a snowy day in January, the schools in Albion were closed because of the weather, but Marshall schools remained open. With the roads treacherous for bus travel between Albion and Marshall, Albion high school students were told they could stay home and bus transportation was cancelled. Then Williams-Harper's phone started ringing.
Albion teens wanted their buses. They wanted to go to school.
"They showed up, on a snow day, all of them, even though they didn't have to," said an astonished Smith.
It's an example of the resilience of the low-income students that teachers at Marshall said they have witnessed time and time again.
Jontaj's story is typical. He rises at 5:30 a.m. to catch a bus at 6:30. When he's on a sports team, he'll get home at 8 p.m. and start studying. "It makes for a long day," Jontaj said. "I miss time with my family.
"But there's a difference in expectations," he said. "It's worth it."
"I've been very inspired by the Albion kids' fortitude," said Smith, the English teacher. "They came into a new school not knowing anybody, not having the (academic) scaffolding to succeed. But I don't have one Albion kid who's failing. Their willingness to not give up is inspiring."
The Albion students in Smith's English and British Literature classes are struggling, but working hard. "I told them if they stick with it, I would not leave them behind, but it will affect your GPA," Smith said. "Some students from Marshall would drop the class if it was affecting their GPA, but the Albion kids are still here.'
It's that determination that convinces Smith of the long-term success of the Albion-Marshall merger.
"Come back in three years and see how they're doing," she said, when the Albion seniors will have been at Marshall their entire high school careers, and the anxiety of the first year is as faded as the photos of championship teams in the hallways.
"Last spring, they thought we were going to come here and destroy the high school," said Albion sophomore Chris Bell. "They realize now we're just here for an education."
A new chapter
The streetside sign still says Albion High School, even though high schoolers haven't been in the building since June. The district is running a contest to rename the building. The football field of Wildcat Stadium, last used in 2011 when the school last fielded a team, lies fallow next to playground equipment.
Albion High School now houses kindergarten through eighth grade. Students eat at the mac and cheese bar in a cafeteria bordered by a long trophy case filled with gold cups and medals, some likely won by parents or grandparents of a few of the children.
Last week, Albion residents came to the school's auditorium for a public forum featuring Albion superintendent Williams-Harper and Marshall superintendent Davis. The last time the two were together in this building, parents were screaming and crying. Now, the audience sat quietly through a PowerPoint presentation on the collaboration.
Since the merger, Marshall's bank balance has ballooned from $60,000 to $700,000. Albion now projects being out of deficit in four years. The superintendents invited community members to make comments. Only two people spoke. Both said they opposed the move last year. Both said they were wrong.
That may be the most important lesson taught in Marshall High classes this year, a lesson taught by the students. Teens from two very different towns are getting along and getting a good education. Kids from other financially troubled school districts might do the same thing, if, as several Albion and Marshall students told Bridge, "the adults just get out of the way."
Not far from the school, after making the 13-mile return from another day in Marshall, De'Jhannique Straham retreated to her bedroom, a quiet refuge where she can do her homework.
"I've decided to stay in AP English," she announced. "I'll work hard, learn what I can, and let this be a lesson."
She pulled out a novel she'd been assigned in Smith's class. She doesn't really like the book, but she loves the title. She opens the paperback, and reads the final chapter of "Brave New World."
We're not just a news organization, we're also your neighbors
We've been there for you with daily Michigan COVID-19 news; reporting on the emergence of the virus, daily numbers with our tracker and dashboard, exploding unemployment, and we finally were able to report on mass vaccine distribution. We report because the news impacts all of us. Will you please support our nonprofit newsroom?