Charters flood top and bottom of Academic State Champs rankings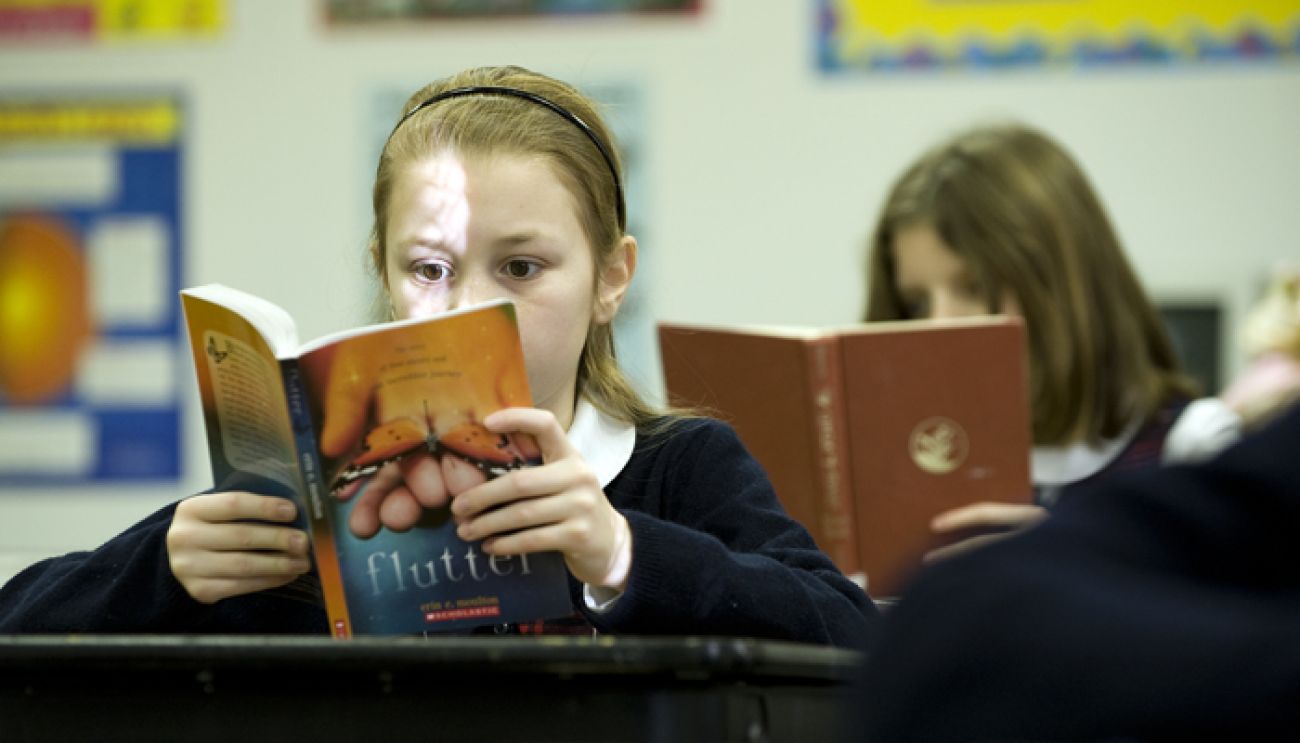 Charter schools in Michigan have several distinct differences from traditional public schools, but some schools are better than others at turning those differences into advantages.
Public school academies, as they are sometimes called, can control the size of their student population, do not have much of the traditional public schools' bureaucracy and have ability to create more individualized learning programs for students.
Some of Michigan's charter schools were able to leverage the advantage provided by these differences to climb to the top of Bridge Magazine's 2014 Academic State Champs rankings ‒ which measure how schools over or under performed on test results based on expectations driven by poverty levels.
See how your school district ranked in this searchable database.
This database was developed by Bridge Magazine as part of its Academic State Champs series, which researched public school district performance. It includes analysis from throughout Michigan through a partnership with MLive.
While a vanguard of charter schools led the rankings, other academies, some of them hurt by the inability to maintain a steady student body, fell to the bottom.
A growing issue
Enrollment numbers aren't in yet, but Buddy Moorehouse, communications director for the Michigan Association of Public Charter School Academies, estimated about 10 percent of students in Michigan are enrolled in charter schools.
"Areas where you most commonly see charters are areas where the local public schools haven't always met the needs of the parents," Moorehouse said.
He highlighted the city of Detroit, where he said half of all children attend charter schools. Some charters in the city are over performing their expected scores, but not all charter schools are a silver bullet for failing public schools.
Detroit Community Schools and Voyageur Academy in Detroit, as well as Pontiac Academy for Excellence in Pontiac, Hope Academy of West Michigan in Grand Rapids and Will Carleton Charter School Academy in Hillsdale were five of the bottom eight school districts in the state.
Carleton Academy was the only one of those five schools with fewer than 70 percent of students qualifying for free or reduced price lunch. The school's ranking could be affected by the fact that the school does not have a lunch program, meaning far fewer students apply for—and are listed as eligible for—free or reduced price lunches. The Michigan Department of Education estimates approximately 49 percent of students statewide qualify for lunch assistance.
"Some of the ones that might show up at the bottom of the list are not meeting the needs of their students, and that's a problem," Moorehouse said.
Of the 39 charter schools ranked on overall performance by Bridge Magazine (In Michigan, individual charter schools are also labeled as districts by the state), 24 were in the bottom half of the district rankings and 13 fell in the bottom fifth.
According to a Detroit Free Press review that examined state academic rankings ‒ a different measure from Bridge, the state rankings only look at raw testing data ‒ from the 2012-13 school year, 38 percent of charters were in the bottom quarter of schools across the state.
What's working?
While some academies populated the bottom of Bridge's rankings, many of the top-performing schools in the state were charter schools with high levels of socioeconomically disadvantaged children.
Central Academy in Ann Arbor, Star International Academy in Dearborn Heights, Riverside Academy in Dearborn and the West Michigan Academy of Environmental Science in Grand Rapids were all among the top seven districts statewide in Bridge's rankings. At least two-thirds of students in all four schools qualified for free or reduced price lunch ‒ meaning their family made less than 185 percent of the poverty level‒ and rates were higher than 80 percent at Central, Star International and Riverside.
Six other charter schools, including the International Academy of Flint (83 percent) and Cesar Chavez Academy in Detroit (97.7 percent) had higher levels of poverty and were in Bridge's top 100 districts.
"In most cases, these schools achieve success in large part because they have the flexibility and the ability to innovate and meet the needs of their students. When you're in a larger school district you have a lot of bureaucracy that makes it harder to achieve," Moorehouse said.
"Every charter is its own school district. If they realize they need to change a curriculum or start a new program, they're able to move quickly to do what they need to do to improve."
Both Luay Shalabi and Scott Morgan, principals at Central Academy and West Michigan Academy of Environmental Science, said they rely heavily on testing to evaluate the progress of the school and individual students.
"We create ISLPs [Individual Student Learning Programs] for every student in our school," Morgan said. "Those programs are monitored throughout the year and re-evaluated four times a year to set goals and objectives for each particular student."
Shalabi said his school has a similar philosophy of tracking individual achievement to ensure positive results.
"We frequently, frequently look at our data. We look at the annual standardized test data, and the chapter tests and the assignments in the classroom, everything," he said.
"We don't just look at overall data, but we look at John and Ali and Nadia and we analyze each score, each student, and we find their gaps and we do what we can to fill in those gaps."
Where does the buck stop?
Moorehouse said charter schools in Michigan answer to a school authorizer, a role often played by a public university or traditional school district. These authorizers are responsible for issuing charter contracts, ensuring performance standards are met and helping schools share innovative ideas and best practices.
Saginaw Valley State University is the authorizer for two of the schools that fall near the bottom of the rankings. Craig Douglas, the university's director of school and university partnerships, said the more challenged charter schools tend to be ones that see more turnover.
"They've had a fairly fluent student body," Douglas said. "They've seen students come and some go. That churning may be a factor in their lower performance."
Douglas compared the difficulty of teaching children who come in and out of school frequently to his experience working in a traditional public school district near a military base.
"You saw the same difficulties in the students who were forced to move to a different school every few years when their parents would get re-stationed," he said.
Gary Miron, a professor of evaluation, measurement and research at Western Michigan University who has studied charter schools extensively, said this churn harms some charter schools, but benefits others.
"If we just look at the past few decades in broad strokes, what's happened in the last 10-12 years is we're seeing new types of charter schools," Miron said.
"Many of them could be classified as 'no excuses' charter schools, or schools that come with a lot of philanthropic money backing them."
Miron said these types of schools, exemplified by the KIPP Schools in New York City, stick to an extremely rigorous curriculum and expect high levels of buy-in from students and their families. Miron said the academic rigor at the schools can often scare off underachieving students, who sometimes return to the traditional schools rather than staying at the charter school through graduation.
"What we see with these schools is they tend to have a more pyramidal enrollment," Miron said. "In the upper grades there are fewer and fewer kids left. But those that stay do very well."
Central Michigan University serves as the authorizer for three of the top four charter schools in Bridge Magazine's rankings. Brad Wever, director of public policy at the university's John Engler Center for Charter Schools, says the schools are not "no excuses" schools, but that the directive for academic rigor comes from the top.
"We have high expectations for the schools we authorize," he said. "I think we should have high expectations for all schools."
Student flow can hurt or help
If a student does go back to the traditional public school district, the schools are required to take them in. Adding to the traditional public school's burden is the fact that these students self-selected as not wanting to be a part of a rigorous academic environment.
Where charter schools do not have to accept new students mid-way through the year if they have met their target population, traditional public schools do have that obligation. Additionally, Miron said the district often receives very little funding for those pupils if they join after the first count day in October.
Miron said that once a charter school earns a reputation as a high-performing or low-performing school, the designation becomes a self-fulfilling prophecy. He studied two charter schools less than half a mile away from each other in Delaware that had similar student bodies socioeconomically, but saw very different outcomes.
"We used student-specific data to find out who was entering and exiting both schools," he said.
"At the high-performing school, the kids who came in were the ones who already had higher performing scores, and the ones who left early were the ones who didn't keep up. At the other school it was the opposite. Students came in with scores that were already lower and those that tested above average were the ones leaving."
High-performing charter schools benefit from these moving patterns, while lower performing charters and public school districts only have negative achievement outcomes reinforced.
"It's not like each school receives an equal amount of high-, medium- and low-performing students and then gets to teach them," Miron said. "They're self-sorting in their own way, and the schools play a role in that to a certain extent."
Looking at Bridge Magazine's rankings reinforces this idea. Of the top four charter schools this year ‒ all of which rank in the top eight school districts statewide ‒ three have been in the top ten statewide for the past three years and the fourth was close behind.
Moorehouse pointed out that unlike traditional public schools, failing charter schools can also be shuttered. He said more than 90 charter schools have been closed down in Michigan since the program began.
"You won't see us put out a press release about closing down a school, but we've done that," said Wever, of Central Michigan.
"It's not something we do on a whim. It's after years of working with the school and trying to get them to work on the areas they need to improve. But that's the ultimate accountability. If you're failing kids and unwilling or unable to make the necessary changes in order to improve the outcomes for those kids you have to close."
Ben Freed is a general assignments reporter for The Ann Arbor News. Email him at benfreed@mlive.com and follow him on twitter at @BFreedinA2. He also answers the phone at 734-623-2528.
We're not just a news organization, we're also your neighbors
We've been there for you with daily Michigan COVID-19 news; reporting on the emergence of the virus, daily numbers with our tracker and dashboard, exploding unemployment, and we finally were able to report on mass vaccine distribution. We report because the news impacts all of us. Will you please support our nonprofit newsroom?