How to improve SAT scores without going broke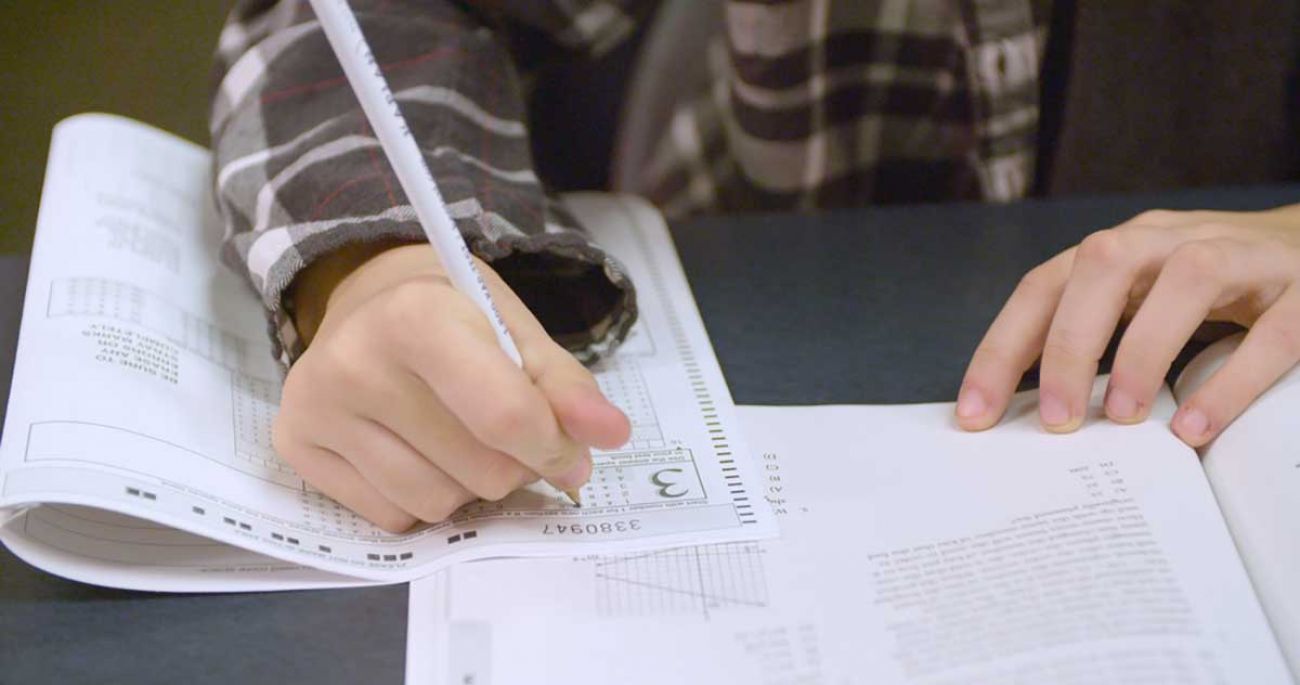 Tutoring can change life's trajectory. Patricia Terry has seen it first-hand. And it doesn't always have to cost thousands of dollars.
Last year, a senior at Detroit's Cass Technical High School approached Terry with a big problem. He needed to increase his SAT college entrance exam score by 100 in order to qualify for a four-year scholarship.
Terry, a math instructional specialist at Cass, knows 100 points is heavy lift. But the student hit his goal after using Khan Academy, a suite of free, online test preparation tools offered in partnership with the College Board, the national nonprofit that administers the SAT. He earned a 1060 score out of 1600 and won a full-tuition scholarship provided to Detroit residents, Terry said.
Cass is a magnet school in Detroit with high achieving students, many of whom could afford to pay for classes for the college exams. But teachers typically steer students toward the fairly new, free Khan Academy, Terry said.
"Khan Academy works if you take it seriously," Terry said. "Why go outside to other resources that cost and don't have a relationship with the College Board?"
About 2 million students nationwide take each of the college entrance exams - the SAT or ACT per year. As they prepare, an increase in new and free preparation tools is renewing discussion about whether you have to pay big to score big on the tests.
Flint student Dylan Hernandez gained media attention nationwide recently for persuading a tutoring firm to give 150 of his classmates a 90 percent discount for a $99 online SAT prep class.
His story resonates in Michigan, where 46 percent of students are economically disadvantaged and whose families may not be able afford testing coaches or courses that often can cost thousands of dollars.
What's more, studies are mixed on how much pricey prep courses actually improves tests scores.
In 2009, for instance, the National Association for College Admissions Counseling found that commercial coaching improves SAT scores only 30 points.
Other research suggests that highly motivated students who take the tests multiple times are likely to improve. Those students, perhaps not coincidentally, also are often the ones who invest in SAT tutoring.
Parents continue to pay the costs, though, because a few points can make a huge difference, said Steven Snead, supervisor of curriculum and assessment for Oakland Intermediate School District.
"Where parents are paying for private tutors, they're not talking about going from a 15 on the ACT to a 25; they're trying to get from a 34 to a 35, or a few extra points that will be the difference between University of Michigan and Harvard or a scholarship for a few thousand to a scholarship to pay the the entire undergraduate experience," Snead said.
"A few points can give you a particular edge."
In that spirit, Bridge is taking a close look at the bevy of low-cost or free prep options available to students.
Google "free SAT prep" and more than 5.2 million results appear, from sites such as SATExamPrep.com and the ANA Project to Union Test Prep and PowerScore.
For-profit firms also have free options. Magoosh, the firm that Hernandez used, offers free online test taking tips. The Princeton Review, one of the best-known test tutoring firms, offers high schools across Michigan free practice SAT and ACT tests with results that identify students' weaknesses. An offer to purchase tutoring from the firm is often part of the deal.
Many tutoring companies offer free practice tests. In speaking to educators throughout Metro Detroit, though, most recommended college entrance exam prep courses that partner with makers of the SAT and ACT.
Here's a closer look at them, as well as other options:
College Board/Khan Academy
Pros: Personalized and accessible. Online tools mean the student can practice on their own schedule, including watching online classes that allow students to chat with an instructor. Students can snap a photo of a practice test answer sheet, submit it and get a score. And a daily practice test "question" of the day can be sent to students to keep skills sharp.
Cons: Lacks the face-to-face, one-on-one attention of an in-person tutoring session
The College Board, the creators of the SAT, partnered with Khan Academy in 2015 to provide free SAT test preparation online.
It was a timely collaboration because in 2016, a new, redesigned SAT debuted and Michigan began to administer that test, rather than the ACT,
to public high school students as part of the Michigan Merit Exam.
Khan Academy, a nonprofit with a mission to help anyone to get a free education, provides everything from educational content for teachers to test prep for the annual engineering college entrance exam in India. The SAT test preparation options include six full-length practice tests for free, online videos, test-taking strategies, tips and lessons.
The most effective component is the personalization, Aaron Lemon-Strauss, the College Board's executive director for SAT Student Success told Bridge.
Students create an account with Khan Academy, which creates a personalized lesson plan so each student can practice skills they need to improve based on how the student performed on past tests. The practice tools are directly aligned to the test due to Khan Academy's partnership with SAT. And the online tools are mobile-friendly.
"About 13 percent of low-income families rely on a smartphone as their sole Internet access. If you're not doing something for the phone you're leaving kids out, so we knew we had to make it mobile friendly," Lemon-Strauss said.
ACT/Kaplan
Pros: Interactive test prep, aligned with the ACT
Cons: Free only to low-income students
For decades, Kaplan has provided college entrance exam test preparation that today can cost $799 for 18 hours of online tutoring to $5,699 for 36 hours of in-person tutoring. Last year, the ACT partnered with Kaplan to provide live, interactive, online test preparation.
Low-income students who qualify for test fee waivers can take the test prep for free. Last year, about 800,000 students nationwide qualified, said Lee Weiss, Kaplan's vice president of K-12 and college admissions programs.
Generally, instruction is offered live online daily for about 10 hours a week, he said.
"The human element is really important for motivation and for making sure you understand the material," Weiss said. "The (online classes) are a lot more fun than people would think. When you get a really great teacher they make the unfun more fun."
Kaplan also offers day-long, online "Prep-a-thons" for the ACT and the SAT in which students can watch an instructor review a practice test live online two weeks before the test. Students can ask questions in real-time.
More free stuff
Not only can students get the test prep courses for free, but low-income students can send test scores to more colleges free of charge and apply to college for free as well.
In Michigan, all high school juniors in public school take the SAT for free as part of the Michigan Merit Exam, or the state's high school standardized testing program.
Low-income students who qualify for free or reduced-price lunch qualify to take the ACT and SAT for free. The tests typically cost $43 to $58.50.
All students who take the SAT can send the scores to four colleges for free, but those who qualify for fee waivers can send scores to up to eight colleges without cost, according to the College Board.
And if a student receives a fee waiver to take the SAT they immediately get four fee waivers from the College Board to apply to more than 2,000 colleges and universities for free.
Otherwise, it costs about $50 to $80 to apply to most colleges. Since 2014, the College Board has processed more than 5.4 million college application waivers.
We're not just a news organization, we're also your neighbors
We've been there for you with daily Michigan COVID-19 news; reporting on the emergence of the virus, daily numbers with our tracker and dashboard, exploding unemployment, and we finally were able to report on mass vaccine distribution. We report because the news impacts all of us. Will you please support our nonprofit newsroom?