Michigan shuts down bad schools. Leading states build them up.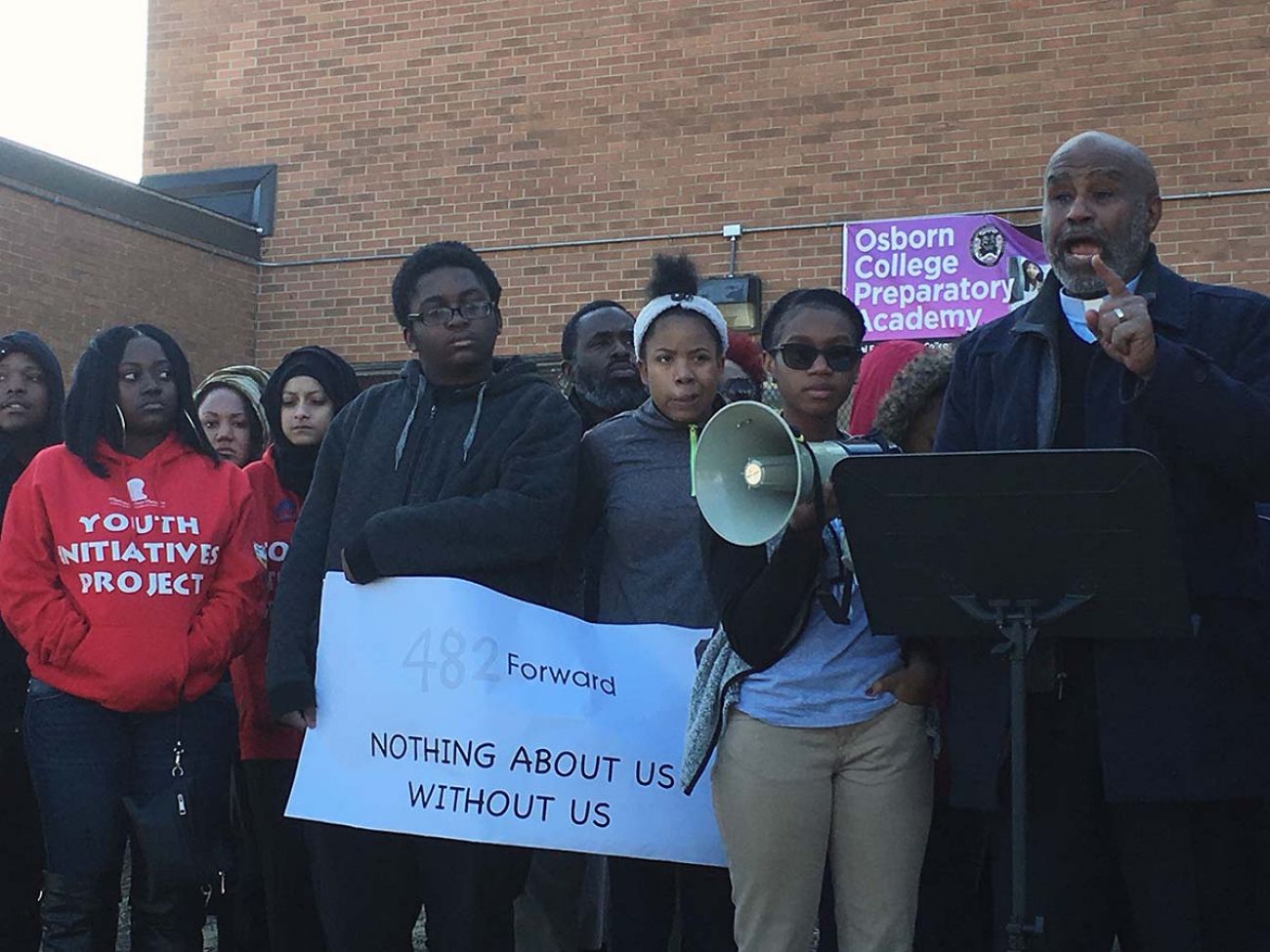 The law is meant to push all schools to work harder. But critics say it doesn't have enough specifics. The law has the power to change the lives of thousands of children. But it has confused and incensed parents.
The announcement in January that Michigan will enforce its school accountability law by shutting down the state's lowest-performing schools set off a flurry of protests. Thirty-eight public schools -- 25 in Detroit -- enrolling more than 12,000 students face possible closure by June 30, though the final number will likely be far fewer.
Researchers across the country say Michigan's school accountability law is in a class all its own. They note that no other state requires the closure each year of its lowest-performing public schools. To the contrary, higher-performing states focus instead on first trying to take concrete steps to improve failing schools by replacing school leaders or adopting other strong measures.
"Michigan is unique. We need to look at what a smart leading state is doing versus what we are doing," said Sunil Joy, assistant director of policy and research at Education Trust Midwest, an advocacy and research nonprofit group based in Royal Oak. "High performing states like Massachusetts have a more research-based vision for school improvement, one based on best practices. You'd never see a list of 40 schools come out so randomly."
With the State School Reform/Redesign Office set to announce in the next few weeks the finalized list of schools that will close, and dozens of other schools potentially facing closure next year, some policy questions warrant exploration
Michigan law allows schools that qualify for closure -- those that perform in the bottom 5 percent of schools statewide for three consecutive years -- to remain open if officials determine the closure would be a hardship.
Natasha Baker, who heads the reform office, said state law requires her to close persistently failing schools. The closure provision pushes schools to make gains if they want to avoid the disruption of a closure, she said. Addressing critics, Baker argues that closing bad schools is not the problem, allowing them to stay open and continue to miseducate children is the problem.
"I think it's more more disruptive to graduate kids who can't read. It's very important that every kid, regardless of where they come from, can get a high-quality education," Baker said. "We're not looking to be punitive. We want to incentivize rapid turn around."
The nuclear option
The federal "Race to the Top" grant program started all of this. States that wanted a share of $4.3 billion coming from Washington had to adopt laws that guaranteed intervention in the bottom five percent of schools. Michigan adopted its law in 2010 in an attempt to win a share of the grants.
Michigan's law calls for the state to create an annual list that ranks public schools based on test scores - which includes both traditional public schools and charters. The law also created the school reform office to supervise improvement plans for the schools in the bottom 5 percent. The federal grant program required states to offer the lowest performing schools the option to choose among four school improvement models -- a turnaround model (replacing the principal and at least half the school staff), the restart model (restarting as a charter), the transformation model (replacing the principal along with other academic reforms), or school closure.
Michigan did not win any of the $4.35 billion in reform grants, and only two percent of the grants went to shut down low-performing schools nationwide, according to a study by the Center for Public Education and the National School Boards Association.
Overall, 74 percent of schools in states that adopted the school improvement interventions chose the "transformation" option which included replacing the principal.
Closure laws, results in other states
Across the nation, states have rarely closed traditional public schools for poor performance, but are increasingly considering it. When they do close the worst schools, the results have been mixed for the students sent to other schools, studies show.
Most laws that require school closure for low-performing schools pertain to charter schools. Thirteen states, including Michigan, have laws that trigger the closure of low-performing charter schools including Massachusetts, Ohio, Washington and Louisiana, according to the National Association for Charter School Administrators.
Louisiana was perhaps the most aggressive in closing low-performing schools. That state's Recovery School District took over nearly all of the schools in New Orleans after Hurricane Katrina and replaced them with charter schools.
The Education Research Alliance for New Orleans last year studied the impact of school closures in Baton Rouge and New Orleans and concluded that "results tend to be more positive when schools are phased out rather than immediately closed and when students stay in the same school post-intervention."
In New York City, then-Mayor Mike Bloomberg and public schools Chancellor Joel Klein pushed a secondary-school reform plan that ended up closing 44 low-performing public high schools from 2000 to 2014 with marginal positive results for the kids whose schools closed, according to a study by the Research Alliance for New York City Schools. Along with the closures, the city opened 200 small themed high schools and allowed school choice so all students could go to school outside of their neighborhood boundaries.
The study showed on average just 56 percent of the students whose schools were closed graduated from high school within four years, which was better than their likelihood of graduating had their school not been closed in some cases, but not all.
"Students who likely would have attended the closed schools fared better elsewhere, they still did not fare well … there is a need to invest in vulnerable students and to identify structures and supports that maximize their odds of success," the study found.
Massachusetts, a state celebrated for increasing student achievement from mediocre to world-class over the past 20 years, has closed 28 low-achieving charter schools, but does not close down traditional low-performers.
Massachusetts schools that are chronically low achieving can be taken over by the state - or put in receivership or state control. Three districts are under receivership now. Unlike Michigan, the process that could lead to reconstituting or closing a school involves a public meetings with the school board and community, though the state-appointed receiver has final say. Michigan's law that allows closing low-performing schools does not require any public meetings.
"Closing any school, including an underperforming school, in Massachusetts is a local decision," said Russell Johnston, senior associate Commissioner for accountability at the the Massachusetts Department of Education.
Compared to Michigan, the reform process in Massachusetts is more detailed and walks low-performing schools through a process for how to improve performance with benchmarks and expectations outlined, said Brett Lane, a consultant who has worked in Massachusetts and is now working for Michigan's reform office. Massachusetts' state law is very prescriptive and has precise language about what a school has to do when it's identified as a low-performing, from convening public meetings to reviewing union contracts to allowing flexibility on issues such as length of school day and school year.
"The precision of how improvement activities are carried out is much different. People know what they need to do to improve," Lane said. "Michigan didn't really do it right. The (closure) law was ambiguous."
Maria Montoya, director of communications and partnerships for Excellent Schools Detroit, a group that creates a scorecard of Detroit schools for parents, concurred, saying that Michigan's accountability law lacks specific instructions such as how much progress schools are expected to make and how they should go about doing it.
"There's a lack of a plan -- who's going to hold the state reform accountable for making sure each kid gets placed in a better school? Where can parents report issues? Who's going to go knocking door to door helping get families enrolled?" she said. "In Louisiana there is a matrix that was public about how decisions were made. We're going to get these closure decisions in March with no public meeting. It's a chaotic landscape."
Close, then what?
Studies on the impact of school closure on children have turned up mixed results: when students are re-assigned to high performing schools, they do better. If not, they don't.
Students of color are disproportionately affected by closures and reports show that when a school closes these students typically are not placed in high performing schools, according to a 2013 study by the Schott Foundation for Public Education an advocacy group based in Cambridge, Mass.
Most students at schools on Michigan's closure list are students of color with nearly all in the cities of Detroit, Saginaw, Flint and Benton Harbor. Michigan's school reform office has wide discretion over the closure process but does not have authority to assign students from closing schools to high-performing schools. Baker, the reform officer, said her office intends for students from closed schools to be able to attend schools ranked in the 25th percentile or higher.
Daniel Quinn, executive director for the Great Lakes Center for Education Research and Practice a nonprofit research organization funded by education groups such as teachers unions, said research does not show closure by itself is an effective reform tool. Even with the states that won the federal grants, closure was an optional and least used reform model, not something that is mandated after three straight years of failure as in the case of Michigan, he said.
"I haven't found any other states with similar laws to Michigan," Quinn said. "Closing schools, according to advocates, for under-performance would encourage innovation and spur better overall performance. If faced with closure, the school would be forced to compete and improve their performance. However, the threat of closing schools without providing for equitable resources or adequate supports has proven to be unsuccessful."
The major difference between Michigan's accountability process and the procedures in more successful states is that Michigan's education landscape is highly politicized and divided over the best way to reform schools, experts who have studied policies here have said. Most agree that school closures should occur with public input and only after the state implements other reforms to ensure students go to a better school.
"The bottom line is you have to address the scarcity, the lack of high-performing schools. If you're not going to do that then (students) are just stuck," said Robin Lake, executive director for the Center or Reinventing Public Education in Washington which studied Detroit school reforms.
"The state should absolutely be involved in making sure there's a better option," Lake said, "but the worst-case scenario is there's no other option so you do nothing. There has to be someone thinking about increasing the number of quality schools and addressing the quality desert."
Where to?
After the state announced the potential list of school closures, parents were sent a list of other school districts with better performing schools. Many are located in other counties - as far as 50 miles away - and have few low-income students or students of color who are similar to the students whose schools are set for closure.
The lack of public meetings in the process - especially about where students are expected to enroll if their school is closed - has angered parents.
Sharlonda Buckman, executive director of the Detroit Parent Network, an advocacy group, said with so few good schools in the city, the closures guarantee children's lives will be disrupted, but won't guarantee students will end up in better schools.
Parents "want to work with the state to bring in additional resources and support to ensure their schools get better and maintain education in their communities," Buckman said. "The state wouldn't dare to attempt to assign children in more prominent communities!"
If the state reform office determines closing a school will create a "hardship," the school can remain open. The "hardship" determination is up to the discretion of the state reform officer and is not outlined in the law. Baker has said the factors that will determine whether a school can avoid closing include whether there's a school ranked in the 25th percentile or higher near the school scheduled for closure.
That could exempt most if not all of the Detroit schools because in Detroit none of the 25 schools facing potential closure has a better performing school nearby, according to a map created by the Detroit Free Press.
Efforts are underway to fight the closures so students don't have to go anywhere.
The Detroit school board voted recently to hire an attorney to fight the closures. Also, State Sen. Phil Pavlov, chair of the Senate Education Committee, introduced a new bill in January that would repeal the current state law. Pavlov has labeled the current "failing schools" law "chaotic" and wants his bill to set off a public conversation over how to incentivize school improvement on state and local levels. The bill has not yet come up for a vote.
We're not just a news organization, we're also your neighbors
We've been there for you with daily Michigan COVID-19 news; reporting on the emergence of the virus, daily numbers with our tracker and dashboard, exploding unemployment, and we finally were able to report on mass vaccine distribution. We report because the news impacts all of us. Will you please donate and help us reach our goal of 15,000 members in 2021?