On a warm summer evening, an ice cream truck moved slowly through a blue collar neighborhood of Holland, offering free ice cream -- and free preschool.
As children ran to the truck, Ready For School volunteers pulling red wagons offered bilingual Clifford the Red Dog books and fliers promoting early childhood education.
Ice cream trucks in Holland. Public-private partnerships in Kalamazoo. Dreams of a Preschool Promise in Howell.
Some communities aren't waiting for the cavalry to arrive. Business, political, education and church leaders across the state, though, are banding together to find creative ways to provide preschool for Michigan's 4-year-olds shut out of state-funded classrooms.
"These are families who want to be served, but there's no room," said Sandra Standish, executive director of Kalamazoo County Ready 4s. "I don't see anything we're doing in education right not that can have this level of impact on kids."
Almost 30,000 children who are eligible for the state's free preschool (called the Great Start Readiness Program) aren't in class, because of inadequate funding, logistical hurdles and inefficient coordination of services. While advocates are pushing for increased state funding, some communities are beginning to attack the problem on their own.
Kalamazoo 'ready' for progress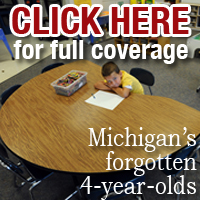 In Kalamazoo County alone last year, Kalamazoo Ready 4s gave $400,000 in preschool tuition support for 65 children in its initial effort; this year, the private nonprofit will dole out twice that much. Eventually, Kalamazoo Ready 4s hopes to subsidize pre-K for between 850 and 900 children.
"We're not trying to duplicate programs," Standish said. "Our goal is to get as many children in high-quality programs as possible."
The effort kicked off with a 2008 interfaith advocacy meeting attended by 800 community members that labeled early childhood education as a key community need. In 2011, Ready 4s was given $1 million from The Learning Network of Greater Kalamazoo (which gets substantial funding from the Kellogg Foundation and the Kalamazoo Community Foundation).
The business community also is heavily involved, viewing early childhood as a long-term economic engine. "We presented this as an economic initiative, not a social service," said Kathy Jones of PNC Bank. "Clearly there are 4-year-olds unprepared for kindergarten, and the numbers are growing."
When creating an early childhood coalition, "it's important to realize there are different groups at the table," said Tim Bartik, senior economist at the Upjohn Institute and author of "Investing in Kids: Early Childhood Programs and Local Economic Development."
"Kalamazoo may be more attuned to the issue than other communities because of the Kalamazoo Promise (which offers free college tuition to Kalamazoo Public Schools graduates). People around here are used to hearing about human capital investments that pay off for the community."
Years of meetings had led to a fairly smooth relationship among Great Start, federally funded Head Start and Kalamazoo Ready 4s. All use one application for preschool. "We lay out the options and the money follows the child," Standish said.
Children in families making under $50,000 attend preschool tuition-free through Ready 4s; those making more pay on a sliding scale.
Children enrolled in preschool through Ready 4s attend classes at private providers, such as Learning Village in Kalamazoo. That child care center has blended classrooms of children who are part of Great Start, Ready 4s and strictly tuition.
"Public schools don't have the capacity to handle all the 4-year-olds," Standish said.
One thing the community learned early is that private providers couldn't survive on the $3,400 provided by the state for preschool. Ready 4s provides $1,100 a year more per student than the state provides for GSRP students for the exact same program.
"There's no way we could provide this (preschool) for $3,400," said Learning Village Executive Director Ann Brown.
"We have so many children who are just above the poverty line (whose) parents are working, and they're thinking about child care, and not necessarily about preschool," Standish said. "Then we have a large portion of families who don't think about education until it's time to start kindergarten. We want to make sure to make them aware."
A push on the West Coast
A similar effort is under way in Holland, Zeeland and Hamilton, where foundations, churches and business leaders are investing in efforts to increase preschool enrollment. Called Ready For School, the nonprofit works to enhance existing public and private preschool programs through intense marketing and public outreach.
Ready for School has gone census tract by census tract to identify key "Opportunity Zones." Volunteers go door-to-door looking for 4-year-olds. Several times this summer, the group drove an ice cream truck through low-income, largely Hispanic neighborhoods, giving away frozen treats and making pitches for preschool.
"One time, we ran into another ice cream truck," said Sarah Lilly, who does marketing for Ready for School. "It's hard to compete with free ice cream, so the other truck left."
"We're working very hard to build trust in these communities," said Ready for School President Pat Verduin. In 2008, less than 50 percent of children in Holland, Zeeland and Hamilton were considered by standardized tests to be ready for kindergarten when they entered classrooms. The group's goal is to raise that figure to 80 percent by 2015.
The group offered 81 preschool scholarships to private providers last year, and expects to double that figure this year, as word spreads and funding increases. (The Kellogg Foundation ponied up $2 million over a three-year period).
Corporations are helping, too. "They want a strong work force in 20 to 30 years," Lilly said.
Livingston County eyes contribution
The chambers of commerce in Brighton, Hartland and Howell have developed a countywide economic growth plan that emphasizes early childhood education. Their idea: The Livingston Promise. It's modeled loosely on the free-college Kalamazoo Promise, but focused on pre-K, not college.
"Why would you not start when you have the most opportunity?" asks Pat Convery, president of the Howell Chamber of Commerce. Cobb-Hall Insurance President Mike Hall said they've watched the Kalamazoo Promise develop over several years. "It is showing where the flaws are," he said, noting the Livingston leaders have concluded college readiness begins with kindergarten readiness.
Livingston leaders are searching for funding sources to jump-start The Livingston Promise, including corporate philanthropy, foundations and the United Way. But the quickest route to pre-K expansion would be improved state funding for GSRP.
"The state should have pre-K as part of its economic development plan for the whole state," Convery said. "It's a talent recruitment issue. We need to start at the beginning with kids. It just makes economic sense."
Progress by the treat
Back in Holland, Ready for School volunteers packed their "Free Ice Cream" signs in car trunks. In all, they'd handed out 220 ice cream bars and popsicles in two hours, and had numerous conversations with parents.
"Sometimes we see parents in the office the next day" to sign their children up for preschool, said volunteer Febe Gomez.
Meanwhile, the early childhood advocates keep plugging away, one Jolly Roger Bomb Pop at a time.
Senior Writer Ron French joined Bridge in 2011 after having won more than 40 national and state journalism awards since he joined the Detroit News in 1995. French has a long track record of uncovering emerging issues and changing the public policy debate through his work. In 2006, he foretold the coming crisis in the auto industry in a special report detailing how worker health-care costs threatened to bankrupt General Motors.