They disagreed, but both caught hell. Welcome to Michigan's mask mandate wars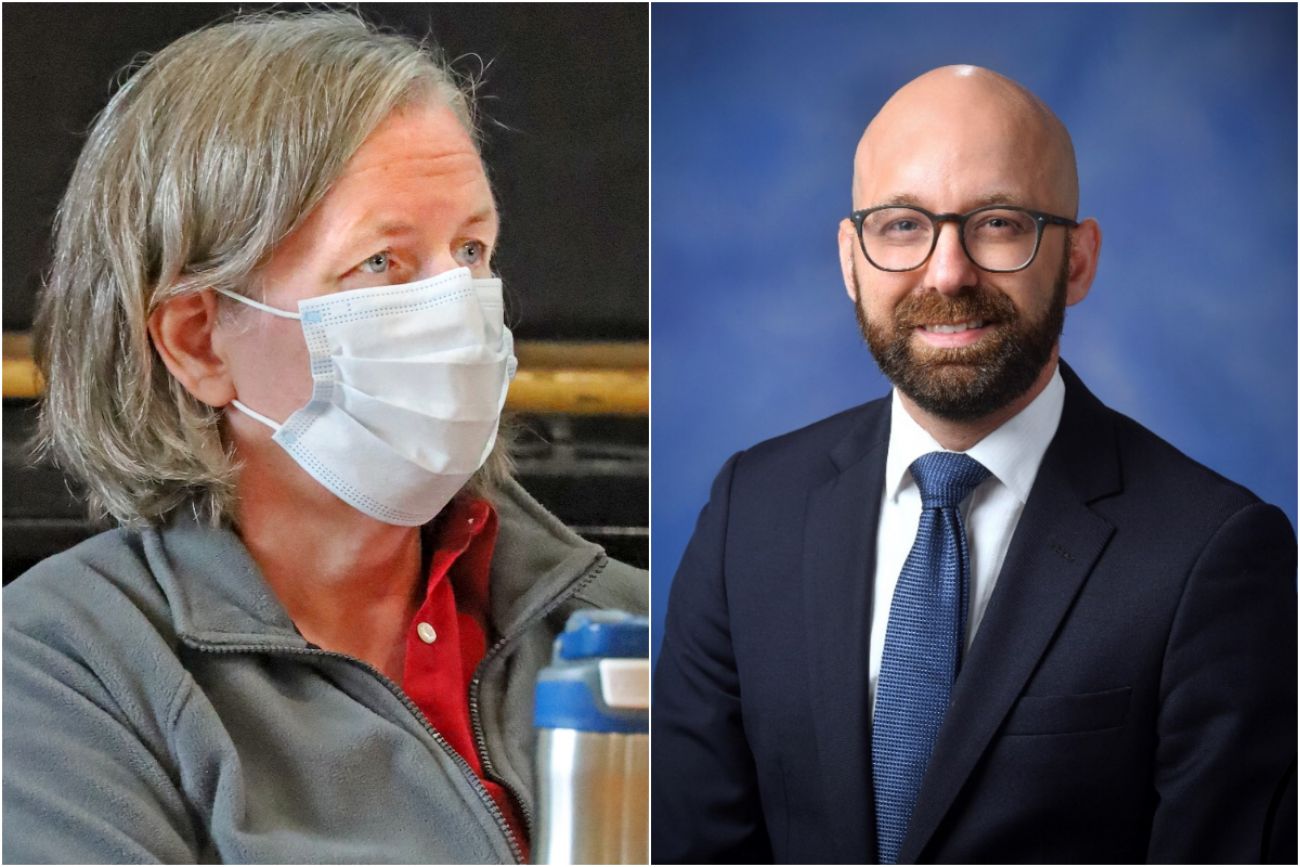 Collette Scrimger stands by her decision to issue a mask mandate in the conservative mid-Michigan counties. Ben Geiger opposed the mandate, but stood up for the right of the Barry Eaton District Health Department to make the decision. (Courtesy photos)
Talent & Education
They disagreed, but both caught hell. Welcome to Michigan's mask mandate wars
Scrimger initially tried to brush it off, she said later, just as she had earlier in the meeting when another speaker said she should be placed in a gas chamber. But she began to worry when police in the room appeared to be considering whether they should take her into custody. Soon, the Barry County prosecutor and sheriff arrived. Someone in the crowd shouted that they had handcuffs that could be used to detain the public health officer.
Related:
Then, at the height of the shouting, an unlikely ally came to Scrimger's defense.
Ben Geiger is the chair of the board of health that serves the region south of Lansing. The 34-year-old is a conservative county commissioner and chair of the Republican Party in rural, ruby-red Barry County, where residents voted for Donald Trump over Joe Biden by a 2-1 margin.
Geiger was very much against the mask mandate, and had tried unsuccessfully to talk Scrimger out of it before it was issued. The 113 people who spoke at the meeting were "unanimous" against the mandate, Geiger said, with many making the same points he'd argued in private to the long-time health official.
But now, with Scrimger having abandoned her seat at the board table and standing in the corner of the room, as far away from the agitated crowd as she could get, Geiger stepped between her and the crowd. Geiger says he doesn't remember taking that action, but in a video of the meeting, it appears he's acting as a human shield for the woman with whom he disagreed.
"I knew a lot of people in that room, I know they know better," Geiger later told Bridge Michigan. "Health departments are not evil organizations plotting to take away people's rights. They (health officials) are simply doing what they're trained to do."
The nasty public comments and threatened-but-never-carried-out citizen's arrest made headlines, similar to stories of angry protests across the state as parents fought locally-imposed school mask mandates. What was unusual in Charlotte was not the angry phone calls and emails flooding the health department, but that similar messages were streaming into a well-respected, anti-mandate Republican.
Geiger's sin: He'd asked for civility.
A decision 'on her shoulders'
When Scrimger was allowed to leave the board meeting, she was escorted to her car by police, as one woman shouted that the health officer was a "c***." Scrimger made the four-minute drive to the Hastings office of the Barry-Eaton Health Department. There, she tried to "decompress" with staff who'd watched a live stream of the meeting.
She fielded a phone call from her husband, who'd been alerted by friends that the meeting had gone off the rails. In the weeks leading up to the Sept. 17 school mask order, Scrimger and her husband had talked about the possible ramifications of issuing a mandate in her politically conservative counties.
"I knew before I issued the mask order that I was risking my job, and I had reached peace with that," Scrimger told Bridge. "My husband and I had certainly spoken about that and we were prepared for that.
"It was more about what's best for the community and the health department."
In the 2020-21 year, Gov. Gretchen Whitmer and the Michigan Department of Health and Human Services had ordered a statewide school mask mandate. The Democratic governor has declined to take that step this year, leaving the decision to local health officers and school superintendents. About 60 percent of Michigan's public school students are required to wear face coverings in classrooms this fall. The rest of the state's school districts are "mask optional," but in those districts, few students wear masks.
By mid-September, at least eight county or regional health departments had issued school mask mandates. Scrimger was among the last to pull the trigger, three weeks into the new school year.
The night of Sept. 16, Scrimger called Geiger to tell him she was going to issue a mandate the next day.
Geiger tried to change her mind. He told Scrimger he believed personal freedom outweighed the value of mask mandates to reduce coronavirus infections.
Geiger, a graphic artist who lives in the Barry County town of Nashville, had spent the past decade in politics, primarily working in the office of former Republican Lt. Gov. Brian Calley.
"He's been a constituent services-minded person the whole time and has had a lot of experiences dealing with difficult situations," Calley, who is now president of the Small Business Association of Michigan, told Bridge.
Geiger had dealt with a lot of angry callers in the lieutenant governor's office, but nothing prepared him for the vitriol surrounding school mask mandates.
"I said (to Scrimger) that 'the negative backlash is going to be unprecedented,'" Geiger recalled. "I'm concerned about it eroding confidence in public health.'
"From the individual discussions I had (with Scrimger and residents), I could see this conflict coming, and I could see the pressure on the health officer," Geiger said.
"Public health officials are trained to see the world a little differently than most government agencies. But my position was, she shouldn't have to feel like it's her job to save the world."
Scrimger wouldn't budge.
The 50-year-old had worked for the health department for 23 years, and served as the health officer for the last nine. Linda Vail, health officer in neighboring Ingham County, describes Scrimger as unflappable, with a personality unlikely to bend under political pressure.
"I called her the day after the (Sept. 23) meeting, and I expected her to be rattled," Vail said. "But she was so strong and collected. She was very resolved in the fact that she was doing the right thing."
On the call Sept. 16 before the she issued the mask mandate, Scrimger told Geiger that the Eaton and Barry counties had experienced a rapid increase in COVID cases among children age 0-17 in the past month, and that schools were dealing with increases in students who had tested positive or in quarantine.
In the draft of the order she shared with Geiger, she wrote that the science was clear that masks help slow the spread of the coronavirus.
"It's not that I don't trust public health. It's just in this situation, I'm going to have to side with individual liberty," Geiger recalled about the conversation. But in the end, "the decision rested on her shoulders."
Geiger wrote his own statement to be added to the news release announcing the mask order.
"We live in contentious times, and there's few things more contentious today than a mask mandate for our schools. Our Health Officer Colette Scrimger and I had spirited discussions about the necessity for a mask mandate. Despite my views, I always reiterated this is a difficult decision, and was hers and hers alone to make.
"Ms. Scrimger has made her decision, and state law does not allow it to be overturned by local county commissioners. Accordingly, the Board of Health respects her decision and refuses to engage in divisive political theater that changes no minds and overturns no orders.
"For the sake of our children, our families and our public health staff, let's move forward with respect, empathy and civility."
Calley saw the statement from his former aide after it was published on Sept. 17. "I know this has been tough on him," Calley said. "Ben has never shied away from taking responsibility and being a part of public dialogue, even when it's difficult.
"At his core, Ben is a peacemaker."
The backlash begins
Peace was not what some residents wanted. While some expressed support on Geiger's Facebook page the day the mandate was issued, others wanted him to fight — to find a way to overrule Scrimger, or fire her.
"Don't be a RINO (Republican In Name Only)," one person wrote. Some referred to "tyranny" and said Geiger was a coward, often using more colorful language. "Communists be damned," wrote another.
Meanwhile, Scrimger spent that Friday and the following day at her desk in the Charlotte office of the Board of Health, so she could be the one answering the phone calls from angry residents.
"I listened to everyone who called in, tried to correct any information that I felt was, you know, misrepresented and point them to the resources that we had put together to better educate them," Scrimger said. "But most people were not interested in any of that.
"The worst things (in those calls and emails) were accusing me of causing suicides in the district." (Scrimger said she is not aware of an increase in suicides since the start of the pandemic.) One mother said that if her daughter killed herself, "it would be on my conscience."
"I kind of knew what was coming," Scrimger said, "but it was hard to hear people say I'm failing my job."
She worried about her family's safety. She spoke to the school her sixth-grade daughter attends about the situation she was facing at work, and became hyper aware of her surroundings, looking to see who was around before leaving the health department building for her car. At her daughter's soccer games, Scrimger began sitting at the end of the field, away from the other parents, to try to head off any possible confrontations.
Some emails and calls were respectful. Others were laced with profanity.
"Nothing happened," Scrimger said, "we've been fortunate that way, but still you are aware of who's coming up to you at the grocery store."
'Politicization of public health'
Scrimger's experience hasn't been unusual this fall. Kent County Health Officer Adam London told county commissioners that an angry resident tried to run him off the road after he issued a mask mandate for students in pre-K through sixth grade. A woman in Genesee County faces criminal charges on allegations she made death threats against Health Officer Pamela Hackert.
Lisa Peacock, health officer for six counties in northwest Michigan wrote about being threatened and bullied after issuing a school mask mandate in a guest commentary in Bridge Michigan. And on Oct. 18, the acting health officer in Berrien County announced she was resigning, citing the "politicization of public health" in wake of a school mask mandate she issued Sept. 1, and then rescinded Sept. 29.
Scrimger rescinded her own department's school mask mandate on Sept. 30 also, citing language in the state's 2021-2022 budget that indicated health department funding could be withheld in local health departments issuing mask mandates.
Whitmer has said the language is unenforceable, but Scrimger said she didn't want to take the chance of losing funding or being drawn into a protracted, expensive lawsuit.
Though the mask mandate is gone, Scrimger still isn't sure her job is safe. At least six Eaton County commissioners have signed a letter asking Scrimger to resign. Scrimger calls the letter a "political ploy," noting the letter was never delivered to her. Geiger points out that none of the six county commissioners from Barry and Eaton who sit on the Board of Health signed the petition.
Geiger has received his own "blowback" for his defense of Scrimger from some Republicans in Barry County, some of it being "the most disgusting things I've heard in my government career."
"Are you going to seriously pretend like you're not a coward?" one constituent wrote to him on social media.
"Your political career is over buddy! You had a chance to do the right thing and grow a pair, you chose the exact opposite!!" wrote another "RESIGN OR BE RECALLED!!"
He said he feels he'll be able to survive politically in his post as chair of the Republican Party, and also doesn't believe Scrimger should resign.
"Colette has been put into an impossible place where she has to make a decision she knows is unpopular," Geiger said. "That's not a cause for termination."
Scrimger said she is at peace with whatever happens to her, but she worries the hostility of recent months could cause long-lasting damage to the community.
"All of us are going through some level of strain about what it's going to mean for the public health infrastructure for the long term," Scrimger said. "I'm concerned about my (Board of Health) commissioners. I might disagree with them but we have good working relationships and I know this has not been easy for them either. And I'm concerned about boards of education who have battled this as well.
"It's likely going to chase good people out of the system. And I'm concerned about who's going to step in to fill those roles and what that does for the future across all of these systems."
Geiger plans to stay in public service, despite what some in the community have said about him and the district health officer.
"The things I've heard were things we didn't learn in Sunday school together," Geiger said. "I'd encourage people to take a breath. The health department is not evil, and people jealously guard their rights. It's a tough balance to find, but it's our job to get through it."
Only donate if we've informed you about important Michigan issues
See what new members are saying about why they donated to Bridge Michigan:
"In order for this information to be accurate and unbiased it must be underwritten by its readers, not by special interests." - Larry S.
"Not many other media sources report on the topics Bridge does." - Susan B.
"Your journalism is outstanding and rare these days." - Mark S.
If you want to ensure the future of nonpartisan, nonprofit Michigan journalism, please become a member today. You, too, will be asked why you donated and maybe we'll feature your quote next time!