Poor in Michigan with no ID. "I am somebody. I just can't prove it."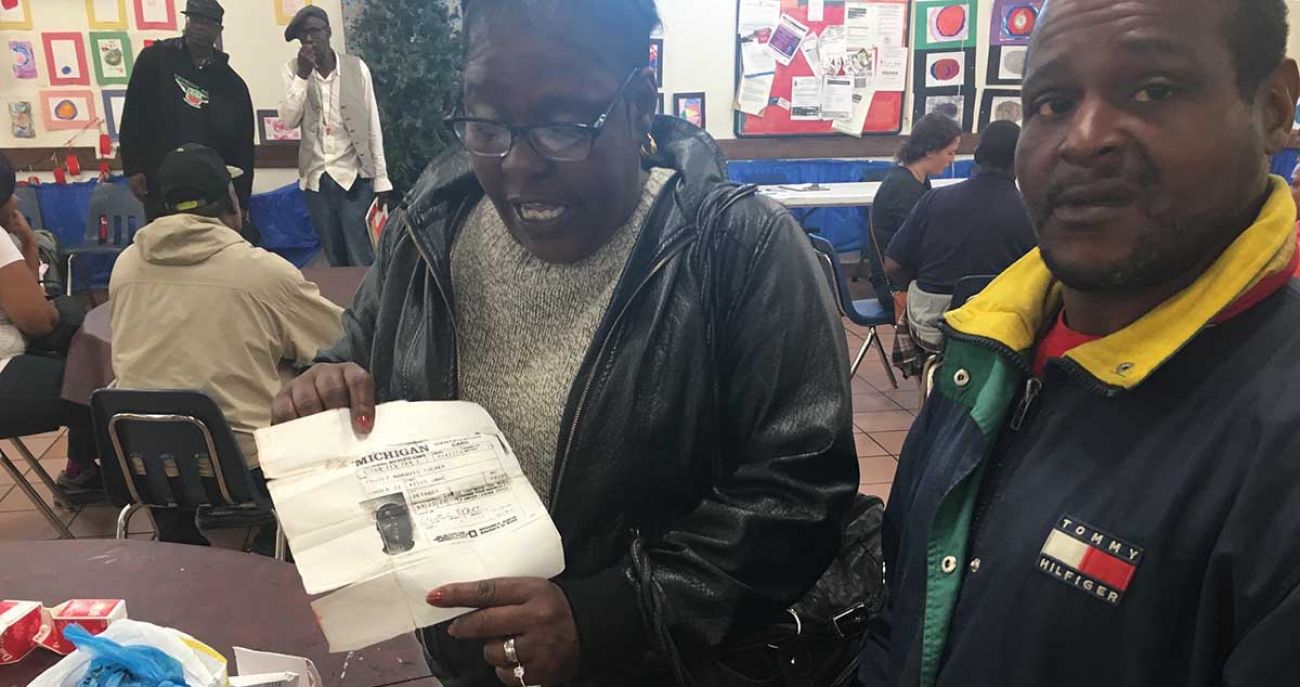 Everything that proves Chartez Tucker exists fits in a plastic grocery bag.
There's a wadded-up photocopy of his expired Michigan identification card. Some pieces of mail that look like they've been through the wash. A few pieces of this-and-that to try to authenticate his 45 years on Earth.
"Right now, he's a John Doe. A nobody," says his sister, Jacqueline Tucker.
Her brother cuts her off.
"I am somebody!" he says. "I just can't prove it."
The two were recently at a social services agency on Detroit's east side to begin the process of acquiring a state ID so he can get an apartment. But the process can take six months and unfold through a series of fits, starts and bureaucratic walls that reveals the everyday hassle of being poor.
For Tucker, it means bus trips, long waits in government offices and cobbling together money for copies of his birth certificate, academic and other records. He lost his ID with his wallet four years ago. When he talked to Bridge last month, Tucker had been to the Social Security office four times without luck.
"They make it so hard," said Tucker, who lives with his mother, doesn't work and suffers from seizures.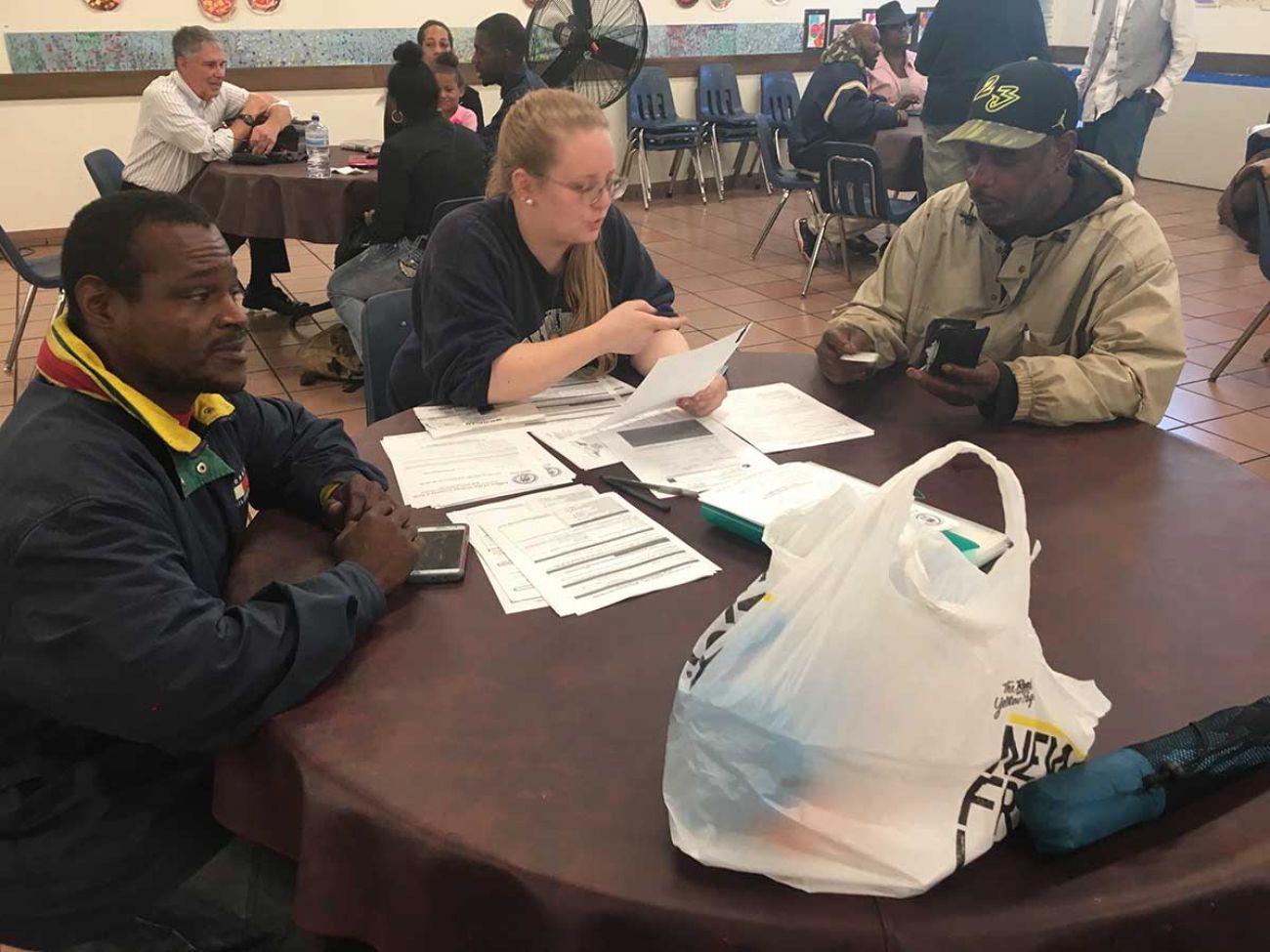 Lacking identification is a surprisingly common problem, particularly in cities: As many as 1 in 10 Americans don't have a government-issued ID, according to the Brennan Center for Justice at the New York University School of Law. Other studies claim as many as 13 percent of African-Americans lack IDs.
It's an issue that's both practical and political. Fears of voter fraud, terrorism and identity theft have many government officials reluctant to ease requirements to get IDs to vote; requirements that increased significantly after the 2001 terror attacks.
The push has come predominantly from conservative lawmakers, raising accusations among progressives that Republicans' real goal is to suppress election turnout of black and Hispanic voters, who tend to vote Democratic.
Who doesn't have ID?
A 2015 report by Project Vote, a Washington D.C.-based nonprofit aimed at mobilizing marginalized voters, found laws requiring photo ID to vote unfairly disenfranchise poor and minority voters. Here's who the study says lacks ID nationwide.
13 percent of blacks
10 percent of Hispanics.
5 percent of whites
12 percent of adults with household incomes of less than $25,000.
Nationwide, 34 states have laws requiring voters to show IDs to cast ballots. A bill to make it tougher to vote in Republican-controlled Michigan without ID passed the state House in December, but stalled in the Senate.
But those who work with the poor say IDs have value beyond the voting booth ‒ they are the first step to escaping deep poverty and unlocking basic amenities. Getting a job. Opening a bank account. Signing a lease. Applying for government benefits. Sometimes even going to a homeless shelter.
All require ID. Those without one face something of a Zen riddle: How do you prove you exist if you can't prove you exist?
"You need ID to get ID," said Greg Markus, a professor emeritus of political science at the University of Michigan and an organizer with Detroit Action Commonwealth, a social services agency which guides about 25 people per week through the process of getting IDs, including Tucker.
"You need a Social Security card to get a state ID," Markus said. "You need a state ID to get a Social Security card. You need a birth certificate to get a state ID. So where do you start?"
For Tucker, it starts with Detroit Action Commonwealth, where volunteers help him form a plan to get paperwork for an ID.
"I've got to be somebody," Tucker said. "I want an ID so bad I can taste it."
One month later, he is still waiting.
State says rules protect residents
Government officials say there are good reasons why getting an ID shouldn't be easy: terrorism and security.
Requirements vary by states, but most typically require multiple pieces of documentation for driver licenses or state IDs. The 2005 federal Real ID Act, passed in reaction to the 2001 terror attacks, requires minimum state standards.
In Michigan, people need four types of paperwork for a state ID: A Social Security card, W-2 or paystub with the number on it; a birth certificate or passport; identity verification such as school records or marriage or divorce records; and two pieces to prove residence, such as a utility bill, bank statement or rental agreement.
Fred Woodhams, a spokesman for Michigan Secretary of State Ruth Johnson, said the requirements "are reasonable and necessary to protect Michigan residents from those who would try to fraudulently obtain state identification."
"Millions of Michigan residents have successfully obtained state-issued identification since the rules went into effect," Woodhams said, adding the state "has a responsibility to protect Michigan residents from identity theft. ... We must be certain that the person we issue identification to is that person"
No records are available in Michigan on the number of adult residents who lack ID.
In fact, there are more total driver licenses (7.2 million) and state-issued IDs (1.05 million) than there are residents over the age of 14 (7.9 million), according to the Michigan Secretary of State and U.S. Census records.
Woodhams said those numbers include overlap from those with suspended licenses who get state ID cards. Also, the numbers include those who moved from Michigan but still have licenses, a common occurrence.
The issue is believed to be particularly acute for the homeless in Michigan, which the Michigan Campaign to End Homelessness estimates total 40,000.
A 2004 report by the National Law Center on Homelessness & Poverty found that roughly 50 percent of homeless people were denied federal disability benefits, food stamps or access to shelter because they lacked ID.
"You'll be surprised how many people are out there on the street and get a backpack stolen with ID in it, and how that can turn your life upside down," said Vic Modin, 69, of Detroit.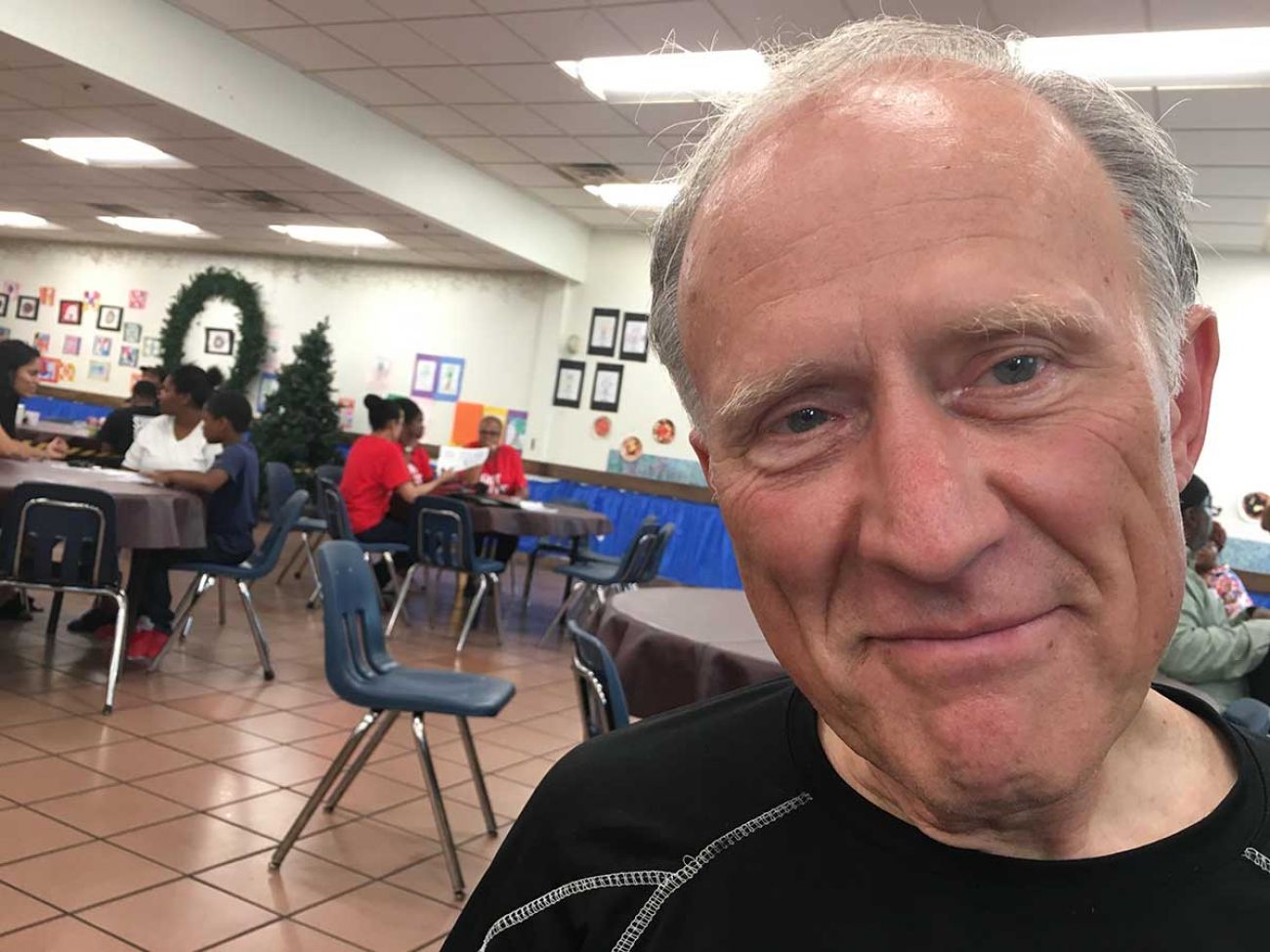 Modin said he got by working odd jobs and riding a bicycle after his driver license expired more than 10 years ago. He said he didn't have a bank account, and wanted an ID to bid on property at the Wayne County tax foreclosure auction.
The ID process took about a year. When he started, Modin lacked a birth certificate and Social Security card. That meant he couldn't apply for Social Security retirement benefits.
"This is what is called a poverty trap," said Markus of the Detroit Action Commonwealth, who helped Modin.
"You have thousands and thousands of native-born Michiganders trying to get by without the basic ID to function in society. You are trapped in poverty. You want to get out. But you are trapped."
Besides basic amenities, lacking an ID also can close the door to voting in many states. Some studies, such as one in 2015 by the Project Vote nonprofit, and a more recent study by the University of California San Diego, found that laws requiring voters to present IDs depress votes in poor and minority communities.
Other scholars including New York University Law Professor Richard A. Epstein disagree. He contends racism fears are unfounded and that states without strict voting laws actually encourage minorities not to get IDs.
"The fraud problem is systematically underrated," said Epstein, who has studied the issue extensively as a senior fellow for the conservative-leaning Hoover Institution at Stanford University.
Michigan doesn't require registered voters to show IDs before casting ballots. Those without one must sign affidavits attesting to their identity. A bill last year would have required those without IDs to fill out a provisional ballot, which would only be counted if the voter returned to the clerk's office within 10 days to show photo ID.
The measure, which died in the Senate, was sponsored by former GOP state Rep. Lisa Posthumus Lyons, who is now Kent County clerk.
"Presenting your ID is the most important way to protect everyone's vote, by proving you are who you say you are. The people deserve to know that," she told Bridge.
A similar argument is behind President Trump's controversial commission to root out voter fraud, which was based on the president's unproven claim that he lost the 2016 popular vote only because millions of non-citizens voted illegally.
Epstein and others argue that a lack of criminal convictions for voter fraud doesn't mean it doesn't happen. He points to last year's election in New Hampshire, which is one of 15 states that allow voters to register on the same day as the election.
The election, which narrowly elevated Democrat Maggie Hassan to the Senate, included some 6,200 voters who registered on election day.
Trump has said there was "serious voter fraud" in New Hampshire, and his elections panel held its first public meeting there this month. New Hampshire officials respond that critics offered no proof of fraud and don't understand the state's voting laws.
Not easy going it alone
Getting an ID is so complicated most people "can't do it alone," said Pat Rodenhouse, a part-time employee with Degage Ministries in Grand Rapids, which has helped about 500 people a year get ID since 2001.
"We become investigative reporters," she said. "We are always digging on behalf of our patrons."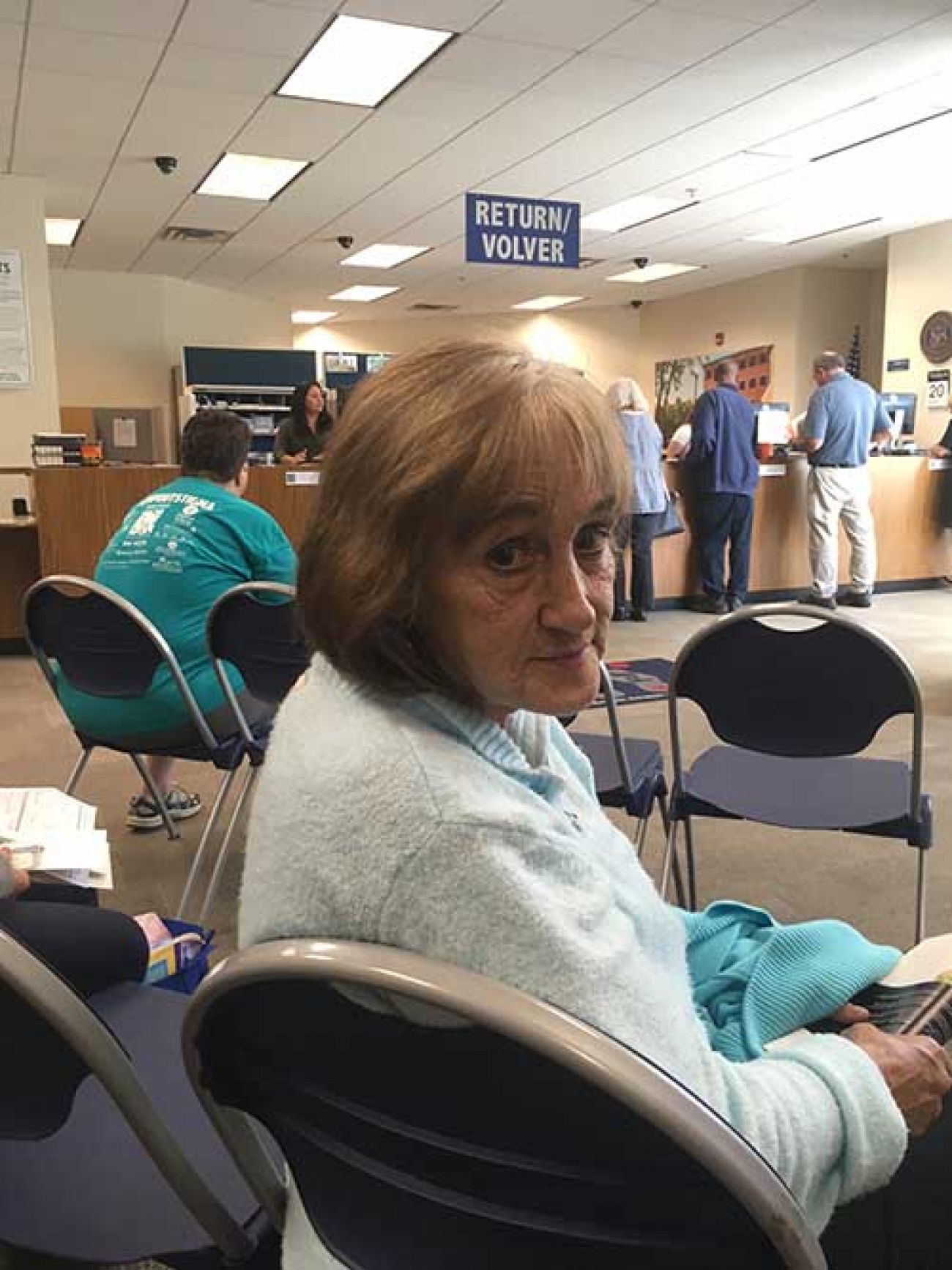 One of the four types of records required to get an ID, for instance, is proof of identity beyond a Social Security card or birth certificate – things like official copies of marriage licenses or divorce decrees, adoption records, prisoner IDs, tribal IDs or school records.
School records are typically the easiest to get, Markus said. In Detroit, that means a bus trip to a far-flung Detroit Public Community Schools office that charges $5 for records.
The office doesn't accept cash, personal checks or charge cards. It only takes money orders, which are sold nearby at a post office for $1.20.
And to get the transcripts, of course, you need to show an ID.
Groups that help those without ID overcome the obstacles by working closely with county officials to obtain documents such as birth certificates, driving groups to government offices and establishing paper trails necessary to secure other documents. In some cases, those without documents can get an exemption from records or fees.
The first step often involves registering to vote, which doesn't require an ID in Michigan.
Municipalities are recognizing the problem. Detroit last year joined cities such as Newark, New York City, Oakland and San Francisco to introduce municipal identification cards to those without them, including undocumented residents.
Detroit has issued about 3,000 cards, which can be used to access services from the health, water and police departments and land bank. The card is also accepted by some credit unions and hospitals.
Nationwide, states from Hawaii and Texas to Massachusetts and West Virginia have introduced legislation to eliminate some paperwork and make it easier for the homeless to get IDs. Reform proposals including eliminating fees on birth certificates and allowing the homeless to sign affidavits of their identity to satisfy some of authentication requirements.
In Grand Rapids last week, dozens of residents applied for IDs at a Secretary of State office with the help of another Degage employee. It was the culmination of a process that can take months, tracking down paperwork such as missing birth certificates, marriage licenses or school records.
The group included Bobie Ball, 62, of Grand Rapids, who said her ID was stolen several years ago at a bar.
Three months ago, she said, she was denied disability payments because she had no ID. Ball had no idea how to secure the birth certificate she would need to get a new ID.
Rodenhouse contacted officials in Ball's birth county in Illinois, then in the state capital of Springfield. Because Ball had no photo ID the state would accept, Rodenhouse finally secured it by submitting her own identification and a notarized letter from Ball requesting the document.
Ball should have an ID in a couple of weeks.
"I'm going to hang on to it this time," Ball said.
Only donate if we've informed you about important Michigan issues
See what new members are saying about why they donated to Bridge Michigan:
"In order for this information to be accurate and unbiased it must be underwritten by its readers, not by special interests." - Larry S.
"Not many other media sources report on the topics Bridge does." - Susan B.
"Your journalism is outstanding and rare these days." - Mark S.
If you want to ensure the future of nonpartisan, nonprofit Michigan journalism, please become a member today. You, too, will be asked why you donated and maybe we'll feature your quote next time!