Articles
February 20, 2014 | David Ashenfelter
Anti-tax. Anti-gay. Anti-Obamacare. That's all you need to know about brash Tea Party favorite Tom McMillin. Or is it? A growing chorus of progressives are finding common bond with the Rochester Hills Republican.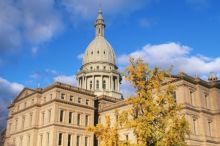 February 20, 2014 | David Ashenfelter
The brash Republican hasn't had much legislation signed into law, but it's not for lack of effort. McMillin's nearly 200 bills and resolutions span the political spectrum, from deeply conservative efforts to restrict abortion and gay rights, to strange-bedfellows alliances with the ACLU and progressive Democrats on civil liberties issues.