Michele Corey is vice president for programs for Michigan's Children, a public-policy advocacy group.
Articles
May 24, 2019 | Michele Corey
Opioid abuse and deaths have a huge impact on children in affected families. Michigan needs to figure out how to help them.
March 24, 2017 | Michele Corey
Granted, the latest Center for Michigan report on public trust in government is pretty grim. But making it better is a participatory sport.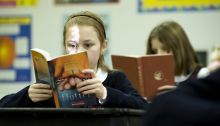 December 1, 2016 | Michele Corey
A new law that will hold back students who can't read by third grade is intended to boost early reading skills so that retention is not necessary. For this to work, state must take steps to help low-education parents help their children at home