Articles
May 26, 2016 | Mitch Bean
The former chief of the House Fiscal Agency says that unless Michigan restores adequate funding to cities, the Flint crisis is only the beginning.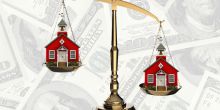 February 10, 2014 | Mitch Bean
In the debate over whether Gov. Snyder raised or cut state education funding in his first term, both sides can claim accuracy. But accuracy does not always equal truth. A former House Fiscal Agency director breaks down the complicated world of school finance, if you're into that kind of thing.