Articles
April 21, 2017 | Rob Fowler
The leader of a small-business group says we need to re-figure the money problem in Michigan.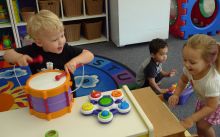 April 18, 2017 | Doug Luciani, Rob Fowler, Kevin Stotts
Children need quality care while their parents work. Michigan needs their parents working. We need to do better for both.
January 23, 2017 | Gilda Jacobs, Rob Fowler
Michigan school finance needs rethinking if schools are to thrive. Another study, funded in part by the Small Business Association, will help clarify how.