Michigan has more job openings than workers. Are retirees the answer?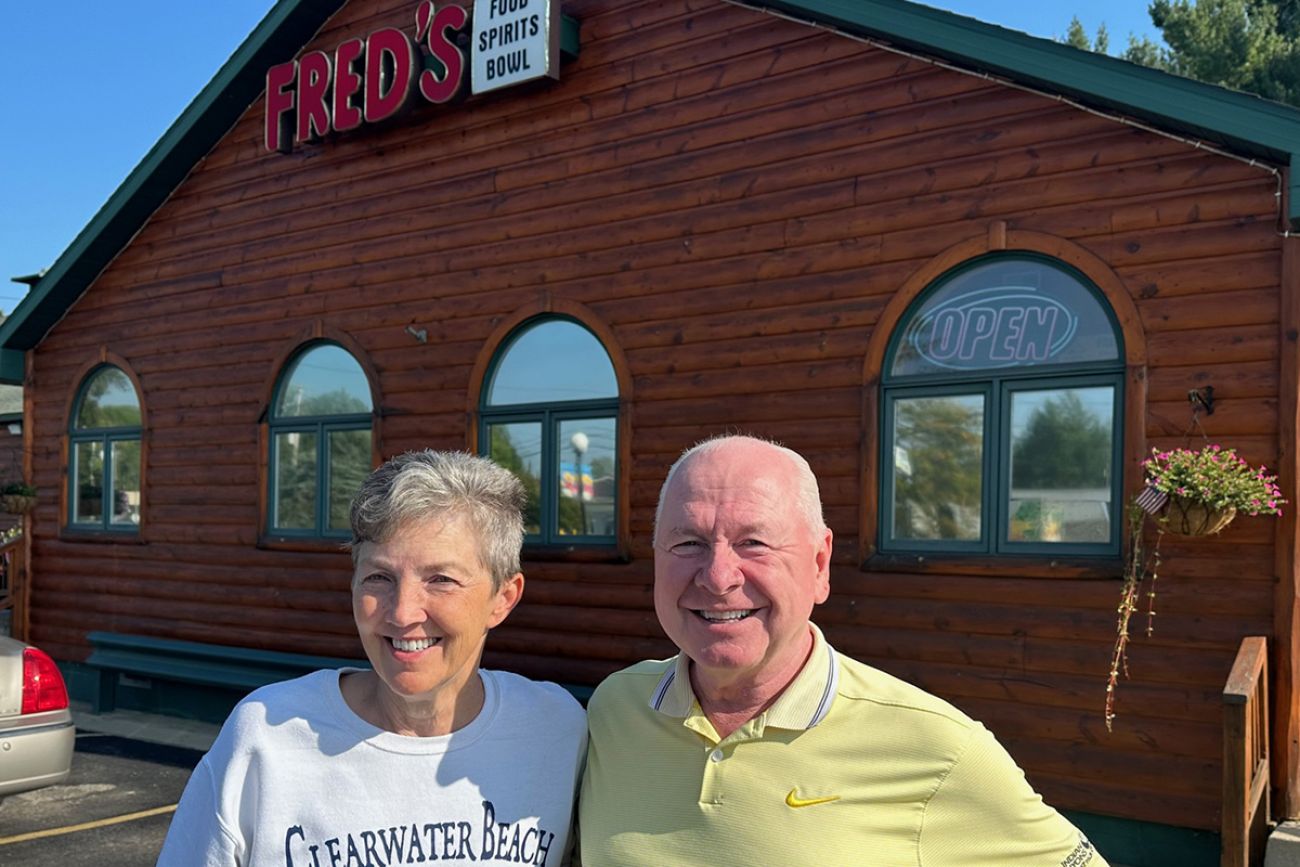 Kathy Bair and Ed Roginski, co-owners of Fred's of Roscommon restaurant and bowling alley, are struggling to find workers. (Bridge photo by Ron French)
A lower share of adults are in the workforce in Michigan than in other Midwestern states
Low labor force participation is a big factor in the state's worker shortage
One potential solution may be to incentivize seniors to rejoin the workforce
---
ROSCOMMON --- The village of Roscommon has a population of less than 1,000, but the sprawling Fred's of Roscommon is often packed. People from around the region just south of Grayling come to the restaurant and bowling alley regularly, as do the tourists who flock to nearby Higgins Lake.
Yet the restaurant that has traditionally been open every day is now closed Tuesdays and Wednesdays, and has had to drop its profitable carryout service from 5 p.m. to closing.
The reason is familiar to businesses around the state: a lack of workers.
Related:
Fred's had 66 employees as recently as 2019, and now scratches by with 34, said co-owner Ed Roginski. Many of those who remain are working 50 hours a week, and by the end of weekends, "they are worn out," he said.
"People are not working, for whatever reason," Roginski said.
Businesses around the state are asking the same question: Where did all the workers go?
Despite widespread worker shortages and, in many workplaces, increases in pay to lure applicants, fewer Michigan adults hold jobs now than before the pandemic.
Michigan has the lowest labor force participation rate in the Midwest, with 61 percent of residents age 16 and older either holding a job or actively looking for work, according to the most recent state-level Bureau of Labor Statistics data, from July.
There are plenty of causes — early retirement, more disabled workers, fewer college graduates — and they add up to big problems for employers.
Neighboring states like Ohio (62.1 percent), Illinois (64.4 percent) and Minnesota (68.5 percent) have higher labor force participation. And while the gap with Michigan may seem small, it represents tens of thousands of jobs.
If Michigan had the national average of 62.6 percent in the workforce, it would have 79,000 more workers, enough to fill Spartan Stadium and have another 4,000 tailgating in the parking lot.
"Labor participation rate is the No. 1 concern by far among small business owners," said Brian Calley, president of the Small Business Association of Michigan and former lieutenant governor under Gov. Rick Snyder.
"It's a frustration that cuts across most industries, in the face of pretty extraordinary increases in pay and benefits," Calley said. "It doesn't seem to be making a difference in the availability of workers."
Roscommon County is the poster child for the state's labor force problem, with less than 4 in 10 adults holding or actively looking for employment, according to the most recent countywide data, which is from 2021.
The county is the home of the tourist havens of Higgins and Houghton lakes, with the population swelling past its 26,000 permanent residents in the summer.
Business owners struggle to serve vacationers and can't find as many workers as they could before the pandemic began in early 2020, said Tracy Smith, director of the Higgins Lake/Roscommon Chamber of Commerce.
"Businesses have had to adjust their hours a lot," Smith said. "They are open significantly less than they used to be. Our small retail stores, many times it's just the owners (running the shops) now."
Roscommon and Lake counties are tied with the lowest labor rate, at 36.7 percent of residents age 16 and older in the workforce or looking for jobs.
The rate is 68 percent in west Michigan's Kent and Ottawa counties.
Roscommon's problems mirror those of the state. It has an aging population (the median age of 56 is the fourth-highest in the state), and a share of adults with college degrees far below the national average (14.9 percent with a bachelor's degree or higher in Roscommon, compared to 31.7 percent for Michigan and 35 percent for the U.S.)
And though there are help wanted signs in many business windows, from mom-and-pop convenience stores to the county's biggest employer, Lear Corp., the unemployment rate for the county is 7.4 percent — the second-highest in Michigan.
At B&B Marina on the shore of Higgins Lake, Greg Flewelling has been looking for a third boat mechanic for months with no luck. With only two mechanics, Flewelling says he's working 65 hours a week.
He blames an increase in short-term rentals in the resort region for making housing unaffordable for lower-income workers, and what he calls a hangover from COVID federal aid to the unemployed.
"They got used to COVID government money and getting $20 an hour to sit at home, so now they want that good money to work," Flewelling said.
Why fewer Michiganders work
Michigan is hobbled by a statewide worker shortage, with the lowest state unemployment rate in 23 years and population growth that ranks 49th in the nation since the 1990s.
Those worker shortages have a huge impact on the economy. Worker shortages make Michigan businesses hesitant to expand, and lead out-of-state companies looking for new homes to consider states where there are plentiful potential employees.
Getting more Michiganders to choose to respond to the state's ubiquitous "Now HIring" signs would seem like the simplest way to solve the worker shortage. But economists point to several factors why fewer Michiganders are drawing paychecks even in the face of worker shortages:
We're old
Michigan has the 12th-highest median age of residents, at 39.8, with fewer births per year than any time since World War II. That matters because fewer people work as they get older.
Nationally, about 8 in 10 adults between 25 and 54 have jobs; just 68 percent between 55 and 64 work, and 30 percent between 65 and 74.
Labor force participation rates include everyone age 16 and older, so states with more retirees such as Michigan tend to have lower workforce rates.
We're less educated
Age isn't the only cause of Michigan's workforce problems. Michigan ranks 32nd in the percentage of adults with a bachelor's degree or higher. That matters because those with a degree are more likely to hold jobs.
Nationally, a higher percentage of those with a bachelor's degree (79 percent of men, 68 percent of women) are in the workforce than those with a high school diploma and no college (67 percent of men, 47 percent of women).
We have more disabilities
Almost 1 in 7 adults in Michigan get federal disability benefits. That rate (14 percent) is the 18th highest in the nation, pulling tens of thousands out of the potential workforce. A 2017 analysis by Bridge Michigan found that disability rates in some parts of northern Michigan were higher than anywhere outside of some rural areas of the nation's southern states.
Larry Good, president emeritus of the Ann Arbor-based Corporation for a Skilled Workforce, said Michigan has a higher rate of disability than average in the U.S likely because of "our history as a heavily industrialized state.
"Manufacturing is an industry where you are more likely to get injured than office jobs," Good said.
We retire young
Data from the U.S. Bureau of Labor Statistics from 2019 found that Michigan workers tend to retire at a younger age than workers in most states.
The average age of retirement in the state was 62; only West Virginia was lower, at 61. The average retirement age in other Midwestern states ranged from 63 to 65.
Todd Surline, president of Hiring Solutions recruiting firm based in Okemos, said his firm is seeing "just as many positions but fewer applicants" than before the pandemic.
"The searches that used to take 60 days now take 90, and 90-day searches take 120," Surline said. "Gone are the days you can pick and choose between really good candidates. I tell clients (to) hire for attitude and then train them for the skills they don't bring with them."
The problem isn't likely to get better anytime soon, according to an economic forecast released last week by the Research Seminar on Quantitative Economics at the University of Michigan. That forecast predicts labor force participation will stay steady or decline through 2025, because "broader demographics are not favorable."
"Even though the tight labor market will continue to draw workers back into the labor force, it will not be enough to overcome the downward pull exerted by Michigan's aging population," the report says.
Child care deserts
There's no "simple, silver bullet answer" to the state's low labor participation rate, said Good, of the Corporation for a Skilled Workforce.
State investment in childcare could help, Good said, since some families currently either can't find or afford care for their young children, so they can go to work.
That's true in Roscommon, where many childcare providers closed during the pandemic and never reopened, said Pamela O'Laughlin, chief operating officer for Michigan Works! in a six-county region that includes Roscommon.
As of February 2023, half of the county was considered a "child care desert," with more than three children waiting for every available child care slot, according to an analysis from Michigan State University.
"It's leaving a lot of parents saying, 'OK, how can I manage working when I have no place for my children to go?'" O'Laughlin said.
Michigan Gov. Gretchen Whitmer launched a commission to study ways to retain and attract young workers to the state.
More work for older residents?
In the short-term, University of Michigan economist Don Grimes suggests the state look to the one resource the state has plenty of: older residents.
Grimes said Michigan has a ready-made supply of experienced workers who have recently retired, some of whom may welcome opportunities at part-time jobs.
"The biggest (percentage) increase in people with college degrees is going to be among seniors and near-seniors as Baby Boomers retire," Grimes said. "A lot of them retired during the pandemic, but after two to three years, they go back to work, usually because they need to.
Between 2011 and 2021, the percentage of Michigan residents under 65 who had a bachelor's degree or higher increased 5.9 percent, while college-educated seniors increased 7.2 percent, according to an analysis by Grimes.
Chris Holman, former president of Michigan AARP, explains how it could work.
"If I'm looking for employers, I desperately want people who are retired," he said. "They don't need insurance because they're on Medicare, and they come with a plethora of experiences. And a lot of seniors find out that retirement is not the plum they thought it would be. It's fun for a while, but how many days a week can you play golf? At work, I'm helping build something."
Holman said businesses need to be creative — splitting a full-time job between two 20-hour-a-week seniors or three 13-hour-a-week employees.
"Just make it flexible," Holman said. "They still want to play with their grandkids."
AARP and Michigan Works! collaborate on a program to match recent retirees with potential employers, called Experience for Hire. It's a small program — a job fair in Lansing in 2022 had 14 employers and 37 jobseekers — but AARP hopes to expand it in 2024 if the organization can attract financial support from the state.
Businesses are "coming to the realization of the value of the older worker," said Andrea Palmer program associate with AARP. "They bring stability and reliability that you may not get from a younger person."
The chronic shortage of employees many businesses are facing may lead them to be more open to hiring older workers, Good said.
"There's a lot of inherent biases that prevent older people from being employed," Good said. "If someone is unemployed at 55, a lot of employers don't consider them, because they're only going to be there a few years."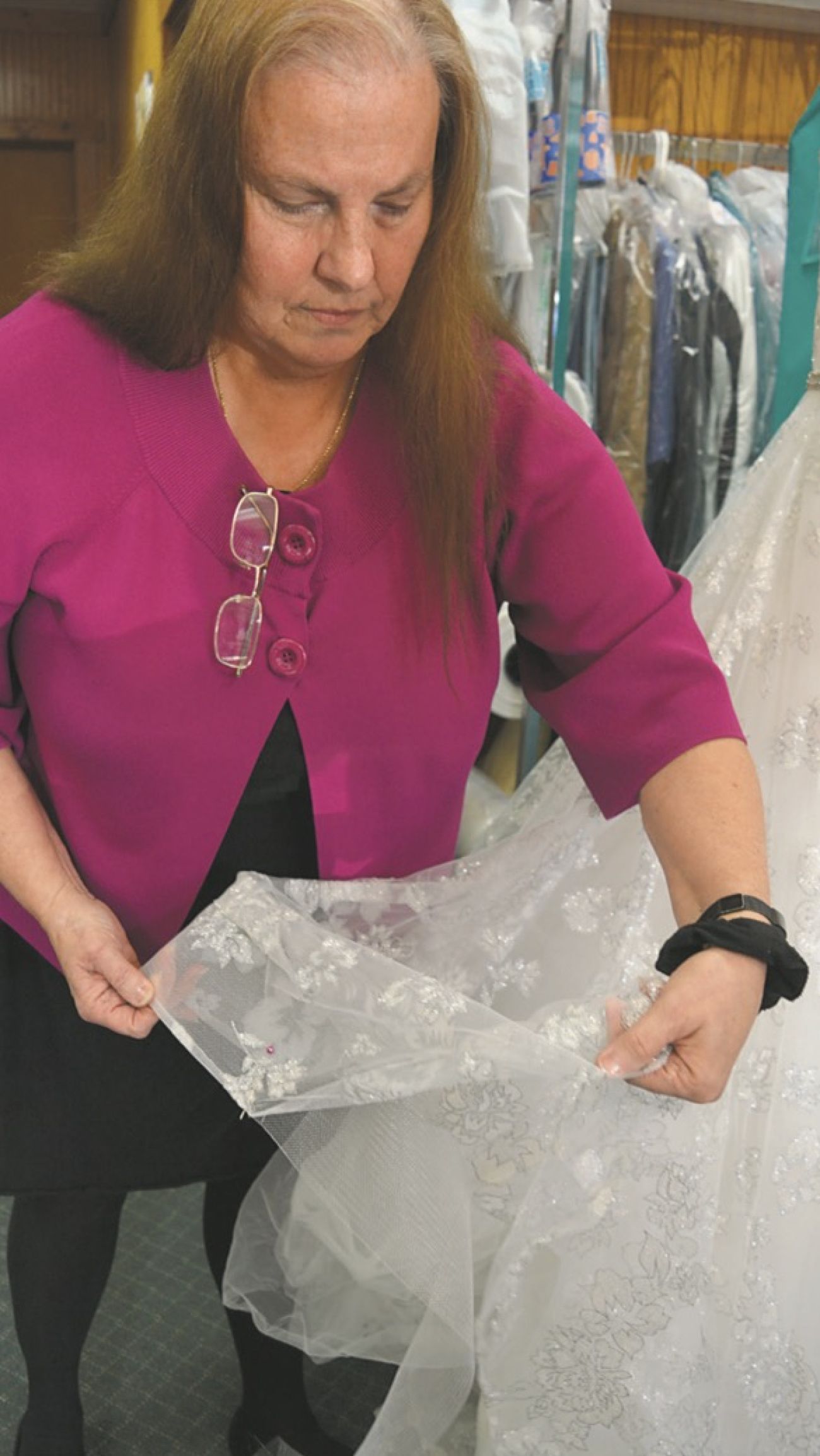 Becky Schantz retired last year, but the 66-year-old grandmother is already back at work, helping two businesses that are short of workers. (Bridge courtesy photo)
Grimes suggests the state should consider financial incentives to draw retirees back into the labor force, such as tax breaks to make up for Social Security benefits that could be lost from wage income.
"This (problem) is real, and it's not going to go away," Grimes said. "We're going to need people like we've never needed people before."
Becky Schantz is one of those people. The 66-year-old grandmother ran her own alteration shop for years in Roscommon before closing it last year.
"I had 800 customers and I had no one to take over," she said. "No one would do it. I don't care if you pay them $25 an hour, no one wants to work."
She closed the shop, but soon afterward was lured back into the workforce. Schantz now works part-time at a wedding shop, and part-time at Fred's restaurant, to help the owners who are her friends.
"I like to work, but for people my age, it's frustrating for me to feel like I have to," she said. "I want others to step up to the plate."
Sometime near closing at Fred's on a busy Labor Day weekend, a diner at Fred's called an exhausted Schantz over to his table.
"He said 'I just want you to know I appreciate how hard everyone is working,'" Schantz recalled. "I could have wept. It is so tough."
Michigan workers vacancies
In this occasional series, we examine the scope of critical worker shortages in 2023, from doctors and police officers to math teachers and social workers. To view more stories in this series click here.
Business Watch
Covering the intersection of business and policy, and informing Michigan employers and workers on the long road back from coronavirus.
Thanks to our Business Watch sponsors.
Support Bridge's nonprofit civic journalism. Donate today.
Only donate if we've informed you about important Michigan issues
See what new members are saying about why they donated to Bridge Michigan:
"In order for this information to be accurate and unbiased it must be underwritten by its readers, not by special interests." - Larry S.
"Not many other media sources report on the topics Bridge does." - Susan B.
"Your journalism is outstanding and rare these days." - Mark S.
If you want to ensure the future of nonpartisan, nonprofit Michigan journalism, please become a member today. You, too, will be asked why you donated and maybe we'll feature your quote next time!