Delayed medical appointment? In Michigan, the problem may not be the doctor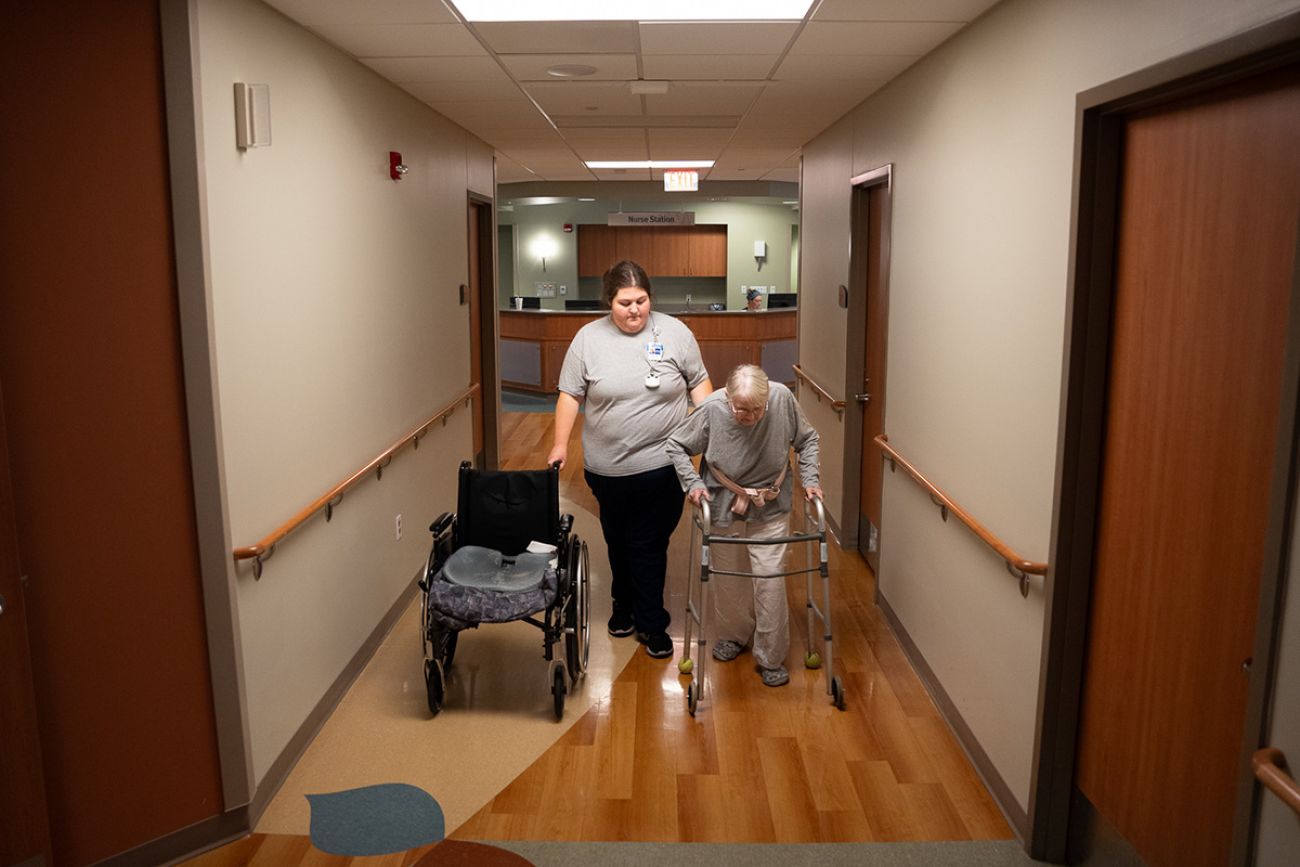 At Hillsdale Hospital in southeast Michigan, nurse assistant Jordan Shimp walks with patient Audrey Kesler as part of therapeutic care in the long-term rehab unit. (Bridge photo by Brayan Gutierrez)
Assistant-type medical positions are among the lowest paid and with high turnover
Worker vacancies are so severe some facilities are closing down rooms or temporarily icing plans to expand
A more-than-$3-an-hour pay boost for nursing assistants may not be enough
---
HILLSDALE—She pushed her walker toward hospital CEO JJ Hodshire, and now the older patient paused momentarily, studying his face.
Hodshire smiled at her. "Hi there, dear. How are you doing?" he asked. "They're getting you up for some walking, so that's good."
As Hodshire walked the halls, he greeted a passing staff member by name and called to a visitor that he would meet up later.
Related:
These are the kind of daily, know-your-name interactions at the small-town Hillsdale Hospital that made persistent staffing shortages so painful.
With too few nursing assistants, Hodshire last year had to close down eight long-term care beds, essentially its nursing home unit, because the facility did not have the staff to treat them. And that meant turning away patients — not just nameless strangers, but frequently people he knew personally in this town of 8,000.
"You have no idea what it's like to have to tell your neighbors and friends, the people of Hillsdale, that they might have to go as far away as Indiana to get the care they need," Hodshire said.
Hodshire's experience might be more personal than for CEOs in larger health systems, but the consequences for patients is more universal in a state wracked by health care workers vacancies in recent years.
A lack of frontline health workers, including nurse assistants, restricts every day access to health care throughout Michigan. At Hillsdale Hospital, shortages forced CEO JJ Hodshire to shut down part of the hospital's long-term care unit. (Bridge photo by Brayan Gutierrez)
Yes, there are shortages at the top of the health care job chain — certain specialties of doctors, for instance, gynecologists, family physicians and child psychiatrists, as well as nurses. But the greater need, in volume at least, is for the front-line workers who make hospitals and medical clinics hum. They escort patients to exam rooms, take their vitals, relay information to the doctor, or draw blood.
Earlier this year, the Michigan Health Council, a research and data center at the health care research nonprofit, found that nursing and medical assistants, dental assistants and hygienists had among the most acute shortages in all of health care.
The list also includes occupational and physical therapy assistants, lab and surgical techs, and phlebotomists who draw blood for crucial tests.
"It really is the frontline position that it seems to be the biggest struggle to find and to keep, because there's a lot of competition out there in the market," said Ellen Smith, president of ambulatory services and business development at Traverse City-based Munson Healthcare.
Michigan workers vacancies
In this occasional series, we examine the scope of critical worker shortages in 2023, from doctors and police officers to math teachers and social workers. To view more stories in this series click here.
Not surprisingly, the three most desperately needed positions — dental assistants, nursing assistants and pharmacy techs — are among the state's lowest-paid workers, said Michelle Wein, head of research at the Michigan Health Council. Dental assistants earned an average of $18.11 an hour in 2021, followed by pharmacy techs at $17.58 and nursing assistants at $17.09.
Hodshire and others have argued that, constrained by limited insurance reimbursements, they simply can't afford across-the- board pay raises for these employees.
So also not surprising: Few of these workers stay in these positions for long.
Two-in-three medical and dental assistants will leave within a year, according to the council's research. Nursing assistants are even more difficult to keep. Nearly 9-in-10 change jobs each year, according to the council.
Citing a shortage of assistants, the Michigan Primary Care Association launched its Health Centers Careers Training Program, offering on-the-job training and a clear career track.
The MPCA training program launched a year ago with a $7.6 million grant from federal American Rescue Plan funds that streamed through the state as part of a $300 million line item to help build out Michigan's health care workforce. The program covers online coursework and in-clinic, hands-on training costs for medical and dental assistants. It also trains pharmacy technicians, medical billers and coders, medical administrative assistants, medical records specialists, community health workers and doulas at Michigan MPCA clinics.
But it's a small program, given the state's needs.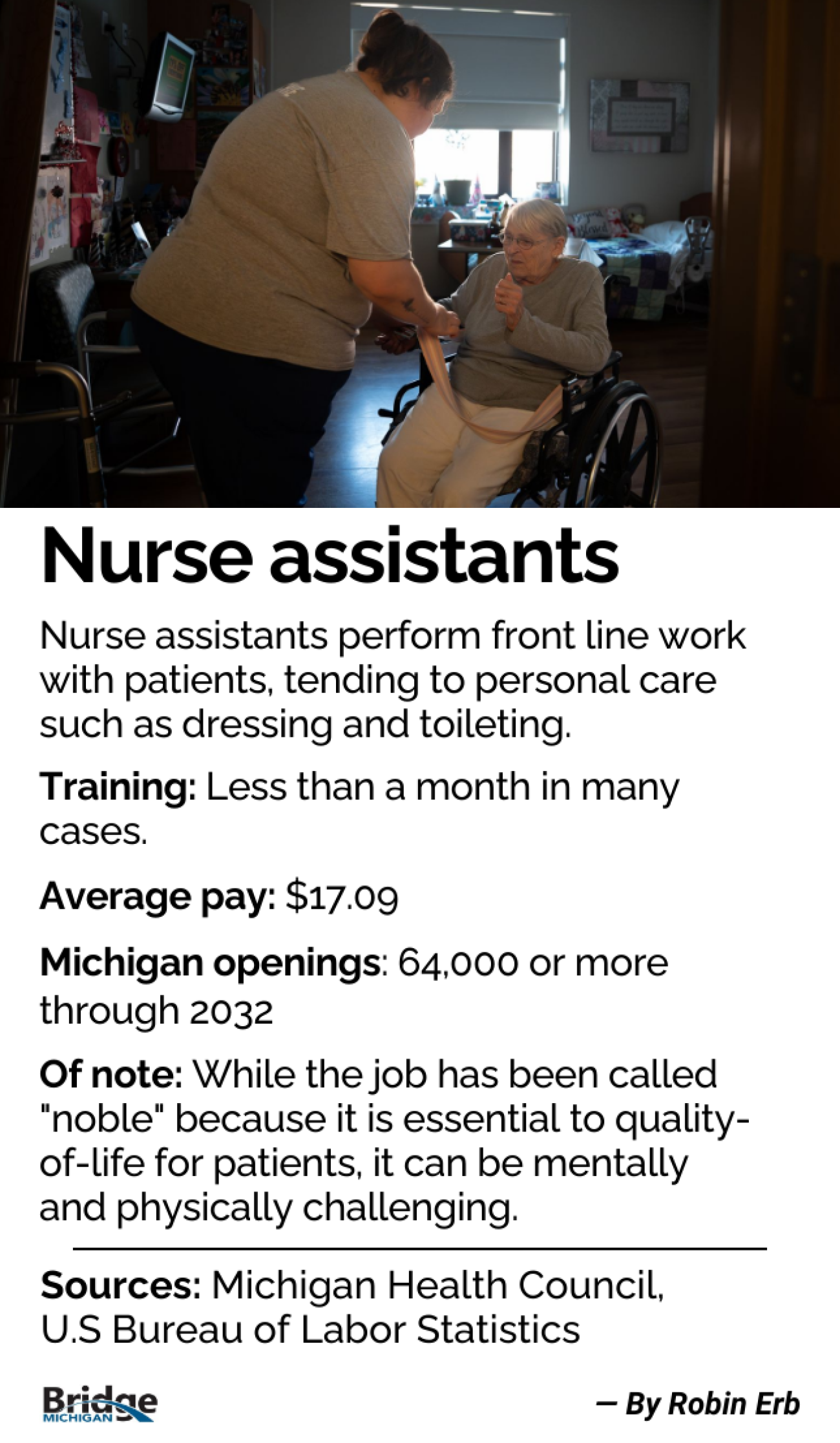 Consider medical assistants. The state will need more than 39,000 of them over the next 10 years, according to council data. It's a shortage felt every day across Michigan, said Dr. Salim Siddiqui, a radiation oncologist and president of the Michigan State Medical Society.
"There are days that (doctors) simply can't see patients because there aren't enough medical assistants," he said.
And that is true beyond Michigan.
Nationally, the need for, say, medical assistants is projected to grow faster than the average of all other occupations through 2031 — 16 percent for medical assistants, according to the U.S Bureau of Labor Statistics.
Hospitals and health care organizations are getting more aggressive in their searches. Munson, for instance, expanded its search by advertising positions to people as far away as Chicago, hoping to lure back natives or attract out-of-staters to northern Michigan.
"It may not attract the person who's lived and grown up in somewhere like Texas for all their life — who knows? — but for those who might have ties to the area or are familiar with northern Michigan, we want to tap into those broader pools whenever we can," said Munson's Smith.
As Bridge recently reported, some employers have turned to same-day pay to help ease income woes, or offer employee prizes and parties — even a pig roast — to build a sense of loyalty among staff.
Michigan's long-term health care industry, which includes nursing homes, is hoping a state-funded $3.20 pay increase that began with a COVID-era boost will help.
There are also two bills pending in the Legislature intended to boost career advancement opportunities for modestly paid nursing assistants. The measures would create an entirely new position in Michigan, that of "medication assistant," allowing nurse assistants to train to be able to administer medications — something only licensed practical nurses and registered nurses can do now, said Melissa Samuel, president and CEO of the Health Care Association of Michigan, an industry group representing the state's network of nursing homes and assisted living facilities.
The medical assistant would relieve nurses of medication tasks, and offer nurse assistants a path to more pay, she said.
Some suggest policies should be relaxed to allow people with criminal records to apply for at least some health jobs. Samuel said she hopes there can also be a change in federal policy that opens more of these positions to foreign workers.
Her sentiments align with a recent report by the Lansing-based Citizens Research Council, which focuses on Michigan public policy, and Altarum, a Michigan-based nonprofit focusing on health, which noted how the state's health needs are only growing as our population ages.
"We can do what we can at the state level," Samuel said. "We can pay more. We can use flexible hours (scheduling)," but in the end "there's just not enough workers. It's a numbers game."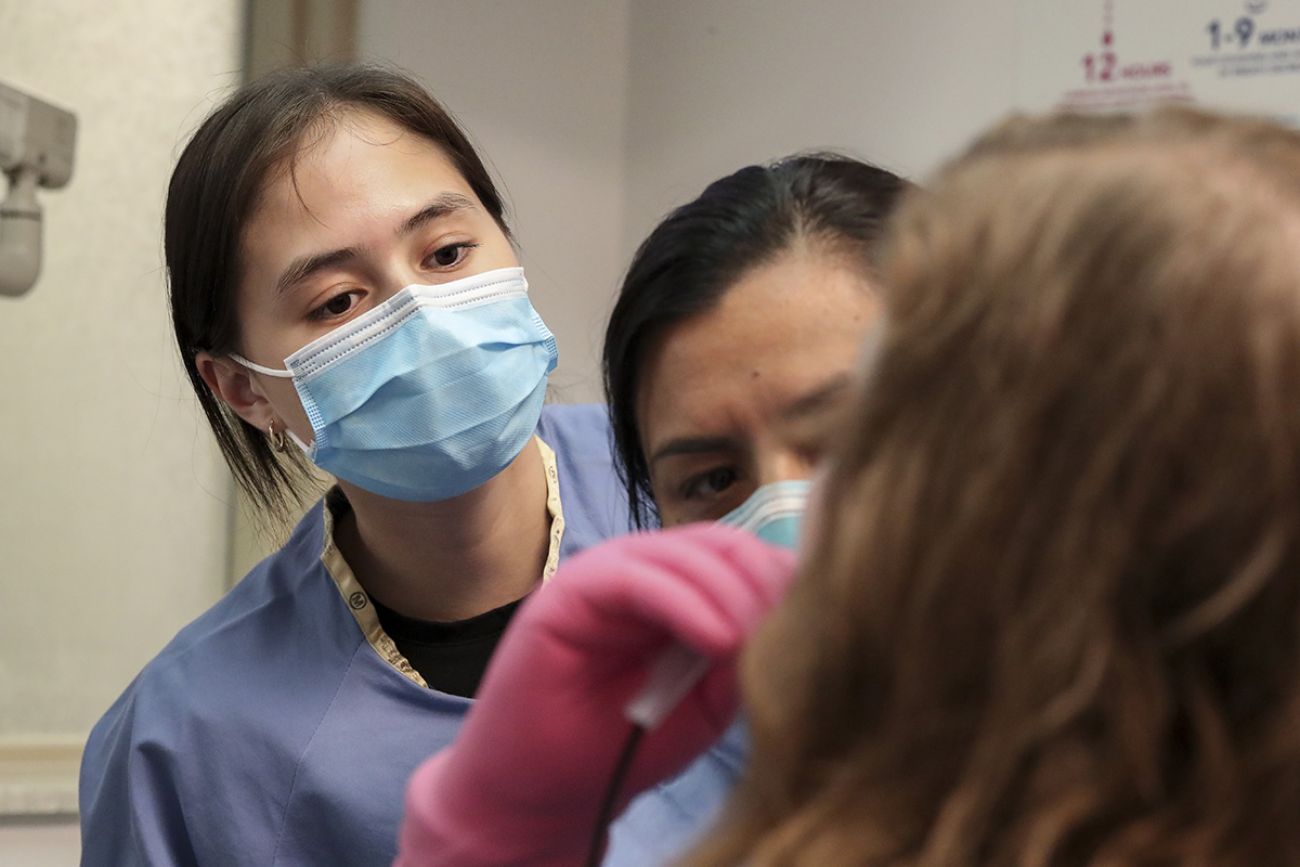 Dental assistant Hazel Vaca-Rodriguez watches as trainer Rachel Garza prepares to take an X-ray at Hackley Community Care in Muskegon. (Bridge photo by Chris duMond)
Strangling care access
Perhaps nowhere is the shortage more poignantly felt than at a small hospital whose budget is constantly in danger.
Without enough staff, beds must close down and expansion plans are delayed, limiting the ability to collect insurance reimbursements for care and, in turn, making it more difficult to boost its budget to attract more staff.
In Owosso last month, Doug Taylor had been at his computer reviewing the positions Memorial Healthcare needed most desperately. Among them were patient care techs who help patients with basic care, such as dressing or using the bathroom.
Plans to expand the hospital's long-term care unit are on hold, he said, until he can hire at least eight more techs or nurse assistants. There has been little relief in recruiting challenges, even with the pandemic now in the rear-view mirror, he said.
"It's a noble path, helping people in their time of need," Taylor, who leads Memorial's recruitment efforts, said of the positions. But he acknowledged, too: "Any time you do patient care, it's intense and it comes with a high level of responsibility."
The open positions create a spiral that increasingly restricts care.
At Hillsdale, Hodshire said he tried to explain to frustrated families why he couldn't accept their loved ones into the short-term care floor he'd been forced to close down.
In the vernacular of health care, there weren't enough beds, he'd say. But then visitors would see empty rooms and empty beds. And they'd be angry — like customers at a restaurant being told there aren't enough tables when they can see the empty tables in front of them. In reality, the restaurant's problem is about a lack of wait staff, he said.
So he had to change his wording.
"The bed shortage isn't necessarily because there's not enough beds, there's not enough nursing staff," he'd explain.
Still, health care isn't about the delay in getting a hamburger, Hodshire points out. Hospital staffing woes can be life-or-death.
"This is absolutely an access-to-care issue," he said, "and it's terrible."
Only donate if we've informed you about important Michigan issues
See what new members are saying about why they donated to Bridge Michigan:
"In order for this information to be accurate and unbiased it must be underwritten by its readers, not by special interests." - Larry S.
"Not many other media sources report on the topics Bridge does." - Susan B.
"Your journalism is outstanding and rare these days." - Mark S.
If you want to ensure the future of nonpartisan, nonprofit Michigan journalism, please become a member today. You, too, will be asked why you donated and maybe we'll feature your quote next time!