Staffing woes foil Michigan efforts to keep residents out of nursing homes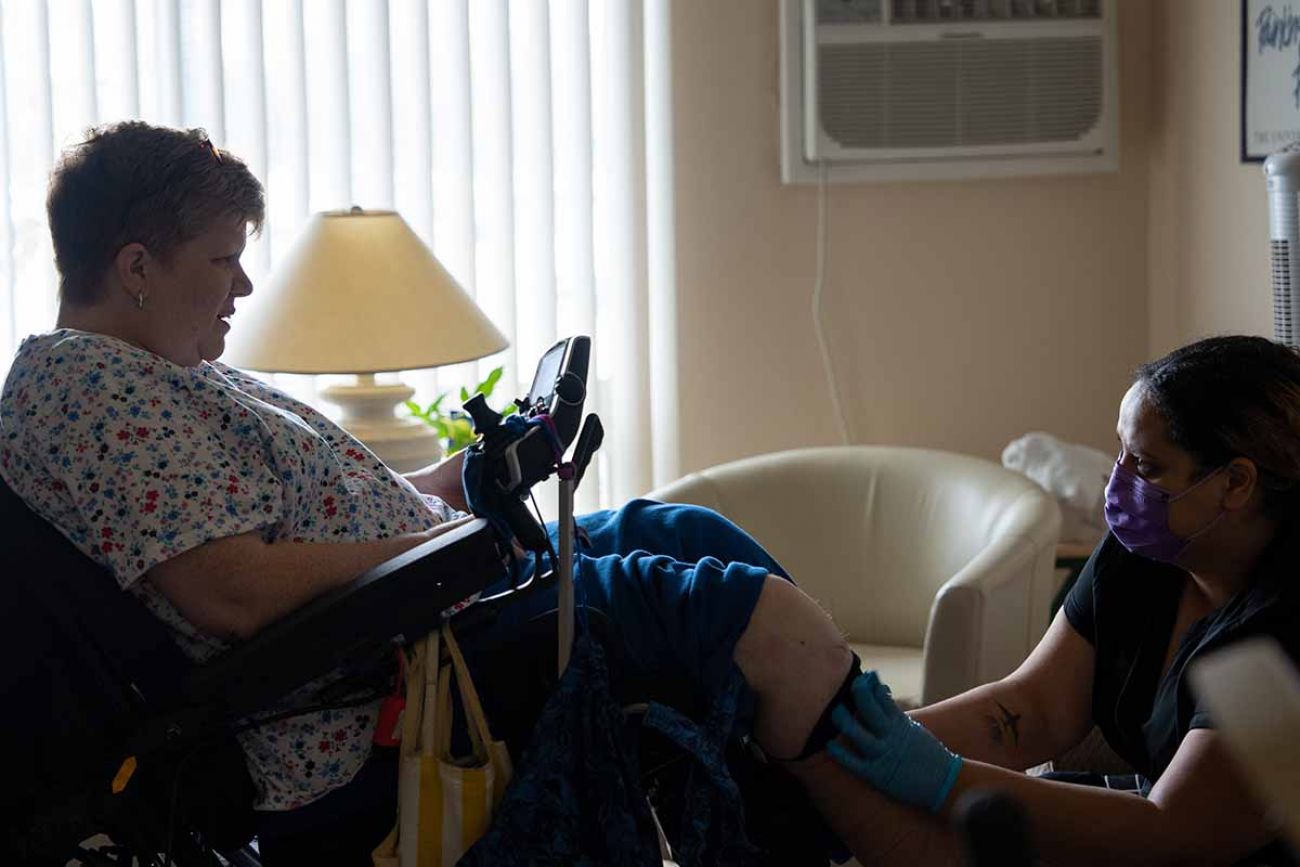 Caregiver Shirley Goodloe wraps Katy Kay's leg at her Rochester Hills apartment Thursday to treat swelling. Kay, 52, was diagnosed with multiple sclerosis as a high school student. (Bridge photo by Brayan Gutierrez)
MI Choice, which helps keep Medicaid seniors and disabled residents out of nursing homes, increased funding last year
But its expansion has been stymied because of huge staffing shortages
The problem is likely to get worse in the next decade, as more Michigan residents approach retirement
---
Efforts to help older Michiganders and those with disabilities stay in their homes and avoid nursing care have sputtered, as workers who would assist in homes turn to other jobs.
The state's popular MI Choice program, which assigns workers to help residents who qualify for Medicaid stay in their homes, now has 4,000 job openings out of more than 20,000 slots budgeted by the state.
Those empty positions are overwhelmingly the result of a severe worker shortage — in direct care staff, social workers, nurses and others, according to Scott Wamsley, director of the state's Bureau of Aging Community Living and Supports. The main reason, people involved in senior care say, is that potential workers can earn more in other fields, even as pay for these home assistance jobs has risen in recent years.
Related:
The worker squeeze is felt up and down the supply chain that helps residents remain in their homes and avoid, or at least delay, nursing home care. It adds pressure on service agencies scrambling to hire direct-care workers, and on seniors and others who rely on aides to help with tasks such as errands, light housework, changing bandages or organizing medications.
Wamsley said the problem used to be not having funding for direct-care workers. Now there is more funding, he said, but the program isn't attracting "workers to be able to serve those people."
It's not the first time state health officials have been frustrated by worker shortages. In September, an official with the Michigan Department of Health and Human Services told Bridge the state had to close more than 70 psychiatric beds over the summer largely because of a lack of staff.
In both instances, the shortages worsened even though the state had more money to invest in the services. It's a dynamic that's played out nationally during the COVID pandemic, as new job openings lured workers away from the stress of health care settings.
Even people who have received help through MI Choice for years said it's increasingly difficult to get staffers to come to their homes — including, in many cases, workers who arrived as strangers to their homes but became, over the years, trusted companions.
Despite the higher wages, direct-care health workers remain among the most underpaid professionals. A 2021 analysis by Public Sector Consultants, a Lansing-based public policy consulting firm, estimated their pay at about $12.43 an hour — above the minimum wage of $9.65 but significantly lower than average hourly wages for Michigan workers.
"They say 'I can make more money or get better hours or more hours' in other jobs,'" said Katy Kay, 52, of Rochester Hills, who is enrolled in the program.
For years, MI Choice-funded staff have stopped several times a week to wrap Kay's legs, which are prone to swelling from multiple sclerosis. They assist with laundry and help with exercises and errands.
But one staffer left recently for a job testing auto batteries; another was lured away to an Amazon packing facility, Kay said.
"I appreciated their honesty and I understand that," she said. "But it's frustrating — really, really frustrating."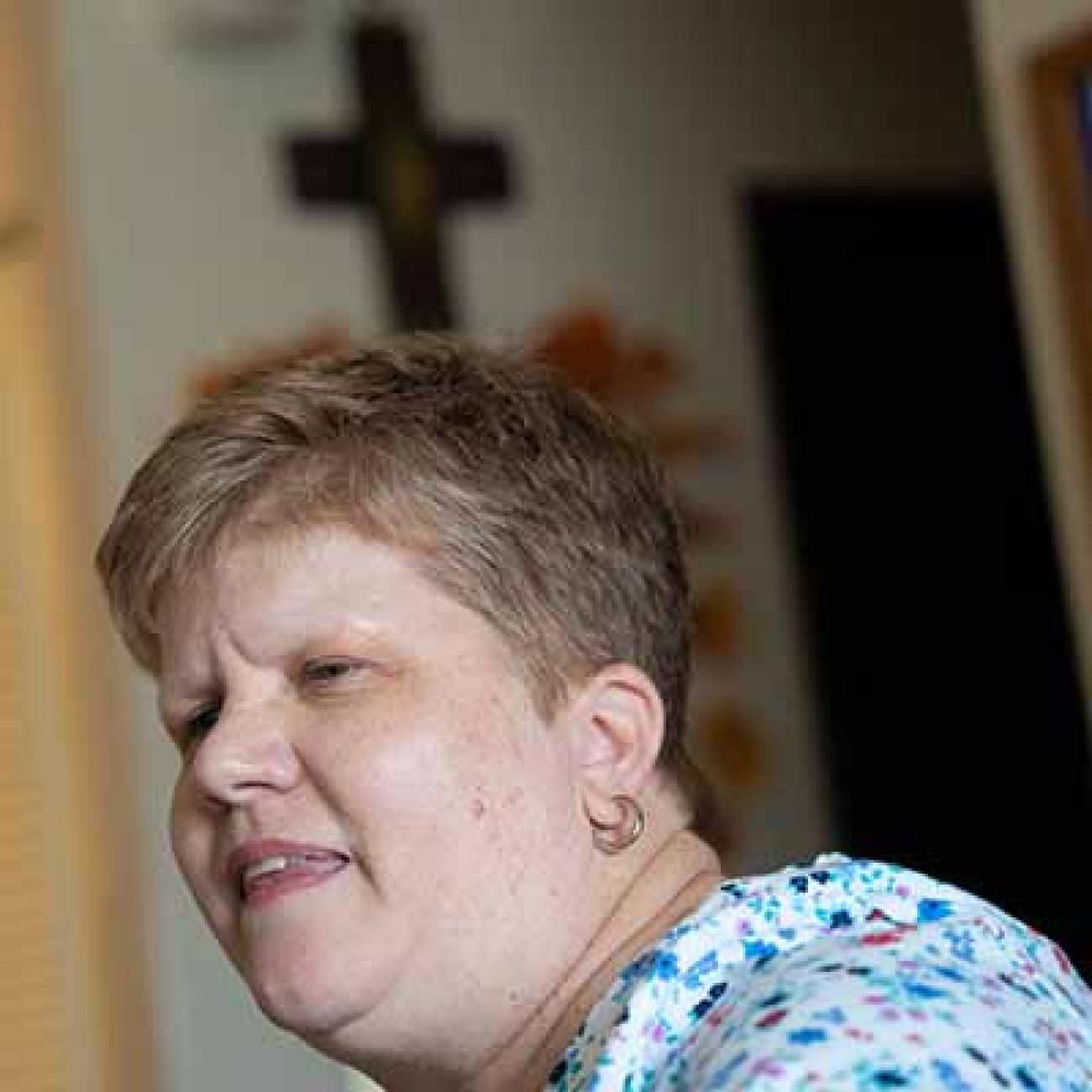 Aides have left her for higher-paying jobs in other fields — which is understandable but "frustrating," said Katy Kay, 52, who needs a few hours of help each day to remain independent and in her own home. (Bridge photo by Brayan Gutierrez)
The Area Agency on Aging 1-B, which serves seniors in six southeast Michigan counties, hired a full-time staff recruiter specifically assigned to MI Choice, said its president and CEO Michael Karson.
It gave monthly appreciation stipends and referral bonuses.
It initiated a $2,500 signing bonus for staff who would coordinate services.
Still, it left about 1,000 slots unused last year because of staffing shortages.
"We're doing everything that we can to get people to come on board, but it's an uphill fight," Karson said.
The squeeze is so severe that 1,000 additional slots made possible by federal funds in the American Rescue Plan Act funds remain largely unfilled.
Michigan lawmakers budgeted the additional MI Choice positions last year in the MDHHS budget. Yet despite the $19.1 million legislative boost, the state was unable to attract more workers.
According to preliminary numbers, just over 16,000 of the 20,204 allocated MI Choice slots were filled, according to preliminary state data, Wamsley said.
In addition to direct-care workers, there were also shortages in office staff, which stymied the resident enrollment process, Wamsley and others said.
For Michiganders trying to find an alternative to nursing homes, "it doesn't matter if we have options that appear on paper if they don't really exist," said Lisa Dedden Cooper, manager of AARP Michigan.
A 'godsend'
A shortfall in direct-care workers has been growing for years, as Bridge has documented in multiple stories. The state's inability to fix the shortage has implications not only for residents, but for the state. That's because it's generally cheaper for the state to fund programs like MI Choice that keep people in their homes than to pay for their care in around-the-clock nursing facilities.
Nearly four in five older Americans last year said it was important for them to stay in their own homes, according to last year's AARP Home and Community Preferences Survey. Nearly 9 in 10 older Americans said it was important to remain at home, according to the National Poll on Healthy Aging, conducted by the University of Michigan's Institute for Healthcare Policy and Innovation.
MI Choice makes it possible for older Michiganders and others to avoid nursing homes and remain at home or in the community — an obvious quality-of-life concern in a state aging faster than much of the rest of the country.
"It has been a godsend," said Cheryl Yousif, a Flat Rock billing coordinator.
She said her 78-year-old mother, Betty Butler, has fallen several times, breaking bones in her foot and neck. In the subsequent stay in rehab, she shared a room with another woman, whose husband was there nearly round-the-clock. It was awkward, Yousif said.
"But it's the roommate's husband, so of course he has every right to be there," Yousif said.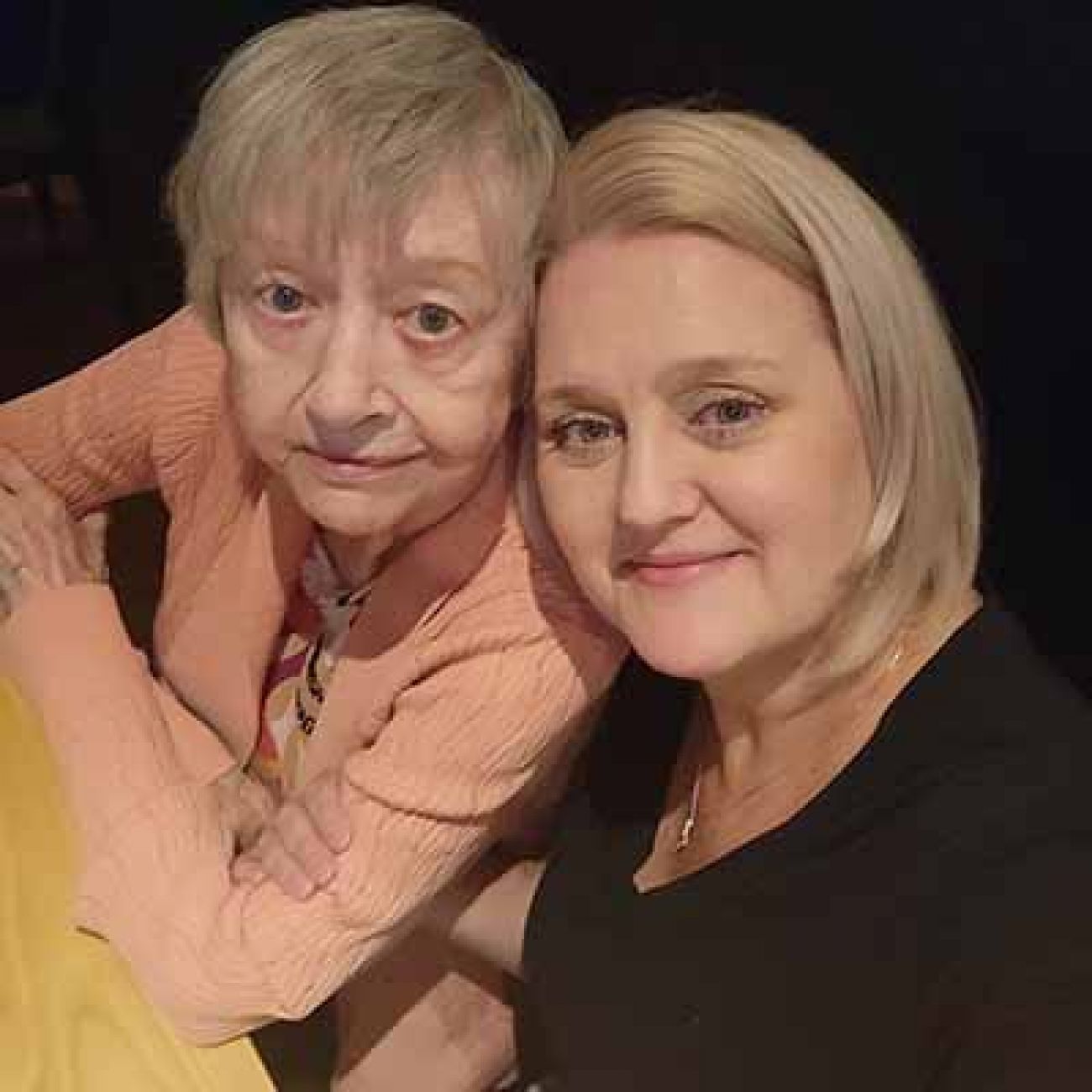 The MI Choice program has been a "godsend" for Betty Butler, according to her daughter, Cheryl Yousif. (Courtesy photo)
Now back at her assisted living apartment in Riverview, on-site staff — paid by MI Choice funds — visit in the morning, mid-day and evening, Yousif said.
They help with meals and medications, but Butler for the most part is otherwise independent, sleeping in her own bed and watching Hallmark movies and Steve Harvey and his Family Feud in her favorite blue fabric recliner.
"I love it when I stop over there and she's in her own La-Z-Boy recliner, and her feet are kicked up, and she's relaxed in her own space," said Yousif.
Without MI Choice, Yousif said, "I don't know what I'd do… I don't want her to give up."
The MI Choice program is available to people who qualify for Medicaid and require nursing home-level of care — a determination that is generally based on a person's physical and cognitive abilities, as well as health issues and any behavioral needs.
And while MI Choice may not appeal to everyone — some older Michiganders, for example, don't want outsiders in their home — "the program has been historically very popular," said the state's Wamsley.
'Seen this coming'
As has been well documented, the pandemic has driven caregiving staff from nursing homes, hospitals and home healthcare jobs — with workers citing a range of concerns, from fear of bringing viruses home to their families to job stress and the need to care for loved ones.
Michigan boosted pay to direct-care workers by $2.35 an hour, but other employment sectors have boosted wages or benefits even more, noted Laura Alexander, CEO of Westland-based Compassionate Care Home Care Services, which receives Medicaid funds through the MI Choice program administered by the Area Agency on Aging of Northwest Michigan.

Dependent on Medicaid reimbursement rates, Compassionate Care and other service providers are limited by how much they can raise wages for MI Choice workers and stay in business, she said.
Even as workers leave, she said, "the margins are so incredibly thin that agency after agency" is pulling out of providing MI Choice services.
In urban areas, providers are competing against other agencies as well as nursing homes and other provider agencies for direct care staff. In rural areas, providers find it tough to recruit caregivers who can travel long distances to someone's home for a few hours work, experts told Bridge.
Many workers have opted for jobs they can perform remotely, without the physical and emotional demands of direct-care work, while saving on fuel.
Which means agencies that supply workers can't fill in openings that arise.
"There are times where we can't find a worker, say on a Thursday, so (a resident enrolled in the program) goes without service for a day," said Jonathan Mead, president & CEO of the Upper Peninsula Commission for Area Progress, or UPCAP, the aging agency coordinating services for the largely rural, 15-county Upper Peninsula.
"That's becoming more and more prevalent," he said.
"The pandemic was the worst possible scenario for the workers, but also for the clients," said Michael Daeschlein of the Michigan Elder Justice Initiative, a legal and advocacy group for older Michiganders, which examined barriers to home care in its 52-page report, released in September. "It kind of exploded the issue."
Despite the worker shortage, MI Choice offers an array of help beyond direct care workers — mobile meals, modifications to homes, disposable medical supplies and durable medical equipment, for example.
"The direct care worker is an essential component of services — there's no getting around that," said Andrew Dabrowski, chief program officer at The Senior Alliance, which serves residents in western Wayne County. Still, he added, "we are doing the community a great benefit by getting (residents) in this program, even if it's going to take a little while to get them that direct-care worker."
The situation has loomed for years, making it particularly frustrating, said the U.P.'s Mead, who has been with the Area Agency on Aging there for more than 46 years.
In a ten-year period, the state's direct care workforce grew by more than 19 percent, driven in large part by Baby Boomers' move into retirement age. With the explosive growth in home health and personal care aids, the workforce grew from about 100,000 workers in 2011 to an estimated 120,000 last year, according to PHI, a national advocacy and research organization for the nation's direct care workforce and its clients.
"We saw this crisis coming 15 years ago, but never really tried to address this potential problem," Mead said. "Now, we have our backs against the wall."
A policy mismatch
MI Choice saves money, shifting state funds toward mostly part-time help and away from 24-hour nursing home care with layers of direct-care workers, nursing staff, medical services and administrators that can cost )more than $100,000 a year in Michigan.
Yet Michigan ranks 29th among states in its spending to help residents
remain at home or in the community through programs such as MI Choice, according to the 2020 AARP Long-Term Services & Supports State Scorecard.
By last count, the state spent just 31.5 percent of its long-term care budget on home-and community-based services — nearly 14 percentage points behind the nation's average spending (45.1 percent), according to the scorecard.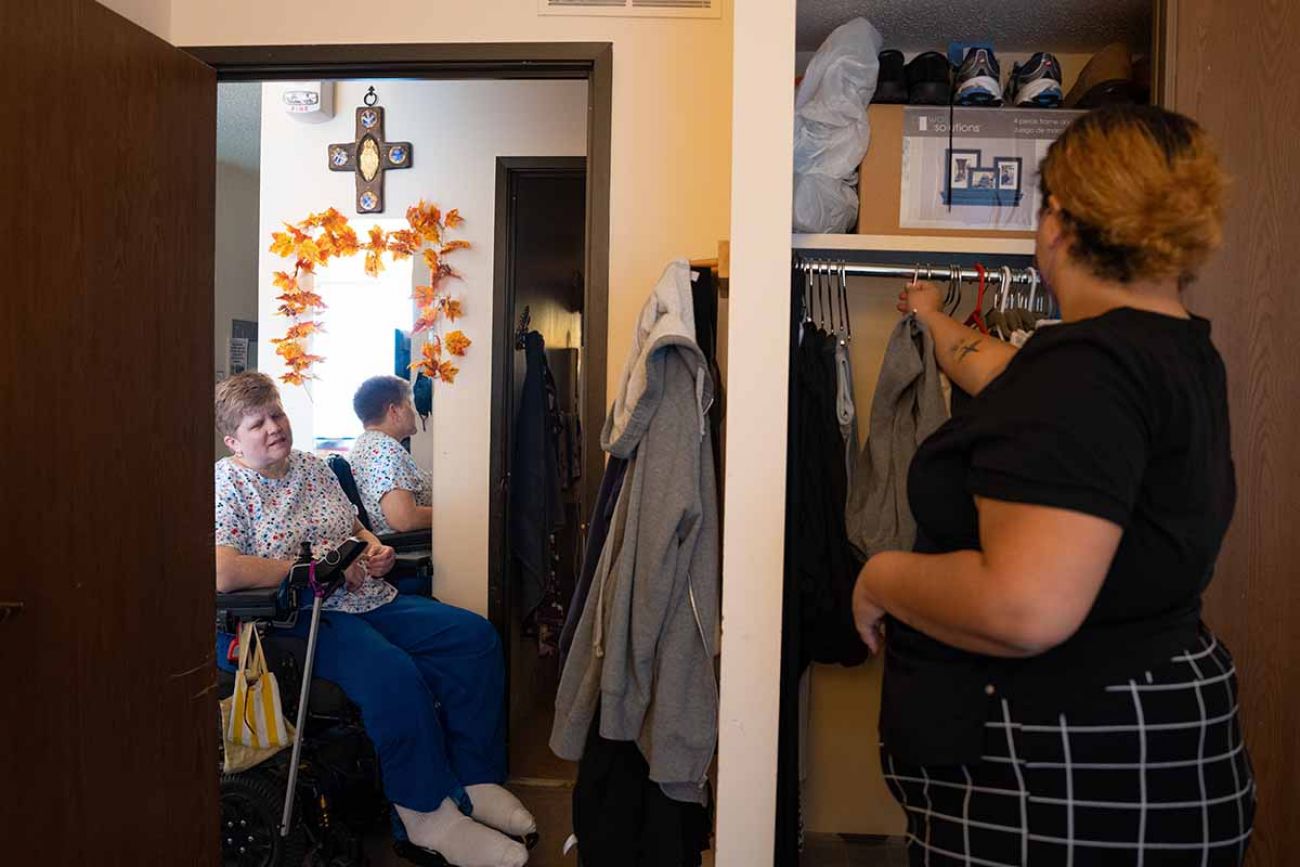 Caregiver Shirley Goodloe, helps with household chores that require a lot of effort from her clients. (Bridge photo by Brayan Gutierrez)
"We spend more money on … putting (older Michiganders) in nursing homes, and that's the most expensive setting," said Christine Vanlandingham, CEO of the Area Agency on Aging serving Berrien, Cass, and Van Buren counties in southwest Michigan. "Why can't we match our spending to our preferences and actually save money in the mix as well?"
But shifting Medicaid funds is frustratingly complicated. It requires legislative approval and faces powerful lobbying from the nursing home lobby, said AARP's Dedden Cooper and others.
Still, she said, it's not only worth the effort, she said, "it is at the heart of how and why we need to transform the (long-term care) system."
We can't simply move the money," said Daeschlein of the Michigan Elder Justice Initiative.
"Higher pay has to happen, along with the necessary benefits like health insurance and overtime pay and paid time off," said Clare Luz, a gerontologist, researcher, and associate professor in family and community medicine at Michigan State University's College of Osteopathic Medicine.
Equally, she said, is the need to "professionalize" direct care, including setting standards for duties that range from administering medication and taking vital signs to respecting a client's home and culture to adhering to a code of ethics.
It's a first step, Luz said, in professionalizing the industry, gaining the respect its workers deserve, increasing wages and benefits and ultimately expanding the workforce.
"This is kind of a rare moment in time, and there's so much momentum and energy around" building out the direct-care workforce, she said. "We have to make the most of it and work together and coordinate as much as we possibly can."
"There were many, many years when I was glass half-empty," she said, "but I have more hope now than I ever have. This is all real."
Only donate if we've informed you about important Michigan issues
See what new members are saying about why they donated to Bridge Michigan:
"In order for this information to be accurate and unbiased it must be underwritten by its readers, not by special interests." - Larry S.
"Not many other media sources report on the topics Bridge does." - Susan B.
"Your journalism is outstanding and rare these days." - Mark S.
If you want to ensure the future of nonpartisan, nonprofit Michigan journalism, please become a member today. You, too, will be asked why you donated and maybe we'll feature your quote next time!