Tight labor market helps Michigan's ex-prisoners find jobs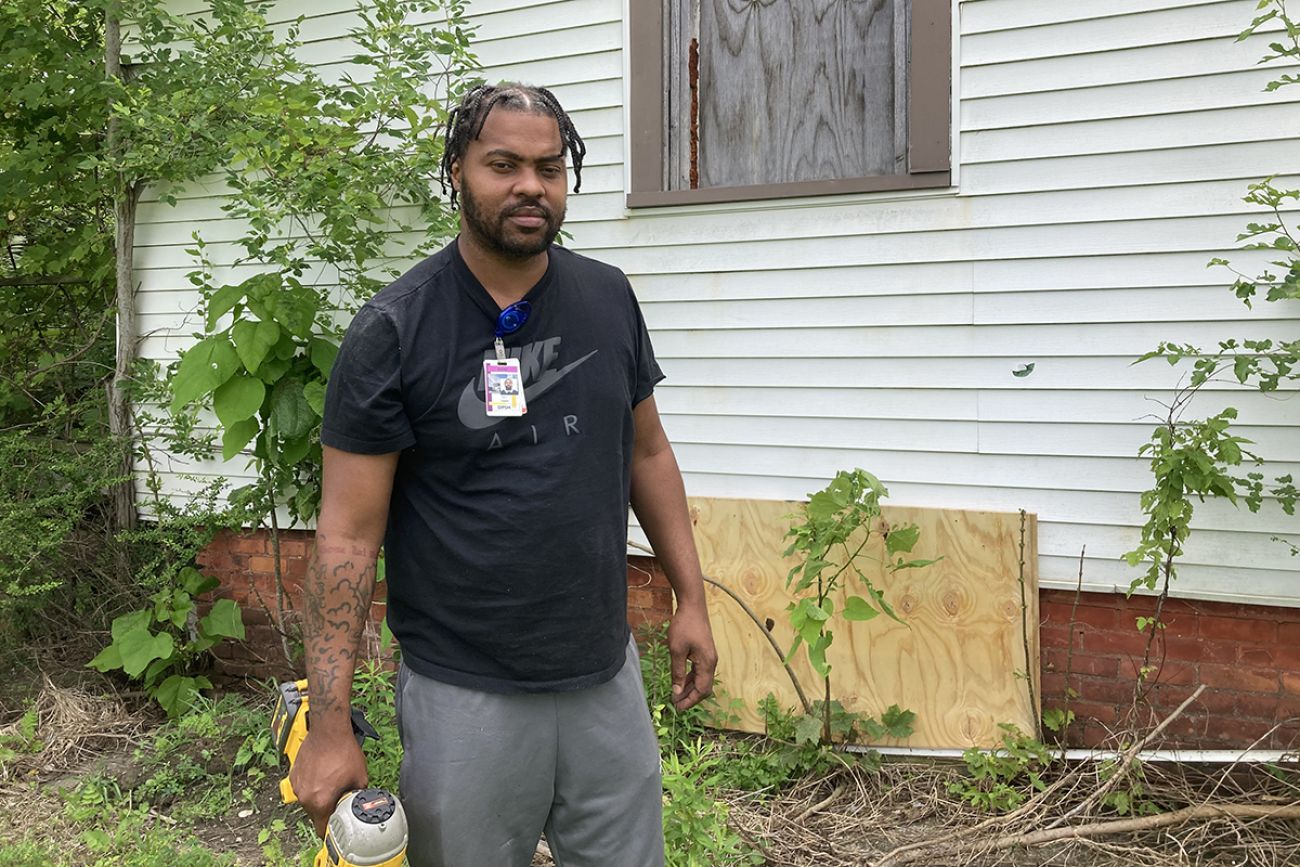 Byron Cooper, who previously spent a year in state prison, now works as a demolition worker for the City of Detroit. (Photo courtesy of the Detroit Demolition Department)
Former Michigan prisoners often have struggled to find employment after their release
Pandemic worker shortages and state training have made it easier for the formerly incarcerated to find jobs
Results from one state program suggest jobs reduce recidivism
---
Ronnie Waters spent over four decades behind bars after being sentenced to life without parole at age 17 for murder. Waters said that when he was released in August 2020, it was like entering a new world, including learning how to use a cell phone. Still, within a month of his release, Waters was earning a paycheck canvassing for Michigan Liberation, a statewide criminal justice reform network.
The 30-day turnaround from a life sentence to a steady job would have been unlikely a decade ago. But thanks to a pandemic-induced tight labor market, Michiganders returning to their communities from prison are finding it easier to get back into the workforce.
Related:
Formerly incarcerated individuals still face a number of financial and social challenges when trying to re-enter the workforce. But experts told Bridge Michigan they've noticed a distinct shift in Michigan employers' openness to second-chance hiring due to the COVID-19 pandemic and beefed-up state and local efforts to help former prisoners reintegrate into society.
Pandemic slump opens doors
Finding employment has long been difficult for those released from prisons. A 2019 study by the Bureau of Labor Statistics found that, among men born between 1980 and 1984, only about a third of those whose first incarceration lasted longer than six months were employed within a few weeks of release.
That figure rose to about 50 percent after a few months, but still remained around 20 percent lower than men who had never been incarcerated or were behind bars for less than six months.
A 2021 report found that individuals released from federal prison in 2010 had triple the unemployment rate of the general population. Almost a third not having found a job four years after leaving prison.
The COVID-19 pandemic and resulting labor slump appears to have made employers more receptive to hiring the formerly incarcerated.
A 2021 national survey found that 66 percent of human resources professionals said they would be open to hiring individuals with criminal records, a 17 percent increase from 2018.
Labor force participation plummeted at the start of the pandemic, with working Americans quitting their jobs en masse during what has been dubbed "The Great Resignation."
While employment has rebounded, national labor participation still remains 1 percentage point below pre-pandemic levels. Michigan's labor participation rate also remains below pre-COVID levels — 60.2 percent in April 2023, compared to 61.3 percent in February 2020.
Left with millions more job openings than unemployed workers, employers have started turning to applicants with criminal records to fill in the gaps.
The Upjohn Institute, a Kalamazoo-based employment research center, surveyed southwest Michigan businesses about employee hiring and retention challenges that emerged during the COVID-19 pandemic.
In the survey, over 90 percent of surveyed employers said they found it "difficult" or "very difficult" to find qualified candidates for job openings.
"Employers are telling us that they're relaxing things like background checks and drug tests," Mike Horrigan, president of the Upjohn Institute, told Bridge Michigan.
Dani Hourani is the director of community development at Team Wellness Center, a Detroit-based mental healthcare provider. Hourani had spent 27 years of a mandatory life sentence in federal prison when he filed a motion for compassionate release, which authorizes the early release of inmates for "extraordinary and compelling" reasons. Hourani started his current job soon after his motion was granted in 2020.
Hourani told Bridge he's encouraged other formerly incarcerated individuals he works with to jump at the opportunities that have opened up during the pandemic.
"I would tell them, 'Listen, this is the time to really take advantage of other individuals not wanting to work,'" he said. "So many people are looking for workers, this is your chance to get in the door and prove yourself."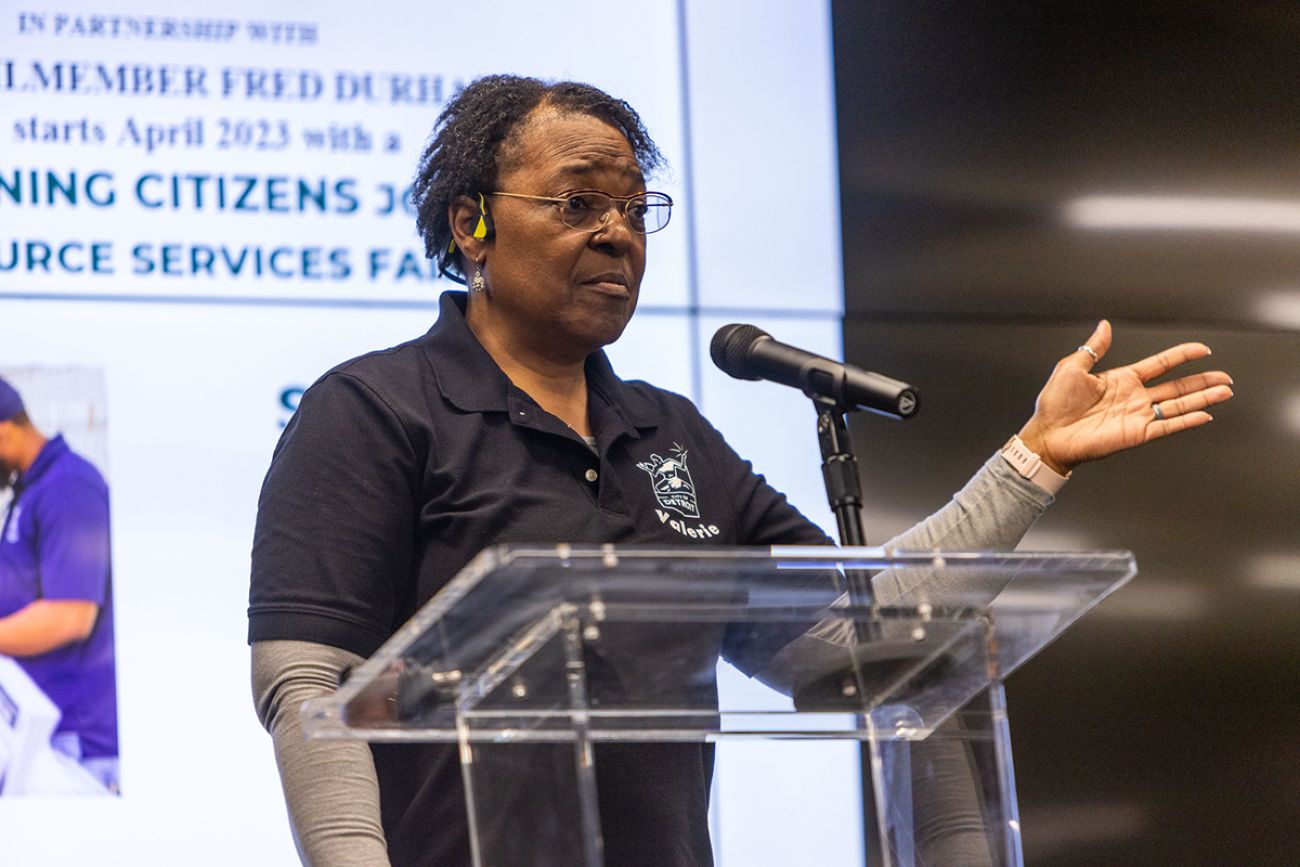 Project manager Valerie Pilot speaks at a job fair for helping formerly incarcerated Detroiters find jobs on April 1, 2023. (Photo courtesy of the City of Detroit)
Valerie Pilot, a project manager with the City of Detroit, has been working to help formerly incarcerated residents get jobs and housing for over a decade. She says she's seen big shifts in attitudes toward second-chance hiring in the past few years.
"I absolutely have noticed changes, especially since we've gone through the pandemic in the last three years. The workforce dynamic has changed," said Pilot.
Pilot, who helped organize a returning citizens job fair in Detroit in April, says more employers are coming to understand that having a criminal record doesn't necessarily mean that an applicant won't be a good employee.
"Talking with employers, they now look at it on a case-by-case basis," she said. "They are definitely far more relaxed in their own view of what a good employee is."
A second chance
A number of state programs and nonprofit organizations are now helping formerly incarcerated individuals find employment.
The Michigan Department of Corrections has developed programs focused on inmate skill-building and securing jobs after release.
"We have people here in Michigan who work for the MDOC, whose job is to just help people find jobs, which, going back just five or six years ago, was unheard of nationally when it came to correctional practices," department spokesperson Kyle Kaminski told Bridge. "Folks were just left to fend for themselves, and that didn't work."
The department's marquee training program is Vocational Village, which opened in 2016 and is now housed within three correctional facilities in the state. From carpentry to cosmetology, inmates accepted into the program can build their skills in a variety of vocational trades.
Once their sentence is up, the formerly incarcerated can jump straight into the workforce with the skills they developed while in prison.
The state's rehabilitation efforts have likely made an impact. Out of the 1,641 Vocational Village graduates who have been released on parole, 72 percent have found jobs, according to MDOC data emailed to Bridge.
Jobs are helping lower the rate at which the formerly incarcerated return to prison. The return-to-prison rate for Vocational Village grads is 12 percent — significantly lower than the state average of 22 percent.
Many businesses the department works with have changed their hiring policies to allow applicants with criminal records, Kaminski says.
"Back then, it was a different environment. It was honestly pretty challenging, and we started out just cold-calling employers," said Kaminski. "It was just a lot of work pushing to even get people to take notice of it.
"Then momentum built, which was great, and then we saw the economy and the job market really get tight. With that, the situation almost flipped," he added. "Now, a lot of the employers actually reach out to us first."
Byron Cooper is a demolition worker at the City of Detroit Demolition Department. After spending a year in incarceration, Cooper attended a job fair in Detroit and was hired to work for the city. He worked to get certifications in heavy machinery, underwent OSHA safety training and switched over to the demolition department last year.
Working for the city has given Cooper the opportunity to provide for his two daughters, aged 4 and 12.
"I believe everybody deserves a second chance," he said. "I don't think a lot of people get life right the first time around. Sometimes it takes people going through things a second time to really get things handled or under control."
In 2016, then-Detroit City Councilmember Janeé Ayers created the Returning Citizens Task Force, a volunteer initiative for assisting formerly incarcerated residents.
That same year, Mayor Mike Duggan unveiled a job training program for inmates housed in the Ryan Correctional Facility, which closed in 2021 due to declining offender population.
In an email to Bridge, Detroit's demolition department director LaJuan Counts said that since its opening in 2020, the department has prioritized hiring those who've served prison time.
"Having the challenge of being away shouldn't prevent you from work — you should be able to come back home and work where you live," Counts said about former prisoners.
Counts says the unit responsible for clearing out abandoned properties in Detroit is composed almost entirely of workers who were previously incarcerated.
The department is proactive about working with contractors with similar hiring practices, she added.
"We won't work with any contractor that requires its applicants disclose if they've ever been convicted of a felony," said Counts.
Non-profits provide advocacy, assistance
A number of national, statewide and local non-governmental organizations have also worked to improve employment opportunities for those who've served their sentences.
Kenneth Nixon, who served 16 years in state prison for a crime for which he was eventually exonerated, is the director of Community Outreach and Partnerships at Safe and Just Michigan, a non-profit organization advocating for an end to over-incarceration in Michigan. Nixon says criminal justice reform organizations are another set of employers leading the charge on hiring the formerly incarcerated.
"Having lived experience is something that has become an invaluable resource for a lot of the organizations that are doing the work and really impactful change," he told Bridge.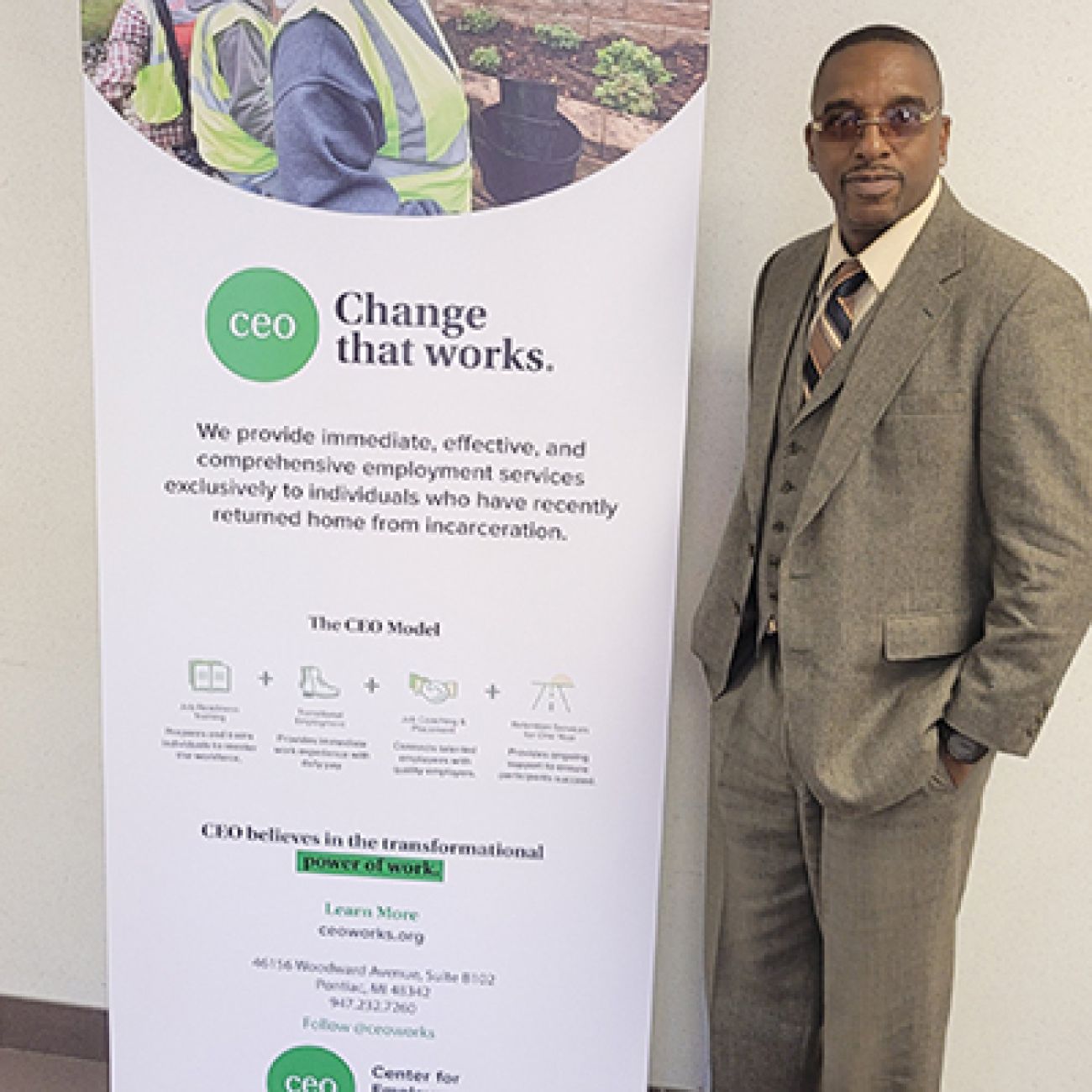 Konrad Cowell, who served 27 years in state prison, now works at the Center for Employment Opportunities to help others returning from incarceration get back on their feet. (Photo courtesy of Konrad Cowell)
Konrad Cowell first came to the Center for Employment Opportunities, a non-profit that assists formerly incarcerated citizens with employment, as a participant in 2018. He was looking to build some skills and get a job after spending nearly three decades in state prison.
Cowell, who now works for the center as an outreach specialist, says he's seen a lot of progress when it comes to second-chance hiring.
"I go into the same prisons I used to be housed at and see the programs that are available," Cowell said. "The employers are actually going into the prisons and hiring individuals before they even come out."
Organizations like these also work to educate employers and advocate for second-chance hiring. They point to national data that says stable, full-time employment has been shown to reduce returns to prison. They explain how businesses who hire formerly incarcerated people can receive special tax credits and no-cost fidelity bonds.
Nina Hicks, Wayne County director at the Center for Employment Opportunities, said these efforts have helped employers understand the value of second-chance hiring.
"When I started in 2018, it was a very closed market for individuals who had conviction profiles," Hicks said. "Just through talking to employers, it opened up their understanding of the benefit and the advantage of hiring someone who is a returning citizen."
'Give them that opportunity'
In November 2022, the Michigan Department of Labor Opportunity announced the launch of the Michigan Citizen Reentry Initiative to support the formerly incarcerated's participation in the workforce.
The state began automatic expungement of older and less serious criminal convictions on April 11. The "Clean Slate" program aimed to improve access to jobs and other opportunities for Michiganders with criminal records.
State officials cited a University of Michigan study that found that expungement significantly improved wage and employment prospects.
Nixon, of the Center for Employment Opportunities, says he hopes the formerly incarcerated can take advantage of the opportunities that automatic expungement can provide and urges eligible Michiganders to check their records.
"A lot of people that used to be affected by old criminal records may now have the opportunity at gainful employment and don't know it," Nixon said. "People's records are being expunged every day because of this new automatic expungement, and they're not being notified by the court system."
Formerly incarcerated Michiganders say they hope employers will continue to give those getting out of prison the chance to prove themselves.
"You have to be tenacious to be able to survive within the prison system and to come out," said Cowell. "You're getting somebody who has the ability to adjust, even under pressure in extreme circumstances. Give them that opportunity."
"We just want to come home and put some kind of life together for ourselves," said Waters, who served over 40 years in prison. "That's why we're so dedicated. We know how hard it was to get that job, so we want to keep it and we want to do well. We want to be that good example.
Business Watch
Covering the intersection of business and policy, and informing Michigan employers and workers on the long road back from coronavirus.
Thanks to our Business Watch sponsors.
Support Bridge's nonprofit civic journalism. Donate today.
Only donate if we've informed you about important Michigan issues
See what new members are saying about why they donated to Bridge Michigan:
"In order for this information to be accurate and unbiased it must be underwritten by its readers, not by special interests." - Larry S.
"Not many other media sources report on the topics Bridge does." - Susan B.
"Your journalism is outstanding and rare these days." - Mark S.
If you want to ensure the future of nonpartisan, nonprofit Michigan journalism, please become a member today. You, too, will be asked why you donated and maybe we'll feature your quote next time!