Western Upper Peninsula towns empty out, look to Wisconsin for lessons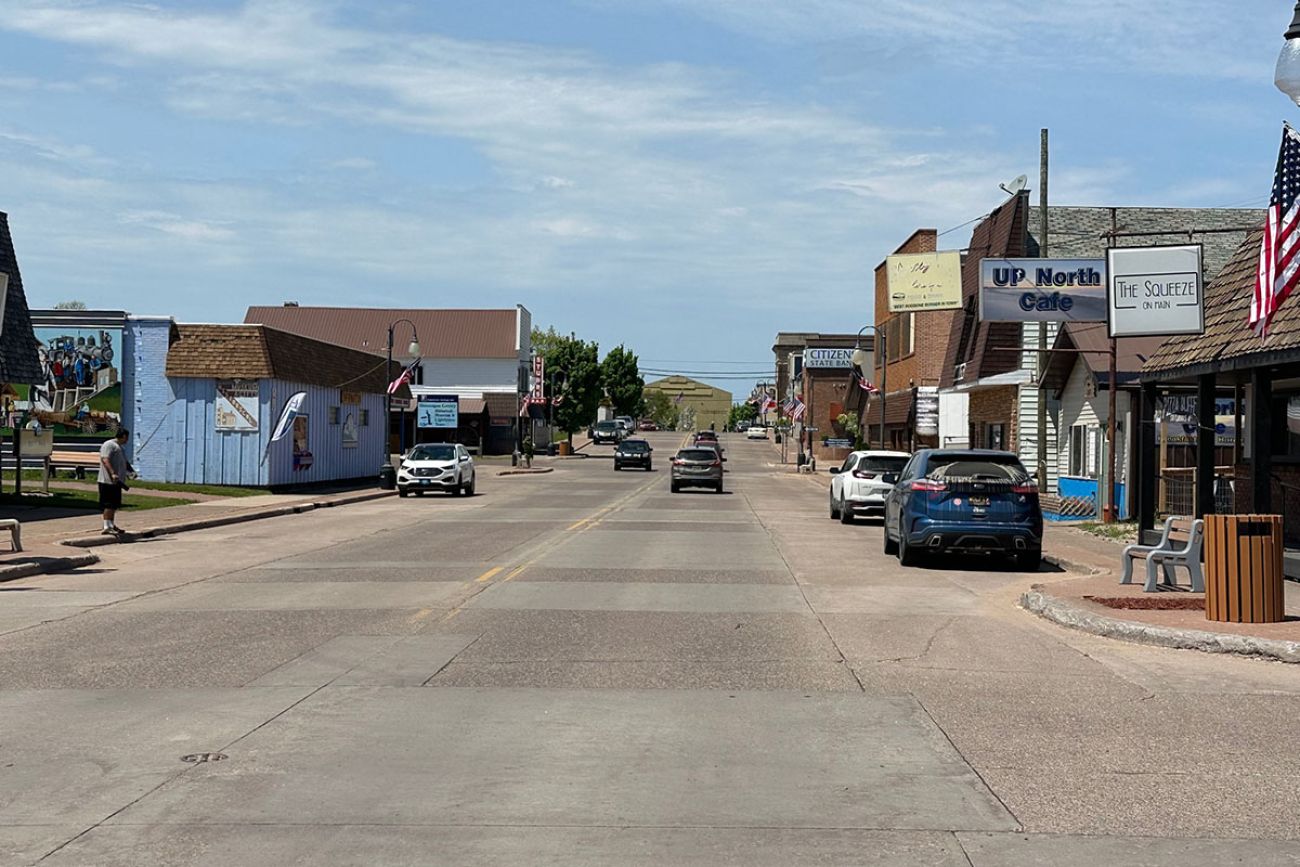 You can "roll a bowling ball down Main Street" on a Saturday night in Ontonagon, one of Michigan's communities that is Ground Zero for the state's population struggles. (Bridge photo by Ron French)
In a state with population problems, the western Upper Peninsula is ground zero
In Ontonagon county, there are five deaths for every birth
Wisconsin has helped stabilize population in rural counties with business grants
---
ONTONAGON — Donald Domitrovich grew up in the small town where he still lives and works. Every day, it seems smaller.
In Ontonagon, a Lake Superior shore village of about 1,500 and the surrounding county of the same name, there are now five funerals for every birth. Between 2010 and 2020, the county lost 14 percent of its population, as jobs dried up and people — especially the young — moved away.
"They go to college and there's no reason to come back unless they want to work at the school, the hospital or the bank," Domitrovich said.
"When I was growing up (in the 1990s), there were no parking spaces along Main Street Friday through Sunday," Domitrovich recalled. "Now, Saturday night, you can roll a bowling ball down Main Street."
Related:
Cross the border into Wisconsin, and the story is different. Though similarly wooded and nearly as remote as the western U.P., four of five Wisconsin counties that border Michigan have made population gains since 2010. A few miles away, every county on the Michigan side has fewer residents. In addition to Ontonagon losing one in seven residents, Gogebic County dropped 12 percent. Iron, Menominee and Dickinson counties lost between 1 percent and 2 percent in the decade.
"We've got history," said Ontonagon resident, former teacher and local historian Bruce Johanson. "What we don't have is people."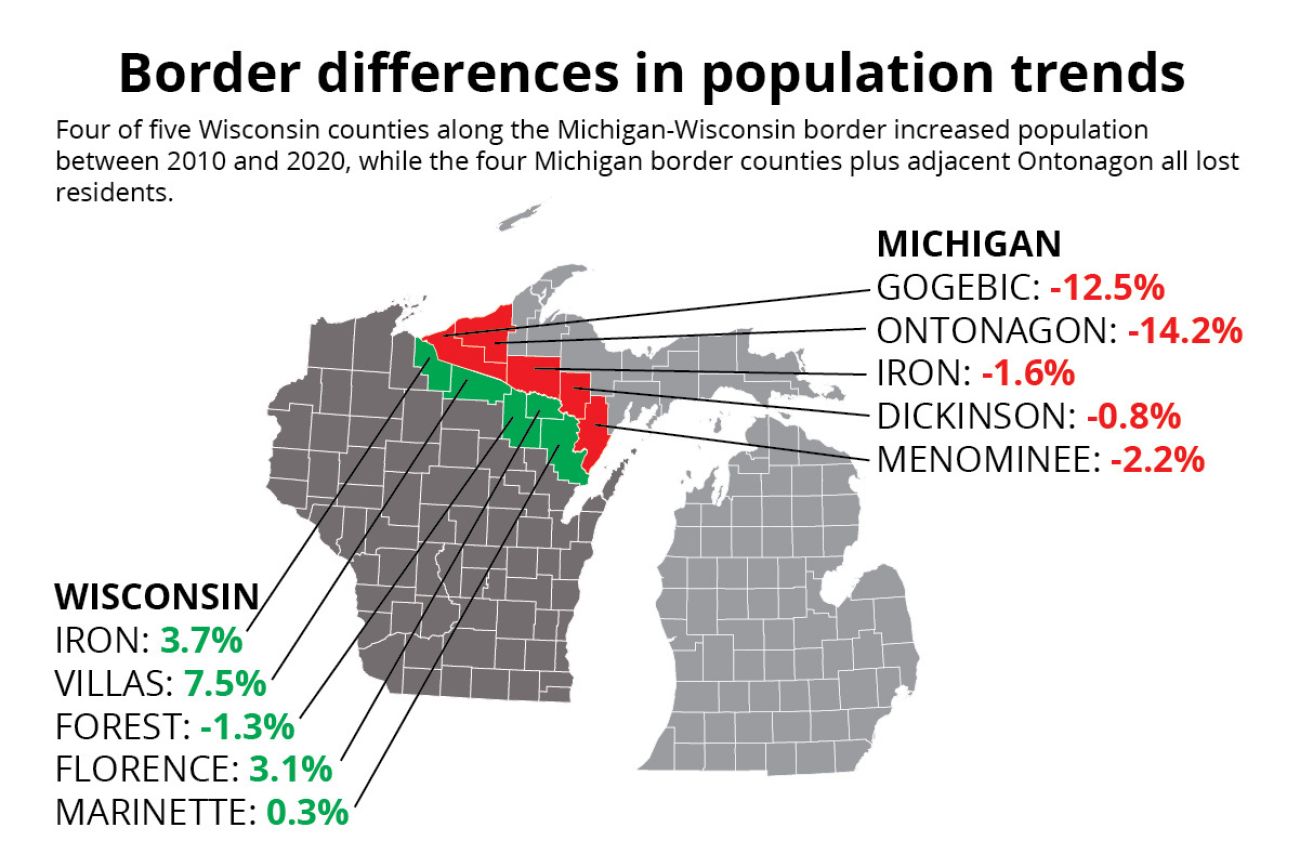 Michigan ranks 49th in population growth since 1990, ahead of only West Virginia. Its stagnating population impacts the state's ability to attract new businesses and for existing companies to expand. It's part of the reason Michigan workers earn less and housing values are lower than the national average. With demographers projecting population decline in the coming decades, those problems are likely to get worse unless state leaders can figure out how to reverse the trend.
One place to look for lessons is eight hours away from Lansing, in the villages that dot the hemlock and sugar maple forests of the Michigan-Wisconsin border. There, residents say a more concerted focus on tourism and infrastructure, such as internet and in the electrical grid, and a choice by Wisconsin to spend suitcases of federal COVID dollars to support businesses have helped prop up Wisconsin border county population while their Michigan neighbors are losing people.
'What makes us special?'
Wisconsin itself is below the national average in population growth, ranked 33rd among the 50 states since 1990. But if Michigan had grown at the same rate as Wisconsin rate since 1990, it would have an additional 1.1 million residents, the equivalent of close to another Oakland County in additional students, workers and taxpayers.
Always sparsely populated, the Upper Peninsula has suffered the sharpest decline in the state in recent decades. Industries that power the economy in the western U.P. — mining and lumber — have dwindled or disappeared.
Businesses have closed, and those that remain struggle to find employees to stay open. In the town of Ontonagon, downtown storefronts "look like a smile with a lot of missing teeth," said Rich Ernest, director of the local chamber of commerce.
There is little industry on the Wisconsin-side of the border, either, but those counties are holding steady in population or growing.
For example, Michigan's Ironwood has lost 7 percent of its population since 2010 (dropping from 5,389 residents to 5,007), while its sister city a mile away, Wisconsin's Hurley, increased 2 percent (1,535 to 1,560). Michigan's Menominee retreated 1.4 percent, while across the Interstate Bridge, sister city Marinette, Wis., edged up 1.4 percent.
Differences are more stark between Ontonagon County (down 14 percent) and Wisconsin's Vilas County (up 7.5 percent) since 2010.
Barb Kilmer, manager of the Ontonagon Herald newspaper, said her county, which includes part of the Ottawa National Forest and Porcupine Mountains Wilderness State Park, is trying to increase tourism, but it's been a slow process.
"We have lakes, but everyone has lakes," Kilmer said of the region. "What makes us special?"
50 miles to buy shoes
Kilmer graduated from Ontonagon High School in 1986, in a class of 86 seniors. Kilmer opened up a recent edition of the Herald that published photos of the 2023 graduates, all 25 of them.
"When I was growing up, there was a lumber yard and a furniture store," Kilmer said. "You could buy a pair of shoes in town."
Now, residents must drive 50 miles to Houghton to the nearest shoe store or fast-food restaurant. "There's nothing here but bars and churches," Kilmer said.
Eagle River, Wis., has a similar year-round population as Ontonagon (1,600, compared to Ontonagon's 1,200), but its main street (Wall Street) is vibrant, with rows of boutiques and specialty shops. Posters advertise a "Sip and Shop Wine Walk," just a few blocks from a community arts center and the Northwoods Children's Museum.
Owner Jim Gleich is doing a brisk business at the shop he owns, Minocqua Popcorn & Puffs. When his shop opened four years ago, "20 percent, maybe 30 percent of the storefronts were empty," Gleich said, looking down the street. "Hooked and Tagged is new, the cigar shop is new, Rustic Allure is new, the pet shop is new. It's completely full now."
Eagle River has always had some tourist business because it is near a popular chain of lakes. But the town really took off with an aggressive state grant program for small businesses: Main Street Bounceback Grants provided up to $10,000 to small businesses that were opening or expanding. The Wisconsin Economic Development Corporation has a staff of small business specialists who assist businesses in filling out the paperwork for the grants.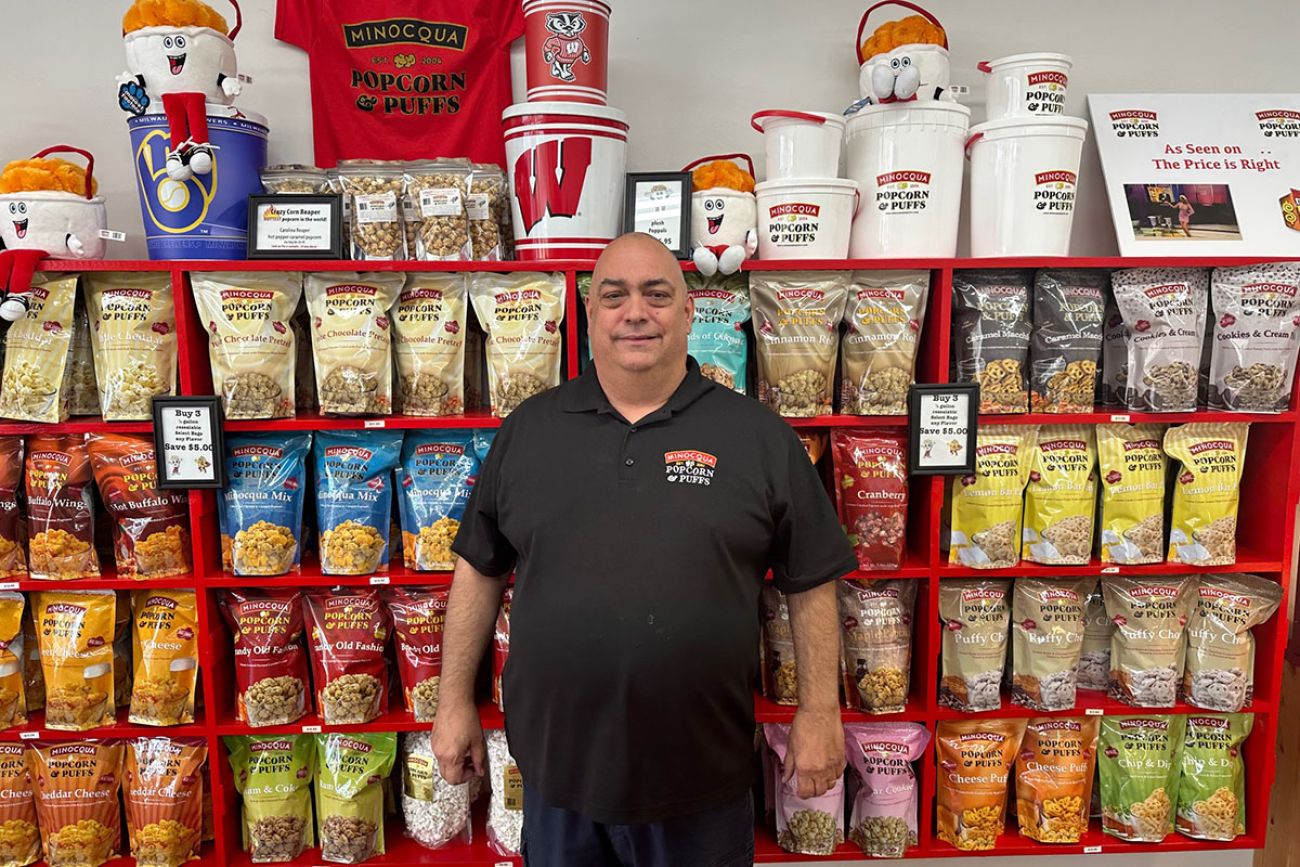 Jim Gleich, owner of Minocqua Popcorn & Puffs, says every storefront in downtown Eagle River, Wis., is now full, and population is increasing. (Bridge photo by Ron French)
Continued funding for the program isn't assured for the next state budget year, but in the past two years, Wisconsin leaders prioritized helping businesses launch and grow through one-time COVID federal funds.
Wisconsin ranked number one in the nation in the percent of American Rescue Plan Act funds it devoted to businesses, shoveling 31.6 percent of the funds the state received from the federal government to aid businesses.
So far, 132 businesses in the five Wisconsin counties bordering Michigan have received Bounceback grants, ranging from a nail salon in Marinette to a book store in Hurley. Grantees include tackle shops and tattoo parlors, clothing boutiques and construction companies.
Michigan dedicated less than 1 percent of ARPA funds to businesses, ranking 43rd. Instead, the state devoted the lion's share of ARPA funds to health and education programs.
Wisconsin doled out $95 million in grants to small businesses through Bounceback grants. About 50 businesses in Vilas County, where Eagle River is located, received the $10,000 awards. Another $250,000 was given to Eagle River for a brewery project downtown.
Gleich credits Karen Margelofsky, executive director of the Eagle River Main Street Program, for helping spark the revitalization .
"She got us a nice state grant here recently," Gleich said. "It helped us get some remodeling in this store. And when there's an empty building, she works her magic (to get grants) and she has a list of people looking to put stores in Eagle River."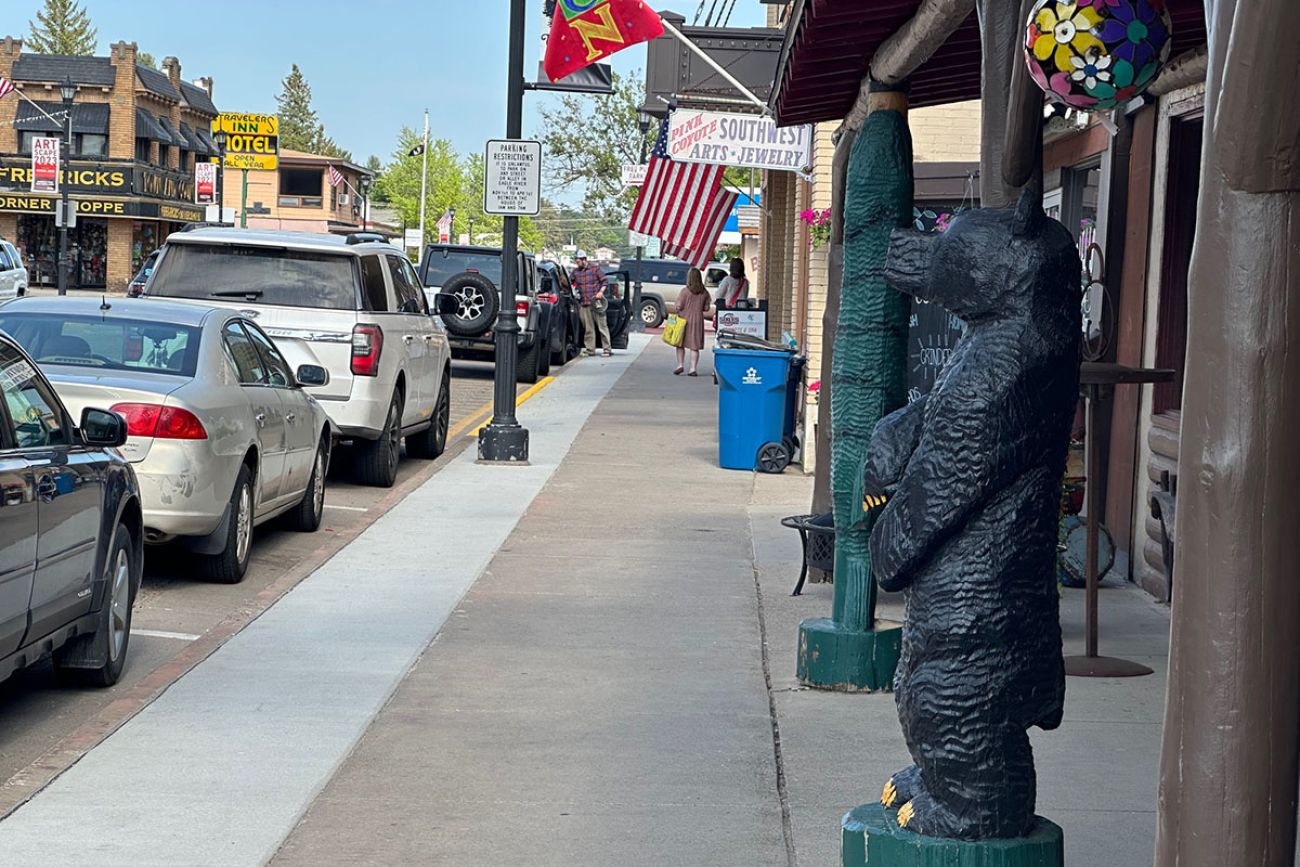 The downtown of Wisconsin border town Eagle River is booming, sparked in part by state grants. Wisconsin was tops in the country in percentage of COVID funds dedicated to businesses. (Bridge photo by Ron French)
A few blocks from the popcorn shop, Margelofsky was helping christen a new public tennis center, an amenity paid for by businesses and residents.
Margelofsky told Bridge Michigan that Wisconsin did a good job sending seed money to get small businesses off the ground. "We filled a lot of buildings," she said. "Some of the businesses were online vendors who now wanted to be part of a community."
As businesses expand, population has begun to tick up. "People realize I can go live up at my cabin and work remote," Margelofsky said.
The key, Margelofsky said, is offering the consumer amenities residents can get in larger communities, and reliable internet.
Margelofsky said internet and cell service is an advantage her rural area of Wisconsin has over similarly rural Michigan, just a few miles away.
"I know when I drive even up to Watersmeet (a 20-mile drive into Michigan) there are big gaps (in cell phone service)."
That communications technology gap may exist along the Michigan-Wisconsin border, but overall, a higher percentage of Michigan residents (91 percent) have access to broadband than Wisconsin residents (87 percent).
And Michigan officials announced Monday the state will receive $1.5 billion in federal funds to expand high-speed internet to 210,000 homes. It's part of a $42 billion nationwide program to expand broadband to underserved communities.The announcement did not say what areas of the state will receive the upgrades.
Lessons Michigan and other states can take from Wisconsin to address population stagnation, Margelofsky said, are to invest in small business and beef up the number of people assigned to help entrepreneurs navigate the application process for state funds.
Brian Calley, president and CEO of the Small Business Association of Michigan, said Wisconsin has followed a business strategy of "not putting all their eggs in one basket" – a reference to Michigan's recent economic development emphasis on large battery plants.
"I understand the play. You really have to take a both/and approach," Calley said. "We need to be just as aggressive about building an environment of success around small business that provides resiliency to the economy."
Calley said the Michigan Economic Development Corp is in the early stages of expanding small business programs.
While not direct grants to small businesses, MEDC has several placemaking programs, including $83 million in grants to help fund projects in 22 communities, and $100 million for Revitalization and Placemaking 2.0, which is aimed partly at rehabilitating vacant buildings and properties. That funding is split across regions of the state, and is not limited to small towns or small businesses.
MEDC also has a Match on Main program that offers grants of up to $25,000 to local redevelopment or main street districts for distribution to small businesses. Total annual funding is $1.5 million.
"I see signs that they understand and appreciate the importance of small business and starting to organize around it," Calley said. "You need to have high local engagement. That's what you see with a lot of activities that have been deployed in the states that spend a lot of money on small business. It accomplishes more than spending money; it leverages others to come to the table with resources."
Calley cautioned that the same grants that have sparked business and population growth in and around Eagle River might not have the same impact in the western U.P., at least not yet. The U.P. is "held back by infrastructure" needs, such as high-speed internet and electrical capacity, Calley said.
'bottomed out'
Ernest, of the Ontonagon chamber, said he often looks at Eagle River as a model his hometown could emulate. "They expand on their resources there to be a tourism draw," Ernest said. "Those people buy cabins and they demand a good selection of stores and places to eat."
Those stores and restaurants would provide job opportunities, and could encourage those with second homes in the area to make Ontonagon their primary home.
"Ontonagen is finally realizing that needs to be done," Ernest said.
For now, though, that goal is a long way off.
"College kids, they're not coming back," Ernest said. "And you often see when the kids leave, the parents will follow.
"Right now I'd say we've bottomed out."
Business Watch
Covering the intersection of business and policy, and informing Michigan employers and workers on the long road back from coronavirus.
Thanks to our Business Watch sponsors.
Support Bridge's nonprofit civic journalism. Donate today.
Only donate if we've informed you about important Michigan issues
See what new members are saying about why they donated to Bridge Michigan:
"In order for this information to be accurate and unbiased it must be underwritten by its readers, not by special interests." - Larry S.
"Not many other media sources report on the topics Bridge does." - Susan B.
"Your journalism is outstanding and rare these days." - Mark S.
If you want to ensure the future of nonpartisan, nonprofit Michigan journalism, please become a member today. You, too, will be asked why you donated and maybe we'll feature your quote next time!