Michigan voted to block Airbnb bans but hits roadblock over local control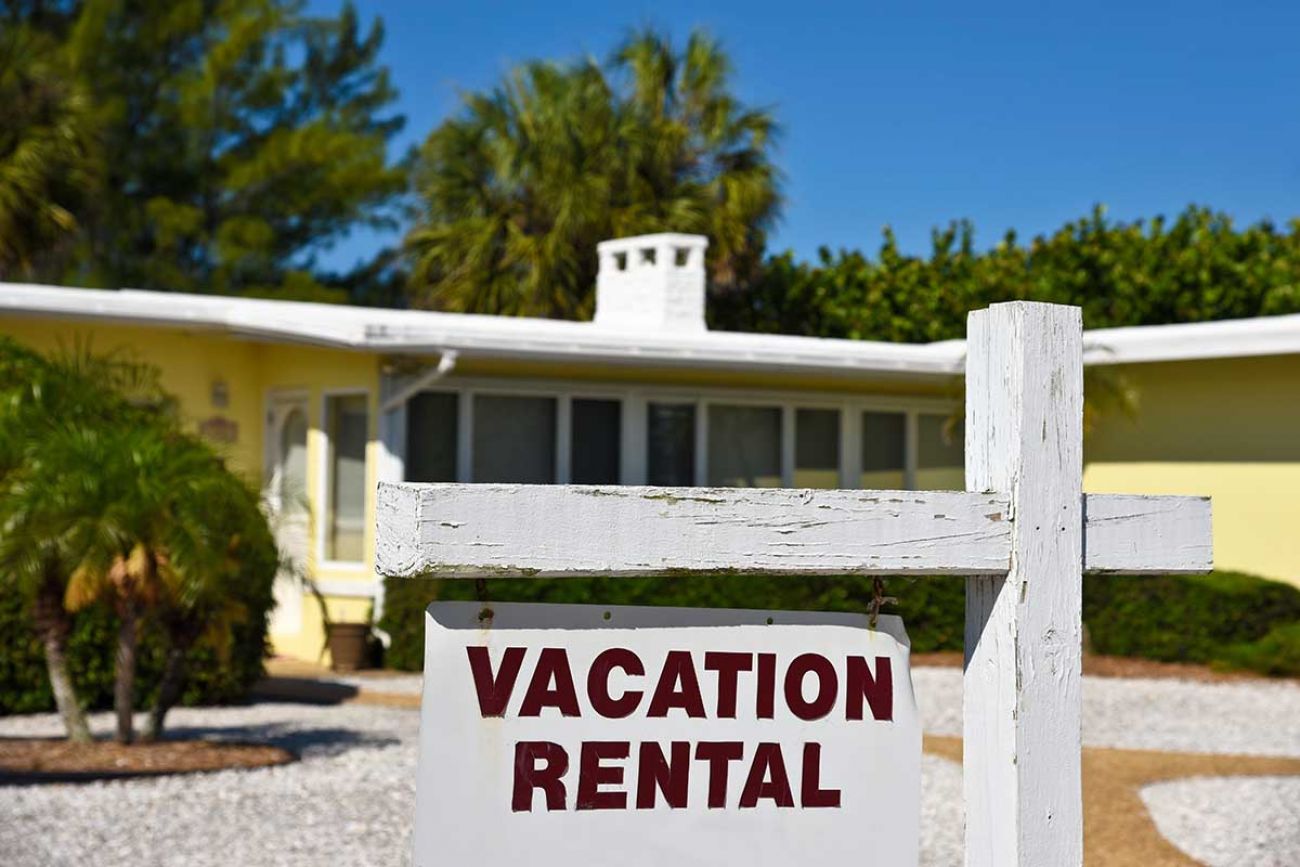 Thousands of homes in Michigan are used as short-term rentals, and the number is increasing annually. Heavily affected communities enacted ordinances to set limits on them and in some areas ban them, but the state House approved a bill to outlaw the bans last fall. (Shutterstock)
Michigan communities with Airbnb bans woke up last fall to learn that state legislators had made a late-night vote to bar local controls of short-term rentals.

Strong reaction to the move has delayed the bill moving further in the law-making pipeline.

After nearly a year of negotiations, "there's still an urgency to pass the bill," according to a real estate industry proponent.
---
Kimberly Hammond has lived on a quiet street in Spring Lake Township for more than 20 years—until the "Love Shack" popped up next door.
And what might be the title of a B-52's classic was also the name of the new short-term rental disrupting the neighborhood. Renters were driving too fast and making noise on the lake at night, Hammond told Bridge Michigan.
"They weren't respectful to the neighborhood."
To resolve the issue, Hammond and neighbors alerted township officials, who found the property in violation of a local ordinance that bans short-term rentals in certain areas.
Michigan appeared poised to bar short-term rental bans such as the now-closed Love Shack last fall after the legislature voted for a bill to limit local control of Airbnb, VRBO and other short-term rental companies.
But House Bill 4722, which passed the House of Representatives in a session that went until 2 a.m. in October, has stalled in the Senate as officials negotiate what an updated legislative version of the bill should look like.
In the meantime, communities across the state with short-term rental regulations — including Detroit, Grand Rapids, Ann Arbor and many popular tourist destinations — don't know how long their rules will remain on the books.
Groups that oppose the legislation include the Michigan Municipal League and Michigan Restaurant & Lodging Association, which wants the vacation rentals regulated like hotels.
The main proponent of the legislation has been the Michigan Association of Realtors, which says the bill restores property rights.
John McNamara, vice president of government affairs at the Michigan Restaurant & Lodging Association, said that the local control ban did not address the parity concerns raised by the hotel industry about the lack of lodging taxes paid by short-term rentals.
Main points of disagreement have circled around tax policy, a potential registration of all short-term rentals, and other regulatory policies. Taxes "should be completely equal between a hotel and an Airbnb," McNamara said.
When the bill passed the House, it seemed like proponents said "we're gonna get this bill through, and then we will work with the after-effects," McNamara said.
Since then, negotiations have been productive between the hotel and real estate industry, he said.
"We (are) trying to get there on some middle ground," McNamara said of efforts over the past year.
Brad Ward, the vice president of public policy and legal affairs for the state's Realtors, said the slow-moving negotiations are focused on "what tax parity and registration would look like."
The Senate could act on its negotiated version of the bill this fall, he added.
"There's still an urgency to pass the bill," Ward said. "It's an issue that isn't going away."
Ward said the main goals of the legislation were "to define for the first time what a short term rental is" and shift control over short-term rental regulations to state control.
"It doesn't make short-term rentals untouchable," Ward said. "It refocuses local control through the housing ordinances to police for bad actors (and) to police for bad behavior."
House Bill 4722 has four main components:
it would bar local governments from enacting or enforcing ordinances that ban short-term rentals;

it would place a cap on the total number of short-term rentals to 30 percent of all residential units;

local governments could limit an owner or ownership group to two short-term rental properties;

and local governments could regulate and inspect short-term rental units for noise, advertising, traffic or other disruptive conditions.
Ward said Michigan's real estate industry supports the legislation because "it's a property rights issue, it's a real estate issue, home value issue (and) local economic issue."
"Our folks are very tied into the communities," Ward said, as they work with buyers and sellers. "They also help people manage their property…so we have plenty of real estate brokers who manage short term rentals."
Rep. Sara Cambensy, D-Marquette, was among three bill co-sponsors who pulled their support for the bill before it passed the House 55-47. She said it had become a "one-size fits all" bill that didn't address concerns of communities facing a proliferation of short-term rentals. Also of concern, she said, was the bill leaving taxation questions unaddressed.
"I think what they found was a lot of us weren't willing to just pass something… that restricted [our local towns] and took their control away," Cambensy said.
Jennifer Rigterink, the assistant director of state and federal affairs for the Michigan Municipal League, which represents municipal governments, said its concerns lie in enforcement and the tracking of the provisions to cap the total number of short-term rentals to 30 percent of all residential units. She is also concerned with the lack of a registry that would properly enforce the limit of two properties per one common owner.
Rigterink said the MML's biggest concern revolves around making the "distinction between a residential use and what is a vacation rental."
"There's a lot of talking in circles," Rigterink said. "We've had pushback from the Realtors that a long-term rental and a short-term rental shouldn't be any different."
Rigterink said the only way to reach a deal that everyone agrees to is for all parties to compromise—with neither side getting everything each wants. She said this will mean "everybody loses a little bit and we all have to be okay with that."
The bill's sponsor, Rep. Sarah Lightner, a Republican from Jackson County's Springport Township who is seeking reelection this fall, would not comment when Bridge contacted her office.
After her bill passed, she called it in a statement a ​​"solid compromise that provides both certainty for private property owners across the state and flexibility for local municipalities that deserve to have some control over the planning and zoning of their communities."
Gordon Gallagher, manager of Spring Lake Township, told Bridge that the community's short-term rental ordinance remains in effect while the legislature hammers out the next step.
If enacted, he said, it could "really change the whole character of our community."
"We've been able to follow our ordinance as long as it's in place," Gallagher said. "(The legislation) hasn't affected us really other than the concern that is voiced by residents that there's the possibility that the state might overturn what we all worked as a community to try to put in place."
Hammond said that if the legislation were to be passed with the local control ban intact she would be "exceptionally disappointed."
"It shouldn't be uniform across the board," Hammond said. "We certainly would not want (short term rentals) occurring in our neighborhood again."
Business Watch
Covering the intersection of business and policy, and informing Michigan employers and workers on the long road back from coronavirus.
Thanks to Business Watch sponsors:
Support Bridge's nonprofit civic journalism. Donate today.
We're not just a news organization, we're also your neighbors
We've been there for you with daily Michigan COVID-19 news; reporting on the emergence of the virus, daily numbers with our tracker and dashboard, exploding unemployment, and we finally were able to report on mass vaccine distribution. We report because the news impacts all of us. Will you please support our nonprofit newsroom?