Rising costs make for rough roads for Michigan's independent truckers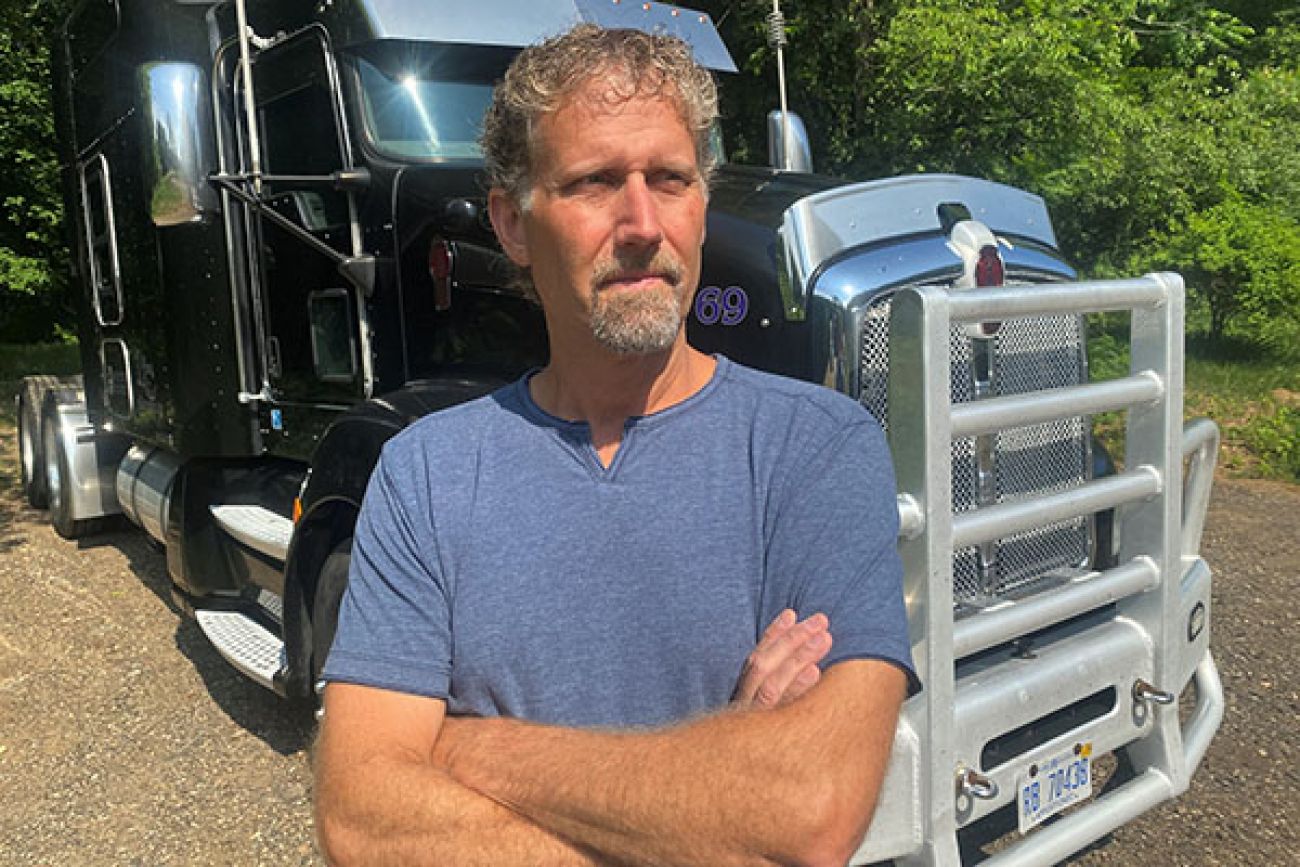 Allegan County independent trucker Mark Bonnema: "I can survive every week if I don't have to deal with a major repair." (Photo by Ted Roelofs)
Soaring diesel costs, repair bills squeeze independent truckers
With razor-thin profit margins, some drivers elect to park their trucks
The driver shortage threatens business supply chains
---
Richard Van Malsen has been a trucker for a quarter century.
But with the price of diesel fuel soaring to near $6 a gallon earlier this summer and still over $5, the cost of trucks doubling and repair parts often hard to come by, he can't remember tougher times at the small trucking firm he operates 30 miles south of Grand Rapids.
"The bottom line right now is ugly," he told Bridge Michigan. "We are operating on really thin margins. There's a lot of guys that are just parking their trucks or getting out of it," he told Bridge Michigan.
Related:
West of Detroit, Tom Whooten is also trying to keep things afloat at the small trucking firm he operates out of Inkster.
"We've already lost four drivers in the last month," Whooten said in July.
"People just don't want to do it right now because there's no money in it. Why would they want to risk all this for what they can make at a McDonald's or Burger King?"
And at the other end of this supply chain, Whooten said, businesses are paying a price.
"They've got freight sitting in the docks all day. People aren't coming to pick it up."
Given that truckers deliver an estimated 70 percent of goods to Michigan store shelves, experts and business advocates warn that any hitches in that supply chain will have consequences. That's especially true for independent truckers — drivers who own their own rigs and must absorb the costs of equipment, maintenance, insurance and diesel fuel in order to earn a living.
According to the Michigan Department of State, there are about 190,000 drivers in Michigan with the Commercial Driver's License (CDL A) needed to operate 18-wheelers.
"We as consumers and businesses are extremely dependent on those who deliver goods to our stores, gas to our gas pumps, everything we need in our daily lives," said Wendy Block of the Michigan Chamber of Commerce.
"We're in a situation where there are more openings for truck drivers than there are drivers to fill those positions. That's creating extreme pain in industries."
A year ago, an independent trucker paid about $980 to fill up the twin 150-gallon tanks common to many over-the-road trucks. At $5.50 a gallon, it costs about $1,650 to fill those tanks today. That means at the 6 miles per gallon many large trucks average, it would cost a driver more than $900 in diesel fuel alone for a 1,000-mile round trip.
At the same time, the average price of used over-the-road trucks reached $100,000 in March, nearly double that of the year before. That's another expense eating into the bottom line of independent truckers, forcing some to leave the business — and discouraging others from climbing into a truck cab in the first place.
And while firms like Walmart say truckers they employ can earn upwards of $100,000, the median pay in May 2021 for Michigan heavy and tractor-trailer drivers was just half that, at $49,630 a year, an average of about $23 an hour, according to the Bureau of Labor Statistics.
Truck drivers have been in short supply in Michigan for at least a decade, driven by the exit of older drivers from the field and a lack of younger drivers to take their place. According to the U.S. Department of Transportation, 300,000 truck drivers leave the field each year.
But with the economics for drivers worsening, the American Trucking Association estimates the industry is now short 80,000 drivers, with projections the shortage could reach 160,000 drivers by 2030.
And as the U.S. annual inflation rate reached 9.1 percent in June, many economists view disruptions in the supply chain ─ of which trucking is a critical piece — as a key reason why the cost of everything from food to home furniture has shot up.
Thus far, solutions to the shortage of drivers have proven elusive.
In January, the U.S. Transportation Department outlined details for a federal pilot program to allow people as young as 18 to drive commercial trucks across state lines. The legal age for truckers who drive across state lines is currently 21, but those 18 and over can drive commercial trucks within state lines everywhere in the country except Hawaii.
But the program is limited to three years and training of no more than 3,000 young truckers at a time.
A state trucking advocate asserted that it's not enough.
"We needed to do this 10 years ago. It's a prototype that started, but it's not available to go out and do for everyone," said Brian Hitchcock, owner of Webberville-based MBH Trucking and president of the Michigan Trucking Association, a Lansing-based trade advocacy group.
Hitchcock said it makes no sense that under federal regulations Michigan truck drivers under age 21 could legally drive 600 miles from Detroit to Ironwood in the western Upper Peninsula ─ but not a few dozen miles across the state line to Ohio.
"The regulations say that's not acceptable," he said.
But critics say lowering the threshold age for truck drivers to cross state lines will add to traffic accidents, citing University of Michigan studies that found truck drivers under age 21 had a 500 percent greater rate of injury crashes per mile traveled compared to drivers of all ages.
Earlier this year, Cathy Chase, president of the Advocates for Highway and Auto Safety, a Washington D.C.-based advocacy organization, raised objections to the federal pilot program.
"It makes no sense to put one of the most dangerous driving populations behind the wheel of 80,000 pound rigs," Chase said.
In Hitchcock's view, the driver shortage is also tied to career advice handed out decades ago that steered young people away from vocations like truck driving.
"When we educated our children, we told them to get a better job and they went out and did just that. Now they are not in our fleet."
In December, Gov. Whitmer also signed a measure that exempts veterans seeking a commercial driver's license in Michigan from taking CDL driving skills test if they have military experience driving heavy trucks. Veterans with military truck driving experience were already exempt from the knowledge skills portion of the CDL test.
At Coast 2 Coast Truck Driving School in Macomb County, it costs enrollees about $5,000 for its four-week CDL A training program.
Owner Dave Jaraczewski told Bridge most of its graduates are finding work with employers who don't require drivers to own their own trucks.
He said he discourages would-be drivers to jump into the world of independent trucking until they have some miles under their belt.
"I try to advise them not to do that when they get right out of school. I tell them, 'Get a year or two into it, and if it's something you want you can make it happen.' But with the cost of fuel and with the rates for freight, it's hard to keep your truck going these days."
South of Grand Rapids, Allegan County resident Mark Bonnema has been in trucking about 20 years, but just the past couple as an independent trucker.
"I'm still learning about this every day," he said.
Rumbling south recently on Int. 69 with 42,000 pounds of frozen pizza dough bound for Kentucky, Bonnema told Bridge by phone that each week is a juggling act between expenses and what he gets for a load.
"I can survive every week if I don't have to deal with a major repair," he said.
On top of what he pays for diesel fuel — and to refrigerate frozen cargo — Bonnema said he just shelled out $570 for new front end steering parts. He figures he'll spend another $600 within a month to replace a worn front tire.
He's got another year of $3,200 monthly payments for the truck and trailer he purchased three years ago for more than $120,000. And he pays $15,000 a year to insure his cargo and truck, a vehicle with more than 1.3 million miles on the odometer.
While he prefers not to think about it, Bonnema said a blown engine could set him back upwards of $20,000.
"If that happened, it could take me out. I don't know if I could recover from that," he said.
In Detroit, former prison inmate Lacino Hamilton is learning the hard way how difficult trucking can be.
Hamilton walked out of Macomb Correctional Facility in September 2020, after a Wayne County judge vacated his conviction for the 1994 slaying of his foster mother, Willa Bias, ending 26 years behind bars. He was freed after recent DNA evidence from the victim cleared Hamilton.
Tapping into a settlement from the state for wrongful conviction, Hamilton told Bridge he invested $62,000 in a used commercial truck in October that he now operates with a partner, Phillip Page.
Their road has not been smooth.
"We're the new kids on the block," Hamilton said.
Hamilton scours a national site that lists commercial postings for freight, the amount to be hauled and what it will pay. But because he and his partner have been in business just a few months, Hamilton said, it's hard to secure contracts that make the trip worthwhile. He said those generally go to truckers with a longer track record.
"We're limited in the kind of work we can find. We could make a trip to Kentucky and back and only make a few hundred dollars. The whole time we're putting wear and tear on our truck."
Thus far, Hamilton said, "We're in the red. I guess this was a hard time to get into trucking."
Business Watch
Covering the intersection of business and policy, and informing Michigan employers and workers on the long road back from coronavirus.
Thanks to our Business Watch sponsors.
Support Bridge's nonprofit civic journalism. Donate today.
Only donate if we've informed you about important Michigan issues
See what new members are saying about why they donated to Bridge Michigan:
"In order for this information to be accurate and unbiased it must be underwritten by its readers, not by special interests." - Larry S.
"Not many other media sources report on the topics Bridge does." - Susan B.
"Your journalism is outstanding and rare these days." - Mark S.
If you want to ensure the future of nonpartisan, nonprofit Michigan journalism, please become a member today. You, too, will be asked why you donated and maybe we'll feature your quote next time!