Wolverine Worldwide faces tough times selling shoes. Then came more PFAS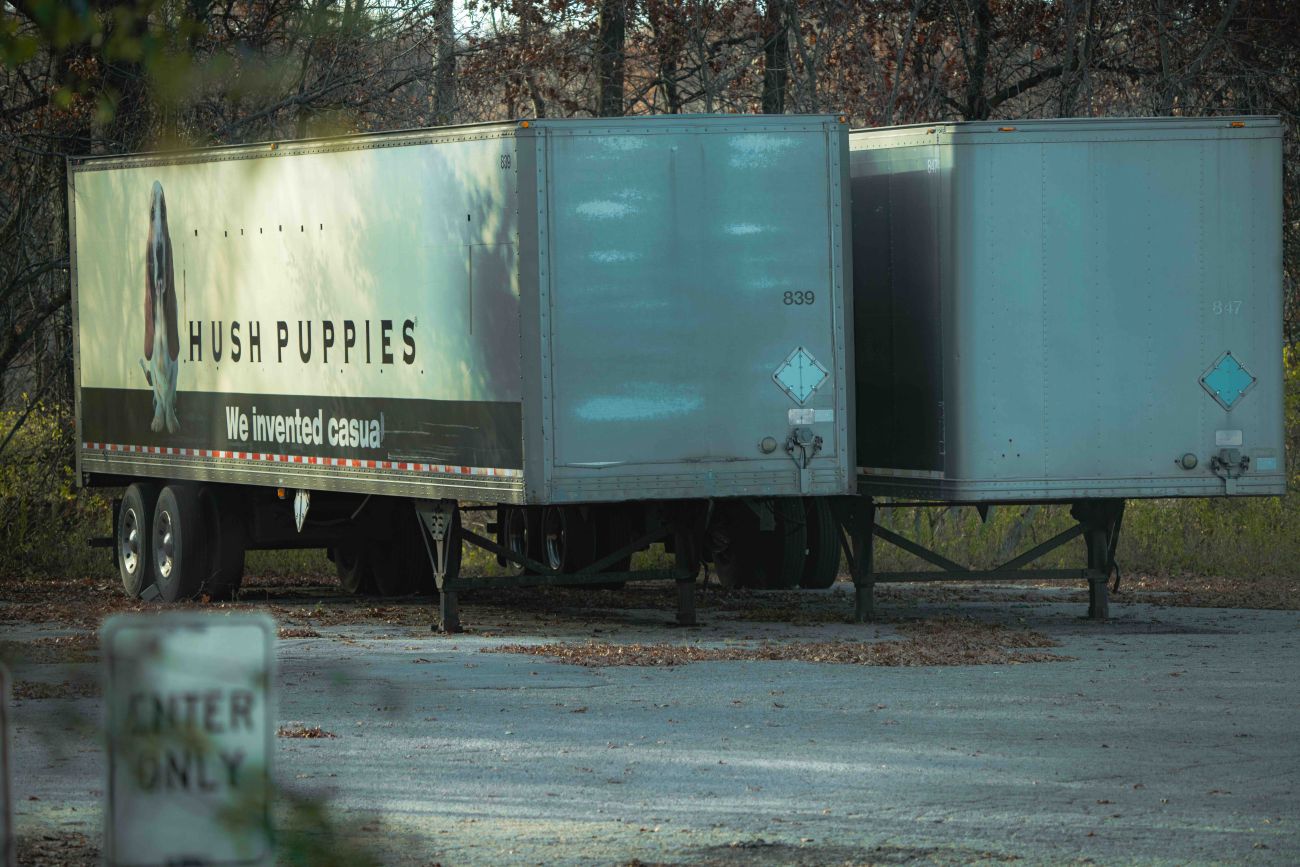 Wolverine's Hush Puppies loafers became iconic footwear after their popularity skyrocketed in the 1960s. The company recently licensed the brand to other makers and sellers, but a semi bearing the basset hound logo is still parked behind the company's former sole plant in Rockford. That property is the site of two new investigations involving PFAS contamination. Hush Puppies were marketed as waterproof due to the company's use of Scotchgard, which contains PFAS. (Bridge photo by David Ruck)
Wolverine Worldwide announced another round of severe cutbacks this month as financial pressures mount after it lost $189 million in 2022
The global shoe retailer is responsible for a multi-million dollar cleanup of PFAS pollution across a 25-mile area near its headquarters
The company is attempting to restore profitability even as its PFAS-related costs increase
---
ROCKFORD—Wolverine Worldwide, famous for its Hush Puppies brand, ended 2022 with millions of dollars in budget cuts, spurred in part by a glut of shoes it couldn't sell. It expected a better year in 2023.
But this fall, new urgency underscores every decision by Michigan's only publicly traded apparel company. After losing $189 million last year, it is now slogging through a second year of financial pressure, plummeting stocks, layoffs and the selling off of assets.
"Everything is on the table right now as we consider what we want the next chapter of the company to be," new CEO Chris Hufnagle said on an investor call last week.
Related:
The international footwear company has called Rockford home for more than 100 years. Its current conditions leave Hufnagel strategizing on how to restore luster to Wolverine's most popular brands like Merrell, Saucony and Chaco.
Local residents have more immediate concerns: This west Michigan region has grappled since 2017 with the state's largest PFAS contamination zone, anchored by two Wolverine properties in Rockford and nearby Plainfield Township that soon could be tagged as "Superfund" sites due to their severity. That zone has expanded to two more sites, including this year to the doorstep of Wolverine's Rockford headquarters, where old tannery waste may be the cause of PFAS found in 27 properties so far.
The venerable shoe company now faces two critical, potentially converging paths in the coming months: downsizing its holdings to stem corporate losses — selling off the Sperry brand, for instance — while also trying to determine how much additional PFAS cleanup it will have to fund in the region.
Nowhere in Michigan is PFAS contamination more widespread than in Kent County, where Wolverine's use of Scotchgard to waterproof its iconic Hush Puppies for decades led to "some of the highest concentrations of PFAS in the largest geographic area in the state of Michigan that we found to date," Karen Vorce, district supervisor in charge of the North Kent County PFAS area for the Michigan Department of Environment, Great Lakes and Energy told Bridge Michigan.
Spread across a 25-square-mile area, the pollution includes the company's now-demolished tannery, located on the aptly named Rogue River in downtown Rockford, where signs along a riverside walking path warn people about the chemical.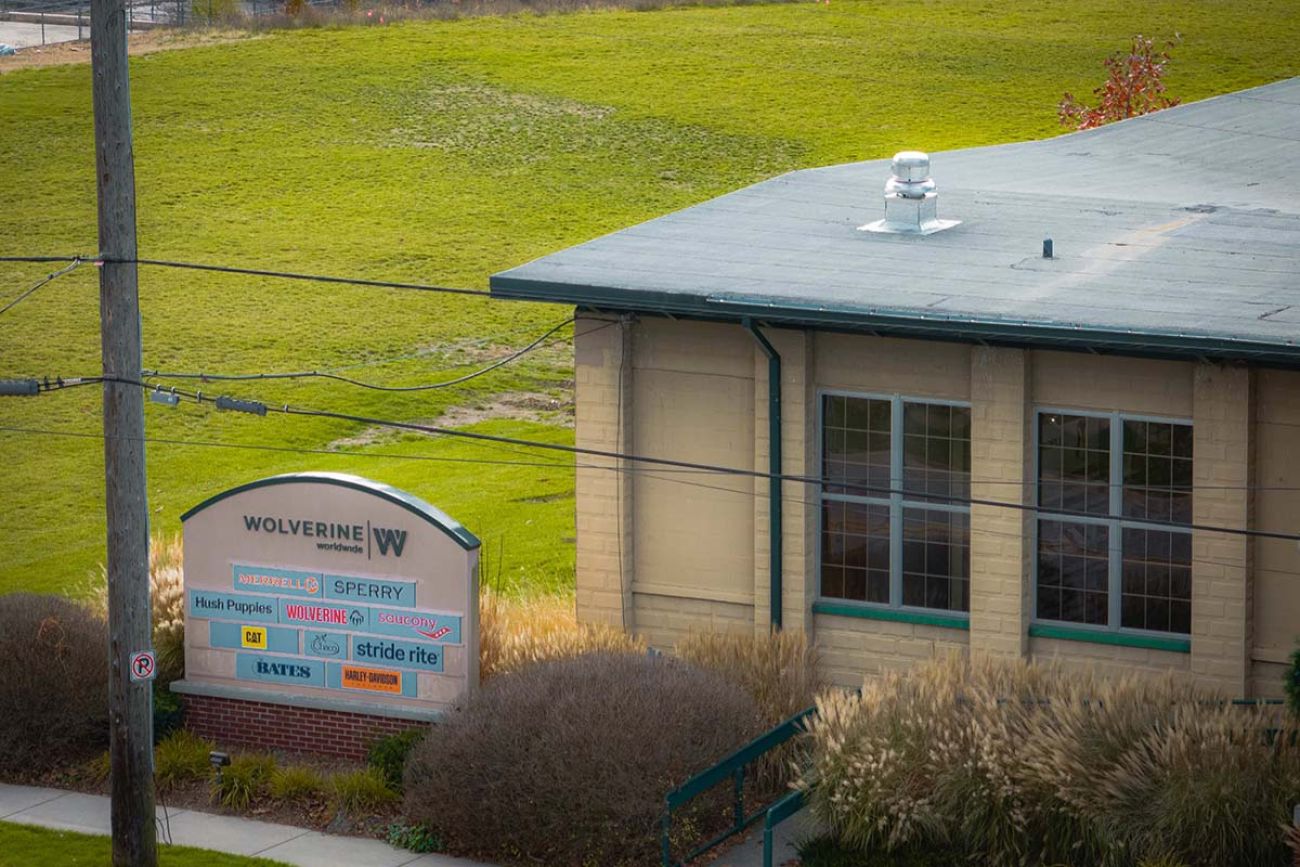 The Rockford Footwear Depot sells Wolverine-branded shoes and apparel, including its newest brand, Sweaty Betty fitness gear. The location in downtown Rockford is north of the former tannery and close to the Rogue River. The fenced area at the left of this photo is where Wolverine must install a system to intercept PFAS in groundwater to keep it from reaching the Rogue River. (Bridge photo by David Ruck)
In Plainfield Township, site of Wolverine's former House Street disposal area, PFAS levels at some residential wells were "at a magnitude higher than any other site in the United States that we're aware of," Vorce said.
Wolverine officials did not respond to Bridge Michigan requests to talk about its financial condition or environmental liability costs. Bridge sought interviews before and after the company's financial announcements last week.
It's been a volatile ride in recent years. A Bridge analysis of financial documents filed by Wolverine with the U.S. Securities and Exchange Commission shows that the public company's stable dividends paid to shareholders from 2015 to 2022 belied wide profitability bounces that left Wolverine with overall profits of 2 percent on $13.8 billion in revenue over that period.
The effects of PFAS on the balance sheet is less clear. The company headed into 2023 anticipating it would be left at year-end with $24.2 million in its cleanup reserve after spending an estimated $50 million from the reserve this year.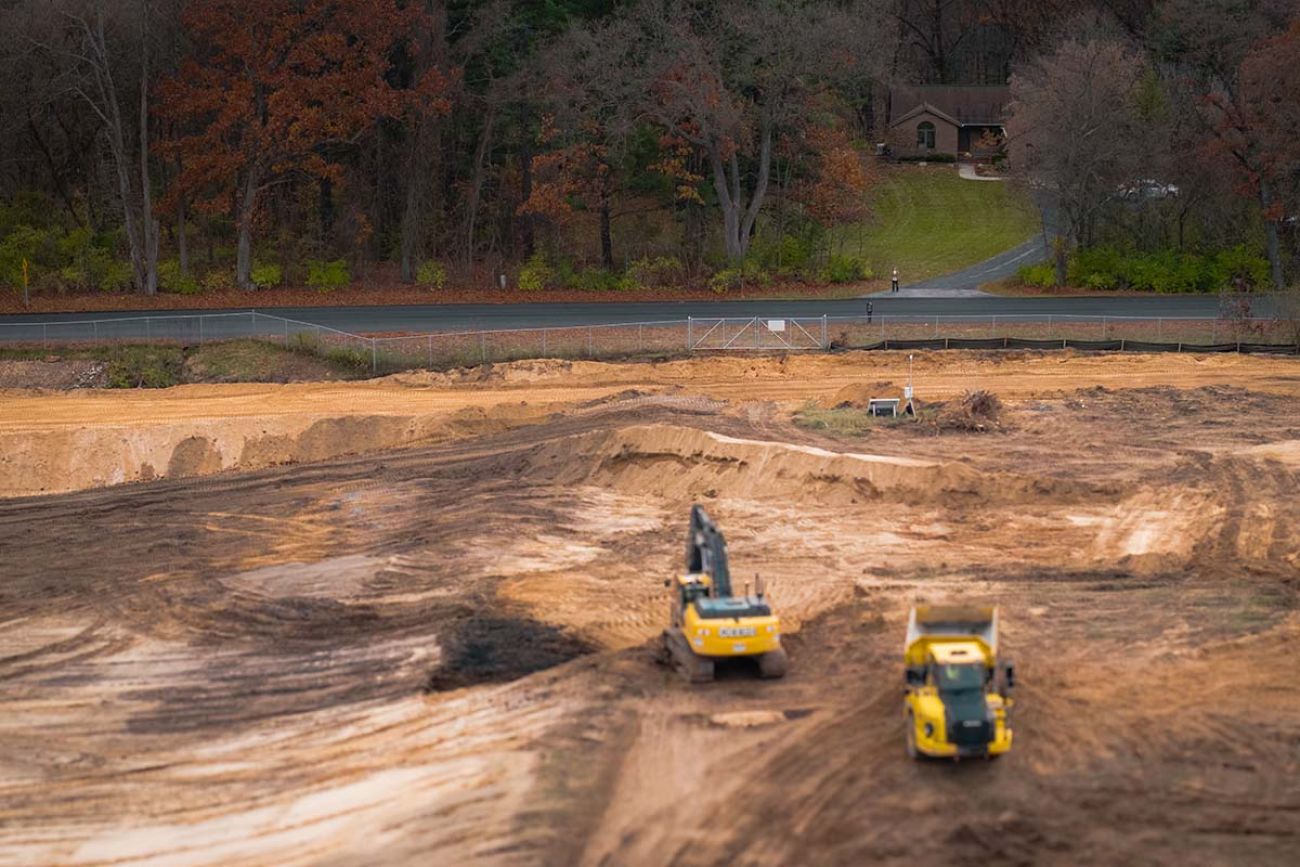 Clean-up at Wolverine's former House Street disposal site is now underway in Belmont, near some of the 1,000-plus homes in north Kent County affected by contaminated wells. The severity of the pollution prompted a study, concluding soon, that is evaluating the property's eligibility for federal Superfund status. (Bridge photo by David Ruck)
Company officials have maintained over years that they've acted responsibly to address contamination.
"We have a responsibility…to be good corporate citizens," Hufnagel, then senior vice president of corporate strategy, told MLive in 2017 as the extent of the company's legacy pollution began to unfold.
At the time, Wolverine was a $2.8-billion company based on its stock value. It was also committed to downsizing: shedding 213 stores, 2,160 employees, its Big Rapids military shoe factory and the Sebago brand that year.
That was also the year Wolverine first added more than $31 million in environmental costs related to PFAs to its public financial statements.
Since then, the company's financial reporting underscores turbulence:
Wolverine's peak recorded environmental liability came in 2019, as it finished the year with a reserve account that leapt from $22.6 million to $124 million at year-end following an infusion of corporate funding, an amount nearly equal to the company's net earnings that year.
Wolverine lost $189.1 million in 2022 as its debt ballooned to $1.15 billion.
This fall, as the full-year forecast now calls for the company's profit margin to plummet from 9.4 percent a year ago to 3.4 percent by year-end, the pace of expense cuts will nearly double, the company said, going from $75 million this year to $140 million next year.
Wolverine's stock value plummeted from $3.7 billion at the end of the third quarter in 2019 to $575 million in mid-October of this year, a drop of 84 percent.
The situation led Hufnagel to tell analysts last week he is looking beyond immediate profits to changes that could cement Wolverine's future as a business, efforts that Randy Thelen, CEO of The Right Place economic development group, said remain important to west Michigan.
"Wolverine helps put Greater Grand Rapids on the map," Thelen said. "Like every apparel company, they are going through a post-COVID correction, but…Wolverine has outlined a plan to reset and regrow. "
Many residents in the Rockford community aren't aware of Wolverine's financial struggles, said Sandy Wynn-Stelt, who lives across the street from the House Street disposal area and whose well had extremely high PFAS levels. And only a few people, like volunteers who sit with Wynn-Stelt on a Community Advisory Group for the PFAS cleanups, still monitor Wolverine's pollution response.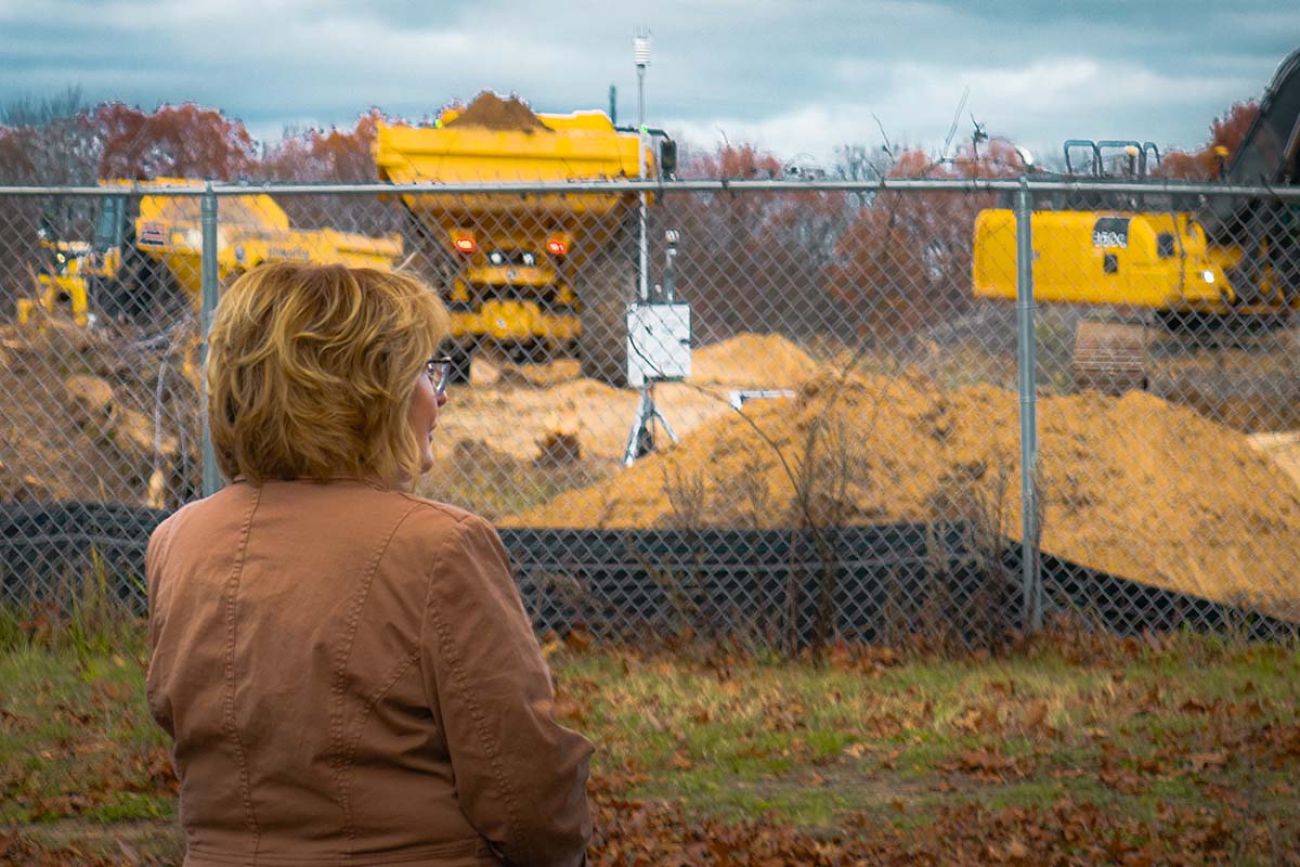 Sandy Wynn-Stelt is a psychologist from Belmont who became a PFAS activist after learning her home had been built across from a former Wolverine dump site — and that her drinking water well had extremely high levels of PFAS from the waste. That dumping area on House Street is now one of two massive PFAS cleanup sites tied to Wolverine. (Bridge photo by David Ruck)
But she said there are signs that cost-saving is a priority for the company.
"We are fighting with them every step of the way on all of these (clean-up) plans," Wynn-Stelt said. "They're just penny-pinching on it."
The company takes action
Wolverine Board Chair Tom Long opened the company's second-quarter conference call on Aug. 10 to introduce Hufnagel as new CEO, a move that surprised analysts. There was urgency.
"We have no time to spare," Long said.
Wolverine had recently ousted CEO Brendan Hoffman after the company ended 2022 with $1.16 billion in debt, due in part to excess inventory that flooded warehouses with twice as many shoes as the company could sell. It didn't help that buyers didn't warm to the styles, prompting markdowns.
Last December, the company launched a profit improvement group, eyeing ways to boost income or cut costs. Among the first moves: staff layoffs, trimming what the company later said was $30 million in payroll. It's unclear how many people lost their jobs.
The shoe retailing industry faces a tough market this year, with consumers worrying more about spending and inflation amid interest rate pressures.
Even for companies experiencing sales gains, the Footwear Distributors & Retailers of America told Bridge, prices aren't expected to increase — and they could decline next year, a sign that earning profits will be tougher.
"Wolverine Worldwide needs to deliver improved financial performance," Long said in announcing Hufnagel's appointment, "and the company must evolve to build brands that ignite consumer desire."
COVID brought shipment delays and higher transportation costs across the company, which is still dealing with lingering and higher logistics costs that it said should dissipate by early 2024.
In the three months since Hufnagel took over as CEO, third-quarter results have prompted additional layoffs that Mike Stornant, the CFO, described to analysts as "pretty meaningful." Again, the company wouldn't say how many people were affected, but this time the savings will reach $50 million.
Besides selling off Sperry, the company plans to sell "non-core assets," Stornant said, and consolidate some 2.1 million square feet of distribution space listed in annual reports. (Among the sites it operates is 468,000 square feet of leased space in Howard City, north of Rockford on U.S.-131.)
Wolverine's recent dealing includes selling off Keds and U.S. and Canadian licensing rights to Hush Puppies to Designer Brands Inc. for a combined $90 million. Wolverine Leathers was sold in September to New Balance for $6 million.
The retailer also brought in new brand leadership and will close its Waltham, Massachusetts office by the end of this year, with an unpublicized number of layoffs. The East Coast office's workforce already had been downsized by 38 percent since it opened in 2014.
Hufnagel has plans to build back brands like Merrell, known for hiking boots, and Saucony running shoes, he said last week. Marketing expenses may increase, following some tie-ins with a Michigan flair, like aligning its Chaco brand with Short's Brewery and launching University of Michigan branded boots.
Sam Poser, an equities analyst at Williams Trading in Westport, Connecticut, has covered Wolverine since 2007. He advised a "hold" on the stock in August, mirroring advice of the eight other analysts who cover Wolverine, then last week advised investors to sell due to the "likelihood of much weaker than expected (2024) revenue."
Wolverine's turnaround strategy is not a short-term tactic, Poser told Bridge, and the company won't solve the problems with cuts. Instead, Poser said, it needs to "fix these brands and create really compelling products and stories that people care about to drive revenue and have people say, 'I need to have that brand.'"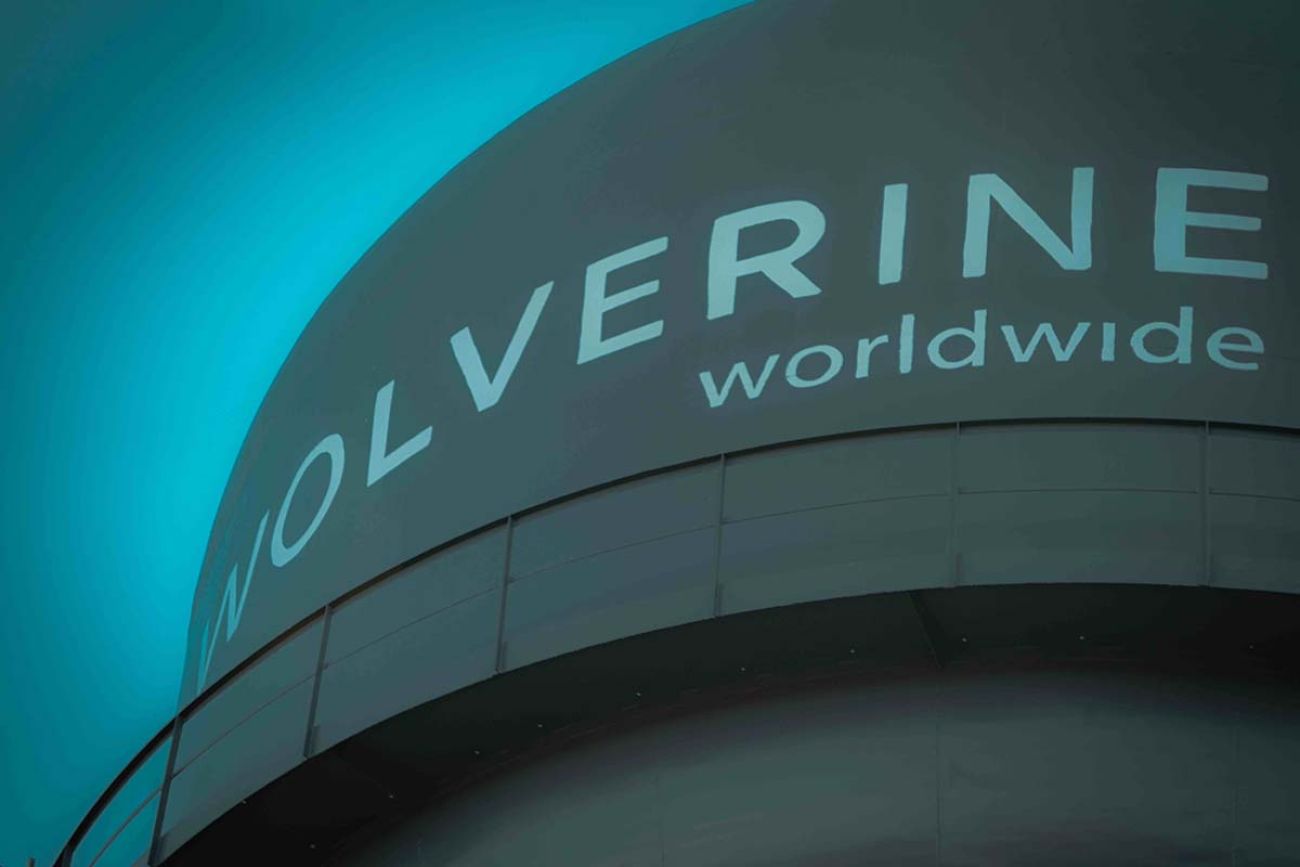 Wolverine Worldwide started making shoes in Rockford in 1903 and its tannery processes and shoe production grew into a global manufacturing business. Today, the company is downsizing after steep sales losses and debt. (Bridge photo by David Ruck)
More PFAS spending for Wolverine
Michigan has as many as 11,300 PFAS sites among the 26,000 properties the state identifies as contaminated.
The state has prioritized sites with high levels of PFAS since the scope of the Wolverine contamination came into focus. Across the state, EGLE tested public water systems, known contaminated sites, public wells, landfills and farm fields, in addition to people's bloodstreams to assess health impacts.
Across the U.S., awareness of PFAS risks and reach into U.S. waterways and drinking water supplies has prompted "a chain reaction of explosive environmental liability," said Jeff Porter, environmental law practice chair at Mintz Levin Cohn Ferris Glovsky and Popeo PC in Boston.
Some estimate that collective judgments against companies that made and used PFAS since the 1960s — when 3M learned compounds found in its Scotchgard product were toxic — could reach into the trillions of dollars.
Civil cases, like several involving Wolverine, started the wave of litigation, which Porter said continues to grow as states and the U.S. Environmental Protection Agency began to reset standards for how much PFAS is allowed in drinking water or natural water sources.
After high PFAS levels linked to Wolverine began turning up in residential wells testing in 2017, community fear and outrage grew as residents wondered why neither the closed tannery — an industry known for pollution — nor a corporate dump site for the tannery's waste had been tested earlier.
Judgments affecting the company are largely resolved. The company's balance sheets show environmental cleanup costs "net of recoveries" that include a $55 million payment from 3M, the maker of Scotchgard, after Wolverine agreed to a $113 million settlement with the state to bring municipal water lines to Plainfield and Algoma, where the well pollution was most serious.
Earlier this year, a judge approved a $54 million settlement in a class-action suit filed by 1,700 residents in and around Plainfield and Algoma against Wolverine and 3M.
Now as Wolverine struggles with its core business, its liability costs could leap again. A three-year cleanup at the House Street disposal area just started, with estimated costs there topping $18 million, according to EGLE.
Another probe escalated early this year at Wolverine's former sole factory, about a quarter-mile north of the tannery. Various toxins were found in groundwater. The company — which sold the building in June for $900,000 — is funding additional testing.
And with PFAS identified near its corporate headquarters in Rockford, the company's contamination footprint couldn't get any closer to home.
The latest investigation, which includes a company-owned warehouse across Courtland Road from headquarters and well-testing at dozens of nearby homes, was initiated by EGLE after Braeside Holdings, a residential land developer, bought the vacant land on 11 Mile Road NE, east of Wolverine's complex, in Courtland Township.
Braeside submitted baseline environmental testing to EGLE. Doing so allows buyers to take possession of the property without assuming responsibility for existing pollution.
Two shallow test wells showed two types of PFAS at up to five times the allowed amount. So far, of about 45 nearby homes with residential wells, the state lists eight with PFAS levels exceeding drinking water standards. More tests are planned as the state hunts for the source.
The community
Signs of Wolverine's contraction are few in Rockford, where even city officials say they don't know the employee headcount of workers at the biggest company in town.
"We know very little of their business model or their quarterly statements," Thad Beard, Rockford city manager, told Bridge. "We don't track that."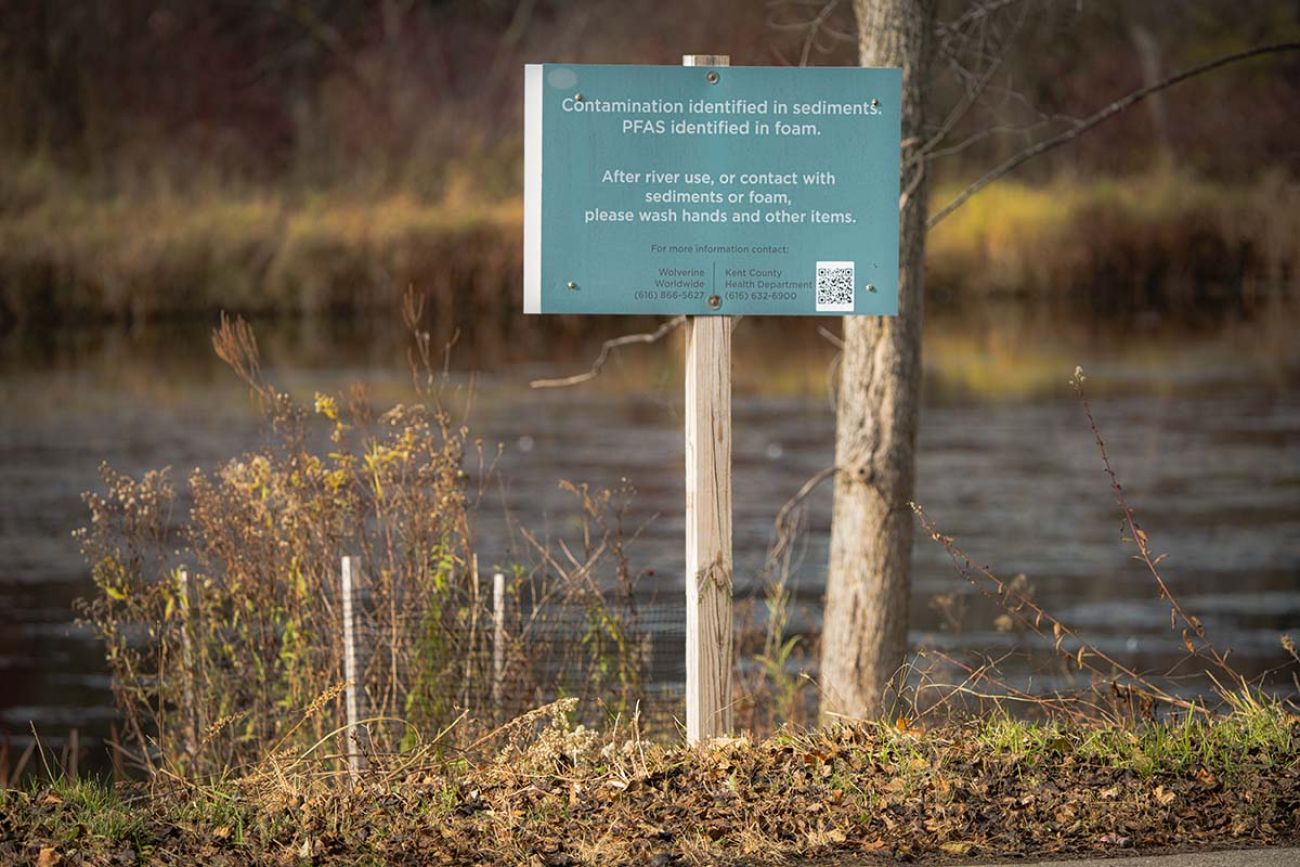 Signs warning of PFAS contamination in the Rogue River line the White Pine Trail along the waterway in downtown Rockford. Wolverine must install a system to intercept chemicals remaining underground at its closed tannery from reaching the river. (Bridge photo by David Ruck)
But the company store downtown is still busy selling shoes, and Wolverine's nonprofit foundation still funds community activities, including the Start of Summer festival on the now-grassy former tannery site.
"They support the activities here. They support employment," Beard said. "So hopefully (the company changes) would make them stronger financially."
Plainfield Township has a different view of the company, according to township supervisor Cameron Van Wyngarden.
The township is extending water lines as part of a legal settlement with Wolverine and the state. After the job came in $19-million under budget, however, the company sought to recoup that amount from the judgment. The company is now challenging payments in court, saying this summer that the $62 million agreed to for the work was a cap and not a payment due.
"They're trying to reinterpret the agreement to say they only have to give us a portion of the funds," Van Wyngarden said.
Beyond that, he said, Wolverine was $7.42 million behind in what it owed the township at the beginning of November for additional work to expand water well fields.
Wynn-Stelt, the resident who lives across the street from the House Street disposal area, said there's frustration with a company viewed as prone to dragging its feet, from resisting efforts to publicly test for contamination at its closed tannery years ago to falling behind schedule on clean-ups.
Many residents who attended a meeting about the new 11 Mile investigation "are understandably worried and concerned about their health and their property values," she said.
Wynn-Stelt acknowledged there remain some "who feel like corporations in our community should be given a…pass because they bring in tax dollars and employ people."
Certainly nobody wants the company to fail. But patience is wearing thin.
"Are they cleaning it up? I think begrudgingly as we yank them along, and pull them along and force them to," Wynn-Stelt said. "But let's face it, people spend a lot of money on lawyers and consent decrees and all of that to get any of this to happen."
Business Watch
Covering the intersection of business and policy, and informing Michigan employers and workers on the long road back from coronavirus.
Thanks to our Business Watch sponsors.
Support Bridge's nonprofit civic journalism. Donate today.
Only donate if we've informed you about important Michigan issues
See what new members are saying about why they donated to Bridge Michigan:
"In order for this information to be accurate and unbiased it must be underwritten by its readers, not by special interests." - Larry S.
"Not many other media sources report on the topics Bridge does." - Susan B.
"Your journalism is outstanding and rare these days." - Mark S.
If you want to ensure the future of nonpartisan, nonprofit Michigan journalism, please become a member today. You, too, will be asked why you donated and maybe we'll feature your quote next time!