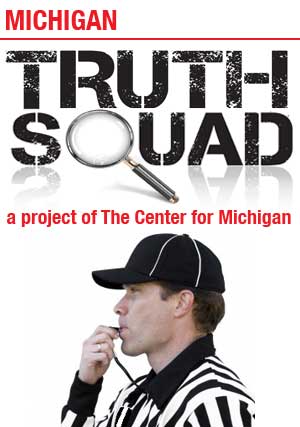 Join Bridge and the Center for Michigan on Tuesday, October 11 from 5-7 pm to discuss public trust in state government. We'll be facilitating a Community Conversation from 5-6 pm to gather your input on your levels of trust in state government, as well as your ideas for what might improve your trust. Your ideas will be included in our citizens' agenda report, which we'll share with state leaders in early 2017.
We will also be leading a Truth Squad Live panel from 6-7 pm, where Bridge senior editor David Zeman and Bridge staff writer Nancy Derringer will analyze some of this year's political speech for honesty and accuracy, and you'll have a chance to ask your burning questions about this year's political advertisements.
The event will be held at Oakland University's Oak View Hall, Room 208, 509 Meadow Brook Road, Rochester, MI 48309 (MAP). Parking at Oakland University is free (map of campus available here, Oak View hall is number 41). This is a free event, but registration is required. Please RSVP here. We hope to see you there—flex your citizenship muscles!