What do high water levels mean for Michigan? Join us online to discuss.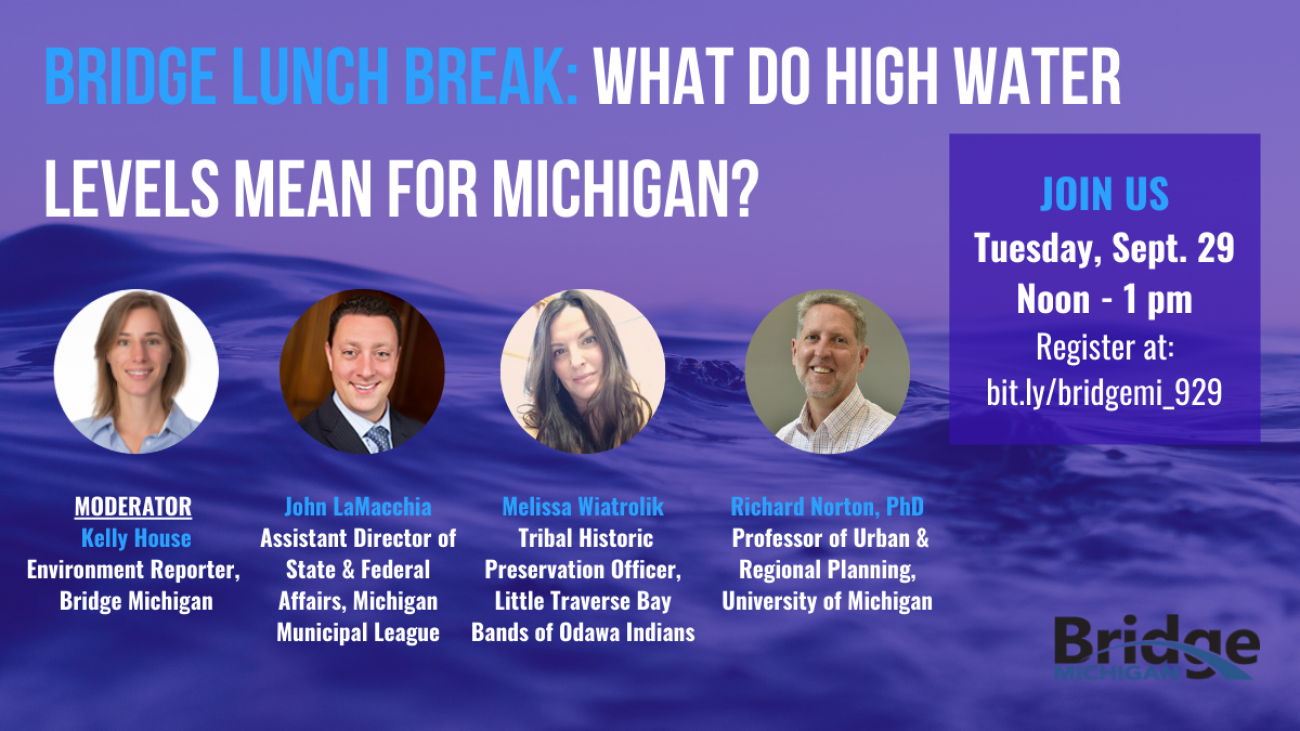 Bridge Michigan invites readers to join our team Sept. 29 for our monthly Lunch Break discussion, this time focused on a critical environmental issue facing communities along the Great Lakes.
Grab your lunch and pull up a chair in front of your computer as we discuss how high water levels are impacting coastal communities and what is being done to prepare, both environmentally and economically.
Related stories:
The hourlong, solutions-oriented discussion will be moderated by Bridge Michigan environment reporter Kelly House. Our guest panelists are John LaMacchia, Assistant Director of State & Federal Affairs for the Michigan Municipal League, Richard Norton, Professor of Urban and Regional Planning at the University of Michigan, and Melissa Wiatrolik, Tribal Historic Preservation Officer for the Little Traverse Bay Bands of Odawa Indians.
Bridge's Lunch Break monthly series focuses on a timely topic facing our state. During each event, Bridge readers can submit questions for the panelists via the Zoom chat function. Bridge Club members (readers who donate $1 or more to our nonprofit newsroom) can submit questions for our guests in advance.
How to join this live Zoom discussion
Our hourlong Lunch Break discussion is scheduled for Tuesday, Sept. 29 from noon to 1 p.m. To be invited to participate, please complete this form and we'll send you the link via email.
To learn more about how to join a Zoom meeting, watch this short video below. Zoom is free to use, and you can use the video call function on your computer, tablet or phone, or you can call into the meeting using the conference line function.
We look forward to talking with you on Sept. 29.
Facts matter. Trust matters. Journalism matters.
If you learned something from the story you're reading please consider supporting our work. Your donation allows us to keep our Michigan-focused reporting and analysis free and accessible to all. All donations are voluntary, but for as little as $1 you can become a member of Bridge Club and support freedom of the press in Michigan during a crucial election year.