Hidden poverty stalks a Pure Michigan setting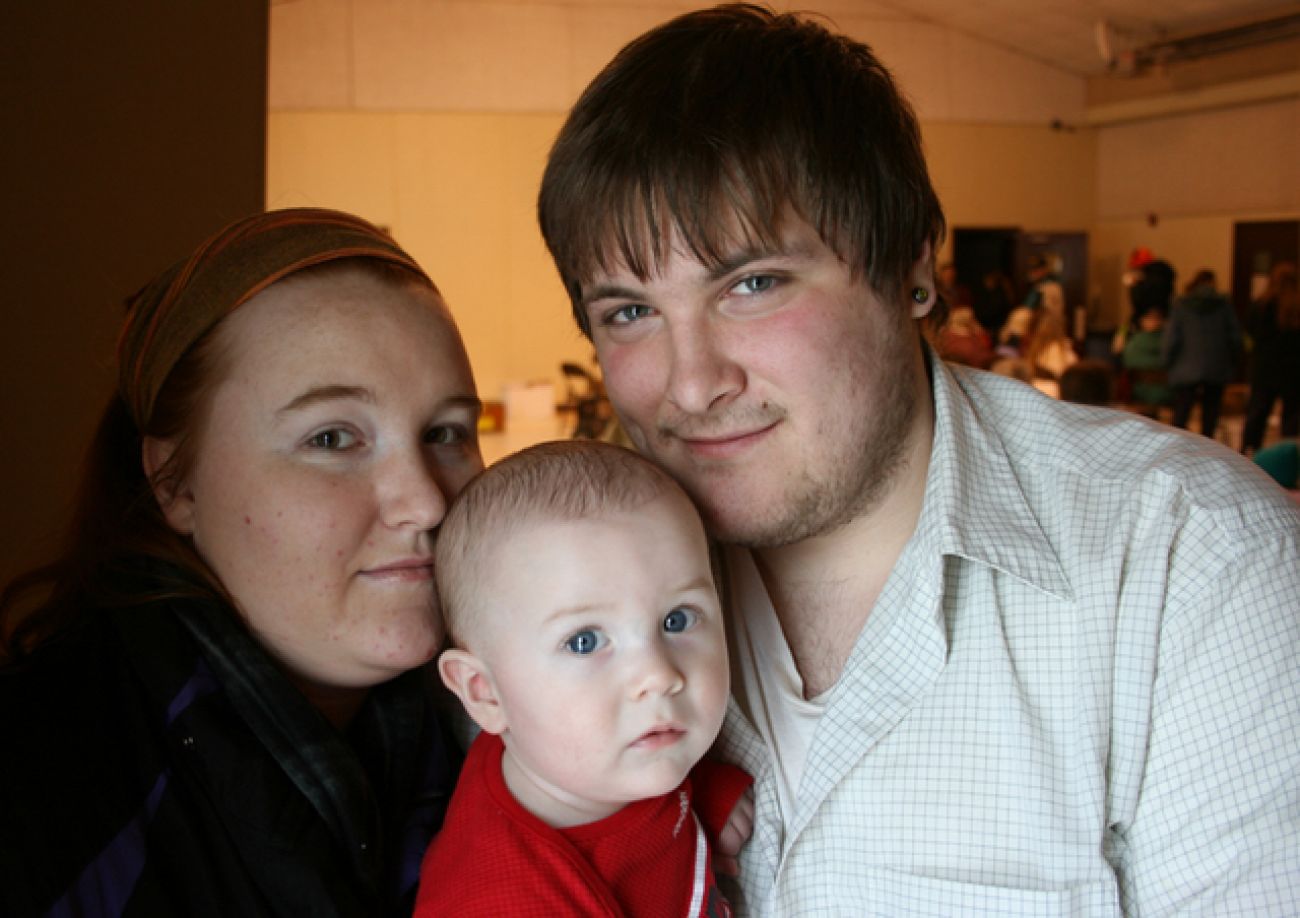 Nancy Lightfoot doesn't have a lot of time for self-pity. She's too proud, and far too busy.
At 40, this Harbor Springs single mother of three is up by 5 a.m. for a day that may not end until 10 pm. It starts with a workout and moves on to classes at North Central Michigan College, studying and then work in the community college library.
"I pretty much collapse at the end of the day," she said.
Lightfoot is accustomed to a life of many jobs, given that she turned in four different W-2 forms in 2014. She worked as kitchen manager of a yacht club, for two different catering operations and at the library.
"I come from a long line of people who make their money in the summer and try to stretch it into the winter time, so I can still pay the bills and go to school," she said.
Though she pretty much works whenever she can, she says her income still qualifies each year for an exemption to her homestead property tax. "You've got to be poor to qualify," she notes.
Multiply her story – with variations – thousands of times and a picture of life emerges for a substantial share of northern Michigan residents, the working poor. It's a struggle compounded by a lack of full-time jobs that a family can live on, a skilled-trades gap that leaves unfilled many decent jobs that do exist, transportation headaches for some, along with the isolation that can accompany rural life.
For all its tourist charms, the region that includes Charlevoix, Emmet and Cheboygan counties is facing deepening poverty among the workers who fill many of the jobs in high season and try to scratch out a living through the rest of the year.
"It's hidden," said David Jones, executive director of the Petoskey Harbor Springs Area Community Foundation, which supports Emmet County programs for seniors, children, health services, environmental protection and the arts. "People don't see the trailer homes in the woods, in the outskirts of the county. Finding a livable wage is tough."
The poverty rate for families with children is rising in these counties, reaching 12 percent in Emmet County in 2013, 20.6 percent in Charlevoix County and 26.6 percent in Cheboygan.
One gauge of the stress families live under is the percentage of school children who qualify for free or reduced-price lunch, a federal standard which extends up to 185 percent of the poverty level, or about $45,000 for a family of four.
"All it takes is one little incident, one little bump in the road and they are in trouble," said Deb Noblett, executive director of the Manna Food Project in Harbor Springs, which distributes food to 35 communities in Antrim, Charlevoix and Emmet counties.
"It could be they blew a tire or somebody got sick and they had to go the doctor and there was some out-of-pocket expenses. Or they had to pay for their license tags and they didn't have enough for food that month."
A 2014 study by the Charlevoix-Emmet United Way found that more than a third of households in the two-county area live at the margins of income necessary to cover basic needs. According to the study, a family of four in Emmet County needs about $53,000 a year to cover basic needs. The figure is just over $50,000 in Charlevoix County.
"They are working," said Lorraine Manary, executive director of the Charlevoix-Emmet United Way. "But they are struggling month to month putting food on their tables, maintaining their cars, all those things."
In more rural areas, transportation is an added headache. In a region of nearly 85,000 people scattered over more than 3,000 square miles, a car that runs is all but essential to getting and holding a job. One breakdown ‒ with no money in the bank to fix it ‒ can mean the loss of that paycheck.
And many who do find work struggle anyway. More than most places in the state, northern Michigan leans on the tourist industry as a critical piece in the regional economy ‒ in jobs that often start at about $9 an hour. "Tourism is a bit of a double-edged sword for the region," said Mathias McCauley, director of strategic initiatives for Networks Northwest, a 10-county northern Michigan planning and development agency.
"When you look at Pure Michigan ads, a lot of that is northern Michigan. That draws people to the region. It is a significant and real driver of the economy. We want to support it.
"The downside of it is generally those jobs are not what we would call head-of-household jobs."
Boyne USA, which operates Boyne Highlands Resort near Harbor Springs, Boyne Mountain Resort in Boyne Falls and the Inn at Bay Harbor, is the largest employer in Charlevoix County, with 565 employees. The Bay Harbor resort complex outside Petoskey is the second largest employer in Emmet County, with 700 employees, behind McLaren Northern Michigan Hospital in Petoskey, with 950 employees.
At Nub's Nob Ski Area outside Harbor Springs, Robbie Younce gets by on what he earns as a ski lift operator, a 40-hour-a-week job that pays $11 an hour. At 30, Younce is a divorced single father to his 4-year-old son, Roland. He has joint custody with his ex-wife.
Younce has worked for the resort for seven years – and is more than grateful for the job. He never quite knows what he will do each summer; warm-weather jobs have ranged from retail to landscaping to working on a golf course.
"I would probably be living under a bridge if I didn't have this job," he quipped. "I really like what I do. I enjoy the rapport with the skiers. You try to make the most out of their experience, to make it fun."
Younce's work might be seasonal, but his boss, chairlift supervisor Ben Doornbos, said employees like Younce are an invaluable cog in the ski hill's operation, one that employs about 120 people. He noted that one of the regular skiers at Nub's posted a Facebook tribute to Younce, in recognition of his irrepressible good humor at the lift. It received plenty of "likes."
"He's the one making their day. It's really a key role," Doornbos said.
Younce said he has learned to closely watch his spending, to make sure he has enough to pay the rent for his Harbor Springs apartment and other expenses.
"You have to live frugally," he said. "I get 50 percent off meals here (at the resort), so that helps. I weigh out how much I have for food, for car insurance, for electricity. I make sure I have meals when my son is here."
But like many who scratch out a living here, he can't imagine living anywhere else, saying, "I just like the character of this area."
Glimmers of promise
Solving the poverty puzzle is never easy. And local officials readily concede there are no quick fixes. But across the Charlevoix-Emmet-Cheboygan landscape, some initiatives may hold promise:
Transportation: In Emmet County, residents in isolated rural areas depend on a bus service of limited means. It is now served only by a service for seniors and the disabled and the Straits Regional Ride, a multi-county bus system based in Cheboygan that offers limited service from Cheboygan through parts of Emmet County to Petoskey and back. Advocates have pushed for more than a decade to establish a county-wide transportation network ‒ thus far without success.
A 2005 study by the Northwest Michigan Council of Governments and Michigan Department of Transportation found that up to 15 percent of county residents relied on a friend, neighbor, car pool, walking or bicycle for rides. Over a one-year period, 11 percent of residents missed or delayed a needed trip due to lack of transportation, the study found. .
To the south, the Charlevoix County Transit System operates 21 buses and provides more than 110,000 rides annually. It is backed by a .25-mill tax levy, which costs the owner of a home with a $150,000 market value $18.75 a year. "It is a very significant problem," said Linda Ward of Friends Enhancing Emmet Transit, a nonprofit group that is urging county commissioners to put to voters a .25-mill ballot proposal to establish a county transit authority or expand service from Straits Regional Ride.
"That's the cost of a pizza," Ward said of the proposed millage. "It affects all those people with transportation needs who need to get to work or the doctor of whatever. I think it stops people from considering the Petoskey area as a place they want to live and work."
Emmet County commissioner Lester Atchison remains unpersuaded. "If I thought this is something we need, I would get behind it," Atchison said. "But we've got a lot of small businesses that are just making it. I don't know if they could afford another tax."
Affordable housing: Advocates for affordable housing for residents in Michigan's northern resort region point to initiatives in places like Suttons Bay Township, in Leelanau, which last year approved zoning changes to allow more duplexes and apartments in an agricultural district of the township. Officials expect it to provide more affordable housing in a county where there are three times as many low-income renters as affordable units.
In Wilson Township, outside Boyne City in Charlevoix County, officials approved an ordinance allowing accessory housing units to be built on a property with an existing house. "The idea is that it will allow for more affordable housing," said Scott Mcpherson, Boyne City's planner and who also provides planning services for the township.
Sarah Lucas, regional planning manager for Networks Northwest, said the region has a difficult time competing for limited state and federal dollars for affordable housing. "We need local action on this," Lucas said. "We are at a disadvantage there."
In 2011, Grand Traverse County established the Grand Traverse County Affordable Housing Trust Fund. It takes money from county tax foreclosure sales and invests in affordable housing projects available to residents who earn less than 80 percent of the area's median income. The fund has raised $400,000, which have been directed to a development in Traverse City that is projected to construct 21 homes. "We recognize that it needs to be a local solution. There is a lot of competition for federal funds," said Jean Derenzy, deputy planning director for Grand Traverse County. "This is a great resource for us."
Vocational training: Even when plenty of folks are looking for work, northern Michigan employers say they have trouble hiring qualified workers for precision manufacturing. At $14 an hour or more, these are jobs that can lift a family out of poverty.
Moran Iron Works in Cheboygan County launched the Industrial Arts Institute 2014 to train welders, a program in which all 15 graduates of its 15-week program were offered jobs. Many had only a high school education when they entered. A second class is in session.
Networks Northwest expects to launch a $3,000 scholarship program for 25 area high school students this year, largely funded by a $65,000 grant from the Michigan Economic Development Corporation. It hopes to expand that to 300 scholarships.
The program combines high school career and technical education with community college courses. As seniors, students are expected to begin an unpaid internship with a local firm, then transition to two years of community college and paid internship. Officials said they expect most to have a good-paying job when they graduate.
No magic bullet
Not all business owners believe job training programs will be a panacea.
One local manufacturing executive, weary of employees who wash out after a few weeks, asserts that part of the problem stems from more basic deficits.
Alec Amstutz, vice president of DCL in Charlevoix, which manufacturers dust control and loading systems for dry bulk materials, said he believes today's young workers lack essential "soft skills" for employment.
"They don't want to bust their butt," he said. "They don't want to work 12 hours a day. They don't want to show up on time. I get pretty cynical about this stuff."
Showing up on time was no issue at a food pantry on a January afternoon in rural Emmet County. Dozens of area residents lined up at the Church of the Nazarene in Alanson, hours before its 4 p.m. opening to collect a box of food they hoped would help them through rough times.
They included Charles Jewell, 20, his fiancee, Morgan Griffin, 20, and their infant son, Kamden. They drove 20 miles from their apartment in Cheboygan for the food box they would fill.
Jewell said that he lost his job at Walmart in January, and that he was trying to hold things together until he could find other work.
"I've been applying for all kinds of jobs, a management job at a gas station, Burger King, Little Caesar's. It's hard to make a living up here," he said.
Jewell said he has some money in the bank, but not enough to last long. The family gets formula for their son through the federal Women, Infants and Children nutrition program, but he said they have no plans to seek cash assistance through the Michigan Department of Human Services.
"I don't like to seek too much help," he said.
A few places away in line, Emmet County resident Lindy VanSickle, 25, a mother of three, stood with her 4-year-son, DeWayne. Her husband, Kyle, had been laid off in July from his job at a Grayling plastics factory. Then they lost their apartment.
"I got no income and my husband has no income," she said. "So we moved in here, with grandma."
She explained that "grandma" is in fact the mother of a friend, who agreed to take them into her home about 12 miles north of Alanson. She said that Kyle helps their friend out with her paper route in exchange for the hospitality.
"We do get food stamps," she said. "But food stamps only get you so far."
Only donate if we've informed you about important Michigan issues
See what new members are saying about why they donated to Bridge Michigan:
"In order for this information to be accurate and unbiased it must be underwritten by its readers, not by special interests." - Larry S.
"Not many other media sources report on the topics Bridge does." - Susan B.
"Your journalism is outstanding and rare these days." - Mark S.
If you want to ensure the future of nonpartisan, nonprofit Michigan journalism, please become a member today. You, too, will be asked why you donated and maybe we'll feature your quote next time!