Articles
Every school bus that stays on the road represents more money for the classroom at Inland Lakes Schools. The district's mechanic is onboard. Plus, three more looks at life Up North too complicated to fit on a postcard.
You could hardly find a purer slice of Pure Michigan than the tip of the Lower Peninsula. But as the wealthy prosper alongside blue bays, those who live here year-round find life tougher to navigate
There's work to be done in the resort counties of northern Michigan, but opportunity doesn't always match the available workforce.
For many unseen residents of northern Michigan, life can be struggle for survival. This is true even for those with jobs, which tend to be seasonal with marginal pay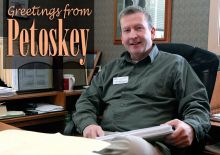 The homeless are about in rural northern Michigan, John McLintock sets out to find them.