Two Michigans gaze across a widening gap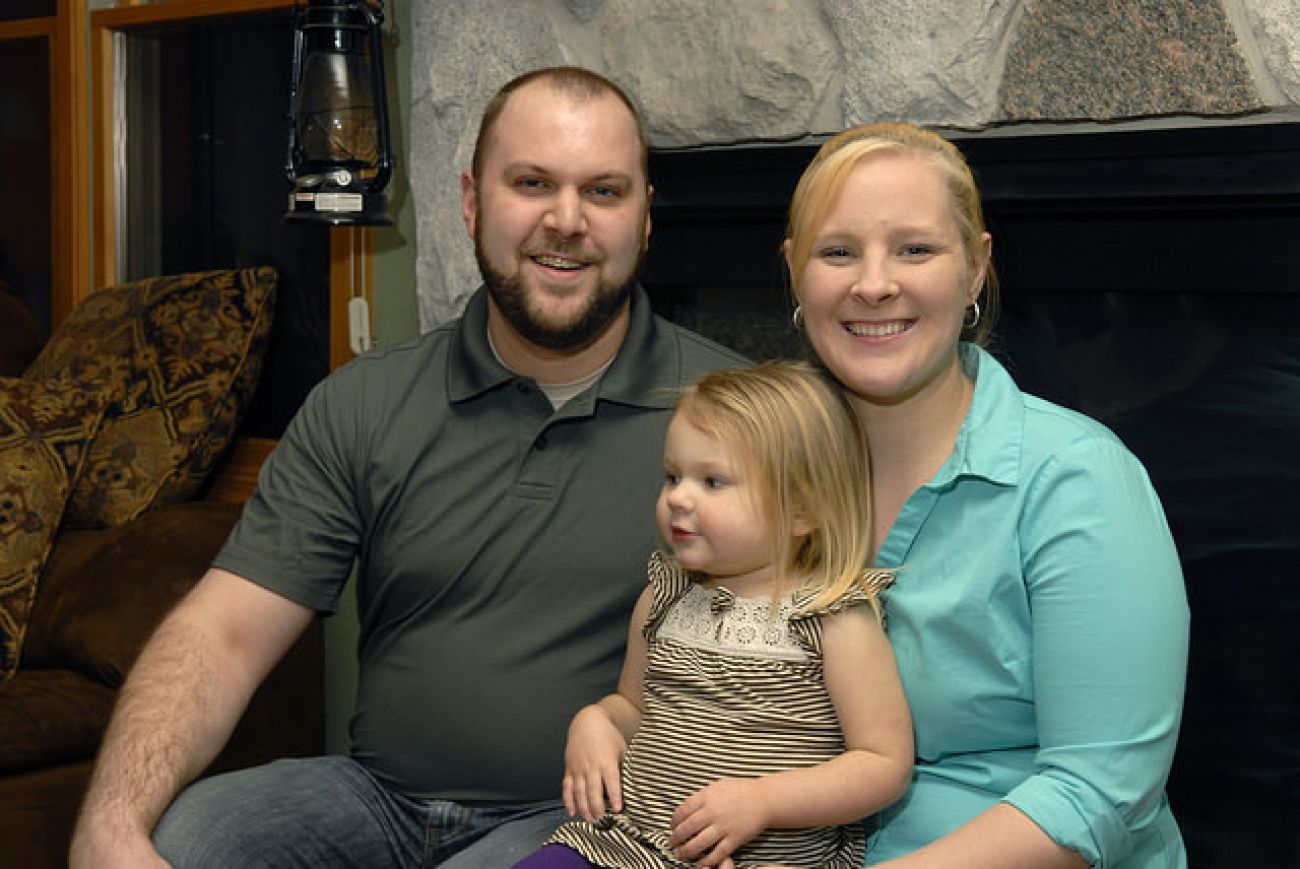 First of two parts
Pure Michigan is shining under bright sunlight on this cold winter day. On the slopes of Boyne Mountain, skiers and snowboarders carve their way downhill. In the nearby Gaslight District of Petoskey, servers steam milk for lattes or pour craft beers with winking names like Trophy Wife Blonde or Cabin Fever. It's the slow season for sure, but the Up North paradise at the tip of the lower peninsula still draws visitors and their bulging wallets.
A few miles away in Alanson, the Church of the Nazarene is about to open its doors for the weekly food distribution. Volunteers gather in a circle to pray before admitting those who've come for a box of donated groceries. The line has begun to wrap around the wall of the multipurpose room.
Pastor Catherine Greenhoe looks at the people in sweatpants and shabby overcoats, some holding laundry baskets to carry home their cans and boxes.
"It never seems to get shorter," she sighs. "Just longer."
On the shores of two Great Lakes, two Michigans are pulling away from one another. For one, graceful summer homes rise on waterfronts, equipped with boats, tubes and toys. For the other, life is lived in trailers on back roads, or small houses tucked into the woods. One comes north in May and enjoys a summer of festivals, fun and restaurant dining. The other Michigan lives here year-round and waits tables or changes hotel beds. One is, like the state at large, recovering from the recession and building wealth. The other slips deeper into, or closer to, poverty.
Three counties ‒ Charlevoix, Emmet and Cheboygan ‒ sit at the tip of Michigan's mitten, looking out on glistening waters, looking in on a restless, largely invisible population still grappling with unsteady wages and the haunting sense that opportunity ‒ at least, for them ‒ has passed. Solutions do not come easily for thousands of such families, as they labor in the shadows of a tourism economy that comes out to play only a few months a year.
In this series, Bridge chronicles the journey of workers, business owners, students, families and community leaders in the three counties. In the process, we hope to look beyond the frustrations and traps of life on the margins and consider policies and programs, both inside and apart from government, that offer promise when working hard is not enough.
The view from above
Those at the top rank among the wealthiest in Michigan.
Median income for the top 5 percent of households in tourist- rich Charlevoix and Emmet counties is well above the average in the rest of the state, according to the Census Bureau. The poorest, those in the bottom 20 percent generally are faring better than their peers elsewhere in the state. But the gap between the top and the bottom, in Charlevoix, Emmet and Cheboygan County is among the widest in Michigan.
April Keller remembers when she was hired at American Spoon Foods 15 years ago. She was 25, had recently become a single mother, and was working as a cook at a bar/restaurant in the area. She was earning $6.75 an hour and worked nights and weekends, standard for restaurant work. When she was hired at American Spoon, a Petoskey-based purveyor of expensive jams and preserves, earning $9 an hour for regular daytime hours, no weekends, and year-round, she figured she'd lucked out.
"Prior to that I had entry-level jobs, worked for minimum wage, the kind of jobs you do when you don't have a degree," said Keller, who eventually worked her way up to co-managing production at American Spoon. That's the way it is for people like her, she added; many in her extended family would be considered working poor, and simply expect seasonal jobs and regular layoffs.
"You have to do more than one (job) to get by," she said.
A faster slide
In Charlevoix-Emmet-Cheboygan, more people are tumbling into poverty even years after the depth of the economic downturn. The conditions aren't extreme when considered against the rest of Michigan ‒ in comparison, Emmet's poverty rate is low and Charlevoix's is average, though Cheboygan's is far higher.
But poverty in Emmet and Charlevoix has grown faster than the average among all Michigan counties since 2009. The ratio of Emmet and Charlevoix families with children living in poverty increased by one-third in that four-year period. In Cheboygan, poverty had risen 10 percent by 2013 with 26 percent of families with children in poverty.
Seasonal Swings in Unemployment (2001-2014)
Hover over the graph to show data

And, as Keller well knows, seasonal work sometimes means no work at all ‒ the average March unemployment rate spikes to more than 18 percent in Cheboygan County, and to nearly 12 percent and 13 percent in Charlevoix and Emmet counties, respectively - stark reminder of why it's called the "slow season."
The three counties lost 3,603 jobs in manufacturing, construction and natural resources between 2000 and 2013, according to an analysis of federal Bureau of Labor Statistics supplied by Scott Gest, regional planner for Networks Northwest, a 10-county planning body. In the same period, 2,272 jobs were added in services, including 573 in leisure and hospitality, which are far more likely to be seasonal, he said, and by definition, part-time.
Manufacturing plants like Continental Structural Plastics in Petoskey and Dura Automotive in Antrim County closed in 2007 and 2008, respectively, taking with them 400 jobs. With few alternatives, idled workers either left the region for better prospects or fell into long-term unemployment or underemployment.
More ominous, the region could be facing a less robust economic future as young professionals look for work elsewhere. The Charlevoix-Emmet-Cheboygan region lost a staggering 22 percent of people in the coveted 25-44 age group between 2000 and 2013.
Justin Rashid, who founded American Spoon, the company that saved April Keller from the minimum-wage merry-go-round, said he understands why some people leave.
"When people lose a job in northern Michigan, they fall out of a treehouse – often they have to move," he said. "It's not, 'I lost my job, I'm going to work at a different place across town,' it's 'I lost my job, I'm going to Grand Rapids. Or Chicago.'"
Yet the solution is not always as simple as "just add jobs."
Even as some workers leave, manufacturers like surgical instrument maker Precision Edge Inc. in Boyne City and DCL in Charlevoix, which makes dust control and loading systems, say they have good, well-paying jobs they can't fill for lack of qualified skilled-trades employees.
Transportation can be another barrier to employment. For workers, particularly at the lower edge of middle-class wages, who live miles from their jobs, the cost of commuting can eat a large chunk of their budget. It is an especially critical obstacle in Emmet County, which lacks a robust transit system.
And looking into the future, children attending schools in the counties' rural districts face twin obstacles ‒ poverty at home and tight budgets in the classroom ‒ as they study to meet the challenges of a competitive job market.
A view of the bay
In some sense, much of this is nothing new in a region of nearly 85,000 people spread out over more than 3,000 square miles. Resort areas have always had seasonal economies. Rural areas have always had fewer job opportunities. That's the price residents pay for glorious summers by blue bays and the chance to be paddling a kayak down a river 15 minutes after punching out of work.
But with fewer year-round jobs available that allow a middle-class standard of living, the gap in these counties may only grow.
Consider, for example, the schools.
According to the Michigan Department of Education, rural Inland Lakes Schools in Cheboygan County spent about $8,500 per pupil in 2012-2013. About 20 miles due west, the more affluent Harbor Springs School District spent over $12,000 per pupil, allowing its students to learn in smaller classrooms, among other advantages.
About 60 percent of Inland Lakes students qualify for free or reduced-priced lunch, a common measure of poverty, and the districts sends just over half its students to college. Harbor Springs' poverty rate is half that of Inland Lakes; and Harbor Springs sends more than 8-in-10 of its students to college.
Glimmers of change
Still, amid economic challenge, there are some blueprints for progress, including some not so far away. Consider:
Just outside Onaway, a town of about 900 residents in Presque Isle County, Tom Moran, owner of Moran Iron Works, was having trouble finding qualified welders for his growing business in Cheboygan County. A custom fabrication firm, its recent contracts include a $4 million order from Shepler's Ferry to build a new ferry to Mackinac Island and a $50 million project for Consumer's Energy to build a greenhouse-gas reduction duct. "They're just not teaching this in the schools," he said.
So last year Moran spent more than $1 million to open the Industrial Arts Institute in Onaway, an all-day, 15-week training program that teaches all aspects of welding. Fifteen students graduated in November. All got jobs.
Networks Northwest, the planning body that includes Emmet and Charlevoix, is planning this year to launch a $3,000 scholarship skills training program for 25 high school students, largely funded by a $65,000 grant from the Michigan Economic Development Corporation. It will combine high school career technical training with community college class work and internships with area employees.
The Northern Lakes Economic Alliance, a business support group based in Boyne City, operates a mobile computer-controlled machining training lab, with 12 work stations, that can be driven to companies to train employees and high schools to bring students into 21st-Century entry-level manufacturing jobs.
A few young professionals who left have returned, determined to forge a place in this region's future. They include a former dance instructor who returned to buy a small bookstore in Harbor Springs, now flourishing, and a former ski racer and employee of the 2008 Obama campaign who came back to start an Internet business incubator.
At a crossroads
There is a common refrain among many of the young in this region: I like it here, but I may have to leave.
Danielle Wager, 30, was born and raised in Charlevoix, graduating from Charlevoix High School and Grand Valley State University with a degree in education. She was hired in 2007 to teach social studies at Charlevoix High School but was laid off in 2009 amid budget cuts.
The Charlevoix resident finally found work helping clients determine if they are eligible for welfare with the Michigan Department of Human Services, while her husband, Kreg, works as a child protective services specialist for the state. They have a daughter, Nila, 2, a mortgage and a tight budget on their $75,000 joint income.
"I have been looking for a teaching job ever since I was laid off," Danielle Wager said. "We're at the point where we are thinking of leaving the area or leaving the state. It's just so hard to find a good-paying job here, especially for someone who has an education.
"We both grew up here. My husband is a big skier and snowmobiler. We love the small-town feel without being tiny.
"But," she asked, "can we afford to stay?"
Only donate if we've informed you about important Michigan issues
See what new members are saying about why they donated to Bridge Michigan:
"In order for this information to be accurate and unbiased it must be underwritten by its readers, not by special interests." - Larry S.
"Not many other media sources report on the topics Bridge does." - Susan B.
"Your journalism is outstanding and rare these days." - Mark S.
If you want to ensure the future of nonpartisan, nonprofit Michigan journalism, please become a member today. You, too, will be asked why you donated and maybe we'll feature your quote next time!