In northern counties, workers and business find each other lacking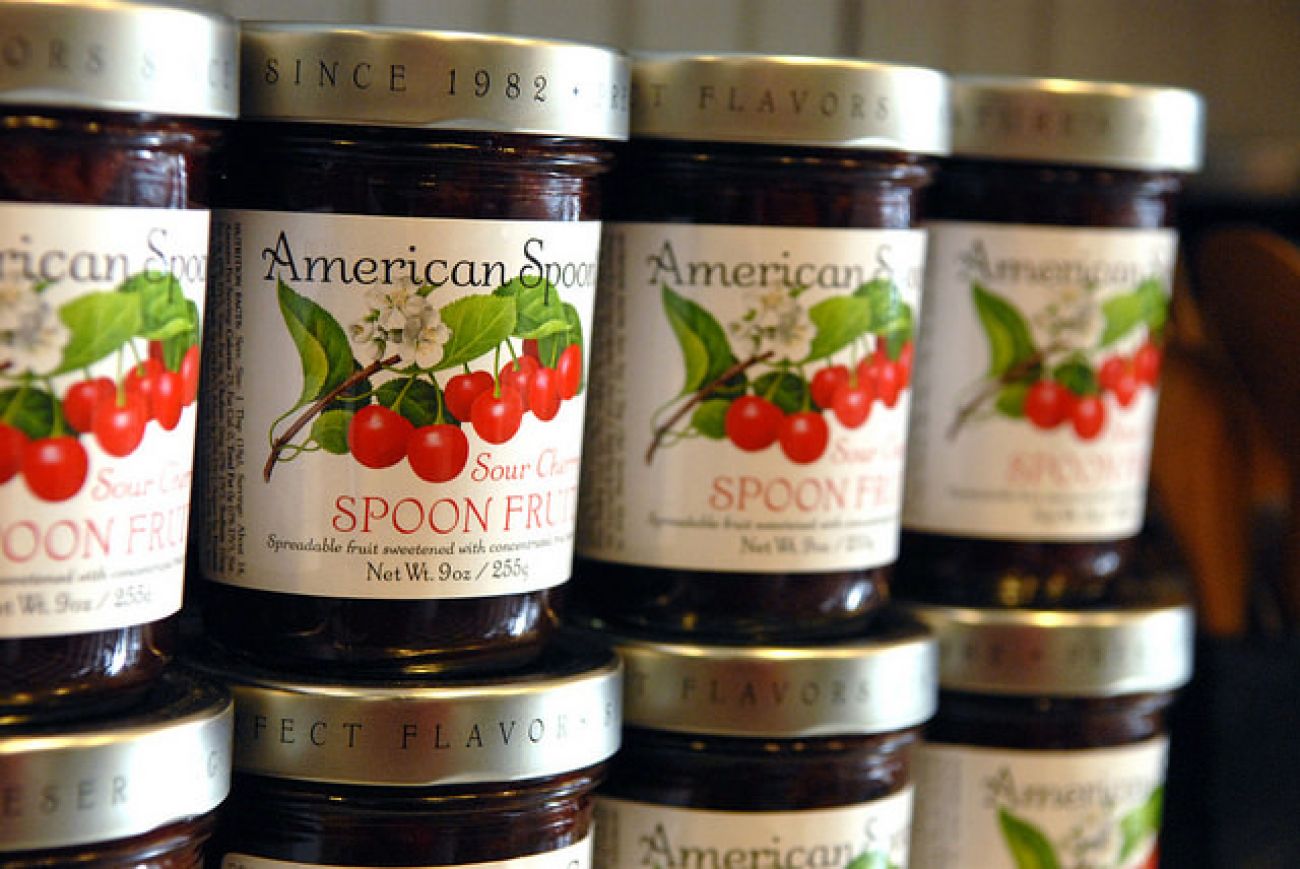 Peach season is a special time at American Spoon Foods, makers and sellers of high-end jams, jellies and other foods in Petoskey. In one two-week period in August, 50,000 pounds of ripe peaches pass through the small processing plant, where they're scalded, peeled and pitted by hand.
The job is so big it requires lots of temporary part-timers. Justin Rashid, the company's founder, wades in from time to time to do his part standing shoulder-to-shoulder with the workers at large tables. It's not difficult work, and so much of the time is spent talking.
"They say, 'Remember when Ralph worked at (the now-demolished cement plant) Penn-Dixie?'" Or they'll mention auto suppliers and other manufacturing concerns that once provided well-paying jobs, but closed or moved offshore or otherwise went away.
That, in a nutshell, is the story of working life for many in Michigan's northern counties, where the beauty of the rural landscape is matched by the economic caprices that have made year-round life increasingly difficult. Rashid says he pays "way over minimum wage" to his peach-peeling crew. But he knows that it's not the same as what many of them once enjoyed – a good job, a good salary, a better life.
While Michigan's jobless rate is now below 6 percent, unemployment stood at 6.6 percent in Charlevoix County, 7.3 percent in Emmet and a dispiriting 12 percent in Cheboygan County as of December.
The years since 2000 were certainly hard on the state in general, but they've been even harder on northern Michigan. In 2001, Charlevoix and Emmet held middle-of-the-pack status among all Michigan counties in unemployment ‒ by 2013, Charlevoix and Emmet had joined Cheboygan in the bottom third of Michigan counties. That is, by all appearances, beginning to change. In December, the employment picture in the three counties had improved significantly over the previous year – but still lagged the statewide average.
"What you find is, these people who are not necessarily college-educated, the jobs they did have have gone away, and they're still here," said Rashid.
As a businessman, Rashid appreciates what the area's unique character offers him. Employees are good and loyal, they work hard, but the opportunities are fewer.
"When President Obama said, 'If you think living on $15,000 a year is easy, try it,' I hooted, because I know those people," he said. "Their cars break down and they can't get to work. Their teeth hurt and they've never been to a dentist. They're great people, and they're hard-working, and there's no opportunity for them.
"They want to live here, and so one of the problems here is, there's a huge economic sacrifice to living in a place that doesn't provide you with an opportunity to make a good living," Rashid said.
Feeding the tourists
American Spoon Foods is a local success story. Rashid and his wife, Kate Marshall, started what's become a regional gourmet destination – besides making jams, they also have retail stores and a cafe in Petoskey – in 1982, about the time the Penn-Dixie cement plant closed. The foodie movement was cohering, wealth was growing, and the idea of spending more for a top-quality jam than one you could get at a supermarket was something more visitors were willing to do. It helped that American Spoon jams make nice hostess gifts, perfect for visitors to friends' lake cottages to leave behind.
Today, American Spoon sells in select stores and via mail order and online. Its need for workers waxes and wanes with the seasons. Right now is a down time, after the holiday gift-buying rush and before the local orchards and fields start producing raw materials. But there's plenty of fruit in the company's freezers to be made into jams before the next harvest, and the production line will be running again soon, producing preserves, chutneys, relishes and other items, selling for anywhere from $9 to $22 per jar – according to Rashid, half a million jars a year.
Rashid said he prefers to hire locally and train on the job; the jams are cooked in small batches, in kettles the size of small bathtubs, and workers can learn from doing it.
"The bottom line is, talented people are not sitting around in northern Michigan doing nothing, nor are they working down the street at Company B. You're on the frontier, so to speak," he said.
Hiring locally also allows Rashid to avoid having to look elsewhere for workers and plead, "Hey, how about moving to Petoskey?"
"Unless someone really wants to move to Petoskey, that's a very risky thing for them, and for you."
Rashid enjoys his success, but he said he worries about the region's future, especially with the tendency of young people to flee northern Michigan when they get the chance. Between 2000 and 2013, a startling 22 percent of residents 25-44 left the tri-county region. "You can't have economic vitality, in my opinion, unless you have young people," he said.
But young people need jobs.
Help wanted
Todd Fewins would like to give away a few. But he said it's proving harder than he thought.
About a quarter of the floor space at Precision Edge Inc.'s Boyne City facility is open, ready for an expansion that Fewins, operations manager at the plant, would like to make over the next three to five years. Precision Edge employs 46 now, making surgical instruments, mainly for orthopedic procedures. But hiring is a challenge, Fewins said. The local workforce is short in the basic grounding in manufacturing and machining he requires.
"The equipment is specialized, so we don't expect them to know them cold, but candidates should have a computer numerical control background," he said, referring to the automation of machine tools. "The schools haven't been teaching that. We've forgotten vocational education."
That's true in some areas more than others. For instance, students attending school further north in Cheboygan County have no local tax support for vocational education. That limits career technical education programs offered at Cheboygan High School.
In the Charlevoix-Emmet County Intermediate School District, closer to where Precision Edge is looking to hire, students – backed by a .75-mill vocational education tax – have more options to learn job skills. They can take courses in construction technology and automotive technology as well as graphics arts, information technology, marketing and TV and film production.
Though as Fewins notes, many workers who had the necessary job training left the region during the economic downturn.
"There were a lot of machining companies around" connected to the auto industry, he said, but many closed or downsized when the recession hit, and their employees followed the jobs to the American South, where auto-related businesses were growing.
"It's not a northern Michigan issue," he said. "It's a national issue."
Precision Edge entry-level wages are $10 an hour and top out at $23 – a good salary for the area, Fewins said. There are benefits and bonuses, and "it's a lot better than seasonal work."
Fewins' complaint is a common one, said Andy Hayes, president of the Northern Lakes Economic Alliance, a business support group based in Boyne City. The area has a "fairly good" base of manufacturing, but the recession took a heavy toll.
"Most of the jobs Michigan lost were the lower-skill jobs that can be done in other places," said Hayes. "Now you have a population of people without the education and skill set to take these new jobs. As Michigan rebounds, jobs are coming back, but you need more skills."
What's more, people who have been out of work for a long time, or didn't work steadily in the past, may have lost or never gained the life skills necessary to even hold a decent, family-supporting job.
"I hear two things: people don't have the skills, but I have to have someone who will show up for work two days in a row," Hayes said.
One key to success: getting there
In the four-county area the alliance serves – Cheboygan, Charlevoix, Emmet and Antrim – 40 percent of residents who live in one county work in another, making transportation an issue, especially for lower-paying jobs, Hayes said.
"The single mom with two kids and no car? I get that," Hayes said.
His business group sets its focus on training, for good reason. Hayes is fond of a coffee-shop metaphor in explaining how jobs have changed, not just in northern Michigan, but everywhere.
"It used to be, if you worked in a coffee shop, you needed to be able to pour coffee into a cup and ask, 'Cream or sugar?' Now you need to know how to steam milk, make all the different drinks, know what 'skinny' means," he said. "I worked on an assembly line for about six months. It took five minutes to train me, 20 seconds to do, and then I just repeated it until quitting time. When I left, it took five minutes to train my replacement. That's not the case anymore."
The alliance today touts a mobile training lab for computer-controlled machining, a large truck with 12 contemporary factory work stations in them. The truck can be driven to companies to train employees, and to high schools to lure students into the industry.While the truck can fill in some gaps in vocational education, Fewins said the business community still has a difficult task convincing parents these skilled jobs are right for their children.
"They tell (their children) it's dirty work, or whatever," he said. "But it's not. Not anymore."
In iron, the gold standard
It's hard to imagine a parent who would discourage a child from a job at EJ, once known as East Jordan Iron Works and familiar to anyone who looks down while walking around Michigan cities ‒ the plant's manhole covers, tree grates and other pieces are ubiquitous, and stamped with its old name.
Stacks belch steam from the foundry on the shores of frozen Lake Charlevoix in East Jordan, a city of 2,361 gathered around the south arm of the lake. It's an incongruous sight for an area lacking much heavy industry, matched by an employee parking lot packed with expensive late-model pickups and SUVs.
This non-union foundry pays wages that range from $14 to $30 an hour, according to Tom Teske, vice president and general manager for the company's operations in the Americas. (The branding switch to EJ in 2012 united under one name several company branches worldwide.) Not only are the pay and benefits good, the surroundings are unique. It's not unusual, Teske said, for employees to ride snowmobiles to work and stop off after their shift at their favorite ice-fishing spots on the lake.
What's more, the company is now in the fourth and fifth generation of the Malpass family, who hail from the area and have been loyal to it for 132 years. The loyalty is repaid by employees, some of whom follow their own relatives into the plant for multiple generations, Teske said.
EJ does not have trouble finding qualified employees, he added. Some come out of high school, others from two-year postsecondary tech programs and still others from engineering and metallurgy programs at schools like Michigan Tech and Lake Superior State in the Upper Peninsula.
"A lot of people who go to Michigan Tech like winter, and that's important if you want to live here," said Teske.
But even though the company is sound and the workforce content, Teske said he sees the same problems his peers do.
"The unfortunate thing about (the great recession) is, people were forced to move," he said. And companies who want to attract talent not only have to sell northern Michigan life, but face the reality that a recruit might have an equally ambitious spouse or partner who might not share a willingness to take on the challenges that come with the pleasures of life in northern Michigan.
As a self-described "professional volunteer," Teske worries about the loss of a level of community spirit that might be hard to replace.
"When the automotive guys had early retirement, we had young retirees who would move north and bring a lot of energy to help community organizations," he said. "That doesn't happen so often. Things like the Jordan River Arts Council… we need more young people to be involved to help keep these institutions going. That's what you lose when you lose young people."
Create your own workforce
In 1978, Tom Moran graduated from Onaway High School and launched a one-man welding business out of a small rental shop in town. It started small, very small – a lawnmower here, a bicycle there, maybe a broken muffler or two.
Moran was learning as he went along.
"I would spend half a day welding a muffler and charge the guy $10," he recalled.
Roll the tape forward 36 years, and the self-taught Moran is standing on the floor of Moran Iron Works, dwarfed by towering, 20-ton sections of flue gas ductwork for Consumers Energy's coal-fired electric plant on Lake Michigan in Ottawa County. It is a $50 million contract.
The firm that had one employee now has 135, including about 110 in Onaway, with the rest in Cheboygan and a shipbuilding facility in Rogers City. It specializes in mammoth, custom-fabrication projects, including 500-ton ocean barges and a $4 million contract awarded in 2014 to build a new ferry for Shepler's Mackinac Island service.
"We have kind of found an advantage in these very large projects," said Moran, 54. "We pretty much build anything."
But as Moran Iron Works grew, it ran smack into the same problem as other manufacturers in the region. The firm could not find enough qualified welders to meet demand. He spent a year or two discussing a collaborative welding program with Alpena Community College, but grew disillusioned at the slow pace of the talks.
So he invested more than $1 million to establish the Industrial Arts Institute in Onaway, a for-profit, full-time 15-week welding program that graduated its first class of 15 in November. The training costs $12,500, including books and welding protection equipment. All 15 graduates were offered jobs, including four that were hired at Moran Iron Works at around $14 an hour.
The program is structured to be just like a job – in fact, students are sent home if they arrive after the 8 a.m. starting time. They have two 15-minute breaks and a half hour for lunch. They are done at 4 p.m.
Moran sees more growth potential for his firm, but sees an ongoing challenge for skilled-trades manufacturers to find the work force they will need. "Forty percent of our skilled workforce will retire in the next five years," he said.
Looking west, a different economy
Across Lake Michigan, Wisconsin's scenic Door County could be considered a "peer" county to Emmet, Charlevoix and Cheboygan with its similar geography, vacation homes and income. The peninsula, northeast of Green Bay, encompasses just under 500 square miles with a population of about 28,000.
Like northern Michigan, it draws visitors – particularly in summer – with 300 miles of Lake Michigan shoreline, two state parks, lighthouses, art galleries, shops and traditions like fish boils and cherry festivals.
But a look at its top employers underscores a distinct contrast, in particular, with Emmet and Cheboygan counties. Boyne USA, which operates Boyne Highlands Resort near Harbor Springs, Boyne Mountain Resort in Boyne Falls and the Inn at Bay Harbor, is the largest employer in Charlevoix County. The Bay Harbor resort complex outside Petoskey is the second largest employer in Emmet County.
There is no tourist-based company among the top 10 Door County employers. In fact, three of the top five are manufacturers, including a shipbuilding firm, a commercial kitchen equipment manufacturer and a machining operation.
Door County's unemployment rate stood at 9 percent in 2013, compared with over 11 percent in Charlevoix, Emmet and Cheboygan counties.
Sam Perlman, economic development manager for the Door County Economic Development Corporation, said the county's economy is fortunate to have a good balance among industry, agriculture and tourism.
"Our manufacturing base is extremely important to us. Those are jobs that provide good wages and benefits. They provide family-sustaining wages," he said.
Like the counties of the northern Lower Peninsula, Door County also wrestles with finding affordable housing for some seasonal workers. He noted that the Door County Visitor Bureau is exploring the prospect of putting in a facility – "almost like a dorm" – to house seasonal workers.
No single solution
Better aligning the Charlevoix-Emmet-Cheboygan workforce with the skilled jobs that continue to go unfilled is a priority across the region, as it is for much of Michigan. Until that happens, those looking for work and those providing it say they worry for their neighbors.
Rashid, at American Spoon, sells expensive food that he knows many of his neighbors can't afford. But he understands a fundamental truth of how economics work at the grassroots level.
"I get a lot of requests from charities, and I give, but sometimes I have to say no, partly because we do profit-sharing with our employees, and we give our cash to them," Rashid said. "Our company being here makes it possible to let other families stay here.
"You want charity?" he asks. "Give someone a job. Now you've done something for them."
We're not just a news organization, we're also your neighbors
We've been there for you with daily Michigan COVID-19 news; reporting on the emergence of the virus, daily numbers with our tracker and dashboard, exploding unemployment, and we finally were able to report on mass vaccine distribution. We report because the news impacts all of us. Will you please support our nonprofit newsroom?