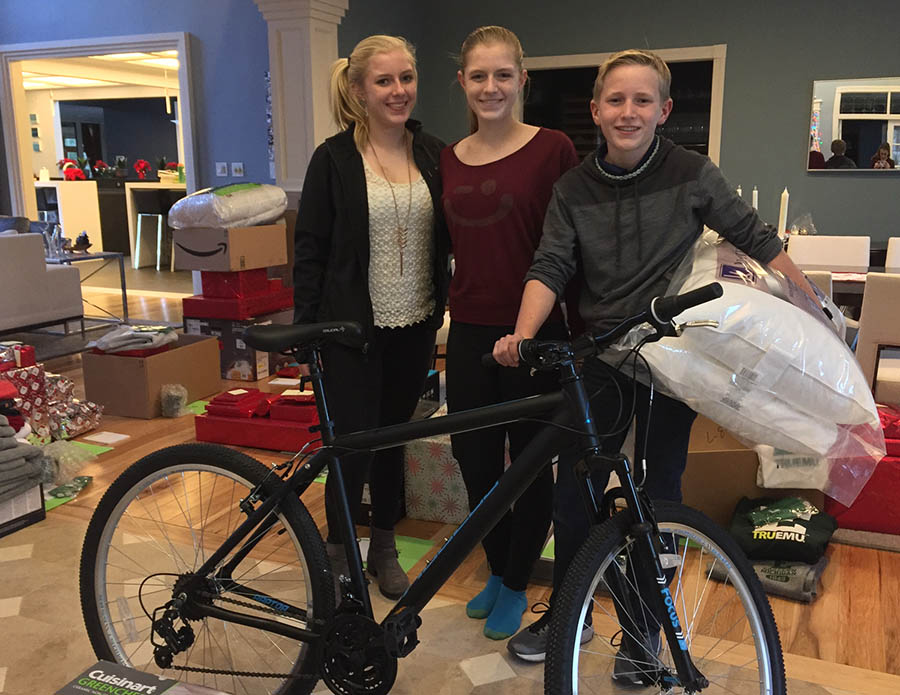 Isabelle, Evelynne and Philip Crumm have worked with their mother, EMU Regent Michelle Crumm, to make sure homeless college students aren't forgotten this holiday season. (Bridge photo by Kaela Theut)
Walking into Eastern Michigan University regent Michelle Crumm's festive dining room—filled with stacks of crimson gift-wrap and presents of every size, piles of blankets and sweatshirts lining the floor, and a gleaming bicycle placed upright in the corner— one would think Christmas came early.
For 20 homeless and former foster care students at EMU, it will.
Crumm and her children spearheaded a community effort to make the holiday season brighter for college students struggling to keep roofs over their heads. It's an effort that traces its roots to former EMU student Ramone Williams, whose story of academic perseverance through homelessness gained national attention last year.
During the 2015-16 school year, Williams was a college senior without enough money for both tuition and a home. He chose college, surviving by sleeping in his van or in the college library.
Williams' inspirational life sparked donations from across the country. Today, he's a college graduate with an office job in Ann Arbor.
The story could have ended there. But Crumm and others near the Ypsilanti campus have banded together to help other struggling students.
Crumm and her three children, Isabelle, 16, Evelynne, 14, and Phillip,12, are taking eleven gift baskets to Eastern Michigan University to be given to students who were formerly in foster care or who are now homeless, who are participating in the campus MAGIC (Mentorship Access Guidance In College) program. Other families and companies stocked baskets for nine more students. Combined, the gift baskets contain about 320 presents, with a value of about $16,000.
Crumm and her family brainstormed the idea for this project in late October after a meeting with Elise Buggs, director of Academic Success Partnerships at EMU. Crumm said she developed goosebumps after Biggs told her that many of the kids in the MAGIC program want to become social workers, to emulate the positive adult influences the program's staff members have had in their lives.
"It's pretty incredible that for a lot of them, their life plan, is to continue to give back to others, when they've had so much turmoil and chaos in their lives," said Crumm.
The students turned in wish lists of "needs" and "wants," but a lot of donor families went beyond the listed items to make the students happy over the holidays. An Ann Arbor company added Red Wings tickets to one basket, and the store manager of a local bicycle shop provided a bike, along with a free service program, helmet and water bottle.
He's a college senior with a 3.4 GPA. And he's homeless.
"People are saying, 'I don't understand how a college student can be homeless,'" Crumm said.
The entire Crumm family was involved in the effort. Isabelle Crumm said she hopes to inspire other students like herself to help others. Evelynne Crumm said she hopes the program will continue and possibly be picked up by local high-schools.
"Next year we can still do the EMU one, and then maybe this will influence (efforts for students at other colleges)," Evelynne said.
A home for the holidays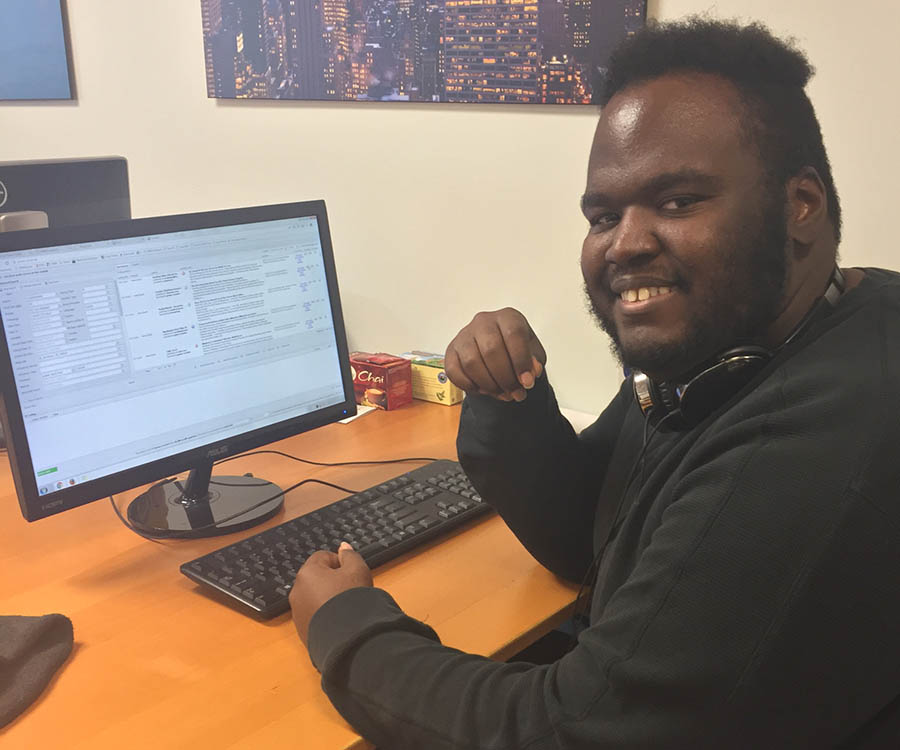 Ramone Williams, a homeless college student at this time last year, now is a college grad working as a media analyst in Ann Arbor. (Bridge photo by Kaela Theut)
Sporting a black Nike sweater and khaki pants, Williams looks like any typical young adult living and working in a bustling college town. However, it is the story of what it took to get to his desk job at Prime Research, an international firm that analyzes media performance for client companies, that sets him apart.
Since the Bridge article last December (and subsequent attention from the Washington Post and ESPN), Williams graduated with a bachelor's degree in communication media and theatre arts, and is now living and working in Ann Arbor.
"I graduated," Williams said. "That was the main aim of everything. It was a long road to get there. I felt like I was on the right track, and no matter what happened, I never gave up that goal."
Williams rents a room from a couple in Ann Arbor, a modest first post-degree home, but a big step up from a couch in the school library.
"I gotta start small," Williams said. "They've been nice and kind."
Williams said that since he has started his job, he has become much more comfortable being around people and working with others. His anxiety has gone down, his depression has decreased, and he feels he's is in a good place.
Working as a media analyst on a team, Williams analyzes news about General Electric. He said he likes being able to work with technology and media, but the Flint native has not given up on his dreams of leaving Michigan and working in the acting business.
"There's still a lot of dreams that I have," Williams said. "I still have a lot of room for improvement. It's about getting a good start, and that's what I'm trying to do right now."
Williams said before he came into contact with the MAGIC program, he had no aspirations, no friends, and no hope for a better future.
"I wouldn't be here without them," Williams said. "You don't hear about them all that much because they're just doing what they can, they're using what's been given to them, which is not very much, to help out 10-15 students who are literally homeless, going to Eastern Michigan."
Building a legacy of giving
Families and companies near Eastern Michigan University opened their hearts and wallets to provide holiday gifts for homeless students. (Bridge photo by Kaela Theut)
Helping Ramone Williams wasn't the end of the story, and neither is the delivery of gift baskets this year. "The overall sentiment is, 'What happens when this is done? How can we still stay connected (to the students)?'" Crumm said. "They (donors) feel that now they've filled this wish-list, they're connected to (the students), and they want to continue on."
That could be the best gift of all, according to Joi Rencher, who leads the MAGIC program. Rencher said it is the adults who volunteer to become mentors and form direct relationships who can influence students after they leave campus. By mentoring students on life skills such as budgeting and job searching, volunteers can shape students' lives in a way that will impact them long after the holiday spirit subsides.
Although MAGIC received more than $50,000 in donations after the Ramone Williams story went viral, Rencher's program still operates on a shoestring budget. College is expensive, and most of the money donated to the program is used to find housing for the students.
Those looking to give this holiday season can make donations on the MAGIC website, or use the Amazon wish list function on the website to send homeless EMU students items they need.
"Only 3 percent of kids that go through foster care will graduate with a bachelor's degree, so there's a 97-percent chance they're not going to get a degree which is pretty big odds against them" Crumm said. "The ones like Ramone that get through and do it, it's truly incredible, it defies odds."