Join us on Zoom from noon to 1 p.m. November 15 for our final Bridge Book Club event of 2021. Author and Michigan native Anissa Gray will join us to discuss her debut novel. Bridge members receive a free e-version of the book.
---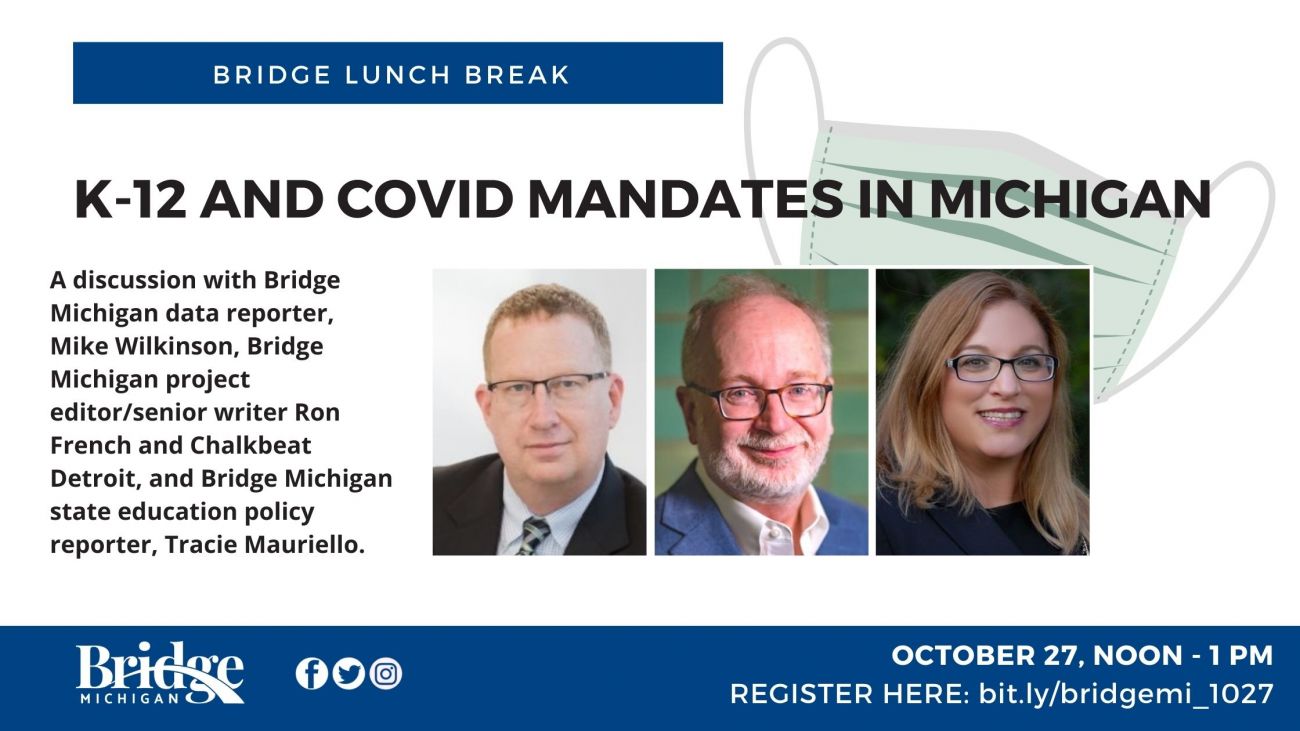 On October 27, Bridge Michigan reporters Mike Wilkinson, Ron French and Tracie Mauriello will discuss the current state COVID mandates in the state's K-12 schools, what's driving them and what the data tells us.
---
PAST EVENTS
Watch Bridge's Lunch Break celebration of our 10th anniversary (Sept. 29, 2021)
The Center for Michigan and Bridge Michigan marked a milestone by recounting our history, looking to the future and thanking its contributors.
---
Watch Bridge Book Club discussion of collaborative memoir 'Wounds' (Sept. 24, 2021) 
Bridge Michigan and more than 75 readers were joined by Michigan-born authors Razel Jones and Daniel Abbott to talk about their memoir. 
---
Watch Bridge's Lunch Break discussion on youth mental health in Michigan (Aug. 31, 2021)
Bridge Michigan health reporter Robin Erb moderated a Zoom discussion with three experts about problems with the state's youth mental health treatment system and potential solutions.
---
Watch Bridge's Lunch Break discussion on impact of climate change in Michigan (July 29, 2021) 
Bridge Michigan environmental reporter Kelly House moderated a Zoom discussion with two experts about our changing state and environmental justice.
---
Watch Bridge Book Club talk on 'Firekeeper's Daughter' with Angeline Boulley (July 27, 2021) 
The author joined Bridge Michigan for a discussion of her New York Times best-selling novel about Sault Ste. Marie. 
---
Watch Bridge's Lunch Break discussion on Michigan labor pipeline struggles (June 30, 2021)
The latest discussion in Bridge Michigan's award-winning monthly Lunch Break series focused on Michigan's labor pipeline struggles and what can be done to ease them. More than 60 readers joined us for this discussion. 
---
Bridge Book Club: 'The Death and Life of the Great Lakes' (May 26, 2021)
Journalist and author Dan Egan discussed invasive species in the Great Lakes and opportunities for preventing their proliferation; oil pipelines such as Enbridge Line 5; high water levels in the Great Lakes; the potential for water diversion to drought-stricken communities and answered many reader questions live.
---
Redistricting in Michigan: Where are we now (May 20, 2021)
Bridge Michigan Capitol reporter Sergio Martínez-Beltrán was joined by Mariana Martinez, director of civic engagement initiatives for the Michigan Nonprofit Association and Edward Woods III, communications and outreach director for the Michigan Independent Citizens Redistricting Commission, for an hour-long discussion about the process of drawing legislative lines. For the first time this year, it's being led by a bipartisan citizen panel rather than politicians.
---
What Covid Means for Higher Eduction (April 29, 2021)
Bridge senior writer and projects editor Ron French was joined by Maddy Day, board chair of the Michigan College Access Network,  and Ora Hirsch Pescovitz, president of Oakland University, for an hour-long discussion on this important topic.
---
Bridge Book Club : 'Annie's Ghosts' with author Steve Luxenberg (March 31, 2021)
Bridge readers were joined by journalist and Detroit native Steve Luxenberg for a discussion of his memoir "Annie's Ghosts: A Journey Into a Family Secret." 
---
Transparency in Michigan's government: Why it matters (March 30, 2021)
Bridge Capitol reporter Jonathan Oosting was joined by Steve Delie, policy lead on transparency and open government at the Mackinac Center for Public Policy, and Merissa Kovach, policy strategist for the ACLU of Michigan, for an hour-long discussion on these important topics.
---
Covid-19 vaccines in Michigan: Why lies ahead (February 25, 2021)
Bridge Michigan health reporter Robin Erb was joined by the state's Chief Medical Executive Joneigh Khaldun and Ingham County Health Officer Linda Vail included discussion of how the vaccines are currently being distributed, what is being done to ensure equitable vaccine distribution and administration, how the new COVID-19 variants affect vaccine efficacy and distribution plans, and dug into how decisions are made at the state and county level.
---
Bridge Book Club: 'Black Bottom Saints' with author Alice Randall (February 2, 2021)
BridgeDetroit and Bridge Michigan partnered to host Tuesday evening's Bridge book club discussion of "Black Bottom Saints," where we were joined by author Alice Randall
---
What's next for Bridge Michigan in 2021? (January 26, 2021)
Bridge president and CEO John Bebow, senior editor David Zeman, managing editor Joel Kurth and business editor Paula Gardner. Our leadership team answered dozens of reader questions in real time
---
Ask me anything: Covid-19 edition (December 9, 2020)
Health reporter Robin Erb, business editor Paula Gardner and data reporter Mike Wilkinson answered dozens of important questions about their experiences in reporting on this pandemic and its far-reaching effects of every aspect of life in Michigan.
---
Bridge Book Club:'The Women of the Copper Country'(October 28, 2020)
Author Mary Doria Russell discussed the process of researching and writing "Copper Country," the real-life Annie Clements and James MacNaughton, the Italian Hall disaster, and the connections between this story and Romeo and Juliet, and much more
.
---
The ins and outs of the November election (October 8, 2020)
Capitol reporter Riley Beggin moderated this engaging discussion with Lisa Brown, Oakland County Clerk & Register of Deeds and Fred Miller, Macomb County Clerk & Register of Deeds.
---
What do high water levels mean for Michigan? (September 29, 2020)
Environment reporter Kelly House moderated a discussion with special guests John LaMacchia, Assistant Director of State & Federal Affairs for the Michigan Municipal League, Richard Norton, Professor of Urban and Regional Planning at the University of Michigan, and Melissa Wiatrolik, Tribal Historic Preservation Officer for the Little Traverse Bay Bands of Odawa Indians.
---
Bridge Book Club: 'Arc of Justice' (August 26, 2020
Join author Kevin Boyle and Daniel Baxter, owner of the Detroit home where the events of the story transpired. Boyle discussed the process of writing "Arc of Justice," the enduring legacy of the case and of housing discrimination in northern cities, growing up in Detroit, and the parallels between the Jazz Age and today in Detroit and our nation. Baxter gave Bridge readers a tour of the Sweet home, which his family has owned since 1958, and discussed the restoration efforts underway and the work that is being done to turn the home into a museum. 
---
What will school look like this fall in Michigan? (August 18,2020)
Senior writer Ron French was joined by Delsa Chapman, deputy superintendent of the Lansing School District, and Steve Matthews, superintendent of Novi Community Schools to answer all your questions.
---
Racial justice and inequality in Michigan: How do we move the needle? (July 28, 2020)
Capitol reporter Riley Beggin was joined by Branden Snyder, executive director of Detroit Action, a community organization for housing and economic justice in Detroit, and Kafi Kumasi, associate professor of library and information science at Wayne State University, where she researches literacy, equity and diversity, particularly in urban educational environments.
---
Michigan primary election results (March 12, 2020)
Join Capitol reporters Riley Beggin and Jonathan Oosting for a live discussion, moderated by senior writer Ron French, about the results of Tuesday's Michigan presidential primary election and what comes next for our state in this election year.
---
Solutions Summit: Michigan's reliance on long-term substitutes in our schools (November 7, 2019)
Michigan will face an education crisis that will harm children if policymakers don't address a teacher shortage that has sparked an explosion in untrained substitutes leading classrooms.