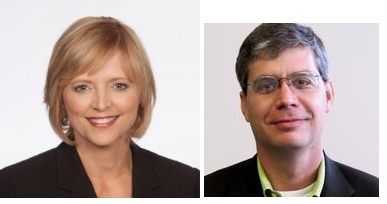 Emile Lauzzana, right, is the U.S. Green Building Council's director of community, Michigan. Connie Lilley is director of the Detroit 2030 District.
Detroit is a fiercely competitive and spirited city – it's why we like to say "Detroit vs. Everybody." We're proud of our independence, our hustle and our individuality.
But we also know a thing or two about teamwork. Detroit is full of countless stories of neighbors helping neighbors, communities working together to bring more opportunities, and business interests partnering to foster entrepreneurship and growth. We've faced some tough times, and it's brought us closer.
It's in this spirit of collaboration that the Detroit 2030 District was born. The 2030 District is a private-public partnership dedicated to creating a high-performance, sustainability-minded building district in downtown Detroit. A strategic initiative of the U.S. Green Building Council Detroit Region, the 2030 District is also led by some of Detroit's biggest names, including Comerica Bank, Bedrock, the Detroit Lions, Wayne State University, NextEnergy, JLL and more.
Participants in the 2030 district strive to reduce building energy use, water consumption and transportation greenhouse gas emissions by 50 percent in existing buildings and to build energy net-zero new construction by 2030, goals outlined by the nonprofit group Architecture 2030 in its 2030 Challenge for Planning. The built environment is one of the largest contributors to greenhouse gas emissions, but has the potential to play a central role in the mitigation of climate change. Programs like LEED, the world's most widely used green building rating system, create an opportunity to reduce environmental impacts while improving occupant health and worker productivity and saving money.
In order to help reach these goals, 2030 Districts have sprung up across the U.S. and Canada, from Seattle to Toronto to Burlington, Vermont, representing more than 300 million square feet of commercial building space. Detroit's is the 16th 2030 District and the second in Michigan – Grand Rapids launched their district in 2016.
So how does it work? In a word – teamwork. 2030 Districts are comprised of three sectors.
First, there are the property owners and building managers themselves, who lead the 2030 District and are striving to reduce their environmental impact. We're very excited about our property owner launch partners, including Ford Field, NextEnergy, the Detroit Wayne Joint Building Authority, Anew Life Prosthetics and Orthotics and others. Second, there are professional partners, who provide hands-on assistance in helping property owners meet their goals. Finally, there are community stakeholders – these are nonprofits or government agencies offering expertise and encouragement, whether it's assistance with the LEED certification process or just some simple energy efficiency tips.
This network of supporters provides for collaborative strategic partnerships and opportunities, allowing participants to work together on energy assessments, energy benchmarking, software tools, purchasing, training, guidance and more. It's working – the Pittsburgh 2030 District has saved 2.64 billion kBtu of energy since 2013, or the equivalent of a car driving for nearly 4.5 billion miles. Those savings are worth about $53 million.
Given the United States' recent withdrawal from the Paris Agreement, it's more important than ever for the private sector to commit to green building and carbon reduction. So far, more than 3 million square feet of space in Detroit has been committed to our 2030 District. We hope to see more and more buildings and organizations join the march toward a healthier, more competitive Detroit, and a more sustainable future for all.