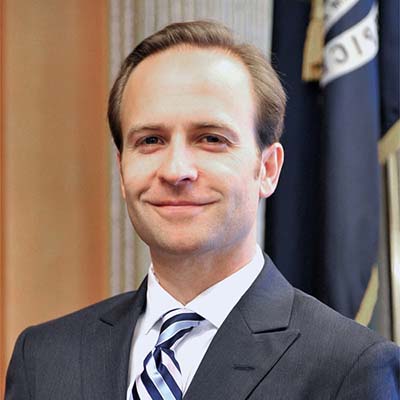 Brian Calley is the Michigan Lt. Governor. He is running against Bill Schuette for the Republican nomination for governor.
Bill Schuette claims to be for transparency. But his actions do not match his rhetoric. Part of his own plan calls for candidates to release tax returns and a personal financial disclosure as Congress does. The purpose of the personal financial disclosure is to expose potential conflicts of interest.
I proposed this same reform more than a year ago. The difference is that I have done it and Bill Schuette has not.
Why? Well, for years, including multiple times this month, Schuette said that he was unable to complete a personal financial statement because "all" his assets were in a blind trust. To be clear, I don't care what assets he has or whether they are in a blind trust. What I do care about is the stunning level of hypocrisy he has displayed in calls for everyone else to provide a personal financial disclosure and then not following through himself.
Related Michigan Truth Squad stories on Calley and Schuette:
What is worse is that it turns out that he has shell companies that hold millions of dollars in real estate holdings that he could have and should have disclosed long ago. When confronted about his ownership interest in businesses that control a $40 million real estate development in the Virgin Islands, his first instinct was to lie.  
Here's a quote tweeted by Detroit News reporter Jonathan Oosting:
"When I asked him if he'd sold land in the Virgin Islands, Schuette told me he had no idea what Calley was talking about. Later that day, his campaign confirmed he and his sisters are selling land in the Virgin Islands."
After being caught, he changed his story to say that he didn't need to put all of his assets, including real estate business entities, into a trust because he felt they did not create a conflict of interest. That's immaterial. Either assets are in the trust or he should have completed the personal financial disclosure.
He can't have it both ways.
Of course, we can't confirm whether or not conflicts of interest exist because the million-dollar-plus transactions discovered so far are cloaked behind mystery LLCs. For example, we don't know who is behind the Pelican Reef LLC or Kestral Perch LLC that bought development parcels from Schuette. We do know, however, that the transactions were worth millions.
Shouldn't we know if those who purchased the property had any dealings before state government?
So why didn't he complete a personal financial disclosure for the assets not in trust? Maybe it's because he has been using state employees, on state time, in state offices, to complete the real estate documents.
His excuse for doing this? His spokesperson says it's not a big deal because it didn't take the state employees very long. Regardless of how long it took, it's still illegal. And this comes on the heels of an earlier discovery that he has been running political field operations with taxpayer funded civil servant positions.
But the first question still remains. Now that we know that all his assets are not in a trust, why does he still refuse to complete the personal financial disclosure form? Why not do what he has demanded of everyone else? Is Bill Schuette hiding anything else?
If he is serious about transparency, he will complete a personal financial disclosure, including all businesses entities he owns and release the related tax returns for any closely held businesses. And if he's not willing to do so, perhaps he will spare us all the hypocrisy and remove the call to transparency from his website.
Bill Schuette's campaign provided documents to Bridge showing that he owns two properties on the Virgin Islands worth a total of $4 million. He inherited the property after the deaths of his mother and stepfather, who owned more property that was divided between Schuette and his sisters. Schuette does not personally own properties worth $40 million, and the real estate was not part of a blind trust set up by the attorney general.