In the wake of Baltimore burning, a question: What Would Our Leaders Do (WWOLD)?
Guest Commentary
In the wake of Baltimore burning, a question: What Would Our Leaders Do (WWOLD)?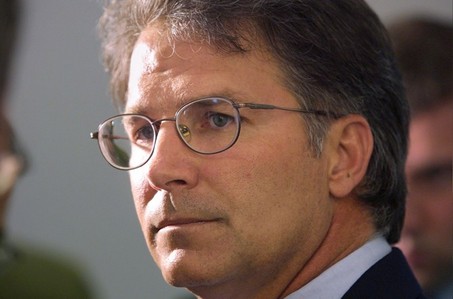 Tom Watkins is president and CEO of the Detroit Wayne Mental Health Authority (www.dwmha.com) and served as state superintendent of schools and state mental health director. He can be reached by email at tdwatkins88@gmail.com and followed on Twitter at @tdwatkins88

Like many Americans, I have been watching as our country's communities combust and boil over – with one injustice after another. Recently, protests over injustice led to riots as looting and burning erupted in West Baltimore, Maryland. It was ugly, destructive and sadly predictable.
The underbelly of urban America was again on display – the good, the bad, and the ugly again televised for all the world to see. Since West Baltimore erupted, protests and violence have cascaded into other communities across the country.
There are many communities across America with a heavy underbrush of poverty: poor housing options, people with little education or jobs, a pervasive lack of opportunity, and disenfranchised youth who are readily combustible when injustice reaches a tipping point.
We know who has the legal authority to lead, but who has the moral authority and community following to do so? We watched the missteps and miscalculations of leaders at multiple levels and were in awe of ordinary citizens emerging as true leaders.
Every neighborhood has natural leaders who emerge when the need is greatest. In West Baltimore, many ordinary citizens stepped forward to help clean up, to ask for a peaceful protest, and to get people off the streets when curfew time hit. These citizens must be recognized, nurtured and appreciated in West Baltimore and in neighborhoods across America.
The U.S. Department of Homeland Security has contingency plans to implement if and when a terrorist attack or disturbance erupts. Where are the plans to help prevent social eruptions before they explode?
As I watched the news in Baltimore, I wondered if like in Detroit in 1967, the ignition of problems in one community would leapfrog to others? Could it happen here? Clearly, the dry tinder of urban decay and lack of engagement and hope prevent far too many from entering the "River of Opportunity" that Gov. Snyder spoke of in his State of the State Address.
WWOLD – What Would Our local and state Leaders Do if similar disturbances crept into our communities or erupted with a spark of injustice?
Better still, WWOLD prior to our city erupting in an ugly disturbance and flames? Are there preventative plans in place to take the steam out of communities' grievances prior to an explosion? Is there a little jigglier, like the one on top of my grandma's old pressure cooker, to keep the kettle from exploding?
The Day After
Imagine: It is the day after an uprising in our community. Who would call the community leaders, in the broadest sense of the word, together and what plan would they devise to address the real grievances?
We should not wait for an explosion to develop a plan. Who will call a pre-emptive gathering together to devise strategies to minimize the tragedy that unfolded in West Baltimore?
Who are the formal and informal leaders, be they political, governmental, neighborhood, civic, social, labor, clergy, foundation, business, media, folks from Main Street and the "streets"?
Is the list of leaders current, comprehensive and inclusive?
We know whose responsibility it is to mobilize the police and National Guard ‒ who mobilizes the social stability guard?
Whose responsibility is it to mobilize a community stabilization team?
Once this group is pulled together, how much time is needed to introduce the "players" or do they already have a working relationship and trust that enable an action plan to be quickly agreed upon and implemented?
Wouldn't it be just as valuable to pull this coalition together, as it is to gather police and Homeland Security to analysis the current social current in our community and consider preemptive, preventative strikes to address the seeds of potential social unrest?
We could question how we are using existing resources to meet community needs and redirect silo programs to create the "river of opportunity" that places people over programs and attempts to prevent internal threats to the security and stability of our communities.
Where is the plan to preempt social frustration, disgust and injustice?
We need to organize listening tours in the neighborhoods across America seeking ideas to improve quality of life and to combat the many challenges that still exist in communities that look like a catastrophic natural disaster hit and there has been no rescue efforts undertaken. Politicians and professionals may think they know the problems and solutions, but do they?
By asking citizens to come together and share their thoughts a responsive indigenous plan could emerge. There is a need for hope and action.
No plan can preempt social frustration, disgust, distrust and injustice. Yet we must acknowledge the sedimentary build-up of anger and frustration and walk side-by-side with our fellow citizens toward a more just society.
Compassion, kindness and indigenous leadership snuffed out the flames in West Baltimore. This is a solid foundation on which to build.
There is much work we need to do to rebuild America ‒ one block and neighborhood at a time. The consequences of not doing so were on display in West Baltimore.
It is not an ideal or rhetorical question. But What WOULD Our Leaders Do? And what will YOU do?
Bridge welcomes guest columns from a diverse range of people on issues relating to Michigan and its future. The views and assertions of these writers do not necessarily reflect those of Bridge or The Center for Michigan. Bridge does not endorse any individual guest commentary submission. If you are interested in submitting a guest commentary, please contact
Ron French
. Click here for details and submission guidelines.
We're not just a news organization, we're also your neighbors
We've been there for you with daily Michigan COVID-19 news; reporting on the emergence of the virus, daily numbers with our tracker and dashboard, exploding unemployment, and we finally were able to report on mass vaccine distribution. We report because the news impacts all of us. Will you please support our nonprofit newsroom?