COVID brings Michigan a hunting boom. What that means for conservation.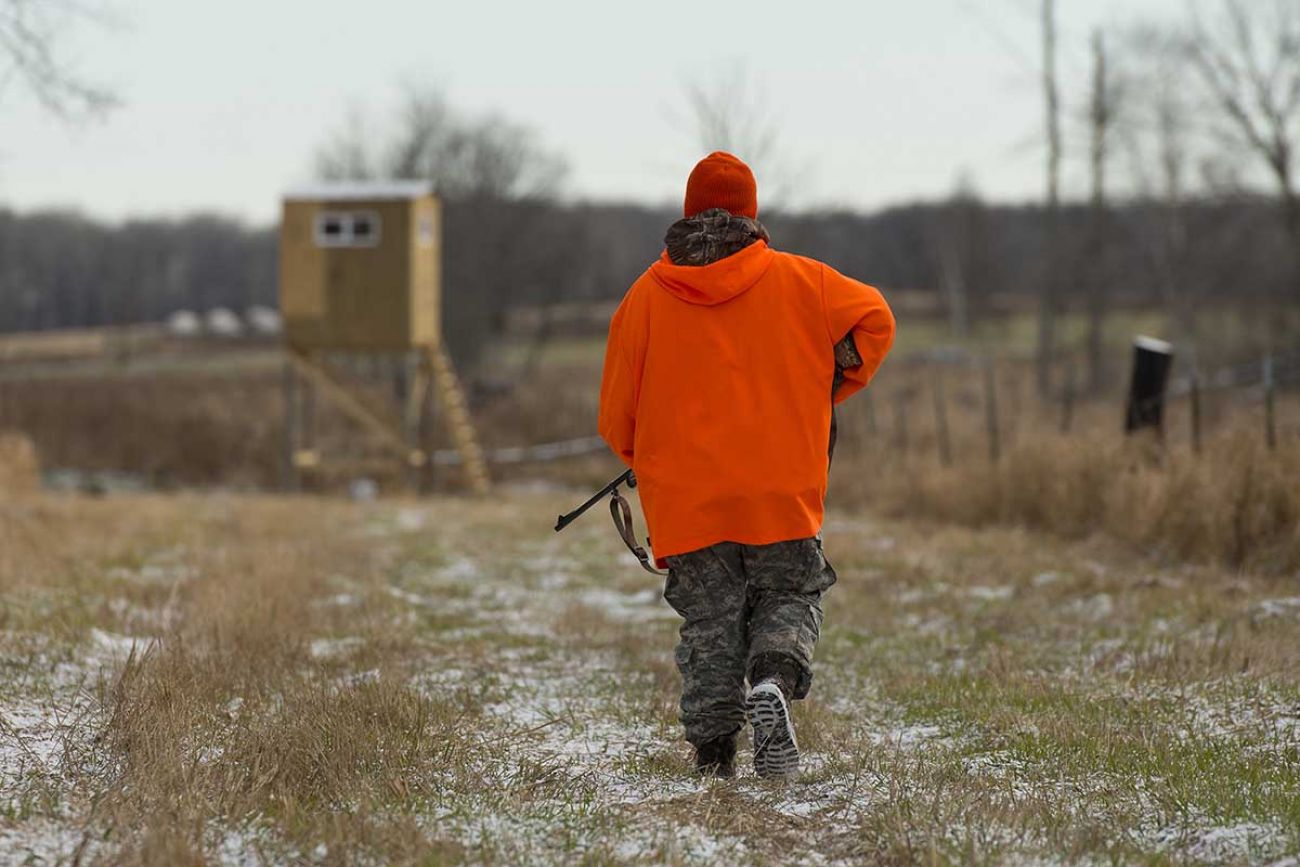 Michigan has seen a rise in hunting licenses during the COVID pandemic, particularly among young people. It's unclear if the heightened interest will last. (Shutterstock)
Claire Selby is probably not who you picture when you think of a Michigan hunter.
She's 20 years old. She's a senior majoring in psychology at Northern Michigan University. She hopes to go into nature therapy and trauma healing as a career. A lot of her friends are vegan. Yet this summer, she found herself moving through the woods of northern Michigan with a .22 rifle, careful to not make noise, looking up, down and side to side, hunting for squirrels and birds in the trees
"I don't get excited when I am about to kill an animal," said Selby, who has fished and hunted off and on for years. "I just feel extremely grateful. I feel lucky to be able to drive 10 minutes from my house and come back with a freezer full of meat for a season."
Sales of hunting licenses increased nationwide for the first time in a decade and in Michigan for the first time since 2015. That's thanks in no small part to young hunters like Selby and her Gen-Z friends who took to the woods during the pandemic in numbers not seen in years.
That's good news for conservation efforts, which have struggled as hunting — and the license fees and equipment sales that provide revenue for conservation — declined in Michigan and across the nation in recent decades. But the pandemic hunting boom may, or may not, last, raising doubts about the state's financial model for wildlife conservation.
New coronavirus, new hunters
Since the 1990s, all sectors of U.S. hunting experienced significant drops in the number of hunters, days spent hunting, and spending on equipment and trips. This trend had been projected to worsen as baby boomers put away their guns and young people have been seemingly unwilling to replace them. According to recent U.S. Census data, the number of big game hunters, a category that includes deer and elk, dropped 20 percent from 2011 to 2016, reaching a 25-year low that season.
But in a major reversal, hunting surged across the country during the pandemic. In Michigan, that translated to increased hunting license sales across species, from a 6-percent jump in small game permits and 7 percent in overall deer licenses, to a 32-percent increase in elk licenses. Fishing licenses were up, too, by 9 percent in licenses sold.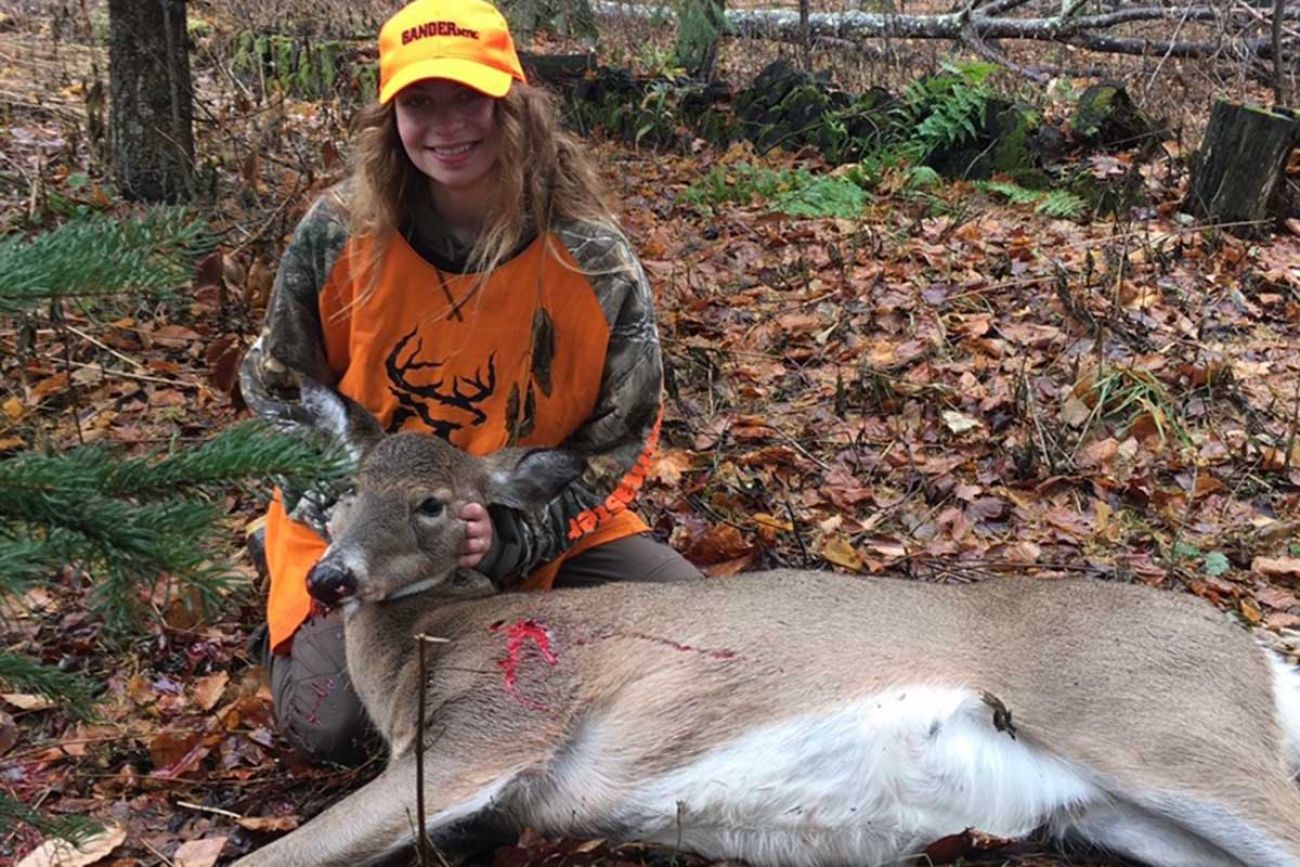 Claire Selby, seen here with a doe in Leelanau County, is a senior at Northern Michigan University. (Courtesy photo)
According to a license sales report by the Michigan Department of Natural Resources, the state sold 672,474 hunting licenses in 2020; the 6-percent rise marked the first increase since at least 2015. Driving those gains were 102,364 new hunters (hunters who have not purchased a license for at least five years), a 47-percent increase over the number of new hunters in 2019. This uptick included a 70 percent increase in licenses for 10- to 16-year-olds, which could be an important indicator of the sustainability of the sport for the future.
This new wave — if it lasts — would also provide a badly needed financial infusion for wildlife management departments.
Conservation in all 50 states is at least partially funded through an 11-percent excise tax on firearm and ammunition sales through the federal Pittman-Robertson Act. Its revenue covers around 75 percent of the state's conservation projects, including improving habitats, wildlife management research and population surveys, according to DNR funding reports. The majority of hunting and fishing license revenue goes to the Game and Fish Protection Fund, which supports "the management, research, enforcement of fishing and hunting laws and acquisition of lands to be used for hunting and fishing purposes," according to DNR.
In 2019, Michigan received over $20 million from Pittman-Robertson. That number is projected to increase as more hunting brings more tax revenue from gun and ammo sales. Though the impact of the increase in funds from Pittman-Robertson won't be felt until 2022, due to a two-year delay in budgeting, DNR spokesperson Dustin Isenhoff said, "We will certainly benefit, virtually the entire nation experienced a lift in 2020."
In short, more hunting means more money in conservation for all wildlife species.
It's one positive that has come from the pandemic. "Outdoor recreation of all kinds has been a rare way that people can safely social distance while getting out of the house," said Drew Youngedyke, director of conservation partnerships for the National Wildlife Federation Great Lakes Regional Center. "So everything from hunting and fishing to hiking and cross-country skiing have seen participation increases."
The decrease in hunting over past decades had also contributed to a troubling increase in the state's deer population, according to Kelly Straka, state wildlife veterinarian at the DNR, with a recent DNR report showing a 40 percent drop in deer kills in the past two decades.
Straka said the public should worry about deer overpopulation because "they will eat anything, they can literally decimate an entire ecosystem." She also cites significant social impacts, like more vehicle accidents involving deer, crop damage, and an increase in diseases that can spread from animals to humans like bovine tuberculosis.
2020, though, "has thrown us a curveball; we have sold more licenses than historically. It remains to be seen if this is going to be an anomaly or a new trend."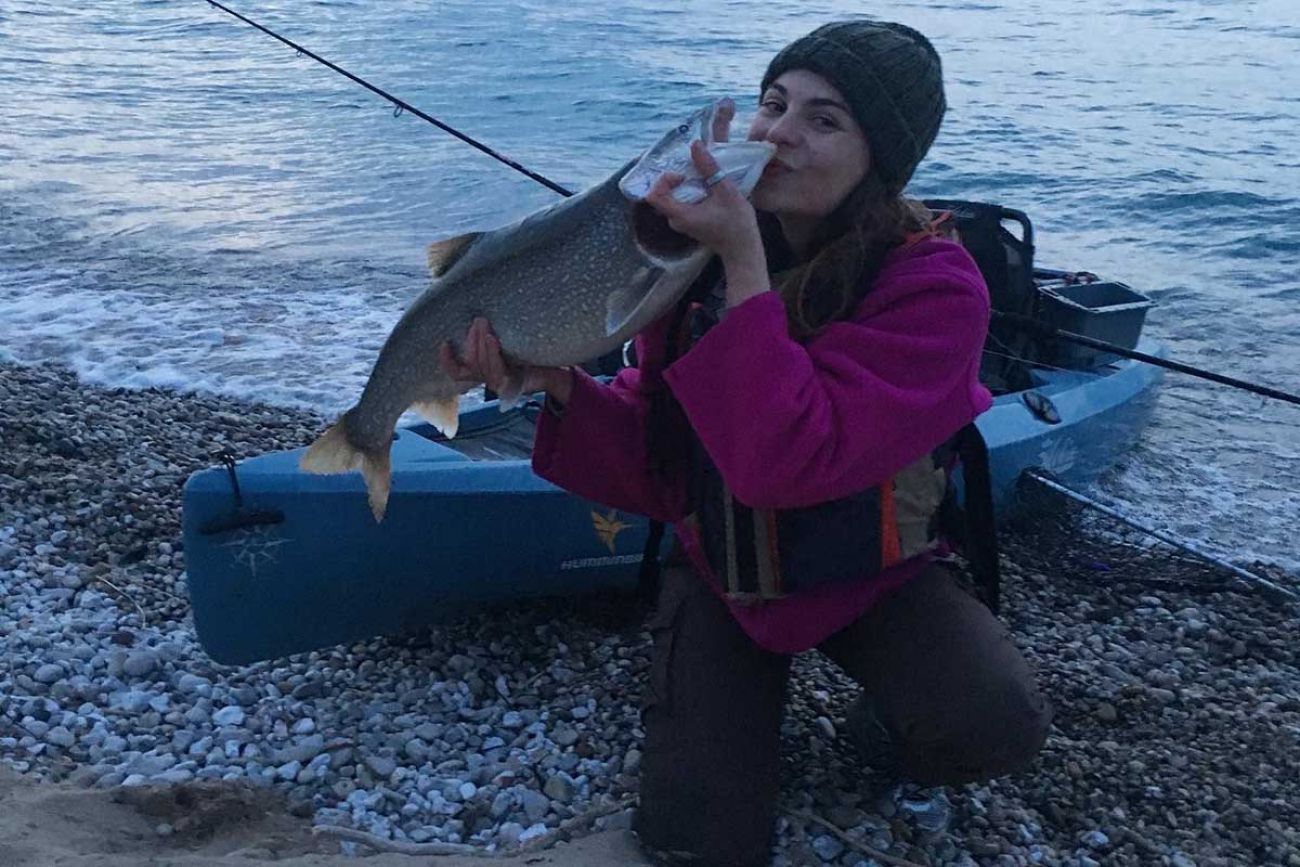 On a cold Lake Michigan morning in May, as COVID-19 was still surging in Michigan, Claire Selby caught a fresh lake trout. (Courtesy photo)
Imagining a new funding model
That uncertainty has renewed questions about the wisdom of relying so heavily on the hook-and-bullet economy to fund conservation efforts.
Marvin Roberson, staff forest ecologist at the Sierra Club of Michigan, frames the issue this way: "It depends on whether or not you are managing wildlife and the associative habitat for long term ecological sustainability or for the consumptive satisfaction of a tiny and shrinking percentage of Michigan residents. This is not about whether hunting is a good or bad thing, it's about whether managing for the satisfaction of hunters is a good or a bad thing."
Youngdyke, of NWF, said Michigan's funding conundrum for conservation efforts are indicative of a nationwide problem that may not be solved by the uptick in hunting during a pandemic. Total national spending on fishing and hunting — including everything from trip-related expenses to gear — fell from $96.1 billion in 2011 to $81.0 billion in 2016, and was predicted to continue declining before the pandemic. He hopes the recent influx of hunters will help stem the decline.
As natural resources director for the Little Traverse Bay Bands of Odawa Indians in northern Michigan, Doug Craven faces the same ecological issues as state government, such as deer overpopulation, but approaches the solution differently. He follows a collective management model that analyzes the impact one species has on another.
"Deer overpopulation leads to overbrowsing which impacts the plant communities in the forest," he said. "If those plants are near a body of water, this could lead to erosion which would then affect fisheries as well."
The problem with the state's approach, Craven said, is that it manages various components of conservation — hunting, fishing, the timber industry — independent from one another. He said he worries the state's "siloed" approach to resource management will negatively impact the environment unless DNR reforms its structure and funding model.
Youngedyke also wants to reimagine how conservation efforts are funded.
As a hunter, he said, it is very important to him to help conserve resources. However, conservation can't start and end with hunters. He would like to see broader-based investment in conservation through federal policy like the Recovering America's Wildlife Act, an effort pushed by the National Wildlife Federation that would allocate $1.4 billion annually in federal funds to states for conservation efforts. Another funding solution could be something like the Great American Outdoor Act, which went into effect in August, fully funding the Land and Water Conservation Fund for the first time in 55 years, through revenue from energy development.
"We have to break down the artificial barriers of hunters versus non-hunters in this discussion," Youngedyke said. "We all need to contribute to conservation."
Selby, the young Leelanau hunter, said she wants this new generation of hunters to approach the activity from a perspective of sustainability and connection with the Earth. If done correctly, she said, hunting can be a source of meat with a much smaller carbon footprint than what's produced from farm-raised animals. Hunting can also provide a crucial service to the ecosystem, in the face of imbalances like deer overpopulation.
"Many of my closest friends are vegan," she said, "but we still sit around the same table because I am educated on why my lifestyle is beneficial for the environment and my health. We often share similar motivations."
Michigan Environment Watch
Michigan Environment Watch examines how public policy, industry, and other factors interact with the state's trove of natural resources.
Michigan Health Watch is made possible by generous financial support from:
Our generous Environment Watch underwriters encourage Bridge Michigan readers to also support civic journalism by becoming Bridge members. Please consider joining today.
We're not just a news organization, we're also your neighbors
We've been there for you with daily Michigan COVID-19 news; reporting on the emergence of the virus, daily numbers with our tracker and dashboard, exploding unemployment, and we finally were able to report on mass vaccine distribution. We report because the news impacts all of us. Will you please support our nonprofit newsroom?