Democrats eye renewable energy reform. A mid-Michigan county may be a model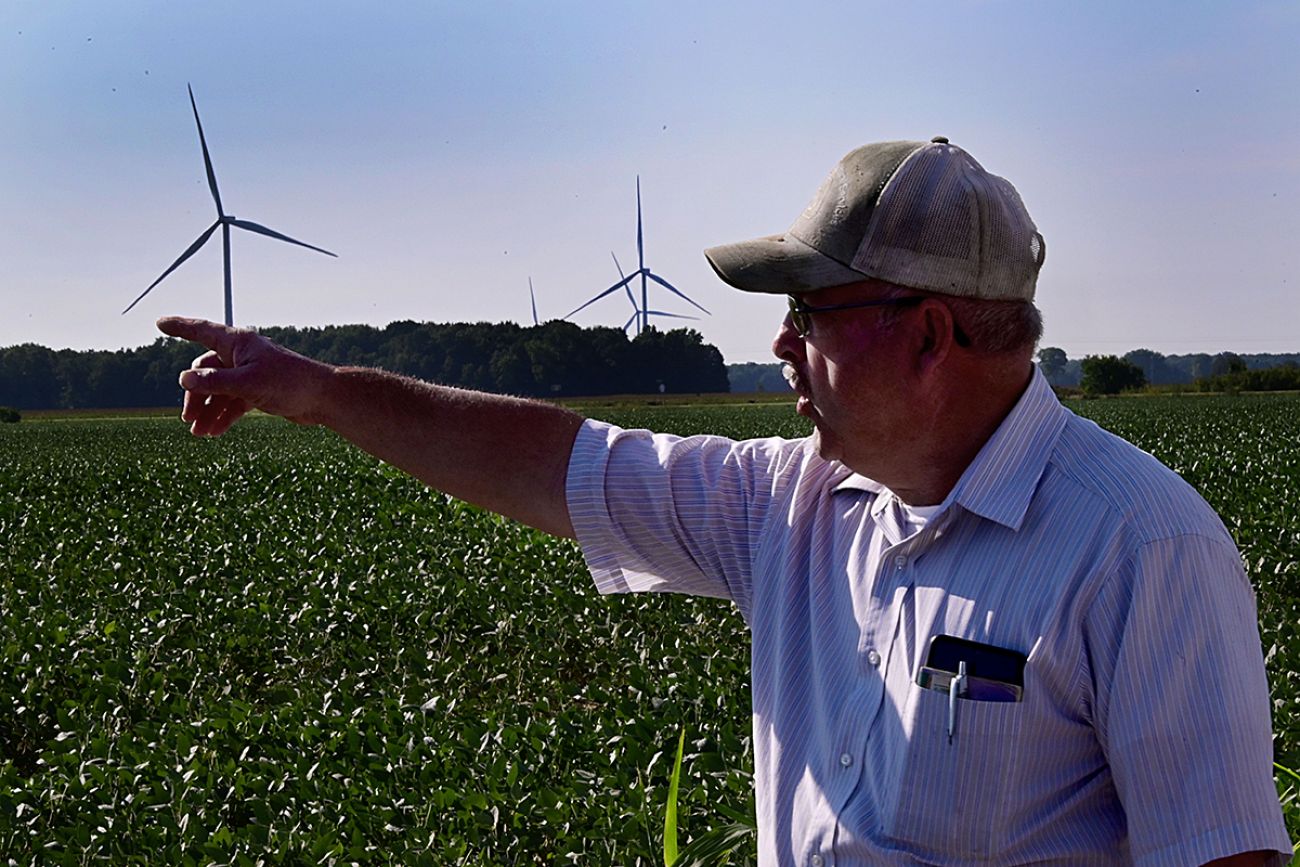 John Peck has several wind turbines on his farmland and said you get used to the "goofy things." Michigan officials hope More Michigan residents will feel the same soon. (Bridge photo by Dale Young)
State leaders may look for ways to encourage renewable energy projects in 2023
Gratiot County has bucked a trend of growing opposition to renewable energy
The rural county is adding wind and solar farms while projects elsewhere are shot down
---
NORTH SHADE TOWNSHIP – From his Gratiot County farmhouse, John Peck can see 24 wind turbines. Some are miles away across soybean fields and overlap along the horizon; others are close enough that, when it's windy, Peck can hear their distinct sound.
"They all make their own noise," Peck said. "After a while, you get used to the goofy things. You notice them at first, then they're just like another tree or a (grain) bin."
There are 345 wind turbines rising above farmland across most of Gratiot County in mid-Michigan. Some have been operating since 2011, while the latest 60 started spinning in 2021. Another 68 are under construction.
Related:
The turbines are 499 feet tall, almost as big as the Washington Monument. And with most farmland suitable for the turbines filled, county officials are now looking to develop solar farms.
Gratiot County is e a renewable energy success story in a state where frustration and delay are more common. Michigan's decarbonization goals are increasingly crimped by opposition from local residents who balk at wind turbines or solar farms in their backyards.
But with Democrats in January taking control of the state Legislature and governor's office for the first time in 40 years, there could be big implications for the state's power grid, as well as for the landscape across rural Michigan where new wind and solar farms could likely be located.
Environmental leaders say they expect Democrats to make renewable energy a priority in 2023.
While Democrats have yet to lay out policy plans, state leaders looking for lessons on how to expand wind and solar energy might look to one Michigan county where residents have gotten used to the so-called "goofy things."
One ingredient in Gratiot's secret sauce is a steady push to pitch the economic benefit that millions of dollars in tax revenue from the projects have on schools, roads and other public services.
Another is likely to cause more tension if it is attempted at the state level: Following the lead of other states and standardizing ordinances regulating renewable energy, rather than relying on townships to craft them piecemeal.
A renewable energy race
In 2021, renewable energy sources provided about 11 percent of Michigan's net electricity generation, with most of that (77 percent) coming from wind. There are 1,658 turbines across the state churning out 3,527 megawatts, enough electricity to power at least 1.4 million Michigan homes last year.
Though power produced by renewable sources in Michigan has jumped 77-fold since 2010, the state is nowhere near the renewable production officials hope to attain soon.
Consumers Energy and DTE both set goals of achieving net-zero greenhouse gas emissions by 2050. The Biden administration set a national goal of 100-percent carbon pollution-free electricity by 2035. Gov. Gretchen Whitmer introduced a plan to generate 60 percent of the state's electricity from renewable resources and phase out coal-fired power plants by 2030.
After winning re-election to a second four-year term in November, Whitmer listed expansion of clean energy as one of her goals for the next four years. In a few months, she will have a Democratic House and Senate that will be more amenable to such plans.
Committee chairs who would hold sway on energy legislation haven't been named yet for 2023. Sen. Sean McCann, D-Kalamazoo, who was the ranking Democrat on the Senate's Natural Resources and Environment, Great Lakes and Energy subcommittee during the term ending this month, told Bridge by text that "things are still in flux," and "I am deferring these kind of conversations (about energy policy) until the new year."
Whitmer spokesperson Bobby Leddy did not return a request for comment.
Meeting the state's goals requires a rapid expansion of wind and solar farms. Beyond producing carbon-free power, renewable projects provide money to farmers who lease land to developers and utility companies, as well as tax support to local schools and governments.
But expansion is opposed by some residents unhappy about looking at wind towers that can be seen for miles, and solar farms that can expand across hundreds of acres of farmland. Some residents also have concerns about possible health effects from wind turbines.
The challenges, and potential solutions, to expansion can be seen in Gratiot County, and neighboring Montcalm County.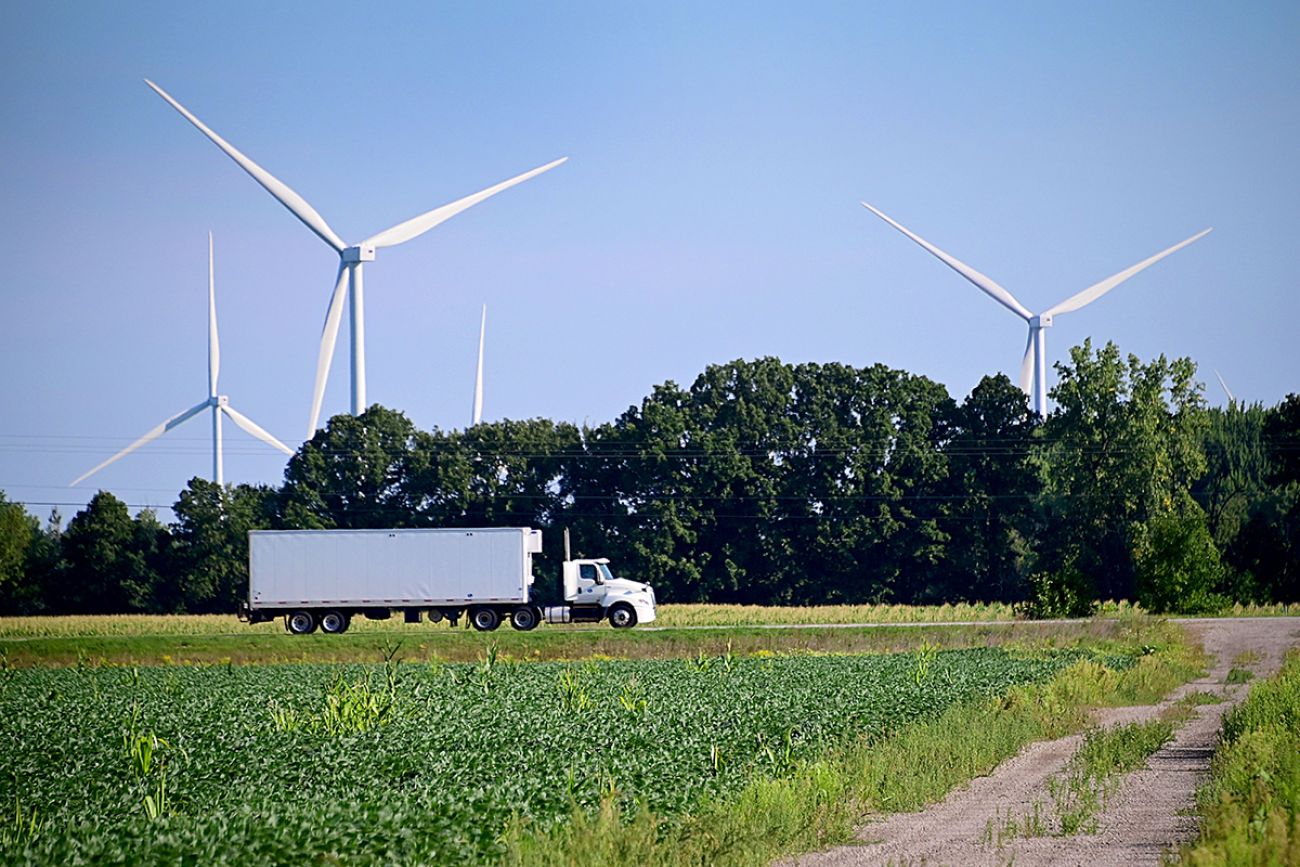 Part of the reason renewable energy projects are accepted in Gratiot County is because wind turbines are so omnipresent they blend into the scenery for residents. (Bridge photo by Dale Young)
Consistency and communication
Wind turbines currently are spread across nine of Gratiot County's 16 townships, with two more townships adding turbines in the next few years.
When all are spinning, they can produce 823 megawatts of electricity, enough to power every home in the Upper Peninsula and 18 northern Michigan counties.
In all, the power produced by this one, rural county with 0.4 percent of Michigan's residents lights up 1 in 12 homes in the state.
By contrast, there are no turbines in neighboring Montcalm County. Since August, voters there have rejected five township-level referendums that would have allowed the construction of wind turbines; one township also rejected a solar farm referendum.
All the referendums lost by at least a 2-1 margin, and seven officials in various townships were recalled by campaigns that labeled them as pro-wind.
Two differences between the two counties' response to renewable energy development stand out to James Wheeler, president of Greater Gratiot Development, a business development organization based in Ithaca.
First, township and county officials proactively approved development policies for wind farms that were adopted in most of Gratiot's townships prior to the approval of renewable energy projects.
"Developers knew what they were dealing with and knew they'd have the same policies between townships," Wheeler told Bridge Michigan. That's important because utility-scale energy projects often cross township lines.
In Montcalm, townships developed their own policies, such as how tall wind turbines could be, and how far away the turbines must be from neighboring homes.
That's the norm in Michigan. Currently, wind and solar projects must be approved by township officials – such as local planning boards and township trustees.
In some Midwest states, including Ohio, Wisconsin and Minnesota, site approval for utility energy projects is done at the state level. Minnesota has almost triple the percentage of its power produced from renewable sources (29 percent, compared to Michigan's 11 percent), and Ohio's renewable energy production, while currently lower than Michigan's, is growing faster.
Michigan has a tradition of "local control" on matters ranging from schools to zoning. While that was also true in Gratiot County, a decade ago, township officials there got together and wrote policies that were standardized and approved across township lines.
"By having that ordinance like that, it made it easier for companies and farmers to negotiate on leases on different land in different townships, without materially affecting a project," Wheeler said.
Charlotte Jameson, chief policy officer for the Michigan Environmental Council, said environmental groups and utility companies are eyeing a similar type of renewable energy siting standardization, either at the county or state level.
"We want something around siting of renewable energy," that takes approval of projects out of the hands of local township officials, Jameson said.
"We will 100 percent not be able to build out renewable energy without some kind of siting solution," Jameson said. "The people who are interested in expanding renewable energy — labor, environment, workforce development, utilities — without a (siting) solution, it becomes difficult to meet their commitments."
Nick Occhipinti, government affairs director for Michigan League of Conservation Voters, said there have been "quiet discussions with stakeholders" about the possibility of some type of overarching siting regulations for renewable energy projects.
"Folks recognize the opportunities and the restraints of the difficult discussions that need to be had," Occhipinti said. "These are one of the bottlenecks standing in the way of incredible opportunities."
Andrew Vermeesch, legislative counsel for the Michigan Farm Bureau, said he doubts the state would seriously mull taking siting decisions for renewable energy away from township officials.
"Michigan has a long history of letting local communities have control of siting and deciding what is best for local communities," Vermeesch said. "I see that continuing."
Jameson isn't so sure.
"Is it a heavy lift? Sure," she said. "We're a local control state, up to the point where leadership thinks there are better statewide solutions."
'They don't belong'
For now, though, renewable energy is losing the public relations war in many parts of the state.
In Montcalm County, opponents of wind and solar projects were more organized and passionate than supporters. When developers come into a community to pitch new projects, opposition often forms online, with local residents gathering information from residents who've fought wind and solar farms in their own communities.
In Gratiot County, John Ratu isn't happy about the more than 20 wind turbines, on neighbors' property, surrounding his 1800s farmhouse. The turbines scrambled the TV reception from his roof antenna. At night, red blinking lights come on when a radar system spots an airplane in the area. Sometimes the radar is fooled by flocks of geese, and all the lights flash on at once.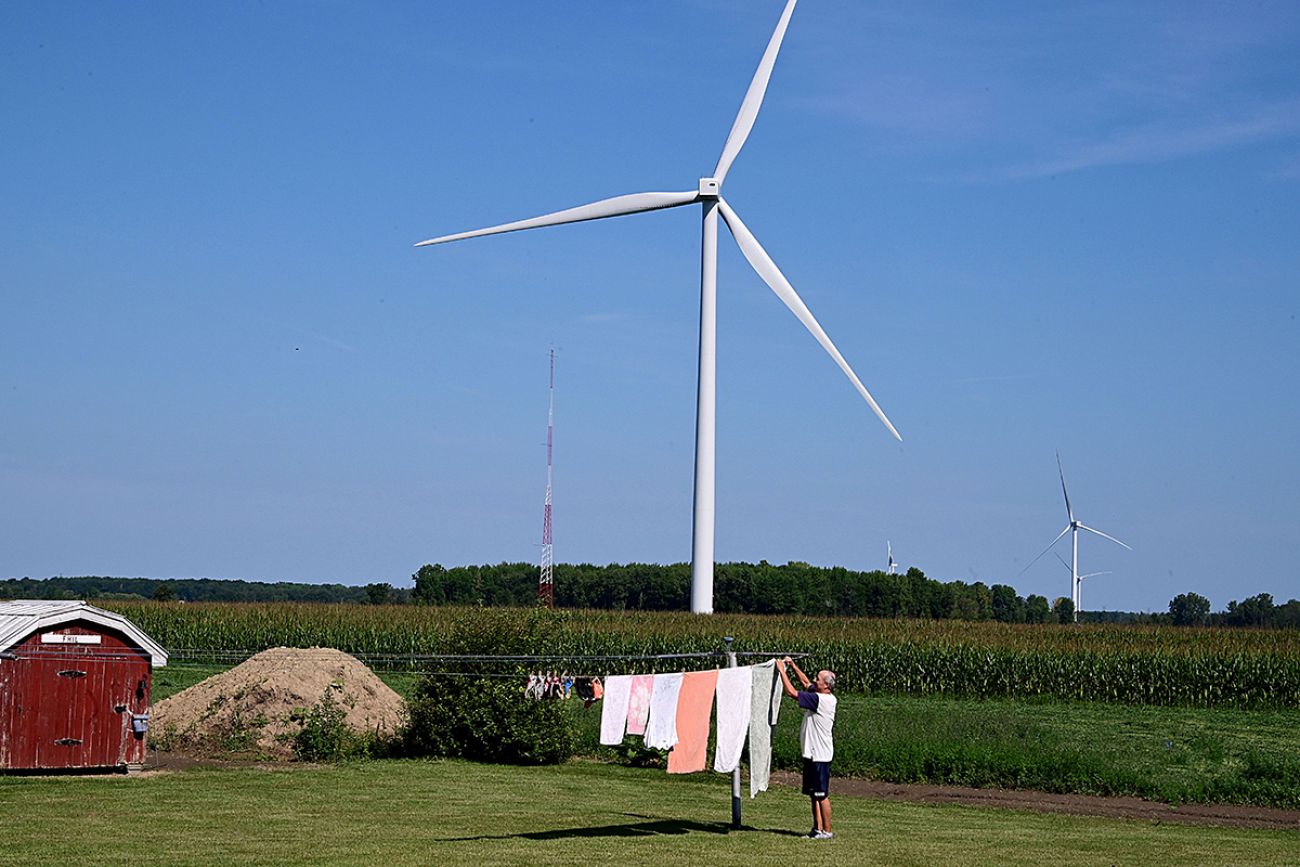 John Ratu's wife's family cleared the land for the 1800s farmhouse they call home. Now, the house is surrounded by wind turbines that sometimes sound like a jet on the tarmac. (Bridge photo by Dale Young)
"I didn't want them," Ratu said of the turbines. "Just look at them. They don't belong in this landscape.
"My wife's family cleared this land for farming (in the 1800s). Putting these things up was not their vision."
Unlike a few miles away in Montcalm County, though, Ratu and fellow critics haven't picketed meetings or recalled pro-wind neighbors serving on township boards.
For the most part, the giant turbines, if not embraced, have been grudgingly accepted.
"There are days when that turbine out there sounds just like a 737 sitting on a runway," Ratu said. "It's not painfully loud, but it's steady, … like a tractor out in the field."
He opposed the wind project before the turbines were installed near his home in 2020, and he still wishes they weren't there. Still, he acknowledges he has "mixed feelings" about the contraptions.
"I haven't heard many people complaining about them," he said. "There's obviously nothing you can do about them now, they're here for 20 years at least.
"I think a lot of people were in favor of them."
Developers had the advantage in Gratiot of getting the first turbines up and running in the county in 2012, before state and national opposition grew to renewable projects. Once turbines became part of the scenery, it was easier to add more.
Another initiative that helped initially sell —and later expand — renewable energy in Gratiot was a steady drumbeat of promotion about the money wind projects were going to bring to local schools and governments.
Between 2012 and 2021, taxes paid to local governmental units in Gratiot County by renewable energy developers total almost $71 million. In 2021 alone, county services received $4.2 million, cities and townships got $1.5 million, and schools received $6.6 million.
Wind tax funds have helped sustain the county's Meals on Wheels program for seniors, and expand several county parks. In North Shade Township, where Peck is a trustee, the number of miles of roads that were repaved this year jumped from three miles to 10 miles, Peck said.
And while utility companies have gone to court to reduce their tax burden for renewable energy projects, the funds local schools and towns still receive would be hard to replace.
"Most people just don't have an idea of how much those dollars are in some of these little rural townships that have very little money, very small budgets," Wheeler said. "Turbines go up and all of a sudden, you get a windfall. Most of them use it to fix their roads and do some other basic services."
Communicating the economic value of renewable energy to residents who don't directly benefit from lease payments is key to getting projects approved, said Occhipinti. That type of sales pitch is something the state could invest in going forward, he said.
"We've got to get to a place where people welcome (the projects)," Occhipinti said.
Michigan Environment Watch
Michigan Environment Watch examines how public policy, industry, and other factors interact with the state's trove of natural resources.
Michigan Health Watch is made possible by generous financial support from:
Our generous Environment Watch underwriters encourage Bridge Michigan readers to also support civic journalism by becoming Bridge members. Please consider joining today.
Only donate if we've informed you about important Michigan issues
See what new members are saying about why they donated to Bridge Michigan:
"In order for this information to be accurate and unbiased it must be underwritten by its readers, not by special interests." - Larry S.
"Not many other media sources report on the topics Bridge does." - Susan B.
"Your journalism is outstanding and rare these days." - Mark S.
If you want to ensure the future of nonpartisan, nonprofit Michigan journalism, please become a member today. You, too, will be asked why you donated and maybe we'll feature your quote next time!