Did hazardous waste facility's unreported errors put Detroiters at risk?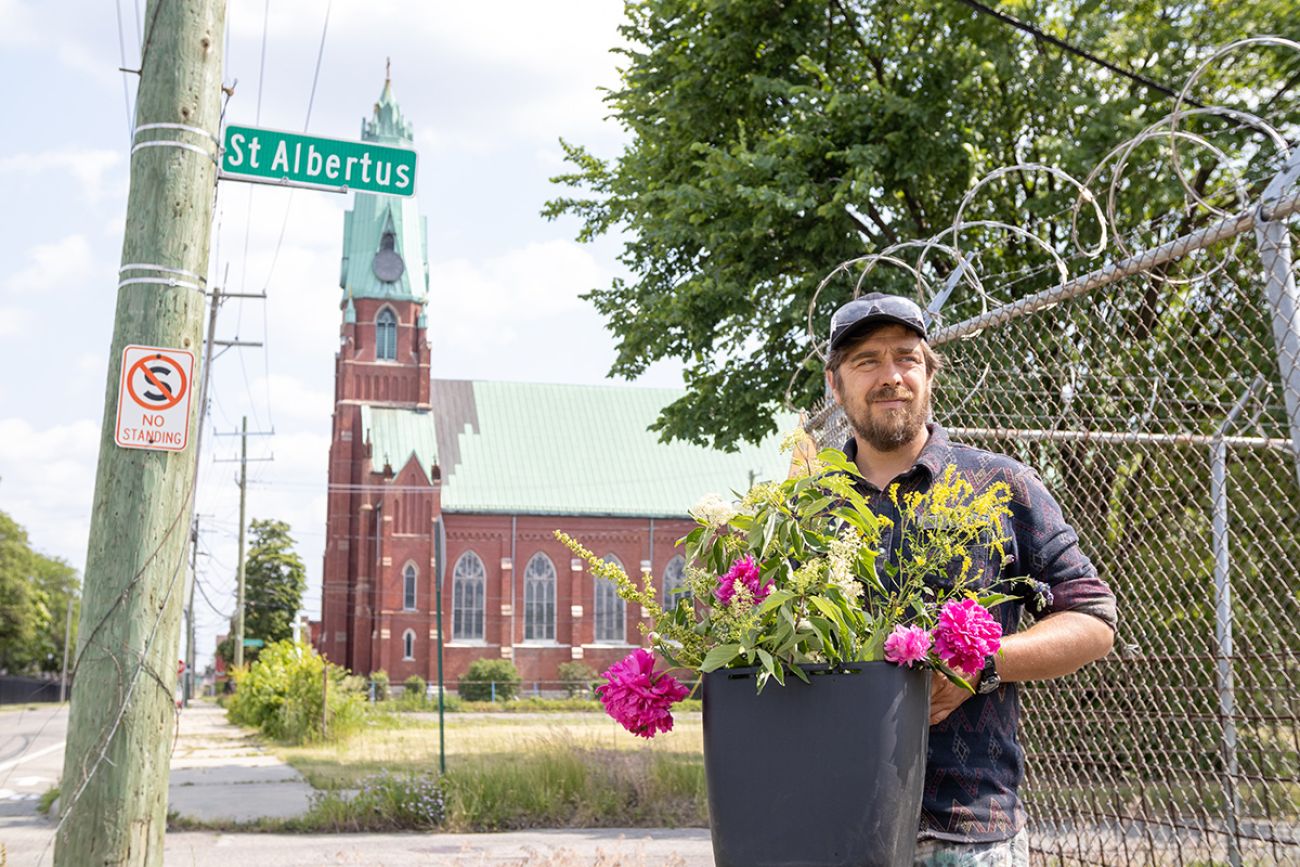 Tim Nutt is photographed June 14, 2023, in his backyard. Nutt said there are around 30 days a year that he can't enjoy his backyard because of the smells. (Photo by Quinn Banks)
A hazardous waste treatment facility, just blocks from the recently imploded Detroit incinerator, knowingly operated for five years with leaky and damaged storage vaults, potentially threatening the health of nearby residents in Poletown.
US Ecology, a national hazardous waste treatment company, did not document the issues on inspection reports at its Detroit South plant, and state environmental regulators did not catch the problems until April of this year.
The delay has prompted questions from some residents and environmental experts about the effectiveness of the Michigan Department of Environment, Great Lakes, and Energy (EGLE) which monitors and regulates environmental issues in the state. US Ecology is among multiple industrial facilities in Michigan with a history of violations and consent orders that continue to violate with little restriction and penalty.
Related:
"These are certainly serious violations," Nicholas Leonard, executive director for the Great Lakes Environmental Law Center told BridgeDetroit.
"US Ecology South has been operating in violation of federal hazardous waste regulations since at least 2018 and even worse it failed to ever notify EGLE about it," he said in an email.
Last week, US Ecology officials imposed a three-week shut down of operations at the site to conduct an extensive evaluation of the cause of the violation: liquid found outside of the primary storage container which could indicate potential contamination of groundwater.
The facility at 1923 Frederick Street has often found itself at the center of public outcry, with residents reporting strong odors of rotting fish and bleach and more than 40 environmental violations in less than a decade. In 2020, the company signed a consent order with EGLE to address the ongoing violations. But the consent order has been ineffective; on May 31 US Ecology received its 41st violation since 2014 and the 14th violation since it signed the order.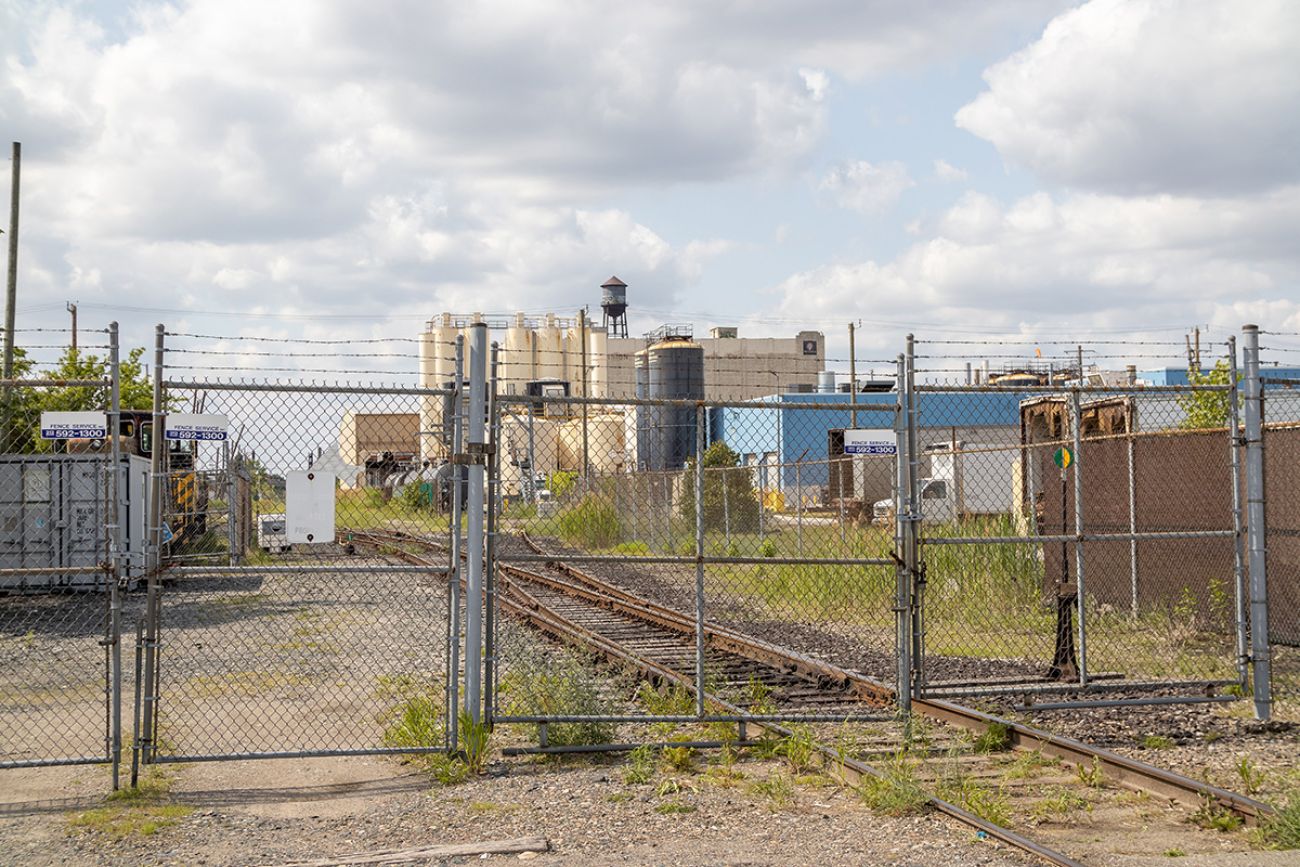 U.S. Ecology South at 1923 Frederick Street received its 41st environmental violation in less than a decade on May 31, 2023. (Photo by Quinn Banks)
The most recent violation notice was issued as the result of an April inspection where EGLE found four violations. The violations included damage to the vaults that store hazardous waste, and the presence of liquid in secondary containers in place to contain and alert company officials to potential leaks from the vaults. If liquid is found in the secondary containers, it means the storage vaults have failed and could be leaking to groundwater. The notice also included a violation for failure to notify EGLE that the company has been aware of liquid in the secondary containers for several years.
US Ecology told EGLE that there has been liquid in the ports and secondary containers since around 2018, according to the violation notice, but none of the company's inspection reports reflected it. Instead, the company had been pumping the water out of the ports every day. The ongoing presence of liquid in the detection ports means it's impossible to know when there's a leak, EGLE's violation letter notes.
Federal regulations require that US Ecology shut down the vaults if liquid is found in the secondary containers, report the issue to EGLE, and identify if there has been a release to the environment, according to Leonard.
"US Ecology did none of that," said Leonard. "These violations seem to indicate that hazardous waste may have been released from US Ecology South into the environment, although EGLE's violation notice stops short of saying as much," he added.
In 2020 the law center filed a civil rights complaint against EGLE regarding its permit approval for US Ecology to expand its North operations on Georgia Street near Hamtramck. In 2013, US Ecology signed a consent order with the state for its North facility after a number of violations.
Roman Blahoski, director of external communications for Republic Services which owns US Ecology, said the liquid was due to groundwater seepage into the secondary container area.
"Republic Services is committed to operating safely, responsibly and with care for the environment," Blahoski said in an email to BridgeDetroit.
"Testing confirmed that it is benign groundwater, and there are no indications of any impact to the environment or human health. In coordination with EGLE, we paused treatment operations to implement corrective actions, which will help ensure we meet or exceed compliance standards and community expectations," he said. Blahoski did not address why it was not properly reported for five years.
According to the violation notice the test results were insufficient to locate the source of the liquid. Even if the water is benign, the presence of it indicates a connection to the subsurface, meaning that the waste could impact groundwater, according to the violation notice.
EGLE spokesperson Jill Greenberg told BridgeDetroit that although there have been US Ecology violations since the consent order was signed not all are eligible for stipulated fines because they occurred within a 120-day timeframe given as a grace period, and others were for breaking different rules than the ones the consent order applied to.
EGLE did not respond Wednesday to questions of why it took five years to assess a violation for the US Ecology liquid leak issue.
Environmental consultant and former senior geologist for the Michigan Department of Environmental Quality, now EGLE, Mike Wilczynski, said it's not unusual that issues like US Ecology's go unnoticed.
"Inspections are infrequent and I'm not sure how thorough they are sometimes," he said. EGLE did not respond to claims that the department is not thorough.
It is not just US Ecology's violations that EGLE has struggled to enforce. In Detroit, Stellantis, formerly Fiat Chrysler Automobiles, first signed a consent order in 2013, and another in 2022 for a different Detroit facility, but has continued to receive violations for the factories, with the most recent in May. Similarly, Marathon Petroleum Corporation has signed three consent orders, one in 2014, 2016, and 2021, but has continued racking up tens of violations with the most recent violation in March. Detroit Renewable Power, owner of Detroit's incinerator, agreed to a consent judgment in 2011, and a consent order in 2017, but also continued to receive violations after the orders were put in place.
Wilczynski, a geologist with Pangea Environmental, LLC who does environmental consulting for residents near US Ecology, said he's "glad" US Ecology has shut down for evaluation, noting that the vaults "may be compromised and allowing groundwater to come in and mingle with the contaminants."
An analysis of a water sample provided by US Ecology from one of the secondary containment areas showed the presence of metals which could pose a threat to human health. Wilczynski hopes to see the concentration levels of the contaminants found to understand the true threat it could pose.
Wilczynski previously expressed concerns about potential groundwater contamination from US Ecology in response to a 2019 study that found evidence of leaky sewers in the neighborhood.
"It's been hiding in the shadows of the incinerator for the last 20 years," resident Tim Nutt said about US Ecology, explaining that whenever there were bad smells everyone would blame the incinerator on Russell Street, next to US Ecology. The incinerator closed in 2019 and its smokestack was demolished earlier this week.
"US Ecology is, in my mind, a much worse environmental polluter than the incinerator was," Nutt said.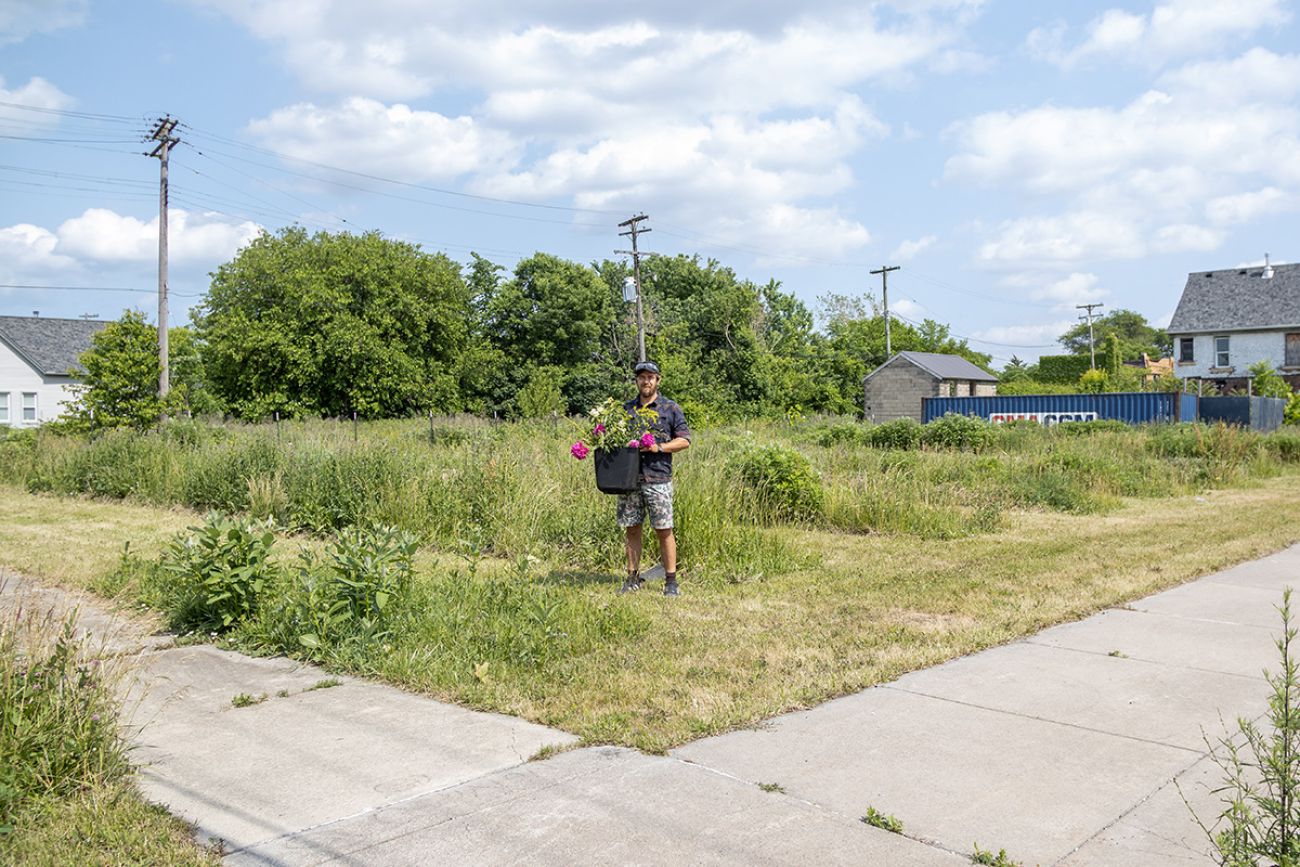 Detroit resident Tim Nutt called US Ecology "a much worse environmental polluter" than the former incinerator blocks away that shut down in 2019. (Photo by Quinn Banks)
Nutt lives less than a mile from US Ecology and has a farm in the neighborhood. He said there are around 30 days a year that the smells are so bad he doesn't want to go outside.
"I feel like I'm getting poisoned," he said, explaining that he can often smell gas coming out of the sewers that makes him feel nauseous.
"The incinerator was bad, but there were all these other bad actors, especially US Ecology right next to the incinerator, that weren't getting any attention," he said.
"I just find it amazing that they [the city and EGLE] haven't taken it seriously and that we're in downtown Detroit and this is a highly, highly polluting site."
City spokesperson Georgette Johnson said US Ecology is within the state's jurisdiction and that the city is always advocating on behalf of residents.
The data in this chart comes from Table B25002 in the U.S. Census Bureau's ACS 2021 5-year release. The chart is from Census Reporter, a project to make Census data easier to use and understand.
Nutt said US Ecology and the incinerator have resulted in a "massive decline in the population of this neighborhood."
One study from the nonprofit the Ecology Center found that children in the neighborhood are five times more likely to be admitted to the hospital for asthma, compared to other Michigan residents. There are approximately 125 households in the immediate census tract around US Ecology, according to US Census data. More than half of the homes (51%) are estimated to be vacant, more than double the vacancy rate of Detroit, according to U.S. Census Data with a 10% margin of error rate.
EGLE on Monday said in a press release that it is planning to place a new air monitor near US Ecology-North using federal American Rescue Plan dollars to measure fine particulate matter and black carbon, two kinds of pollution. The department anticipates having the monitor set up by the fall, or spring 2024.
Even federal representatives have taken note of the severity of US Ecology's violations.
In December 2022 the Committee on Oversight and Reform Subcommittee on Environment sent letters to US Ecology and Stellantis demanding accountability.
The letters were sent following an August field hearing when elected officials heard from residents near Stellantis and US Ecology about how the ongoing odors and pollution affect their lives.
Wilczynski said despite the letter and two-year consent order between EGLE and US Ecology, the violations haven't stopped.
"EGLE hasn't been very good at following up on complaints and enforcement," he said. "I kind of wonder when EGLE's really going to get serious."
Michigan Environment Watch
Michigan Environment Watch examines how public policy, industry, and other factors interact with the state's trove of natural resources.
Michigan Health Watch is made possible by generous financial support from:
Our generous Environment Watch underwriters encourage Bridge Michigan readers to also support civic journalism by becoming Bridge members. Please consider joining today.
Only donate if we've informed you about important Michigan issues
See what new members are saying about why they donated to Bridge Michigan:
"In order for this information to be accurate and unbiased it must be underwritten by its readers, not by special interests." - Larry S.
"Not many other media sources report on the topics Bridge does." - Susan B.
"Your journalism is outstanding and rare these days." - Mark S.
If you want to ensure the future of nonpartisan, nonprofit Michigan journalism, please become a member today. You, too, will be asked why you donated and maybe we'll feature your quote next time!