News about water quality at Michigan beaches isn't all bad, despite an unusually high number of closures in the Upper Peninsula this year.
Michigan in recent years has seen fewer beaches register unsafe levels of E. coli,  the bacteria in human and animal poop that most often keeps folks out of the water.
Just 19 percent of public beaches monitored in 2016 and 2017 exceeded E. coli limits, according to a state Department of Environmental Quality report. That was down from 25 percent in 2015 and 27 percent in 2012.
And a trio of beaches along the Grand Traverse Bay are now less likely to show up on that list. That's because the nonprofit Watershed Center Grand Traverse Bay — using about $2 million in federal Great Lakes Restoration grants — took steps to reduce runoff pollution in recent years.
Grand Traverse Bay
Bridge Magazine recently spoke with Sarah U'Ren, the nonprofit's program director, about that effort. The conversation has been edited for length and clarity.
Bridge: What beaches would you point to as success stories?
U'Ren: We've done three projects specifically targeting elevated levels of beach E. coli. Our most successful is Suttons Bay (about 15 miles north of Traverse City.) Before the project, we had to post health advisories about once every-other-year.
Bridge: Every-other-year doesn't sound too bad.
U'Ren: Our beaches up here are really super clean. It's not like Chicago, where a beach might be closed half the summer. But Traverse City and the region thrives on tourism. So if any of our beaches close, it's in the news. People are worried about it and they want to make sure they're not swimming in bad water. It's not good for the economy.
Sarah U'Ren is program director of the Watershed Center Grand Traverse Bay, a nonprofit that led efforts to reduce pollution at beaches along the Grand Traverse Bay.
Bridge: What did the Suttons Bay project look like?
U'Ren: We installed 18 rain gardens throughout the village in 2013 along with an underground infiltration trench. The point: E. coli was coming from stormwater runoff that was picking up all the nasty things along the roads and parking lots. It would flow into storm drains that outlet next to beaches; that's what we see here and in a lot of places across Michigan. Now the rain gardens in Suttons Bay are really thriving, keeping wastewater from flowing onto beaches.
Bridge: What about your group's other projects?
U'Ren: Our other success stories are at two beaches in Traverse City — Bryant Park and East Bay Park. In one case, we used green infrastructure and in the other, we used an anti-microbial filter (that system, in Bryant Park, included a series of tanks to remove trash and sediment before the water flowed into an underground filter that removed microbes.)
Bridge: Where was the E. coli coming from on those beaches?
U'Ren: In East Bay Park, the E. coli problem was caused by a lot of racoons living in a storm drain. A camera survey showed lots of racoon eyes staring back at them, and they also found lots of racoon feces. In Bryant Park, it was animals like deer.
Bridge: That sounds like an important piece of addressing this — figuring out where the E. coli is coming from.  
U'Ren: We just wanted to know if it's human or not. If it's human, it could be dirty diapers or a leak in the sanitary system — someone's dumping something. That tells you which way to go with your management efforts. Once you know your source of E. coli, that's half the battle.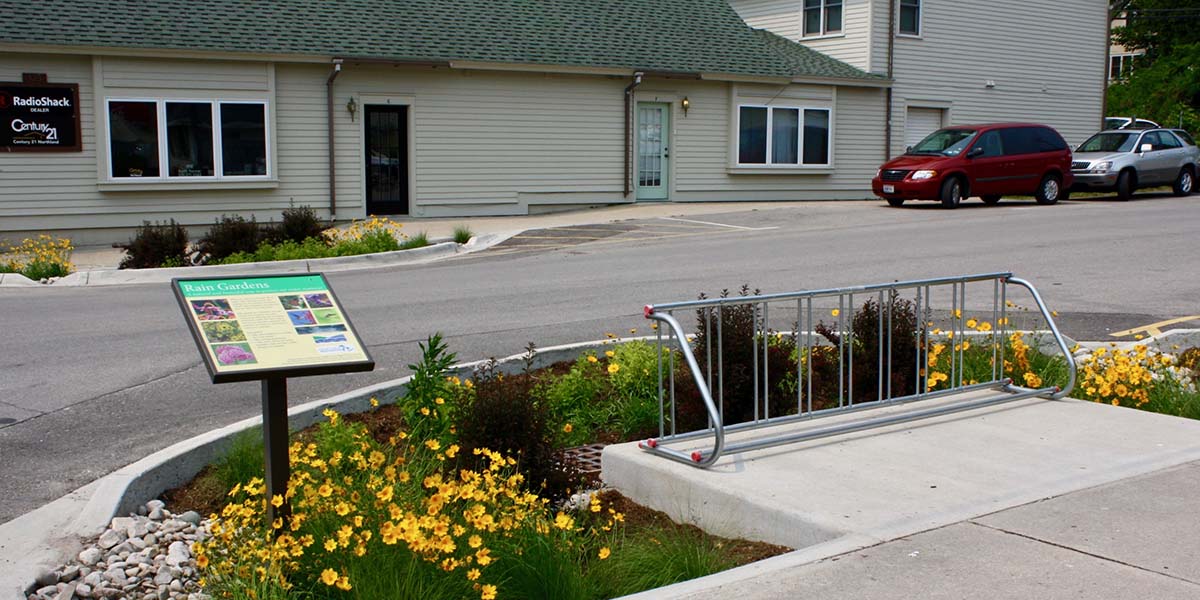 The Watershed Center installed these rain gardens at Suttons Bay in Beach Traverse City — an effort to keep harmful bacteria from flowing into the water.