As hunting wanes, fear of a southern Michigan deer invasion grows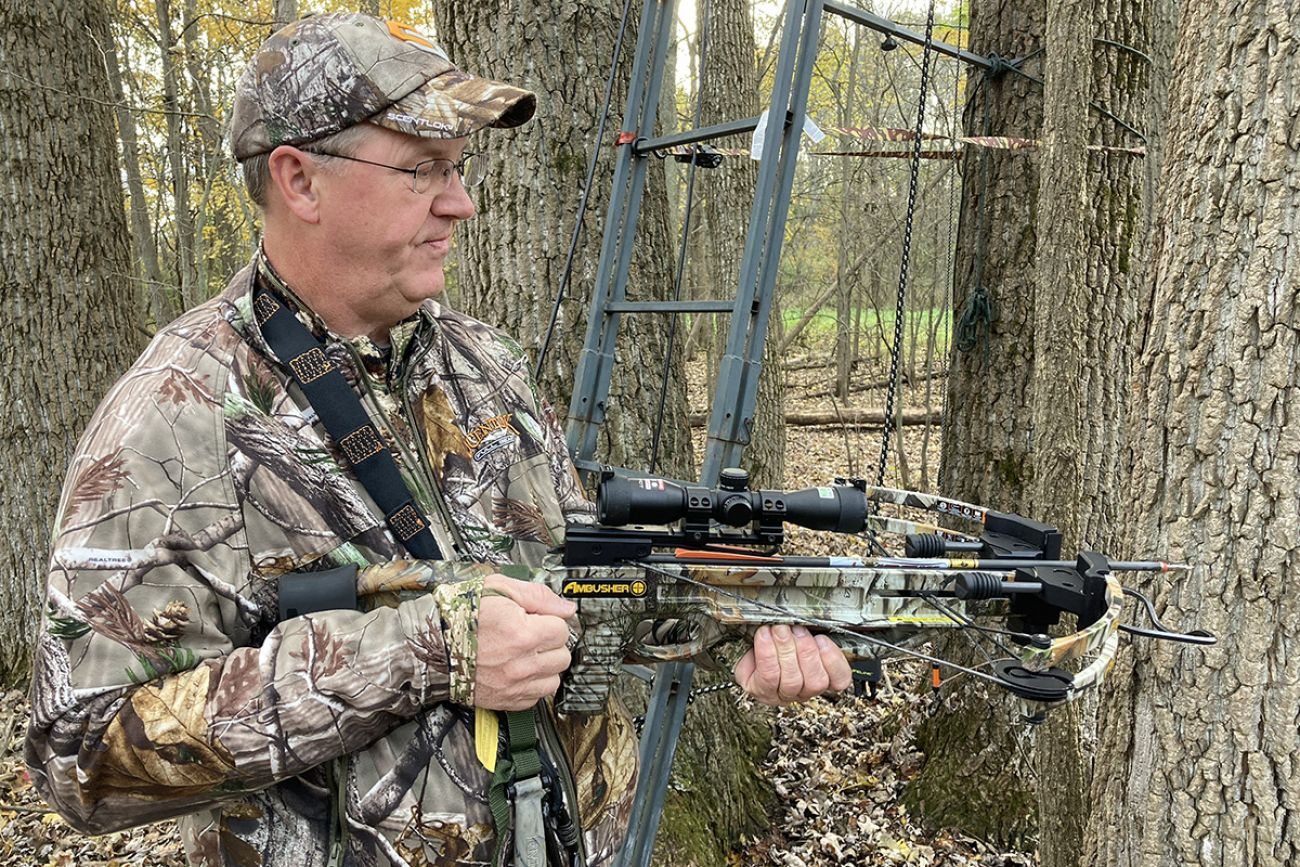 Matt DeLong demonstrates how to use his crossbow as he prepares to hunt deer at Meridian Township's Sander Farm Preserved Natural Area. Large deer herds in the suburban township east of East Lansing have destroyed habitat in parks and irked residents. (Bridge photo by Kelly House)
MERIDIAN TOWNSHIP—On a residential street a mile from the nearest shopping mall, Matt DeLong parks his truck and slips into his hunting camo.
Crossbow in arm, he trudges to a hunting blind that affords him a bird's-eye view of dog-walkers, joggers, and the sizable deer herd that frequents this 34-acre natural area just east of Lansing, tucked between Meridian Township's neighborhoods and strip malls.
At night, the animals venture into neighborhoods to devour hostas and raid birdfeeders, sometimes getting hit by cars on the way. This isn't the tranquil, wild hunting experience Delong relishes, but he sees it as a public service.
Related:
"We've taken seven deer off this property so far this year," said Delong, who hunts the natural area as a volunteer in the township's deer culling program. "They're such beautiful animals — I love to see deer — but too much of a good thing is the problem."
They're nature's gentle beasts, but in parts of Michigan they've grown so numerous that they're becoming a destructive nuisance, edging out other species like woodland songbirds, devouring agricultural crops and backyard gardens, stunting forest growth and driving up the rate of auto crashes.
And with traditional deer hunting in decline and continued land development pushing humans and wild animals ever-closer together, species managers say the imbalance now felt most acutely in southern Michigan's suburbs is likely to continue spreading across the Lower Peninsula.
"At some point," said Chad Stewart, a deer, elk and moose management specialist with the Michigan Department of Natural Resources, "the concern is that those trends will reach a breaking point."
More hostas, fewer hunters
A highly reproductive prey species, deer can start breeding as early as their first year of life, often having twins or even occasional triplets every year until they die.
"Deer are really good at doing really well," said Sonja Christensen, a deer expert and faculty member at the Michigan State University Department of Fisheries and Wildlife.
Three major survival challenges limit their growth: Harsh winters, limited food or habitat, or death at the hands of animal or human predators.
But hunting and trapping in decades past wiped out many of the Lower Peninsula's top predators, such as wolves and cougars. Southern Michigan winters, mild compared to the harsh U.P. winters that limit deer abundance above the bridge, are growing warmer as human fossil fuel consumption heats the planet. And agricultural development and suburban growth have added a buffet of food options that don't exist in the wild.
"When you have agriculture right next to some forested woodlots right next to some suburban areas, that's awesome habitat for deer," Christensen said.
That combination of factors leaves hunters as one of few reliable checks on the Lower Peninsula's deer herd. When hunters were abundant, it was easy for wildlife officials to adjust deer populations up or down by allowing hunters to kill more or fewer deer.
But Michigan hunting has been on a downward glide path since the mid-1990s, with the exception of a small uptick last year as COVID-19 introduced newcomers to outdoor recreation.
Even with that brief rebound, there were 270,000 fewer deer hunters in Michigan's woods last year than there were in 1996, and Stewart said the state could lose another 100,000 over the next decade.
Those hunters are also killing fewer deer per-person — most of them bucks that have little impact on population trends because they don't give birth.
The result? Michigan risks runaway deer population growth, and the disease spread, habitat destruction and human conflict that comes along with it.
"In southern Michigan, we may be there already," said Stewart, the state deer expert. "And if we're not there in the northern lower (peninsula), we're probably really close."
Amy Trotter, director of the Michigan United Conservation Clubs, which advocates on behalf of hunters, cautioned that deer populations fluctuate across the state, and overabundance in some areas doesn't mean deer are running rampant everywhere.
She emphasized a need for more public hunting lands in southern Michigan to give hunters more opportunity to put a dent in the region's large deer herds.
'Too many deer'
Michigan wildlife managers don't keep statewide population estimates of deer abundance. But localized data, including farmers' complaints of crop losses, hunter success rates and reports of deer-vehicle crashes, point toward a growing Lower Peninsula herd.
It's a different story in the Upper Peninsula, where recent harsh winters have made deer scarcer in some regions.
Stewart estimated there may be as many as two million deer in Michigan today, up from closer to 1.7 million a decade ago, and closer to 1 million in the 1940s — a number that species managers of the time already saw as problematically large. Most recent growth has been clustered in the southern half of the lower peninsula, where most of Michigan's human residents also live.
Deer are an essential part of a balanced ecosystem, consuming plants and providing food for meat-eating animals. But unchecked population growth throws the ecosystem out of balance and increases danger to humans.
Car crashes increase. So do farm losses, as deer devour crops. Forest understories disappear as deer overbrowse saplings, eliminating habitat for species such as ground-nesting birds and creating a void for invasive species to fill. Ailments like Lyme disease, bovine tuberculosis and chronic wasting disease also spread more easily in dense herds, in turn threatening humans and livestock living nearby.
In parts of northern Michigan, said Marvin Roberson, a forest ecologist for the Sierra Club Michigan Chapter, cedar and hemlock forests are aging out because deer are chewing away all the new saplings.
"If you can't regenerate two major components of your natural forest system because deer are eating it before it regenerates, that's a good ecological sign that you've got too many deer," Roberson said.
Growing deer populations in Leelanau County have created "a horrible problem in our orchards," said Ben LaCross, who farms cherries over 800 acres in the Northwest Michigan peninsula.
LaCross tried everything to keep the deer away, from leaving bags of dried blood in the orchard to spraying hot sauce on plants. Finally, a few years ago, he erected 8-foot high fences to keep the deer out.
LaCross sees it as an expensive eyesore that regrettably excludes neighbors who used to hike and snowshoe on his property. But at tens of thousands of dollars-worth of lost trees each year, he said, he was left with little choice.
Crop losses across the Lower Peninsula have "only gotten worse as the deer population has increased." said Andrew Vermeesch, Michigan Farm Bureau Legislative Counsel. "The higher the number of deer, the more we see conflict."
Those conflicts have reached a fever pitch in parts of suburban Michigan, where minimal hunting pressure and abundant food in backyard gardens have pushed deer numbers upward.
The question of how to respond has pitted neighbors against neighbors, with some favoring government-sanctioned killing programs that others see as inhumane and unnecessary.
In Meridian Township, local officials began an annual deer cull in 2011 amid concerns about habitat destruction and complaints from residents.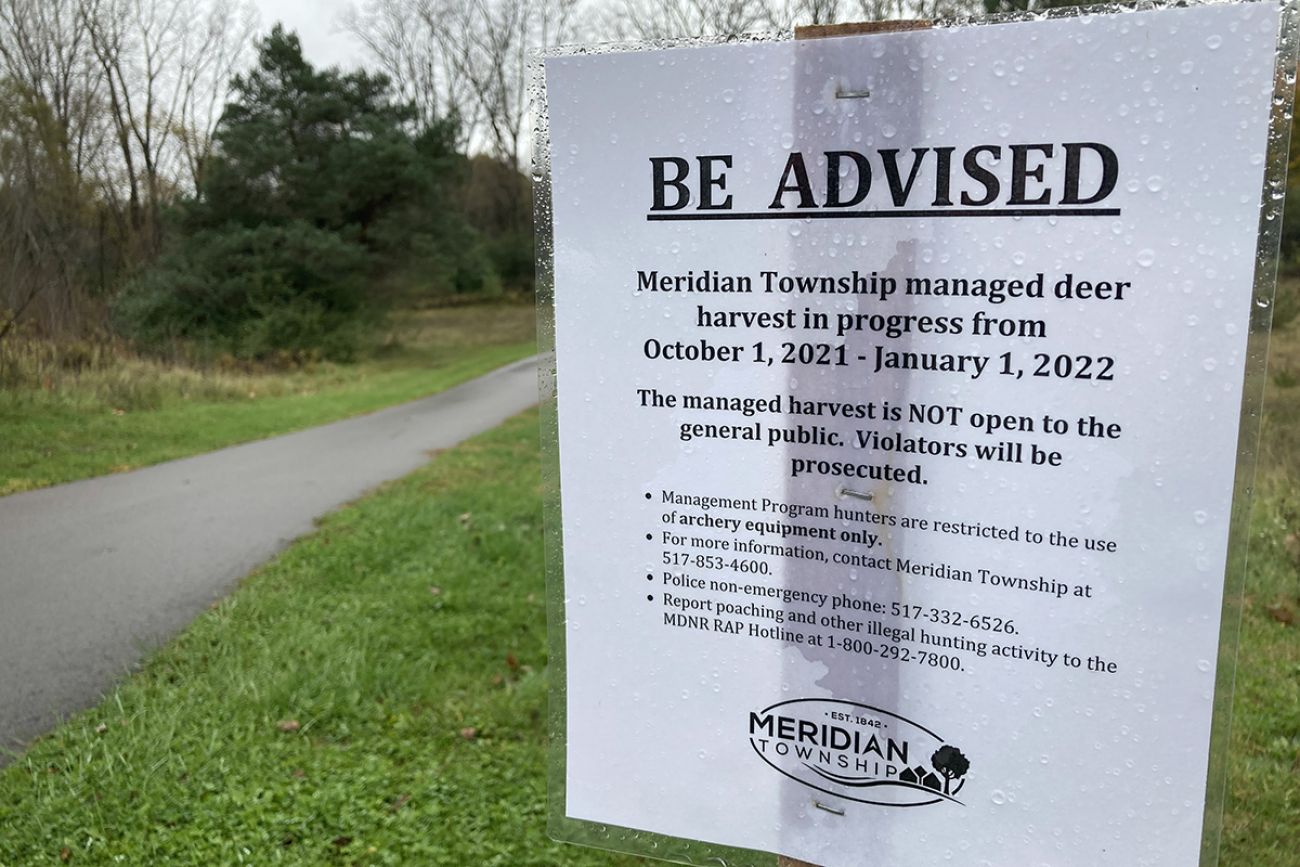 A sign at Nancy Moore Park in Meridian Township advises visitors that archers may be in the park shooting deer as part of an effort to shrink the suburban community's large deer herd. (Bridge photo by Kelly House)
"I get calls from people saying that deer are giving birth on their back patios," said Jane Greenway, the township's parks and land management coordinator.
The program has worked as intended, Greenway said, reducing car-deer collisions near natural areas and allowing native plants to rebound on forest floors that had been stripped nearly bare.
Last year, DeLong said he and his fellow volunteers killed 176 deer in the township's parks and natural areas, donating most of the meat to area food banks.
Signs posted near park entrances warn that archers are present; the volunteers are experienced bowhunters who take a Michigan State University safety course before every season.
In the years since, more towns have launched or begun studying similar programs. Among them: Ann Arbor, East Lansing, Southfield, Livonia, Ludington and Grand Haven.
And predictably, they have often been controversial.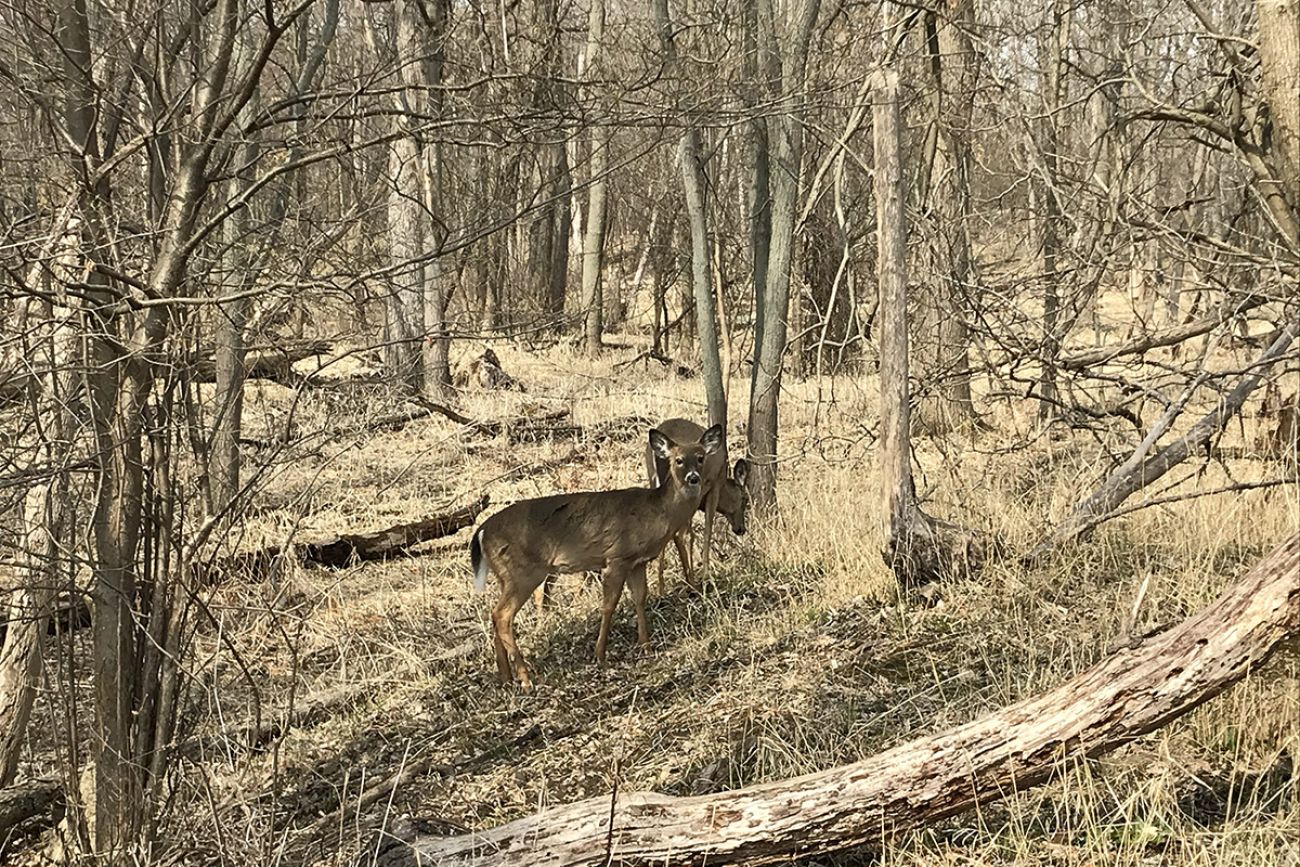 Deer stand in a woodlot near downtown Lansing. A growing number of suburban Michigan communities are grappling with problematically large deer herds as human forces allow populations to grow unchecked. (Bridge photo by Kelly House)
Huron-Clinton Metroparks canceled a planned cull last spring after a 71-year-old man called in a death threat over his objection to the planned killings.
The Southeast Michigan parks system is now reevaluating the program, which it launched because overabundant deer were wiping out entire species of plants and creating an unhealthy herd.
"Through responsible ecosystem management practices including the use of vegetation enclosures and controlled deer populations, plant diversity has improved," Metroparks Director Amy McMillan said in a statement to Bridge.
Ann Arbor's program, which halted this year due to budget cuts, has consistently drawn protests from some residents who see it as a waste of resources that scapegoats deer for a problem humans created by altering habitat and wiping out predators.
Sabra Sanzotta's anger about the city's deer cull prompted her to unsuccessfully sue the city seeking to stop it. She had fallen in love with a home in Ann Arbor largely because of the deer that wandered into her yard daily.
The city's hired sharpshooters replaced the wildlife sightings with the sight of blood on the snow and sound of gunfire in the night.
"It was like paradise lost," she said.
Sanzotta acknowledges the city's deer population is out of balance. But instead of killing deer, she argues, the city should sterilize does, as it has done in the past, put up fences to keep deer away from accident-prone streets and sensitive habitats, change land use policies to combat suburban sprawl, and establish protected areas where deer are free to roam.
"There has to be a public will to look at smarter ways or alternative ways that are less brutal," she said.
Conflicts over how best to manage problem deer-human conflicts are likely to grow if deer populations continue on their upward trajectory. But easy solutions are hard to come by.
Begging hunters to stop chasing antlers
For now, state wildlife officials say they're still focused on recruiting new hunters and loosening regulations to encourage hunters to kill more deer — especially does.
And the DNR in the past year has opened two new public hunting areas in Monroe and Eaton County, hoping to bolster hunting opportunities in southern Michigan, where deer are most abundant.
But hunting statistics show it may take more than regulatory changes and land access to convince hunters to shoot more does. Only one-in-four Michigan hunters killed an antlerless deer last year, compared to a 40-percent harvest rate of bucks.
And even with the liberal hunting policies, Stewart said, "there's just not enough freezer space for people to go out and take four, five, six, seven deer."
Some point to DNR's own policies as part of the reason for hunters' aversion to does. The agency, for instance, has encouraged trophy buck hunters through prohibitions on shooting small bucks, said LaCross, the Leelanau County farmer.
"The unintended consequence was, I think we've grown a culture of hunters who aren't willing to harvest does anymore," LaCross said.
Trotter, of MUCC, called it a hunter education challenge: In the past, when deer were scarcer and hunters more numerous, shooting does was considered unethical. Though the population dynamics have changed, many hunters still live by that old ethical code.
"We absolutely need to do a better job of educating hunters on the importance of harvesting does," Trotter said.
Roberson, of the Sierra Club, noted that some Michigan land management policies are crafted specifically to maintain opportunities for hunters. He believes Michigan could thin its deer herds by changing those policies, including de-emphasizing aspen (a favorite deer food) in favor of species-diverse forests.
"They manage forests for more deer at the behest of the hunting community," Roberson said, "and then they say we need to hunt to control the deer."
Absent abrupt change in deer population trends, said Christensen, the MSU expert, humans will have to adapt. If you have a big garden, fence it. Consider replacing your hostas with deer-resistant shrubbery. And if you live in a deer-heavy area, drive extra-cautiously at dusk and dawn.
Michigan Environment Watch
Michigan Environment Watch examines how public policy, industry, and other factors interact with the state's trove of natural resources.
Michigan Health Watch is made possible by generous financial support from:
Our generous Environment Watch underwriters encourage Bridge Michigan readers to also support civic journalism by becoming Bridge members. Please consider joining today.
Only donate if we've informed you about important Michigan issues
See what new members are saying about why they donated to Bridge Michigan:
"In order for this information to be accurate and unbiased it must be underwritten by its readers, not by special interests." - Larry S.
"Not many other media sources report on the topics Bridge does." - Susan B.
"Your journalism is outstanding and rare these days." - Mark S.
If you want to ensure the future of nonpartisan, nonprofit Michigan journalism, please become a member today. You, too, will be asked why you donated and maybe we'll feature your quote next time!