Michigan lawmakers want to make Enbridge Line 5 anchor strikes a felony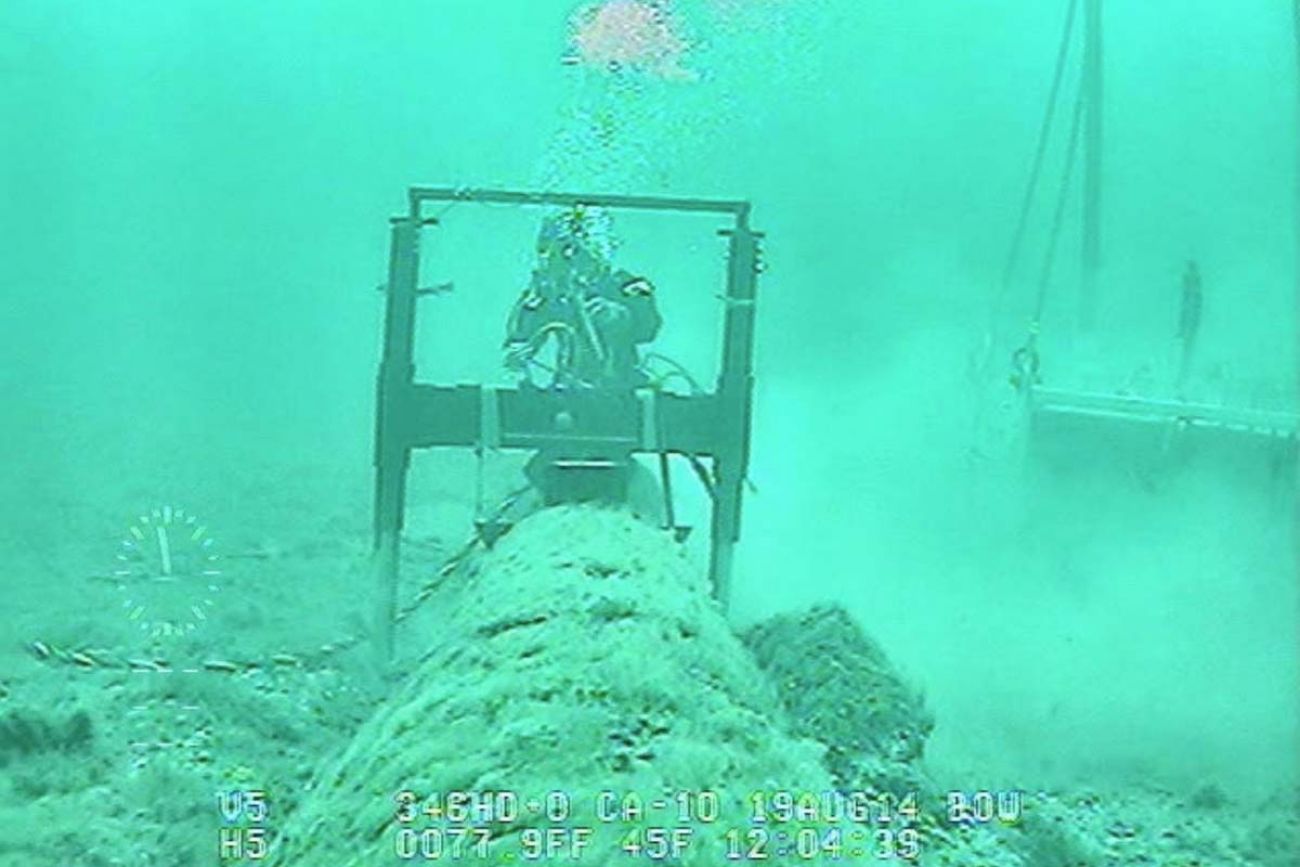 Following a series of anchor strikes along the Line 5 petroleum pipeline, a group of Michigan lawmakers wants to ban large boats from dropping anchor in the Straits of Mackinac and force boat operators to pay for any damage caused by an anchor strike.
Rep. Rachel Hood, D-Grand Rapids, introduced House Bill 6307 bill this week. It aims to amend Michigan's Natural Resources Protection Act to ban boats larger than 700 feet long from using any equipment that could come into contact with the bottom of the Straits. That includes anchors, chains and cables.
A companion bill introduced by Rep. Sue Allor, R-Wolverine, would amend the state criminal code to make large-boat anchoring in the Straits a felony.
Related stories:
In a news conference Thursday, Hood said the bill aims to hold boat operators accountable for anchor strikes like the ones that have repeatedly occurred along Enbridge Energy's dual-span petroleum pipeline at the bottom of the Straits. She called the bills "an important step in protecting our Great Lakes from high-risk acts that substantially harm our environment in the interest of corporate profiteering."
Violating the ban would be a felony punishable by up to 4 years in prison and a $10,000 fine. Violators would also be required to pay for any environmental damage or cleanup costs caused by their actions.
Treaty-protected tribal fishing boats would be exempted from the ban.
The bill would also require all large boat operators in the Straits to hire a state-approved maritime pilot to guide their vessel through the strip of water between Lakes Michigan and Huron, and would require anyone who owns "obstructions to navigation" in the Straits to flag them with buoys or beacons. That means Enbridge would need to mark that path of its pipeline.
Repeated anchor strikes along Line 5 in recent years have damaged the pipeline and fueled calls to shut it down for fear that it poses a dire oil spill risk in the straits.
In a statement Thursday, bill co-sponsor Rep. Yousef Rabhi, D-Ann Arbor, supported shutting down the pipeline.
But "until it can be removed," he said, "we need to ensure that commercial shippers take precautions to avoid rupturing it."
In a recent incident, Enbridge discovered in June that one of the pipeline's two spans had suffered "significant damage" from an unknown source. The U.S. Coast Guard later determined that one of Enbridge's own contracted vessels likely inflicted the damage.
The pipeline was partially shut down for more than two months while Enbridge and Michigan Attorney General Dana Nessel battled in court over the incident.
During a separate incident in 2018, a boat anchor struck the pipeline, denting it and causing damage to another company's underwater power cables and for 800 gallons of oil to be spilled into the Straits.
In an email to Bridge Thursday, Enbridge spokesman Ryan Duffy did not comment directly on the bills but said the company is "in favor of any measures that make the Straits safer."
Since the June incident, pipeline opponents have repeatedly called upon Gov. Gretchen Whitmer to shut down Line 5 by revoking the state easement that gives Enbridge permission to site the pipeline along the lakebottom.
Sean McBrearty, coordinator for the anti-Line 5 campaign Oil and Water Don't Mix, called the series of strikes a "wake-up call" about the pipeline's vulnerability to a spill. He said the group, which represents businesses, nonprofits, Tribes and individuals opposed to the pipeline, supports the bill.
"Next time we might not be so lucky," he said. "Next time a 12,000-pound anchor hits, it might guillotine straight through the pipeline and cause an oil spill that could endanger 750 miles of Great Lakes shoreline and the water source for folks living in the Straits."
Enbridge and Line 5 supporters argue that shutting down the pipeline would burden Upper Peninsula residents who heat their homes with propane from Line 5 and imperil regional refineries that use oil from Line 5.
A spokesperson for Speaker of the House Lee Chatfield, R-Levering, said Chatfield has not had a chance to review the bills.
"He's going to follow the normal process and let the Natural Resources committee do it's work vetting them and making any potential improvements before weighing in," Chatfield spokesman Gideon D'Assandro said.
Chatfield is among supporters of a plan by Enbridge to reduce the risk of an oil spill by burying the pipeline in a tunnel deep in the bedrock under the Straits. That plan faces resistance, too.
On Wednesday, a group consisting mostly of Native American women, announced they have discovered a possible ancient cultural site on the lakebed near the tunnel's proposed path. They want the state to halt consideration of permits for the tunnel pending an investigation into the site.
While announcing the bills Wednesday, Hood said she wants the state to "invest in learning more" about the group's discovery.
Noting that 2020 has been "calamitous at best" for Michigan, which has endured COVID-19, catastrophic dam failures and myriad other challenges, Hood said the anchor ban aims to prevent further calamity.
"We do not need another crisis to land on the backs of people in Michigan," she said.
Michigan Environment Watch
Michigan Environment Watch examines how public policy, industry, and other factors interact with the state's trove of natural resources.
Michigan Health Watch is made possible by generous financial support from:
Our generous Environment Watch underwriters encourage Bridge Michigan readers to also support civic journalism by becoming Bridge members. Please consider joining today.
We're not just a news organization, we're also your neighbors
We've been there for you with daily Michigan COVID-19 news; reporting on the emergence of the virus, daily numbers with our tracker and dashboard, exploding unemployment, and we finally were able to report on mass vaccine distribution. We report because the news impacts all of us. Will you please support our nonprofit newsroom?