Michigan works to expand hunting, fishing beyond old white men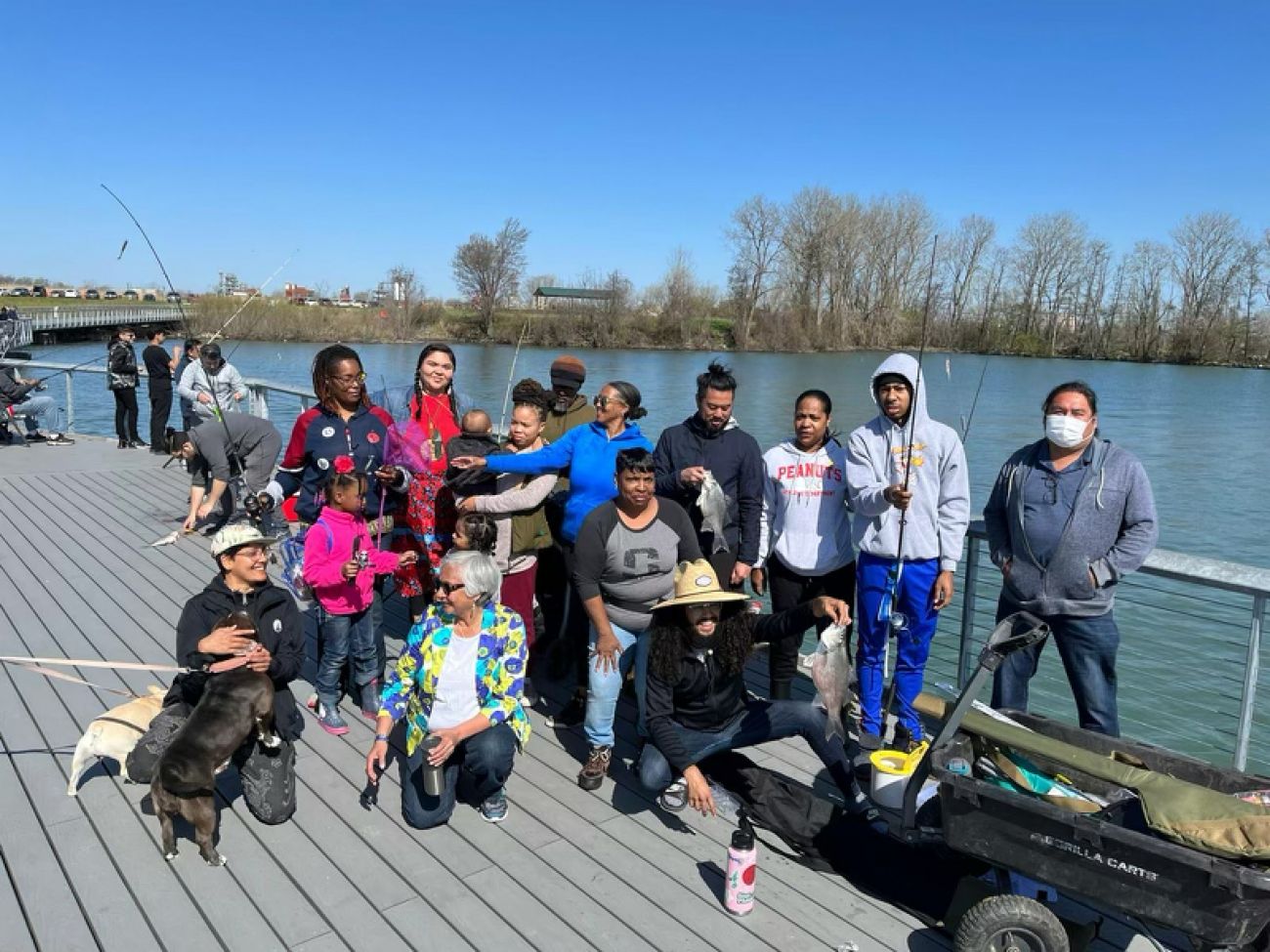 Antonio Rafael, 34, poses with members of his organization, Black to the Land, a nonprofit focused on getting brown and Black people to participate in outdoor recreation. (Courtesy of Antonio Rafael.)
The Department of Natural Resources wants to tap into a new demographic of hunters and anglers
More people of color starting to hunt and fish
Organizations say people of color need more access to outdoors, resources
---
Mounir Awad is counting the days until November, when he and 27 of his Palestinian friends and cousins head Up North for deer camp.
Awad, 62, who now lives in Davison, immigrated to Michigan when was 15 years old. He has fond memories of hunting with his father back in Palestine, but "it's totally different (than the) American hunting" he learned when he was 18.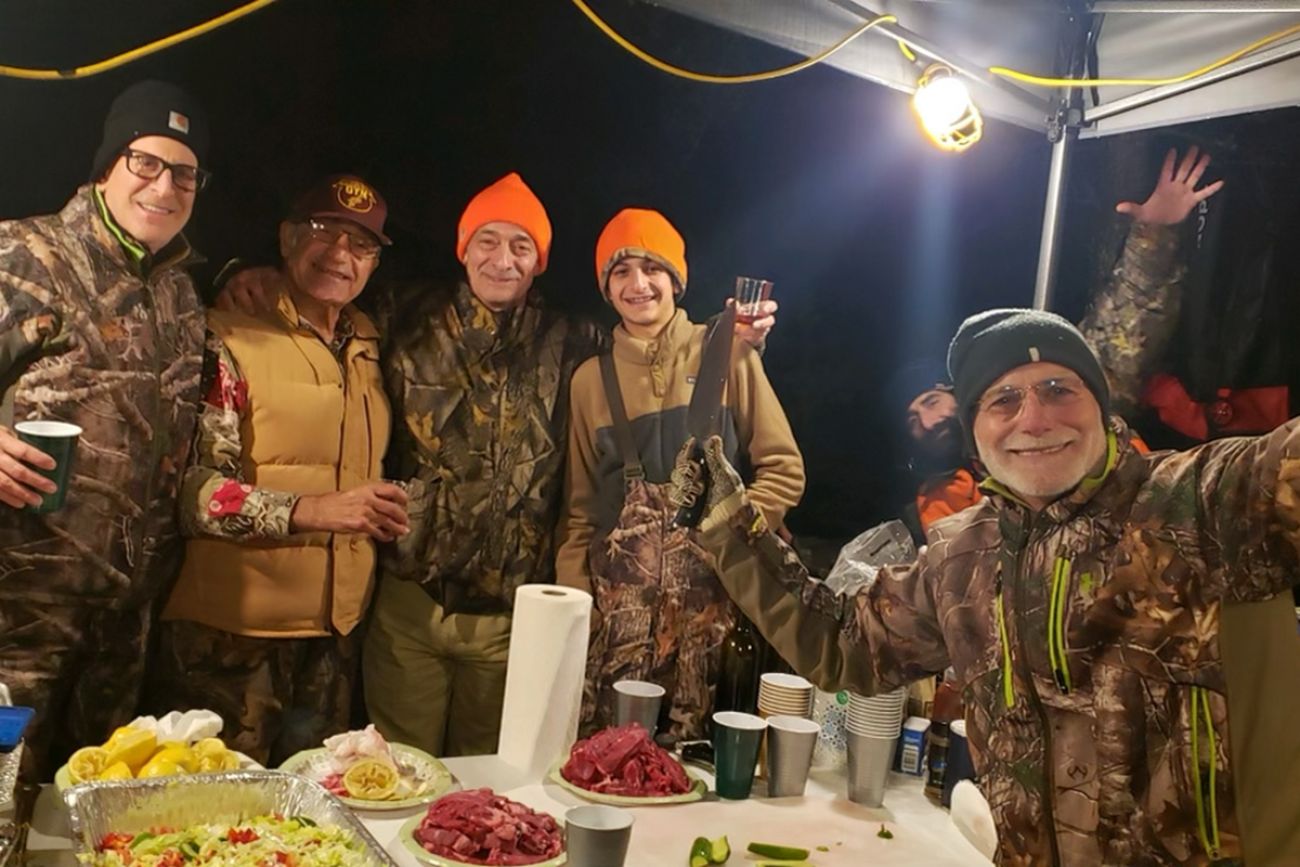 Mounir Awad, 62, poses for a picture with family and friends at their deer camp in northern Michigan. (Courtesy of Mounir Awad)
Decades later, the retired businessman spends as much time as he can outdoors hunting and fishing. Outside his circle of friends, however, Awad said he sees few people who look like him in Michigan's great Northwoods.
Related:
Like others, he suspects that is because of traditional barriers of equity, culture and outreach.
"Everybody assumes that everybody knows about hunting and fishing, but that's not true," Awad said.
Michigan environmental regulators don't disagree, and they hope to attract more people like Awad to the outdoors to reverse a longstanding decline in participation of hunting and fishing that concerns hunters and conservationists alike.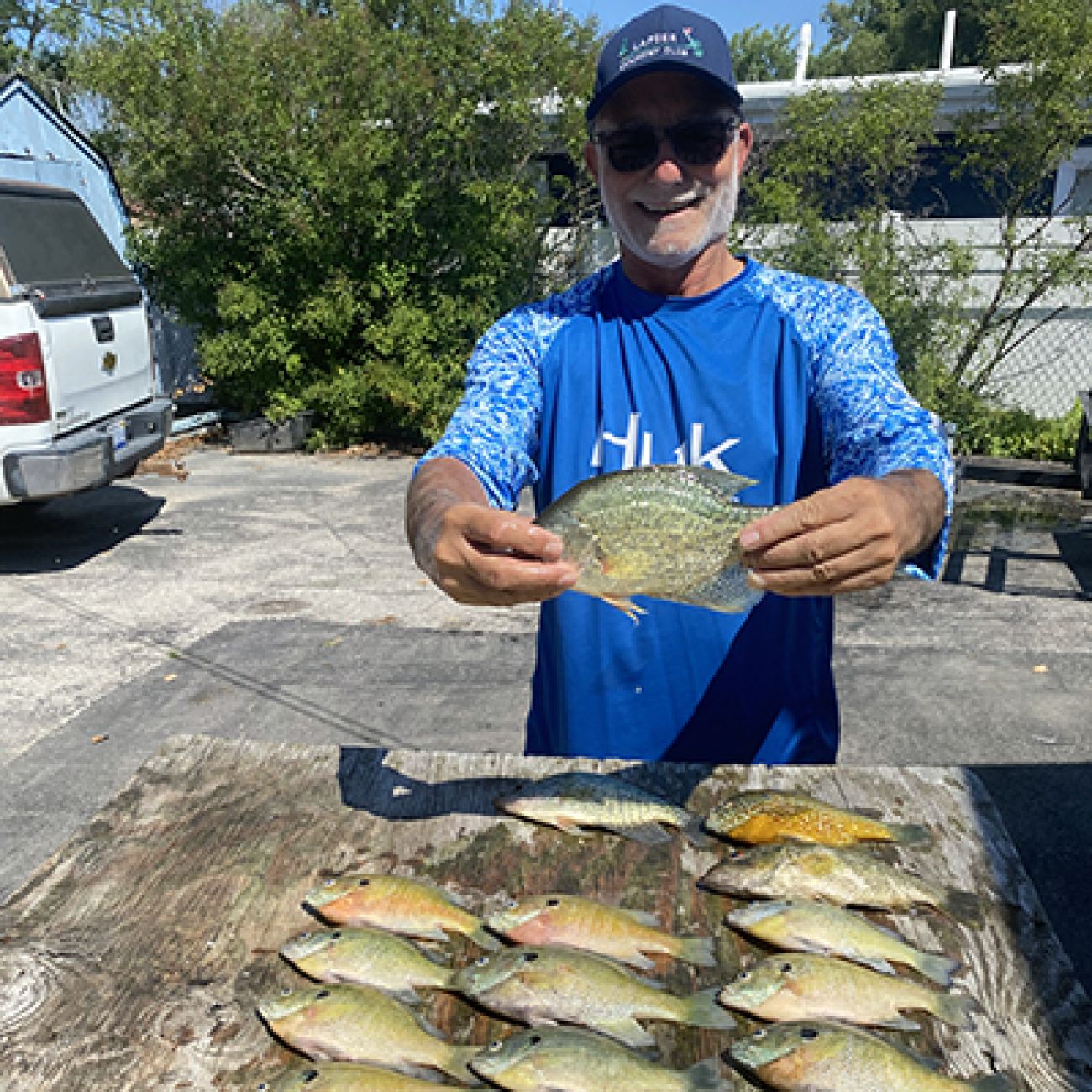 Mounir Awad, 62, holds up a fish he caught. (Courtesy of Mounir Awad)
The Michigan Department of Natural Resources in recent months has hosted community meetings in the state's more diverse cities and started buying hunting land closer to cities, among other efforts to reverse flagging participation..
Some 642,000 Michiganders purchased hunting licenses and 1.13 million purchased fishing licenses from Jan. 1 to Nov. 30, 2021, declines of 3.4 percent and 2.6 percent respectively from 2020.
That's part of a decades-long decline that has left more than 270,000 fewer deer hunters in Michigan today than in the mid-1990s, with similar trends in fishing participation. State officials expect the trend to continue.
Declining license sales spell trouble for the DNR because that money supports Michigan's wildlife conservation efforts. In 2021, even with the decrease in sales, people who bought hunting and fishing licenses contributed $66 million to wildlife management.
The decline is mainly due to white hunters and anglers getting too old to hit the woods and rivers in the Upper Peninsula and northern Lower Peninsula, said Dustin Isenhoff, a DNR marketing and outreach specialist.
About 90 percent of hunters are men, 97 percent are white and about 60 percent are over the age of 45 years old. While more people age out, Isenhoff has the impression that residents in urban and suburban areas are increasingly buying hunting and fishing licenses.
"The deck is reshuffling a bit from pandemic effects but in general that is the rule," said Isenhoff, who noted there was a statewide surge in people hunting and fishing during the pandemic.
Nearly 675,000 Michiganders deer hunted in 2020, an increase of 5.5 percent after decades of waning participation. Fishing participation was up 10.6 percent, to 1.2 million participants.
Though the surge didn't last, the brief uptick introduced a new class of first-timers to the sports.
While the number of immigrants, brown and Black people living in Michigan and across the U.S. continues to increase, it is uncertain how many people of color are purchasing state licenses to fish and hunt.
In Michigan, the DNR does not ask residents to identify their race when buying outdoor recreation licenses. As the nation's demographics shift, with people of color expecting to be the majority by 2050, the DNR is trying to get a clearer picture of how many Black and brown people are fishing and hunting.
"These are our future decision makers and frankly, the success of conservation in the long run depends on them," said Alexis Hermiz, who was hired as the DNR's diversity, inclusion and outreach officer in 2019.
Statistics show the outdoor recreation scene in Michigan and across the nation is overwhelmingly white. More than 95 percent of visitors to national parks and 90 percent of visitors to national forests are white, according to a 2014 federal study.
Racial disparities in outdoor recreation are less dramatic but still exist, according to an outdoor industry report that found that 72 percent of people participating in camping and hiking are white, above the 62 percent of Americans who identify themselves as white alone.
Hermiz said she's reaching out to communities of color to identify barriers to participating in outdoor sports. The DNR's traditional outreach, mailing surveys, is not working, she said.
At community meetings in Detroit, Flint, Pontiac and Saginaw, residents said one issue is accessing public lands, which are concentrated in rural communities that tend to be less diverse.
Economic disparities compound that problem, making it less likely that non-white residents can travel vast distances to enjoy nature, said Sergio Cira Reyes, 42, who founded the Grand Rapids Latino Outdoors chapter in 2019.
"There is privilege involved in that access," Cira Reyes said, noting that immigrants, especially Latinos, do not always feel safe accessing public lands because they have been told by white people that "they don't belong here, and that they should stick to the cities."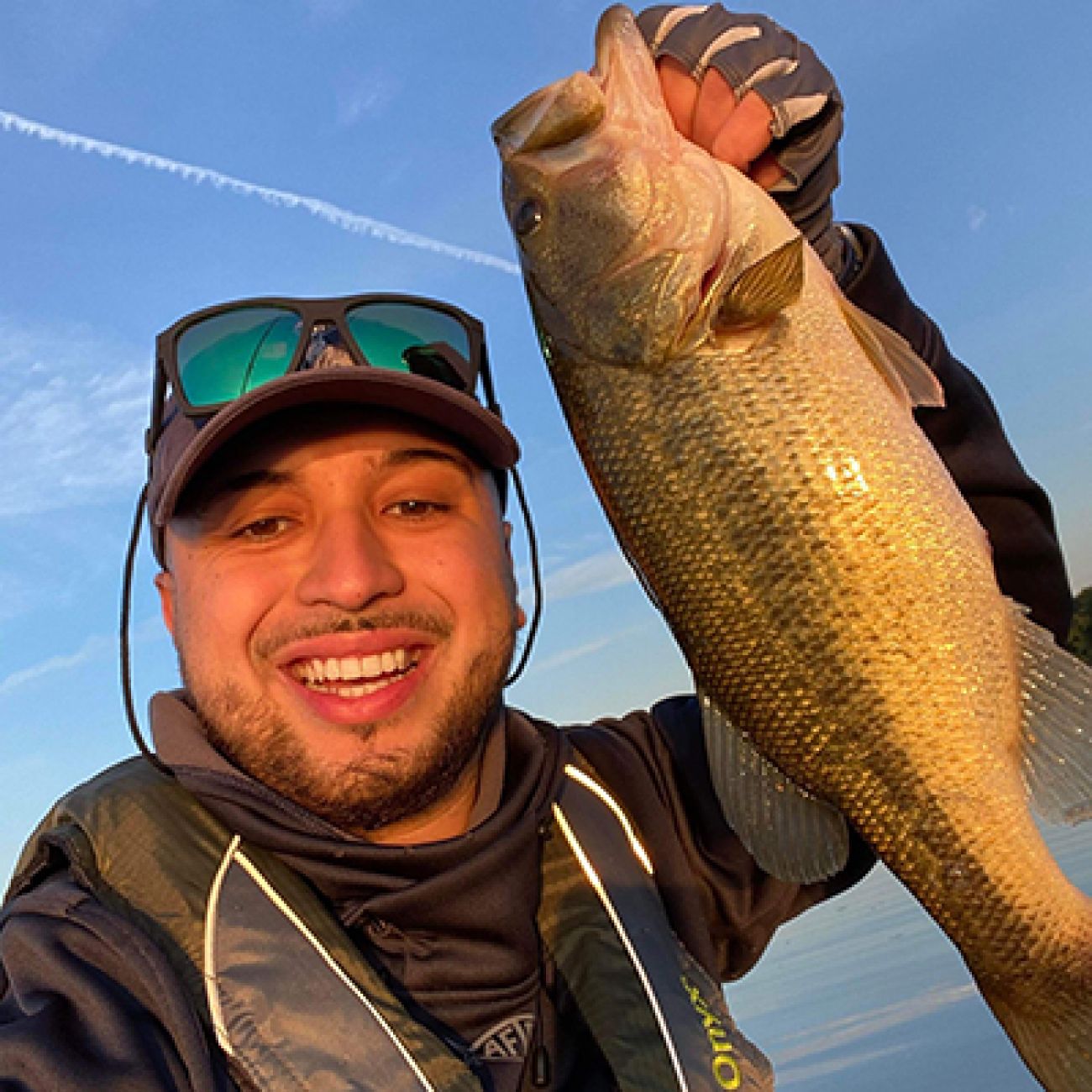 Santiago Arcaute, 26, an angler from Lansing, poses with a fish he caught. (Courtesy of Santiago Arcaute)
"We hear all this anti-immigrant sentiment and it's hard to find it within ourselves to say this land also belongs to us," Cira Reyes said.
The DNR has worked to boost accessibility by investing in hunting, fishing and outdoor recreation opportunities closer to where the vast majority of Michiganders live.
Its Detroit Outdoor Adventure Center, opened in 2015, offers archery training, fishing excursions and educational programming. Last year, the state purchased 680 acres near Monroe to create the Crystal Waters State Game Area, 40 miles outside Detroit in Monroe County. And the state is in the process of developing Genesee County's first state park at the former Chevy Commons site in Flint.
Cira Reyes helps Grand Rapids' Latino community explore more of Michigan by planning trips to the Upper Peninsula, which for most of his members is their first time Up North.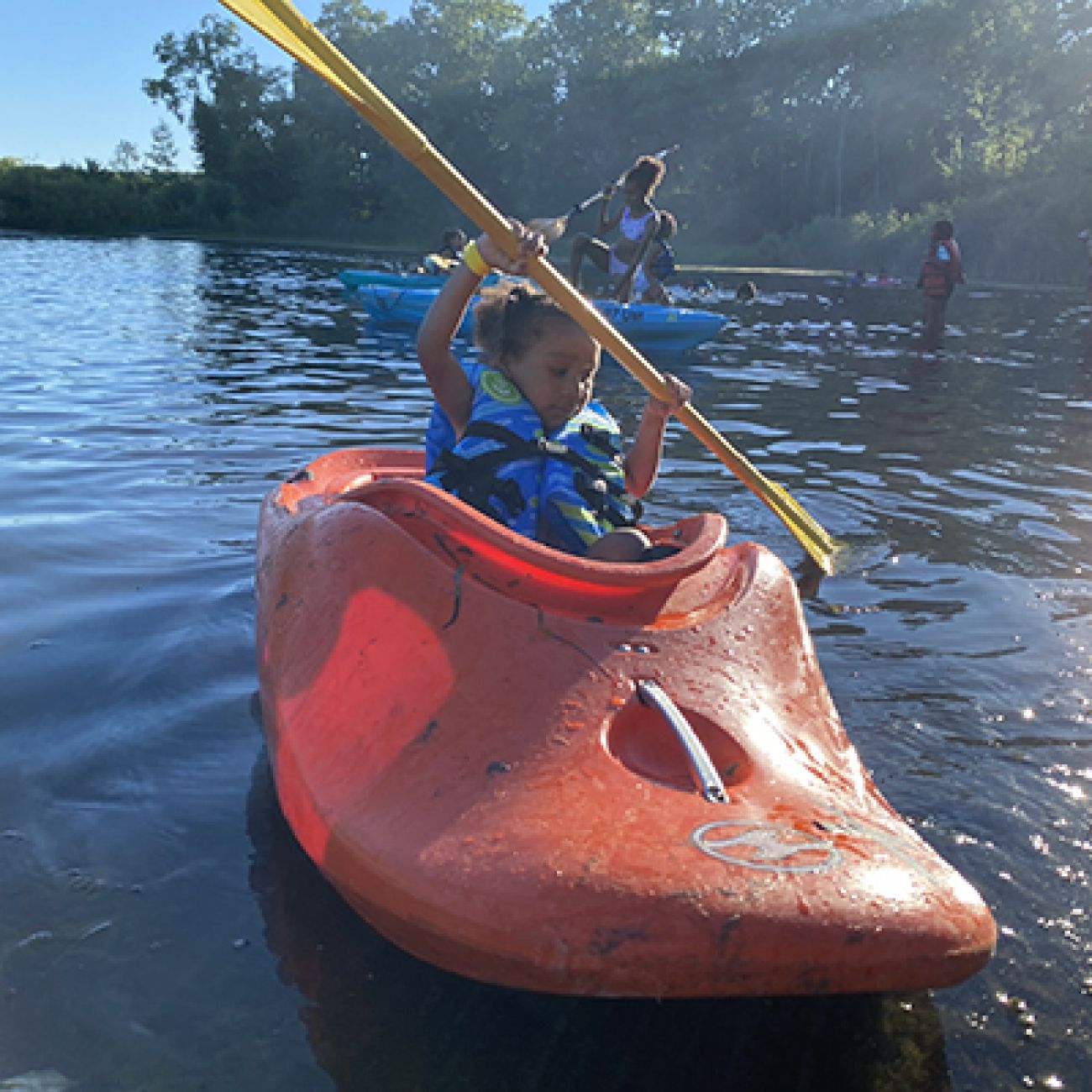 A young girl part of Antonio Rafael's Black Outdoors organization is kayaking as part of a group trip. (Courtesy of Antonio Rafael)
But exposure only goes so far, Cira Reyes said, because many people of color aren't raised to love hunting and fishing.
In a study published in The Journal of Wildlife Management, researchers surveyed 17,203 students at public universities in 22 states and found that active hunters came from rural hometowns where hunting and fishing was encouraged. The study found that nearly half the people who haven't hunted would be willing to try, including nearly half of women, 38 percent of people of color, and 43 percent those from urban areas.
"The DNR has been relying on traditional channels of communication to reach us but it's not working," Cira Reyes said. "We need intentional outreach. They need to come find us and show us this is something they want us to engage in."
Another barrier the DNR must keep in mind is equity, said Santiago Arcaute, a 26-year-old angler living in Lansing.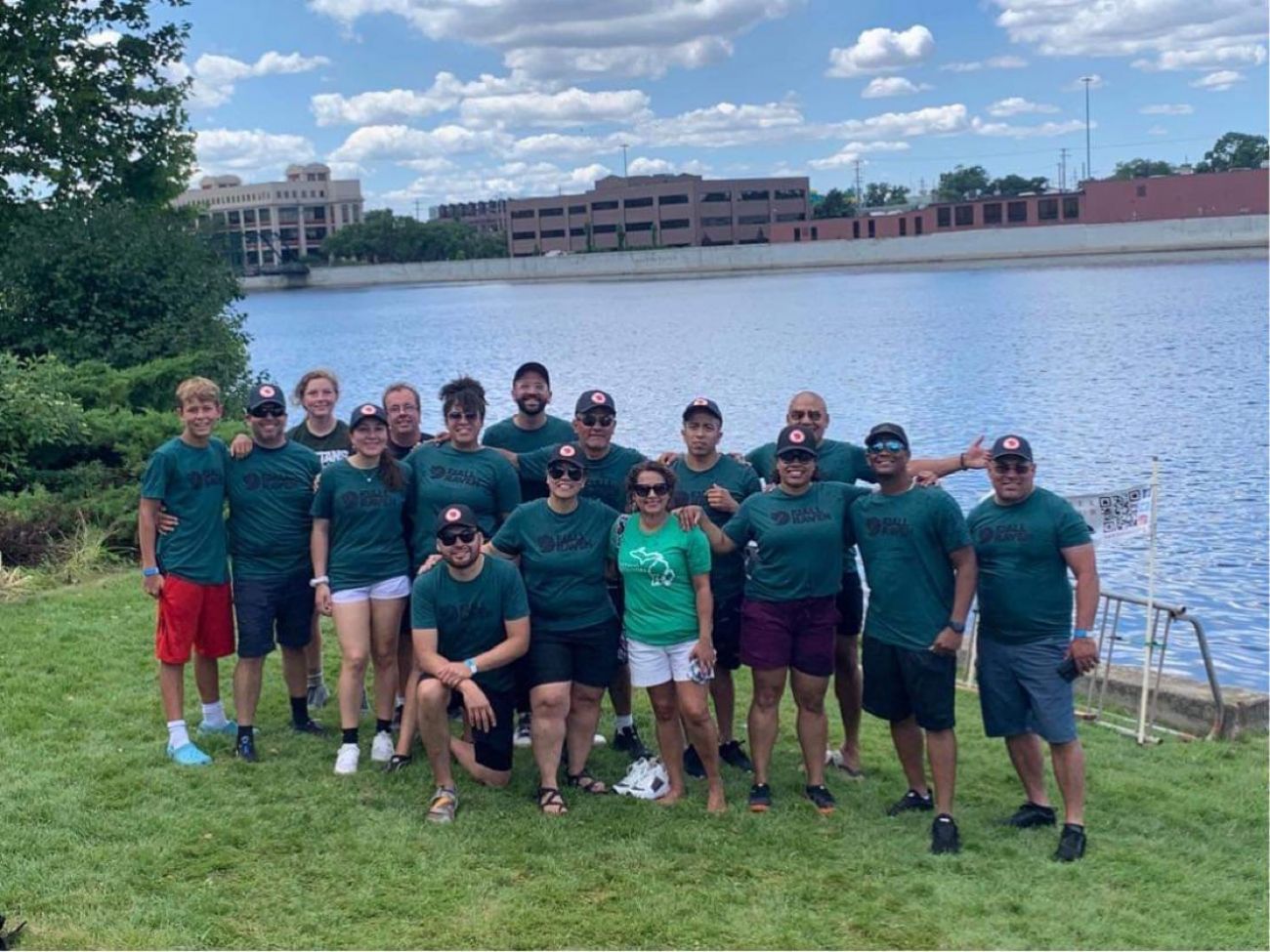 Sergio Cira Reyes, 42, poses in front of a lake with members of his organization, Grand Rapids Latino Outdoors. The group plans regular trips to northern Michigan and the Upper Peninsula. (Courtesy of Sergio Cira Reyes)
"I know a lot of people don't even know that they need a license to fish," Arcaute said.
Fishing licenses are $26 for an adult resident, $76 for an adult nonresident. A hunting and fishing combo license for residents is $76 and $266 for nonresidents.
License fees for other game species vary between $5 and $28 for residents and $50 to $151 for nonresidents.
License fees aside, Arcaute said equipment expenses can "to creep up," noting that the kayak and gear he bought to fish cost about $3,000.
Arcaute said one way the DNR could get more people involved is by holding workshops and providing these resources to residents.
One event the DNR could hold to encourage hunting participation in the city is teaching people how to do archery to kill deer, said Antonio Rafael, 34, director of the National Wildlife Federation's Detroit Leadership and Environmental Education Program and co-founder of the Black to the Land Coalition.
"There's nothing to check the deer population in the city," Rafael said, noting city ordinances that prevent people from firing guns near populated buildings.
Rafael said another way to encourage participation is to find people who would volunteer their private land to groups of diverse hunters.
"People feel safer in a group, and it could build a culture around the sport," Rafael said, noting that school programs centered around archery and fishing could go a long way in recruiting and retaining people of color in the future.
But now, Rafael said the DNR needs to ask people what race they are and how they spend time outdoors.
"They need this to establish a baseline for understanding the amount of people of color who fish and hunt," Rafael said. "If you don't have the data, you can't substantiate it."
Michigan Environment Watch
Michigan Environment Watch examines how public policy, industry, and other factors interact with the state's trove of natural resources.
Michigan Health Watch is made possible by generous financial support from:
Our generous Environment Watch underwriters encourage Bridge Michigan readers to also support civic journalism by becoming Bridge members. Please consider joining today.
We're not just a news organization, we're also your neighbors
We've been there for you with daily Michigan COVID-19 news; reporting on the emergence of the virus, daily numbers with our tracker and dashboard, exploding unemployment, and we finally were able to report on mass vaccine distribution. We report because the news impacts all of us. Will you please support our nonprofit newsroom?