As northern Michigan warms, scientists bring tree seedlings from the south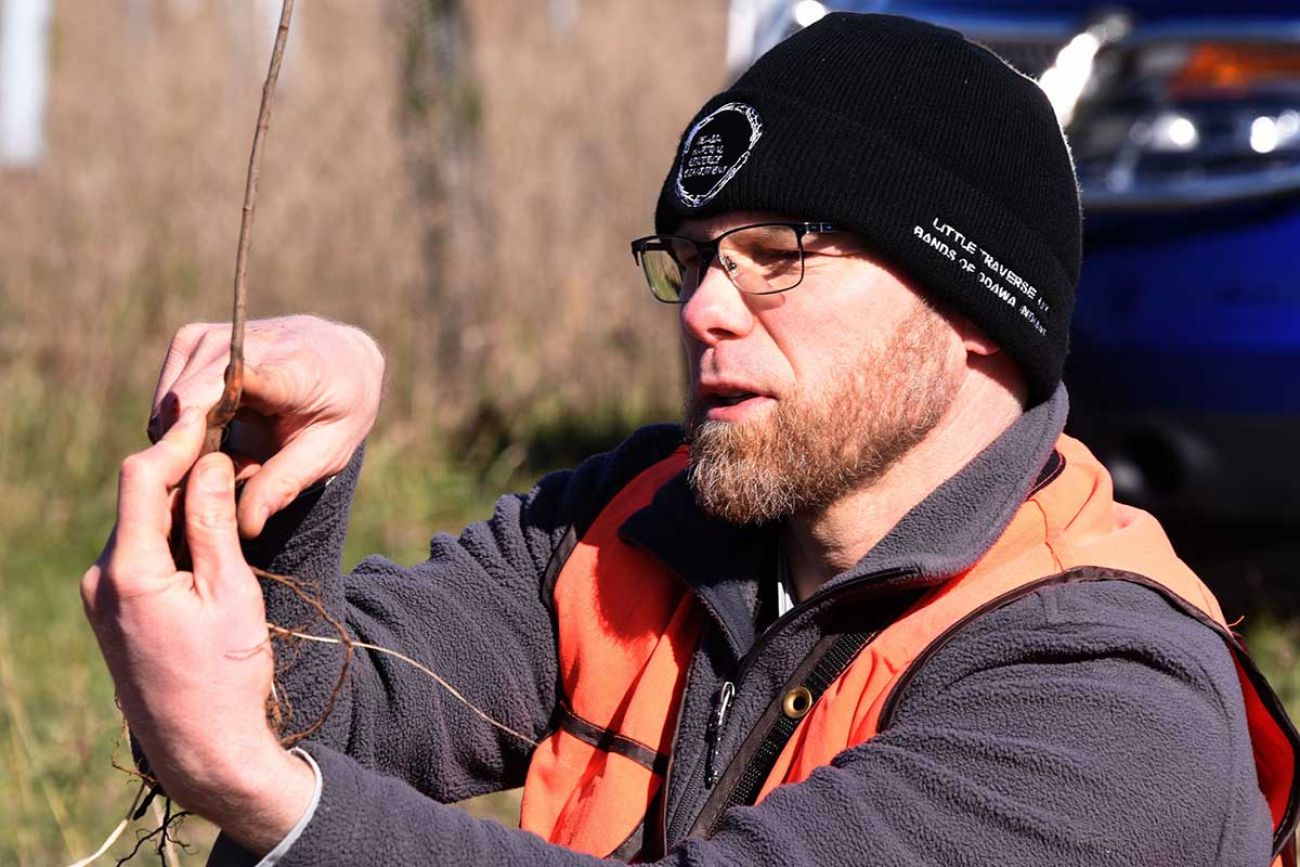 Noah Jansen, conservationist for the Little Traverse Bay Bands of Odawa Indians, explains planting depth to volunteers on Friday, April 30, at Ziibimijwang Farm near Carp Lake. Jansen is leading an effort to plant dozens of southern Michigan tree species on the property, hoping the trees will grow into a climate-resistant forest as the region grows too warm for some common northern tree species to thrive. (Bridge photo by John Russell)
CARP LAKE—On a blustery hillside near the tip of the mitten, Noah Jansen stooped to inspect the shagbark hickory saplings he spent months growing from seeds collected 250 miles south of here.
It's not a species commonly found among the maple, birch, cedar and white pines of northern Michigan. But on this 311-acre property known as Ziibimijwang Farm, few of the newly-planted seedlings are.
"I don't think it's been too cold for them yet," Jansen said as a group of volunteer tree-planters prepared to tuck the saplings into the soil.
Related stories:
Jansen and his colleagues at the Little Traverse Bay Band of Odawa Indians have planted thousands of trees since the tribe purchased the property in 2013, transforming it into a small-scale experiment in girding northern forests against climate change.
Along with the shagbark and silver maple, there's black walnut commonly found in southern Michigan, sassafras and swamp white oak that typically ranges only as far north as mid-Michigan, and a host of other species — about 30 in all — that Jansen hopes will become the feedstock for a diverse, climate-resilient forest.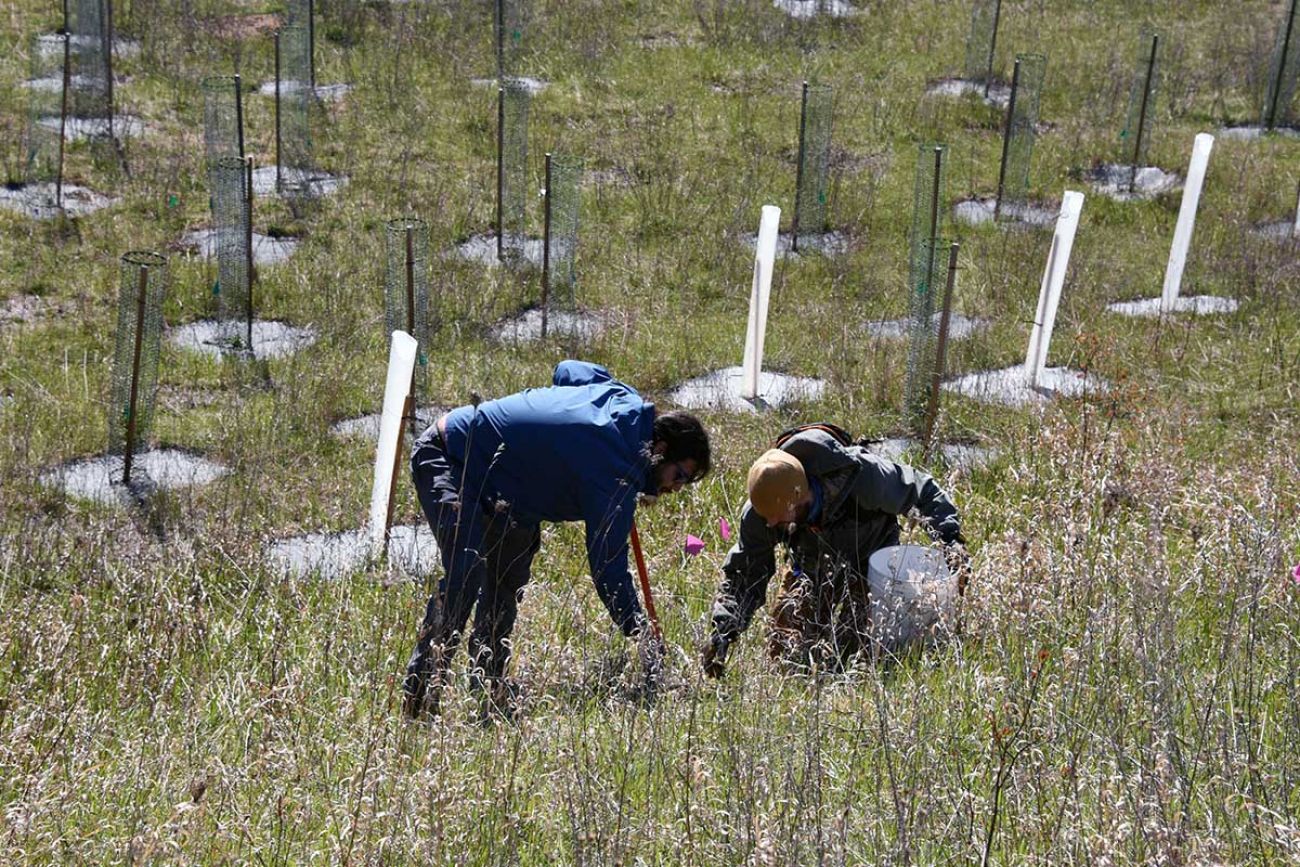 Clint Boulton, left, and Traven Michaels plant a seedling on Friday, April 30. Staff and volunteers from the Little Traverse Bay Bands of Odawa Indians planted more than 200 seedlings at a farm west of Carp Lake as part of an effort to prepare the property for climate change. (Bridge photo by John Russell)
"I don't know which of these species are going to thrive in 50 or 100 years," said Jansen, the tribe's conservationist. "So we cast the net broad and try to have something there that creates habitat for wildlife, sources of cultural significance for tribal members and areas to hunt and gather."
Intermixed with the species foreign to this area, crews on the property — about nine miles southwest of Mackinaw City — have planted more familiar northern species, such as white cedar and paper birch, using seeds drawn from trees at the very southern tip of their range. He hopes the cedar and birch will tolerate warmer conditions, buying time for two species that climatologists have cast as "climate losers" destined to lose footing in Michigan as the earth warms.
The tribe's work is among a host of efforts gaining momentum in Michigan and nationally, as scientists warn that climate change is shifting growing regions away from the equator, and forest managers scramble to adjust.
Foresters are aiming at a moving target, planting trees in a region that is currently too cold for them, but will eventually become too hot for the forests that have historically thrived there. There's no guarantee that the experiment will succeed, Jansen said, but "we can't just not do something."
A slow-motion crisis
A black spruce can live as long as 200 or more years. But it's doubtful whether saplings of these straight-trunked, short-needled conifers rooted in the northern Lower Peninsula today will survive that long.
Michigan is already at the southern edge of black spruce range. Abundant throughout Canada, they're typically found alongside tamaracks and cedars in northern Michigan swamps. As human-caused climate change shifts growing ranges northward, it and other boreal species will have a harder time surviving this far south.
The consequences of climate change — warmer temperatures, melting ice caps, rising seas and worsening natural disasters — will affect all of the world's species. But unlike humans and animals, trees can't pick up and move to a more hospitable home.
Northern forests will be just one casualty of climate change in Michigan. Our winters are getting warmer, which means less reliable icepack on the Great Lakes and inland lakes, and shorter seasons for ice fishing, snowmobiling and hockey.
Our rivers are warming too, shrinking the available habitat for coldwater species like rainbow and brook trout.
And climate change is altering the water cycle, causing Great Lakes water levels to yo-yo more dramatically, and intensifying floods like the one that destroyed two mid-Michigan dams last spring. It is also creating new windows of opportunity for disease-carrying mosquitoes and forcing farmers to adapt to shifting growing seasons.
Forests must adapt, too.
Forests migrate at a speed of "feet per year," said David Price, who leads the Michigan Department of Natural Resources' forest planning and operations section, inching into new territory only as far as their acorns, whirligigs and pinecones will scatter.
Fossil records provide a measuring stick: After the North American ice cap retreated and temperatures rose following the ice age, forest ranges shifted by about 31 miles per century.
The ongoing climate crisis is outpacing that speed. U.S. Forest Service scientists estimated in 2018 that growing regions in the Northern Hemisphere will shift hundreds of miles northward by the end of this century if humans fail to curb greenhouse gas emissions.
President Joe Biden has promised to prioritize climate action, including proposing new regulations Monday to cut down on hydrofluorocarbons, greenhouse gases used for cooling and refrigeration. Any drop in global emissions will slow the pace of climate change, blunting the projected impact on the world's forests.
But if we continue to emit greenhouse gases at the current rate, forests in the Upper Peninsula and northern Lower Peninsula, currently home to hardy plants that can withstand short summers and frigid winters, will experience growing conditions more akin to modern-day Kentucky by the end of this century.
"Part of our job now as stewards of our forests, is to be considering climate change as part of the work of managing forests," said Stephen Handler, a climate change specialist with the US Forest Service Northern Research Station in Houghton.
Handler co-authored a 2014 report that predicted habitat for northern species such as balsam fir, quaking aspens, paper birch, jack pines and northern white cedar will decline in Michigan, while southern species including varieties of oak, poplars, elms and hickories will gain suitable habitat.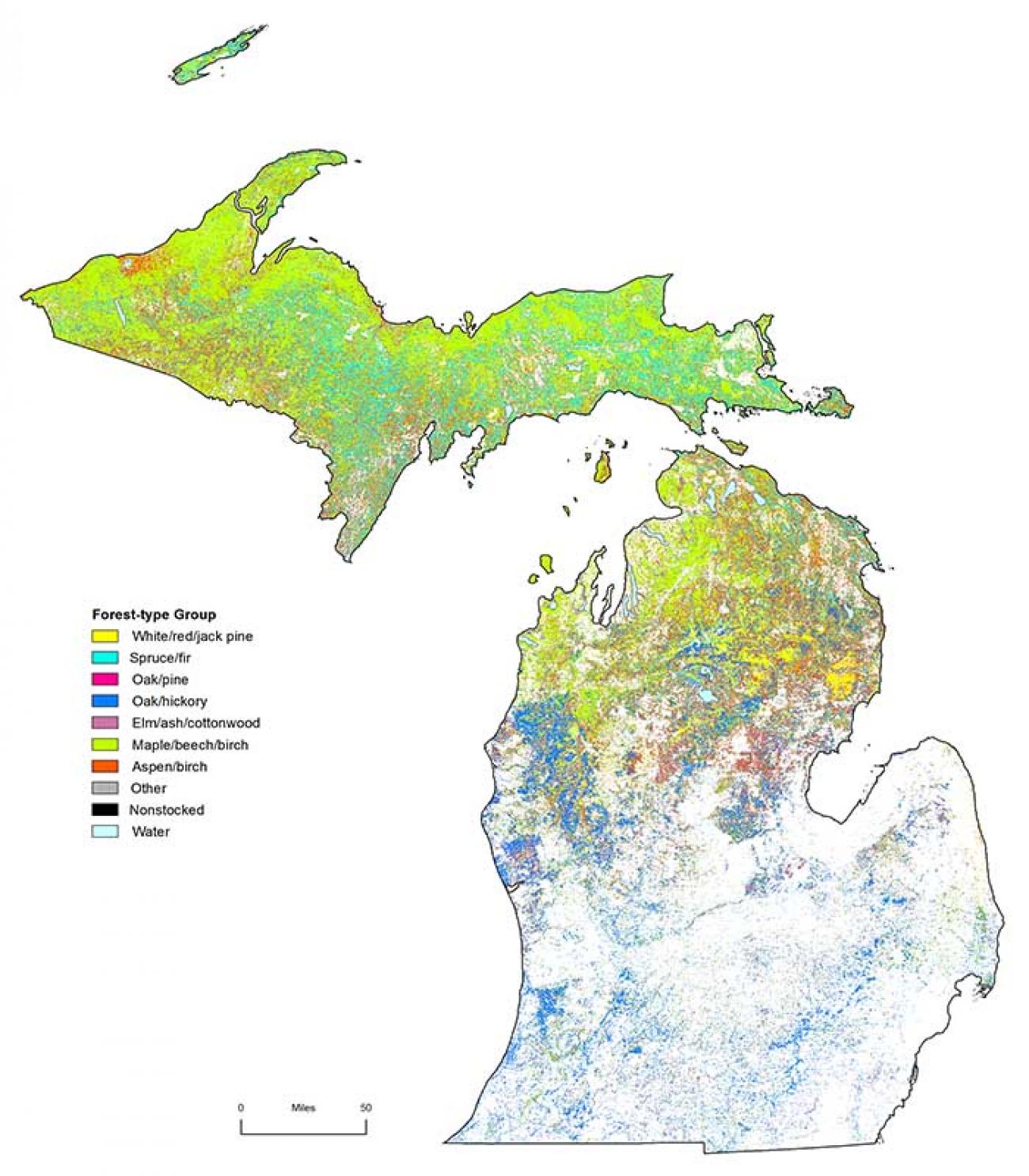 This image, from a 2014 U.S. Forest Service report on Michigan forests, provides a glimpse into the range of tree species currently found in Michigan. The species present in today's southern Michigan forests are markedly different from its northern forests. (Photo courtesy of U.S. Forest Service)
But because trees migrate so slowly, the decline of northern forests threatens to take place before southern tree species can move in to fill the void.
Those changes are almost imperceptible in the moment. But there is evidence that change is already happening.
Price said some stands of trees in Michigan have begun to show signs of stress, although a host of pressures on Michigan's forests — from drought to invasive pests and overbrowsing by deer — make it difficult to tease out a clear climate signal.
Scientists are not just worried that trees will overheat. As climate change weakens northern species' foothold, it is expected to create new niches for plant pests. And deer browse, already a threat to young trees, could become more severe during milder winters.
There are economic implications, too, Handler said. Upper Peninsula foresters are already contending with shorter periods of frozen soil, narrowing the window of time during which loggers can bring heavy equipment into boggy plantations to cut trees and transport them to lumber mills.
Cultural adaptation
For Renée Dillard, those changes are personal.
A member of the Little Traverse Bay Bands and renowned Anishinaabe natural fiber artist known for her intricate black ash baskets, Dillard had to stop harvesting ash in northern Michigan's swamps after the emerald ash borer decimated the population.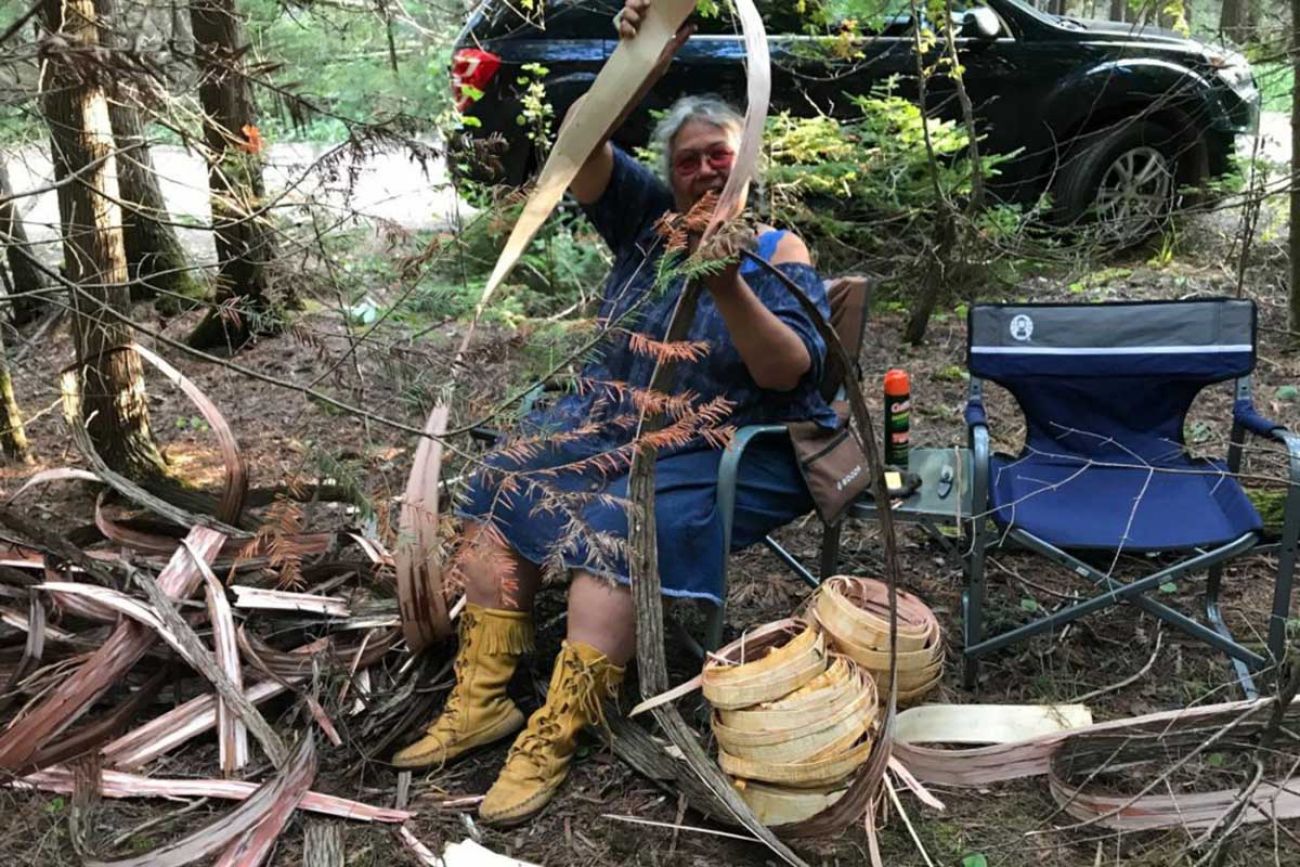 Renée Dillard, an artist, strips the inner bark from the outer bark of a tree, in preparation for dying and then weaving the bark into a basket. (Photo courtesy of Renee Dillard)
She switched to other fiber, including cedar, dogbane, basswood and bullrush. But climate change threatens to push some of those species northward, too, and Dillard believes they'll eventually become scarce near the Little Traverse Bay Bands' land in the Northwestern Lower Peninsula.
So she is experimenting with substitutes from further south. She keeps a stash of pawpaw seeds, and occasionally buries a few near her home in Harbor Springs, hoping they'll grow into the deciduous tree nicknamed "the Indiana banana" for its custardy, tropical-tasting fruit. But it's the fibrous bark Dillard is after.
Jansen's tree migration project is aimed at facilitating this kind of cultural resilience. He has specifically chosen plants that could preserve tribal members' ability to hunt, gather and carry on cultural traditions: There's sassafras, a species with medicinal properties. And American plum, which can be harvested by humans or grazed by deer.
As foliage on the forest canopy matures, tribal species managers hope to continue their efforts by filling in the understory with plants that can survive in the future climate.
Similar experiments are taking place or planned in communities throughout the state.
Four Traverse Bay-area conservation districts, for example, are partnering with landowners to plant six southern Michigan species, monitoring their growth yearly to assess their potential to replace common Up North species as the climate warms.
"Foresters don't think in months or years," said Kama Ross, district forester for the Leelanau, Grand Traverse, and Benzie Conservation Districts. "We think in the 10s and 20s and 30s of years. And that's what it takes to make a difference on the landscape when these changes really hit us."
So far, Michigan's tree migration projects are small, taking place on finite plots of land. But state foresters, who manage nearly 4 million acres of state forests, have begun to take notice.
Price, of the state DNR, said the next update to Michigan's 10-year forest management plan will emphasize climate adaptation. The agency is developing a proposal to plant experimental stands of species like shortleaf and pitch pine, which currently range only as far north as southern Ohio.
Price sees efforts to prepare Michigan's forest for climate change as an ecological as well as an economic necessity. State forests and the wood extracted from them underpin local economies in rural northern communities, particularly those in the Upper Peninsula with few other viable industries. Every year, $50 million-worth of timber comes from state forests, supplying about 20 percent of the raw materials for Michigan's timber industry, Price said.
"Without vibrant forest up north, you've lost a good source of well-paying jobs in an area of the state where, aside from tourism or what's left of the mining industry, sometimes there's not a lot of other economic opportunity," Price said.
In addition to planting more heat-tolerant species, foresters are focused on diverse forests, with myriad tree types, as opposed to monocropped plantations. That way, if a pest wipes out all of a particular species, there's something else to grow in its place.
Creating the future forest
There was a time, said Dillard, the artist, when her people would have simply moved along with the changing climate. But European colonization changed that as settlers encroached upon Native American territory and the U.S. government enacted a policy of pushing tribes onto reservations.
Today, land under the Little Traverse Bay Band's direct management is limited to about 1,000 acres in scattered parcels, although tribal members have rights to hunt, fish and gather beyond those boundaries and the tribe has sued the state of Michigan claiming rights to a 336-square-mile reservation.
"Our reservation is never going to move," Dillard said. So as climate changes underfoot, "we're looking to adjust to it, and to protect some of these customs and traditions."
On a grassy hilltop at Ziibimijwang Farm, the trees Jansen planted several years ago, at the outset of his experiment, have now grown six feet tall. So far, the survival rate is a promising 85 percent.
But while some of the young trees are thriving, others are merely surviving. Some amount of die-out is inevitable, Jansen said. After all, this area, at least for now, is colder than many of these plants prefer.
Still, he is hopeful that a critical mass will grow to adulthood, and go on to "self-create the future forest."
"Our goal is to have something here that's going to do well as the planet reaches a new equilibrium," he said. "We'll let Mother Nature decide what that is."
Michigan Environment Watch
Michigan Environment Watch examines how public policy, industry, and other factors interact with the state's trove of natural resources.
Michigan Health Watch is made possible by generous financial support from:
Our generous Environment Watch underwriters encourage Bridge Michigan readers to also support civic journalism by becoming Bridge members. Please consider joining today.
Only donate if we've informed you about important Michigan issues
See what new members are saying about why they donated to Bridge Michigan:
"In order for this information to be accurate and unbiased it must be underwritten by its readers, not by special interests." - Larry S.
"Not many other media sources report on the topics Bridge does." - Susan B.
"Your journalism is outstanding and rare these days." - Mark S.
If you want to ensure the future of nonpartisan, nonprofit Michigan journalism, please become a member today. You, too, will be asked why you donated and maybe we'll feature your quote next time!