As Saginaw Bay pollution grows, farmers urge other farmers to change ways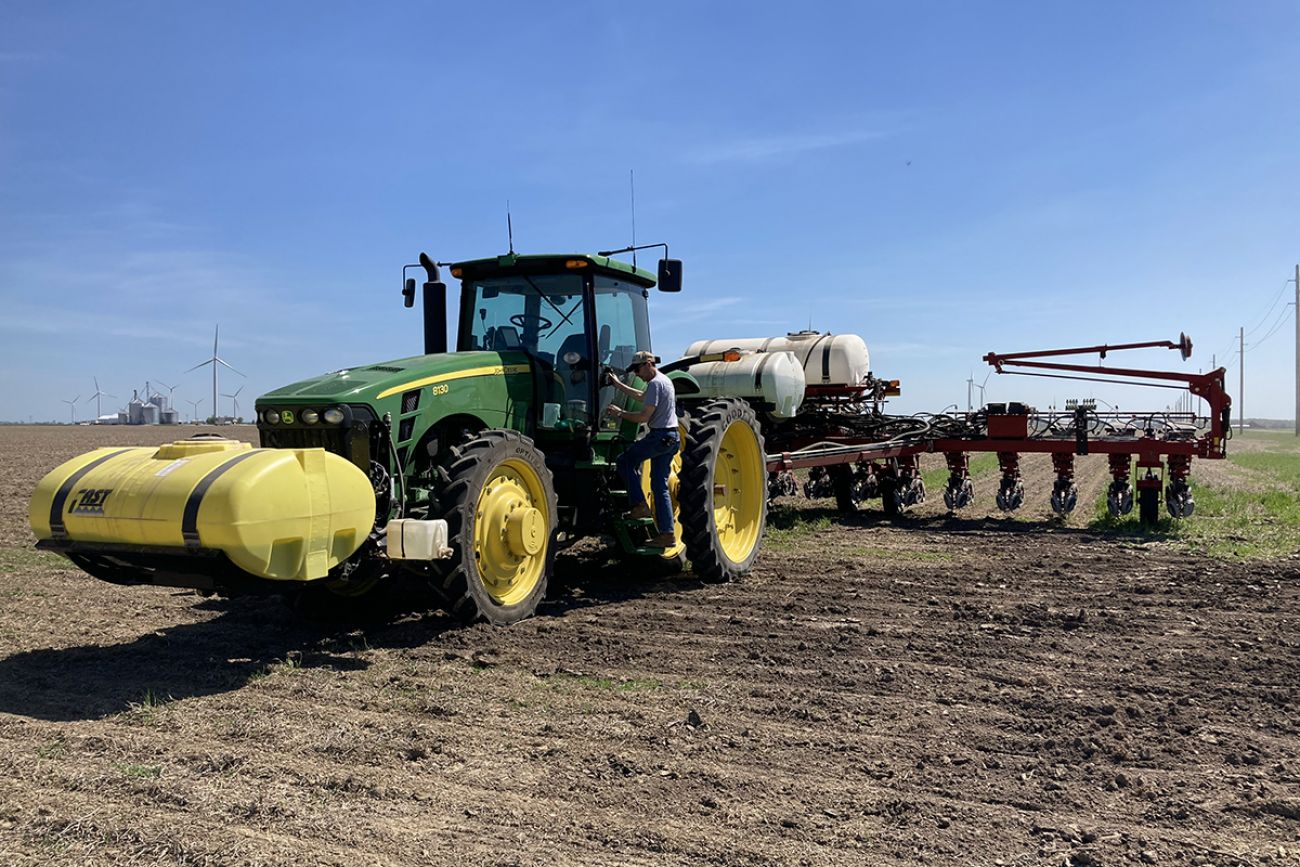 Steve Tait hasn't tilled his farm fields in Michigan's Thumb region for more than a decade. Now, he co-leads meetings to share tips and tricks with other area farmers in hopes of spreading practices that can preserve topsoil and reduce farm runoff. (Bridge photo by Kelly House)
CASEVILLE—Farmer Steve Tait's decision to stop plowing his fields came one winter, as he watched snow banks near his Thumb area farm turn black as the loosened soil blew off his fields.
"I hated seeing it," said Tait, 56. The Saginaw Bay watershed's rich topsoil makes it one of Michigan's most productive farming regions, and Tait was watching the precious resource wash away. "Once you lose it off the field, it doesn't come back."
The spring snowmelt then washed the fertilized soil toward the bay, where it contributed to the nutrient pollution that can foul beaches with plant overgrowth and fuel toxic algae blooms that endanger humans and animals.
Related:
So for more than a decade, Tait plowed virtually none of his nearly 2,500 acres, on which he grows corn, soybeans, dry beans and wheat. And he's adopted other tactics, such as cover crops and precision fertilizing, to preserve and enrich his soil and wean his land off commercial fertilizers.
His bottom line, meanwhile, is better than ever. Now, he's on a mission to spread the good word to neighbors who once questioned why his fields remain littered with last year's corn stubble long after theirs were tilled over.
"They've realized if we survived all these years, we're doing something right," Tait said.
As state regulators this spring issue a new, more urgent warning about nutrient pollution in the long-suffering bay, some environmental groups and researchers are turning to farmers like Tait as advocates for no-till farming and other practices that reduce runoff.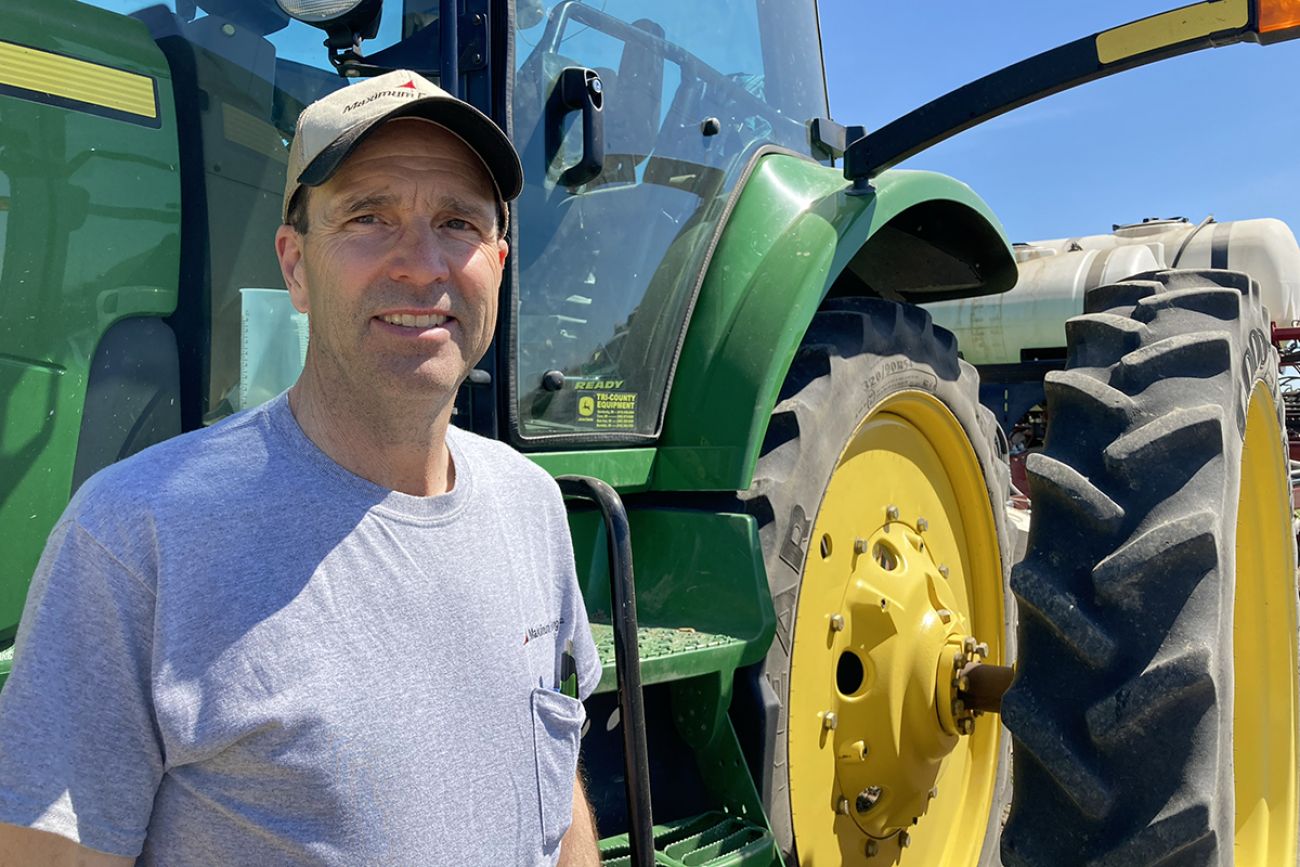 Steve Tait stands with the specialized tractor he uses to plant crops on untilled fields. The planter also precision-delivers fertilizer into the ground alongside newly-planted seeds, allowing Tait to use less fertilizer. (Bridge photo by Kelly House)
They hope that shop talk between farmers can succeed where other tactics — such as prodding from government officials or payments through conservation programs — failed to convert more farmers to practices that preserve soil and protect waterways.
"We want the message of soil health, and soil health farming, to spread more like a wildfire," said Ben Wickerham, a Saginaw Bay projects manager with The Nature Conservancy, a global environmental group. "The best way to do that is through peer networks."
Waning topsoil and polluted water
Much of the nutrient-laden runoff that pollutes Saginaw Bay — the area of Lake Huron that separates Michigan's Thumb from the rest of the Lower Peninsula — comes from soil that erodes off the landscape when rain or wind collide with loose soil.
"On a micro scale, a raindrop hitting a plowed field is a bomb that throws soil in the air," said Joe Kelpinski, a program manager with the Michgian Department of Agriculture and Rural Development.
Though the rate of cropland soil erosion has slowed over the decades, federal officials estimate that Michigan farms continue to lose more than 2.5 tons from the average acre every year. Some researchers estimate that's a dramatic undercount.
While tilling fields can help control weeds and loosen soil for easier planting, it degrades and dries out soil, hastening erosion. That reduces crop yields, costing Midwest farmers about $3 billion a year, according to a University of Massachusetts study. It can trigger a vicious cycle: Farmers offset the loss of nutrient-rich soil by turning to commercial fertilizer, which then further pollutes waterways as it runs off farm fields and into rivers.
The Saginaw Bay is just one casualty.
After years of battles over how best to manage pollution that fuels nuisance algae blooms, excessive plant growth and mucky beaches, the state this year declared the inner bay "impaired" in paperwork filed with the U.S. Environmental Protection Agency. That means the bay failed to meet Clean Water Act standards, and government regulators must now craft a plan to fix the problem.
Kevin Goodwin, an aquatic biologist with the Michigan Department of Environment, Great Lakes and Energy, said state officials will soon create a nutrient pollution budget for the watershed, known as a Total Maximum Daily Load.
Though many environmentalists question whether Michigan can address farm pollution without more tightly regulating agriculture, Goodwin said EGLE has no plans for new farm regulations to enforce forthcoming pollution limits in Saginaw Bay. Still, the impairment designation adds urgency to efforts to curb key polluters, such as farms and wastewater plants.
Because keeping topsoil intact is a shared concern of farmers and clean water advocates, it is often "the fundamental starting place" for conversations about how to rein in farm pollution, said TNC's Wickerham.
Cover crops (plants such as clover or ryegrass, grown mainly to cover the soil between harvests), reduced tilling, streamside vegetation buffers and other tactics can help preserve topsoil and prevent polluted runoff. But long-standing mistrust and fear of regulations can make for unproductive conversations between conservation workers and farmers.
Laura Johnson, a water quality researcher and director of the National Center for Water Quality Research at Heidelberg University in Tiffin, Ohio, has spent years studying farm pollution in the algae-plagued western Lake Erie Basin. She has seen mistrust bubble up when government or university officials are the ones pushing farmers to innovate.
"They're like, 'you should be doing this, that and the other on your fields,'" Johnson said. "Sometimes to farmers it seems unattainable, or complicated, or like, what do you know about my fields?"
Enter Tait.
Angling for a culture shift
Just before the pandemic, Tait and another area farmer began hosting their neighbors at occasional gatherings of a farmer-led watershed group, where they spread the gospel of soil conservation.
Over cups of coffee or during gatherings in their fields, he shared how he has managed to move beyond conventional practices on his farm, while remaining profitable.
"I'm not the leader in it," Tait said of his progressive farming practices. "But in this area? Maybe."
Autumn Tait, who works with her father at the family farm near Caseville, stands in a field littered with last fall's corn. Leaving stalks to decay on the ground has helped build richer soil, boosting the farm's organic matter by 50 percent. (Bridge photo by Kelly House)
Despite years of effort in Saginaw Bay, Wickerham estimates such conservation practices are taking place on only a small percentage of farmland there. (The U.S. Department of Agriculture estimated as of 2017 that no-till farming was practiced on 22 percent of Michigan's cultivated cropland acres, while cover crops were grown on less than 10 percent.) The Nature Conservancy wants to see the practice spread to half of the Saginaw Bay watershed's roughly 2.2 million farm acres by 2030.
Part of the resistance to watershed-friendly practices in the Saginaw Bay stems from the region's dominant crops. The bay is Michigan's prime territory for sugar beet and dry beans — delicate crops that, many farmers believe, require tilling for seeds to take root.
But farmers also covet soil rich in the organic matter that helps plants grow. So Tait tells his neighbors how leaving last year's corn stalks to decay in unplowed fields has boosted organic matter in his soil by 50 percent in the past decade. And he notes how much he saves on fertilizer costs because the decaying organic matter helps feed plants naturally.
Sometimes meetings look like a group of dungaree-clad farmers standing around a truck, analyzing soil samples straight from the tailgate.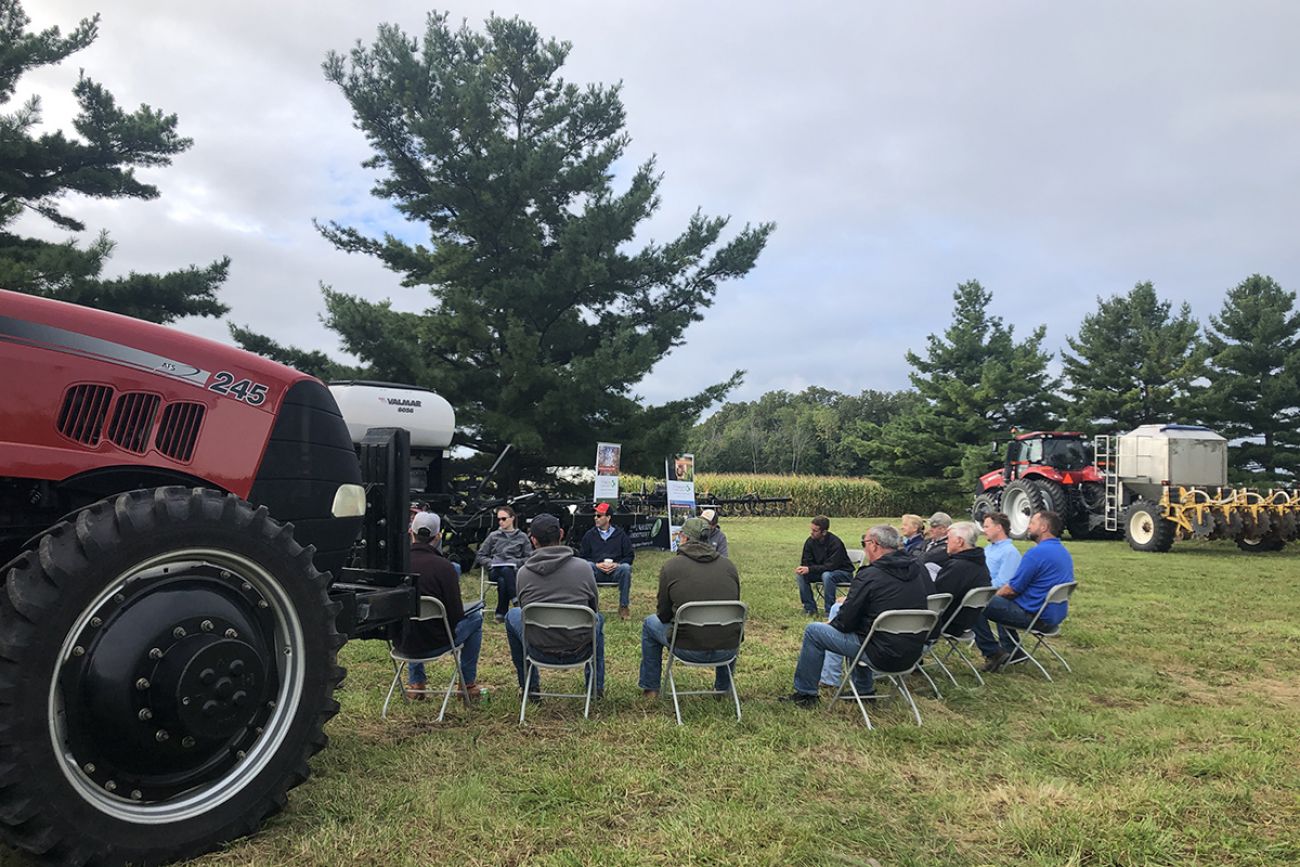 Often, gatherings of the farmer-led watershed group happen outdoors, with attendees standing in fields or sitting among tractors, discussing the ins-and-outs of how to preserve soil and use less fertilizer. (Courtesy photo)
"That interaction with another farmer, I think, is really helpful," Tait said.
Warning curious neighbors about potential pitfalls is also crucial, he said: Farmers hesitate to abandon old practices that have worked for decades, and changing ways often means investing in things like cover crop seeds and planting equipment that can cost many tens of thousands of dollars. If one person tries and fails, it can permanently dissuade them and their neighbors from future innovation.
Tait said he receives government payments for some of the practices on his farm, such as carbon credits for agreeing not to till his wheat field. But he'd be profitable even without the incentives, he said.
"If you can get the right people to help you, you can succeed at it," Tait said. "It's just that maybe there aren't enough of us out there yet to promote it."
Since Tait's group formed, The Nature Conservancy and Michigan State University have partnered on a $1 million grant-funded effort to expand the farmer-led concept across the basin. There are now five such groups in operation, Wickerham said, and "we're always looking to add another pushpin to the map."
The Michigan Farm Bureau, which opposes the notion of farm pollution regulations, said it supports the efforts of Saginaw Bay farmers working to get their peers involved in soil conservation.
As for the bay's impairment designation, "we urge the Department of Environment, Great Lakes, & Energy to pursue a collaborative, voluntary plan to account for the diversity of stakeholders in the watershed and follow sound science when considering management decisions moving forward," said Tess Van Gorder, the group's conservation and regulatory relations specialist.
Results are still pending on whether the Saginaw Bay initiative can speed up conservation efforts in a basin where they've long struggled to gain traction.
Tait's meetings, which started with about 15 attendees, have doubled in size. Still, the typical attendees are farmers who were already innovating on their farms.
Stopping his tractor on a day of spring corn-planting, he points toward the neat rows of loosened soil in a field across the road. A gully has begun to form where rains drained off the field, taking topsoil with them.
"That's a totally conventional farmer," Tait said. "I see this field as less productive in the long term. Now, will this guy come to our meetings? Probably not, and I don't know how to get him there."
State officials hope to ramp up conservation in the watershed by reinstating a popular program that was axed in Michigan several years ago amid budget cuts. The re-launched Conservation Reserve Enhancement Program will bring $40 million in federal money to pay farmers for temporary conservation efforts in three Michigan watersheds, including Saginaw Bay.
Conservation groups are also trying other strategies, like sharing the cost of equipment farmers need to adopt more environmentally-friendly practices, such as modern tilling implements that disturb less soil. And a group known as the Saginaw Bay Monitoring Consortium is pushing for more water quality monitoring to help pinpoint the areas where pollution is heaviest.
Johnson, of Heidelberg University, called such data-gathering efforts "step one" in any effort to target pollution reduction to the places where it's needed most.
Tait has been doing his own makeshift monitoring for years. Each winter, he collects samples of dirty snow from local roadsides. Much of it is full of the nutrients that could help nurture plants, but instead will end up in the bay.
"I think, 'Oh that poor guy's losing all this,'" he said. "They don't make any more of it."
Michigan Environment Watch
Michigan Environment Watch examines how public policy, industry, and other factors interact with the state's trove of natural resources.
Michigan Health Watch is made possible by generous financial support from:
Our generous Environment Watch underwriters encourage Bridge Michigan readers to also support civic journalism by becoming Bridge members. Please consider joining today.
We're not just a news organization, we're also your neighbors
We've been there for you with daily Michigan COVID-19 news; reporting on the emergence of the virus, daily numbers with our tracker and dashboard, exploding unemployment, and we finally were able to report on mass vaccine distribution. We report because the news impacts all of us. Will you please support our nonprofit newsroom?