'What changed?' Lawmakers press Whitmer admin on Benton Harbor's water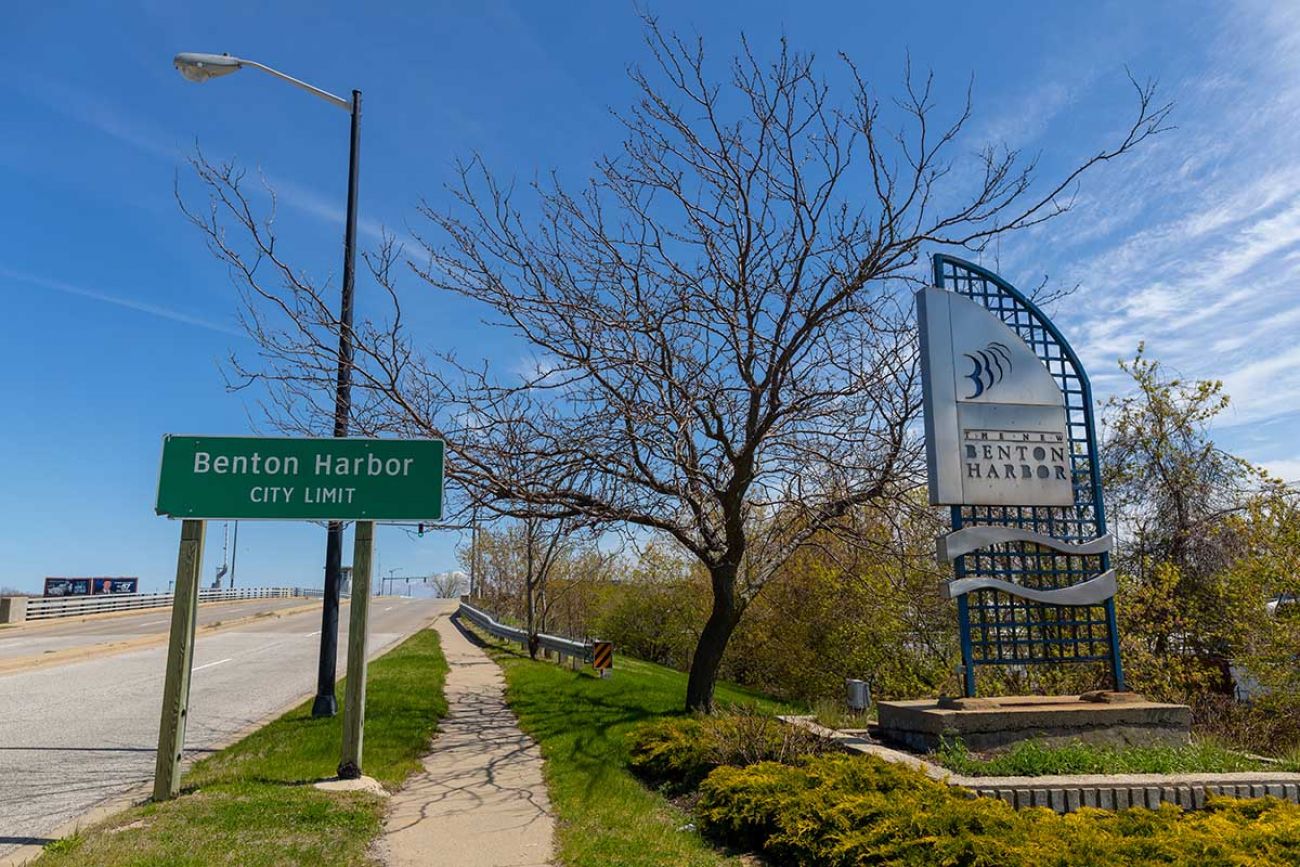 State and federal actions Tuesday follow a petition from local activists and environmental groups, who urged federal regulators to get involved in Benton Harbor after three straight years of water tests showed elevated lead levels. (Shutterstock)
LANSING—"This is not the platform for any political grandstanding," Rep. Steven Johnson admonished colleagues as the Michigan House Oversight Committee gathered Thursday for a hearing on Benton Harbor's lead-tainted water system.
But just minutes into the meeting, it became clear that the ongoing water crisis in the majority-Black, high-poverty southwest Michigan city may indeed be turning political.
While lawmakers grilled state officials about their response to the crisis, the Republican National Committee announced via email that Johnson, R-Wayland, and fellow committee member Pat Outman, R-Six Lakes, would join a Zoom call with reporters later Thursday afternoon to "discuss the failures of Gretchen Whitmer's administration" as it pertains to Benton Harbor.
Related:
Meanwhile, Benton Harbor's most well-known water activist, Rev. Edward Pinkney, said he was fielding calls from Republican gubernatorial candidate James Craig's staff.
Dismayed by what he views as politicians' efforts to use his community's misery for campaign talking points, Pinkney said he opted not to attend Thursday's hearing, even though the thrust of the questioning focused on some of the same frustration he and others have expressed over what they see as a sluggish response by Gretchen Whitmer's administration to help Benton Harbor residents.
Whitmer "is not one of my favorite individuals," Pinkney told Bridge Michigan. But viewing the city's water crisis as a failure at all levels of government, Pinkney said he is loath to help lawmakers who "see the missteps and want to capitalize on it."
Plus, he said, he's too busy passing out bottled water to residents who have been told not to ingest water from the tap until further notice.
Zero to 100 in 30 days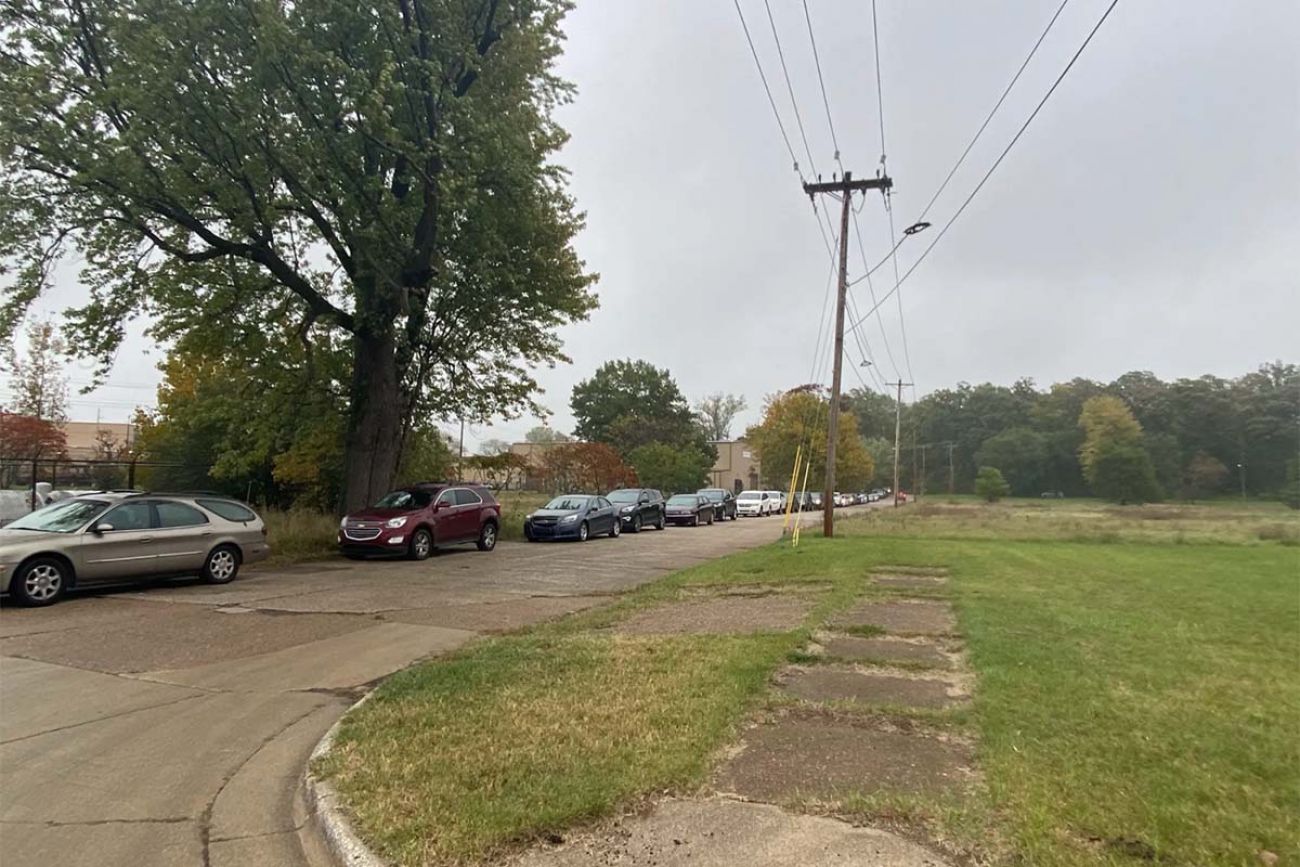 A line of cars snakes down a Benton Harbor street during a bottled water distribution event Thursday. (Bridge photo by Jalen Williams)
As lawmakers peppered state and local officials with questions Thursday morning, residents of Benton Harbor were dealing with yet another blow: A water main serving most of the city had burst on Wednesday afternoon, leaving them unable to bathe, flush toilets or wash clothes.
"Do you realize how much … money we pay for water every month?" resident Phyllis Williams asked as she waited in an hour-long line of cars at a bottled water distribution site. And yet, "I can't eat with it. I can't cook with it."
Back at the hearing, Johnson pressed for answers from Liesl Clark, director of the Michigan Department of Environment, Great Lakes and Energy, and Eric Oswald, director of the department's drinking water and environmental health unit.
Given that water samples in Benton Harbor have shown dangerous levels of lead for three years now, why did the state only last month advise residents to drink bottled water and request millions of state dollars to speed the process of replacing the city's lead service lines?
"It feels like we're going from zero to 100 miles an hour here," Johnson said, "...what changed in the last 30 days?"
Clark maintained that distributing bottled water is merely a precaution while EGLE awaits EPA test results to confirm the efficacy of filters that the state began making available in Benton Harbor during the early days of the crisis.
And while EGLE never requested money specifically for Benton Harbor, Clark said, the Whitmer administration's $500 million water plan announced last year includes money to cover lead service lines. At the time, Whitmer noted that the plan was insufficient and pledged to work with lawmakers to find even more money.
"That was not specific to Benton Harbor," Johnson responded about the governor's 2020 water plan. "If there is a specific problem...there should be a specific ask."
While Clark, a Whitmer appointee, largely defended EGLE's response to the crisis, she acknowledged that "we've heard from community members and community leaders it's not enough."
But she initially hesitated to answer directly when Johnson asked: "Is it safe to drink the water in Benton Harbor right now, or not?"
After repeatedly offering an indirect answer, Clark responded, "No, it's not. People should be drinking bottled water."
'Cut the check'
Benton Harbor Mayor Marcus Muhammad, speaking to reporters after the hearing, noted that the community's long-standing water problems are part of a broader crisis for the city, which had been under the control of state-appointed emergency financial managers under governors Jennifer Granholm, a Democrat, and Rick Snyder, a Republican.
"The emergency managers came to put a tombstone on Benton Harbor," he told reporters.
Emergency managers who oversaw Benton Harbor from 2010 to 2016 fired multiple people from the water plant, which Muhammad said reduced the staff by more than half.
The city remained short of funds to maintain the plant, which began to fall into disarray. A 2018 sanitary survey flagged myriad problems that posed a risk of contaminating the city water supply, from a lack of trained staff to problems with the system's infrastructure and operations. The solution, according to regulators at the time: Charge the city's largely impoverished water customers more to pay for needed fixes.
"Investment from the city's rate payers is essential for resolving the below (significant) deficiencies," Ernie Sarkipato, a surface water treatment specialist with the agency, then-known as DEQ, wrote in an October 3, 2018 violation notice.
That, Muhammad argued, was no solution at all.
Benton Harbor's poverty rate is 45 percent. Many residents already struggled to pay their bills. And the city's steadily shrinking population, which now sits at 9,103, meant there were ever-fewer customers left to split the cost of maintaining the water system, racial and economic dynamics that also unfolded in Flint during that city's high-profile water crisis.
Weeks later, Benton Harbor got more bad news: Water samples had revealed lead levels in eight of 30 homes tested exceeded the state regulatory threshold of 15 parts per billion.
Following questions by Johnson about why nobody from Benton Harbor or the Whitmer administration had come to legislators to ask for money sooner, Muhammad shot back: Whitmer sought $20 million to fix Benton Harbor's pipes last month, he noted, but the GOP-legislature made only $10 million available.
"If you know that this is an urgent 9-1-1, then cut the check," Muhammad said.
Along with the staffing shortage at the plant, state officials have told Bridge they had problems getting a handle on the lead problem because of bad recordkeeping and other issues that culminated in their decision earlier this year to revoke plant operator Michael O'Malley's license.
Oswald told committee members that EGLE also faced hurdles implementing the corrosion control chemicals that are mandatory after a community water supply experiences lead levels that exceed state regulatory standards.
The aging plant was not equipped to feed the chemicals into the water, a problem that required engineering work to fix. And fearing that a stronger chemical solution would react poorly with Benton Harbor's aging pipes, EGLE officials decided upon a weaker chemical mix that ultimately produced underwhelming results.
"You've got to be careful about what you do," Oswald said, "and not cause one problem to cause another problem."
By February 2020, EGLE had decided the blend wasn't working fast enough, and ordered Benton Harbor to tweak it. The new formula, Oswald told lawmakers, appears to be working, but "I will tell you, these systems take a long time" to fully coat lead pipes.
'We need to reach more people'
As the lead problems continued, some in the community remained unaware of the risk for years into Benton Harbor's lead crisis.
Resident Quacy Roberts told Bridge this week that he had only become aware of the city's lead problems months ago. Blaming local officials, he has launched a recall petition seeking to unseat Muhammad.
Questioned by lawmakers about the state's public awareness efforts, Oswald contended that EGLE has worked with local officials for years to spread the word. Every time a system exceeds lead standards, it must distribute public notices to residents, meaning that Benton Harbor has alerted residents in writing at least six times.
But that process, too, has experienced hiccups. Benton Harbor missed an entire zip code in one of its notices, Oswald said, spurring EGLE to issue a citation.
On top of that, Oswald said, state officials held public meetings and have been meeting weekly with Benton Harbor officials for more than two years, he said.
But Clark, EGLE's director, admitted in her testimony that "we need to reach people more."
She said the state is about to launch a "radio, mobile and social media blitz" to spread the word about the lead problem.
"The situation in Benton Harbor is urgent and inexcusable," she said.
Democratic committee member Julie Brixie, D-Meridian Township, noted in the state agency's defense that regulators don't have power to allocate money to fix lead pipes. It's up to lawmakers, Brixie argued, who have not offered up substantial money despite loud public outcry from cities that have warned they lack the funds to remove lead from their drinking water systems on their own.
But when Brixie attempted to bring up "the Snyder administration," Johnson cut her off mid-sentence.
"I'm not out here saying this is Whitmer's Flint water crisis," he said. "We're here to find out what happened."
Benton Harbor not alone
Frustrated with what they viewed as an inadequate response, residents last month filed a petition pressing the EPA to take over water oversight in Benton Harbor.
EPA officials are reviewing the petition, and leading a study to determine whether the filters currently being used in Benton Harbor are effective. State officials called the filter review a precautionary measure triggered by the public's demand for proof. They expect the study to confirm that the filters are effective.
In the weeks since the petition, the Whitmer administration has dramatically increased its response in Benton Harbor, advising residents to drink only bottled water, working with lawmakers to allocate $10 million in new funds to get the city's lead pipes out of the ground, and setting a shorter, 18-month goal to finish the job.
Sen. Ed McBroom, R-Vulcan, meanwhile, has directed Clark to turn over a trove of documents on its Benton Harbor response as the Senate Oversight Committee prepares its own inquiry.
There's a cold irony in Wednesday's water main break, Pinkney said, and a lesson for regulators and policymakers: Like the lead pipes, he said, the water main is another piece of old infrastructure that had been waiting to fail.
Michigan has more than 10,000 public water systems, many of which are densely packed with lead service lines. In recent weeks, the list of Michigan cities with ongoing lead exceedances has grown to include Hamtramck, Wayne and Manchester.
Eliminating lead lines is expensive, costing an average of $5,000 apiece. Clark told lawmakers the tab for the entire state is close to $2 billion.
The state has assembled a corrosion control panel, Oswald said, that will review decisions in Benton Harbor as part of a broader effort to gain better understanding about how to keep these older pipes from leaching lead into drinking water.
Johnson said the committee will be making recommendations of its own.
The lone speaker at Thursday's hearing who was not there to answer lawmakers' questions pressed for action from all sides, noting that the problem is bigger than lead lines.
"This is what decades of inaction and continued disinvestment in our water infrastructure looks like," said Bishop James Atterberry, a longtime community leader in Benton Harbor. "I'm asking you as leaders of our state to look at this as if it was your community."
Michigan Environment Watch
Michigan Environment Watch examines how public policy, industry, and other factors interact with the state's trove of natural resources.
Michigan Health Watch is made possible by generous financial support from:
Our generous Environment Watch underwriters encourage Bridge Michigan readers to also support civic journalism by becoming Bridge members. Please consider joining today.
Only donate if we've informed you about important Michigan issues
See what new members are saying about why they donated to Bridge Michigan:
"In order for this information to be accurate and unbiased it must be underwritten by its readers, not by special interests." - Larry S.
"Not many other media sources report on the topics Bridge does." - Susan B.
"Your journalism is outstanding and rare these days." - Mark S.
If you want to ensure the future of nonpartisan, nonprofit Michigan journalism, please become a member today. You, too, will be asked why you donated and maybe we'll feature your quote next time!