15 lawmakers and their potential conflicts of interest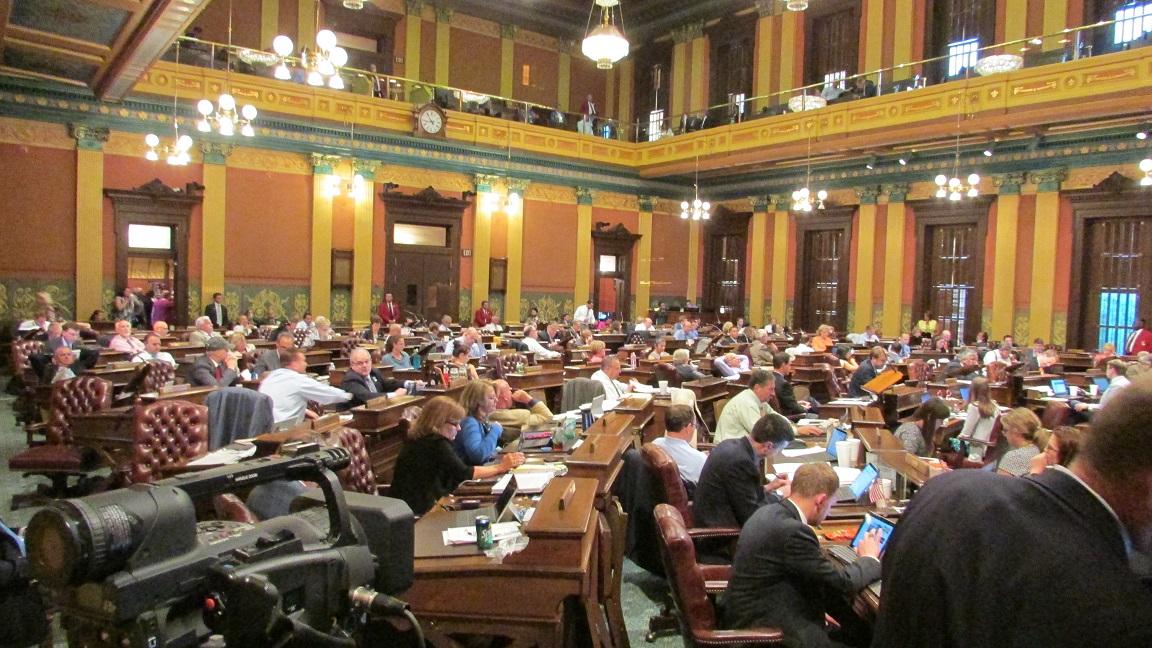 A log trucking company owner eases rules on logging trucks. The president of a real estate management company recommends decreasing the liability of landlords over bedbugs. A father votes to give his daughter a raise.
Conflicts of interest?
On the surface they may appear to be, but that hasn't stopped Michigan lawmakers from voting on bills that impact their professions, their personal lives or those of their loved ones, though a few have voluntarily refrained from voting, citing such a conflict.
The Michigan Campaign Finance Network and Bridge Magazine examined voting records and official biographies of current Michigan senators and representatives, and spoke to people associated with both Republicans and Democrats in the legislature. The result: a list of votes that raise questions about potential conflicts of interest.
Related: In Lansing, where potentially self-serving votes run 'rampant'
Review the examples below and tell us what you think. Are these issues on which the lawmakers should have refrained from voting? Can you identify other votes in Lansing that may present conflict concerns? If so, write to Craig Mauger or Ron French.
Sen. Tom Casperson and logging
According to the official Senate biography of Sen. Tom Casperson, R-Escanaba, he worked "27 years in his family's log trucking business, including 12 years as its owner and operator," before joining the Legislature. His family appears to continue to own Casperson & Sons Trucking. In 2016, he sponsored SB 706, which would prohibit local governments from requiring special permits for logging trucks, which are sometimes overweight. The bill passed the Senate in June and is awaiting action in the House, In 2013 he sponsored Senate Bill 78, that could have restricted the state's ability to manage forests. It was vetoed by Gov. Rick Snyder. Casperson's office didn't respond to requests for comment.
---
Rep. Brandt Iden and bedbugs
In 2015, Rep. Brandt Iden, R-Oshtemo Twp., sponsored House Bill 4520. The bill is meant to clarify who is responsible when a rental property becomes infested with bedbugs. According to the House Fiscal Agency, the landlord would not be liable for damages arising from an infestation or from control or treatment, except in the case of gross negligence. According to his official State House biography, Iden "is currently the president of Identity Management & Consulting Inc., real estate management company." Iden's office didn't respond to a request for comment.
---
Sen. Darwin Booher and his daughter's pay
In 2015, Sen. Darwin Booher, R-Evart, cited a potential conflict of interest as his reason for not voting on Senate Bill 56, a bill that changed the way judicial salaries are calculated. "My daughter (Kimberly Booher) is a judge in the 49th Circuit Court," in Mecosta County, Booher explained to the Leelanau Enterprise in January 2016. But when Senate Bill 56 returned to the Senate for a concurrence vote, Booher voted for the bill. A statement from his office said Booher assumed he should recuse himself from voting the first time the issue came up because he was related to a judge. "Upon more careful review of the senate rule it was clear that the rule is intended to address those issues where the senator himself would benefit. Booher decided fulfilling his duty to vote as an elected member of the senate was the best course of action and did so rather than abstain," the statement said. A Senate rule states members should not vote on bills in which they have a "personal, private or professional interest."
---
Sen. Mike Kowall and online gambling
Sen. Mike Kowall, R-White Lake, sponsored Senate Bill 889 this year to allow online gaming and the issuance of online gaming licenses. As first reported by the Detroit Free Press, Kowall's wife, Eileen, works for a lobbying firm that represents a company that owns online gaming websites. Mike Kowall told the Free Press that he was working on the legislation before his wife was hired by the lobbying firm and insisted that the bill wouldn't financially benefit his wife.
---
Rep. Ken Goike and septic tank trucks
Rep. Ken Goike, R-Ray Twp., is the "owner of Goike Trucking and Excavating," according to his official House biography. According to the company's website, "Goike Excavating has been the top installer of septic systems in Macomb County." In 2015, he sponsored House Bill 4734, which "would add septage waste vehicles performing emergency septic work to the vehicles granted an exception to seasonal vehicle weight limits," says the House Fiscal Agency. The bill is in the House Transportation and Infrastructure committee. Goike's office didn't respond to a request for comment.
---
Rep. Anthony Forlini and landlords
In the 2015-2016 session, which ends in December, Rep. Anthony Forlini, R-Harrison Twp. has introduced three bills relating to the relationship between a landlord and tenant. One, House Bill 4038, allows landlords to deliver eviction notices by email. That became law in May 2015. Another, House Bill 5767, allows late fees to be awarded in summary action for possession of premises. That bill is in the House Judiciary Committee. According to a financial disclosure report Forlini filed to run for Congress in 2016, he has a financial interest in at least five rental properties that he's currently receiving rental income from.
Forlini said he doesn't view the situation as a conflict of interest. The legislation on email communications is supported by both landlords and tenants and wouldn't benefit himself financially, Forlini said. But an analysis of the bill by the nonpartisan House Fiscal Agency stated that critics found email notification of eviction "troubling," because email addresses often change and not everyone checks email frequently. Forlini said he knows the rental business and saw an opportunity to fix a "problem in the system."
---
Rep. Jason Sheppard and historic preservation districts
Rep. Jason Sheppard, R-Temperance, is "a commercial real estate agent with Signature & Associates," according to his official House biography. Sheppard co-sponsored and has touted a bill, House Bill 5232, which would make it more difficult to maintain and to create historic preservation districts, according to opponents. That bill is in the House Local Government committee. Sheppard's office didn't respond to a request for comment.
---
Rep. Ben Glardon and auctioneers
Rep. Ben Glardon, R-Owosso, is the president of Glardon Auction Service, his official House biography says. In 2014, Glardon voted against bills, including House Bill 4683, that did away with a state registration system for auctioneers, meaning current registered auctioneers could face competition from unregistered auctioneers. That bill became law in June 2014. Glardon's office didn't respond to a request for comment.
---
Rep. Mike Callton and chiropractors
Rep. Mike Callton, R-Nashville, is chair of the House Health Policy Committee. He is also the owner of Nashville Chiropractic Center. In 2015, Callton's committee took up and advanced House Bill 4712 to allow chiropractors to prescribe physical therapy services for their patients, a measure which if enacted could help chiropractors better maintain relationships with patients. The bill was supported by the Michigan Association of Chiropractors. The House has taken no action since the committee approved the bill in June 2015. The association also supported a package of bills that Callton helped sponsor to take on excessively high copays from insurance companies. Callton's bill in the package is House Bill 5623. The bill is in the House Insurance committee. Callton said he understood why some people could see him voting on chiropractic policies as a conflict of interest.
---
Rep. Earl Poleski and accounting
Rep. Earl Poleski, R-Jackson, is a certified public accountant. In 2013, he helped sponsor bills that set equity and voting rights thresholds for corporations and limited-liability companies that want to practice public accounting. Poleski's bill was House Bill 4654. It said 50 percent of a professional corporation's equity and voting rights had to be held by those licensed to practice public accounting in order for the corporation to practice it. Poleski said he didn't believe there was any conflict in sponsoring the bill because it didn't give him specific advantages over anyone else. Poleski said his knowledge of certified public accounting helped him explain the proposal to his colleagues. It became law in October 2013.
---
Sen. Curtis Hertel and the Department of Health and Human Services
Sen. Curtis Hertel, D-Meridian Twp., is a member of the Senate Appropriations Committee's Health and Human Services Subcommittee, which works on the budget for the Department of Health and Human Services. Hertel is a former employee of the Department of Community Health, which is now part of the Department of Health and Human Services. Hertel's wife, Elizabeth, is director of policy and legislative for the Department of Health and Human Services. Hertel said the situation isn't a conflict of interest because he makes voting decisions independently and isn't biased by his ties. He said his constituents wouldn't be surprised he's working on health care related matters because he's passionate about them and he's not afraid to disagree with his wife. "I don't mind sleeping on the couch if it means I'm right," he said.
---
Rep. Edward Canfield and physician certifications
Rep. Edward Canfield, R-Sebewaing, is an osteopathic family physician. In 2015, he sponsored two bills, House Bill 5090 and House Bill 5091, that would amend the state insurance code so osteopaths would not have to maintain national or regional certification to get an insurance claim paid. Canfield said the bills wouldn't impact him because he has a non-expiring certification. It could, however, impact his wife's certification. Canfield said the bill is an effort to keep doctors practicing medicine by reducing the number of tests they have to take. The bill is in the House Health Policy committee.
---
Sen. Joe Hune and Tesla
Sen. Joe Hune, R-Hamburg, offered an amendment to House Bill 5606 in 2014 that strengthened Michigan's ban on auto manufacturers selling vehicles directly to customers instead of through franchised auto dealers. The amendment was seen as a strike at the company Tesla. Hune faced criticism for the move because his wife, Marcia, works as a lobbyist for a firm that represents the Auto Dealers of Michigan. Hune told the Livingston Daily in 2014 his amendment "simply clarified that all companies would be treated the same as everyone else." The bill became law in October 2014.
---
Rep. Ken Yonker and landscape architects
In 2013, Rep. Ken Yonker, R-Caledonia, introduced House Bills 4686 and 4687, part of a package to repeal licensing requirements for landscape architects in Michigan. According to his official Michigan House web page, Yonker is "the founder and owner of Yonker's Landscaping Inc." Yonker's office didn't respond to a request for comment. The bills died in the House Regulatory Reform committee.
---
Rep. Eric Leutheuser and auto dealer training
Rep. Eric Leutheuser, R-Hillsdale, "has worked at Leutheuser Buick GMC for over 30 years," according to his official House biography. In April 2016, he introduced House Bill 5577, which would require the Secretary of State to create and fund training programs for certain auto dealers and would allow "mobility dealer endorsements" for dealers who sell vehicles designed for disabled individuals. The language on training programs has been removed from the bill. Leutheuser's office didn't respond to a request for comment. The bill passed the House and is awaiting action in the Senate.
Only donate if we've informed you about important Michigan issues
See what new members are saying about why they donated to Bridge Michigan:
"In order for this information to be accurate and unbiased it must be underwritten by its readers, not by special interests." - Larry S.
"Not many other media sources report on the topics Bridge does." - Susan B.
"Your journalism is outstanding and rare these days." - Mark S.
If you want to ensure the future of nonpartisan, nonprofit Michigan journalism, please become a member today. You, too, will be asked why you donated and maybe we'll feature your quote next time!